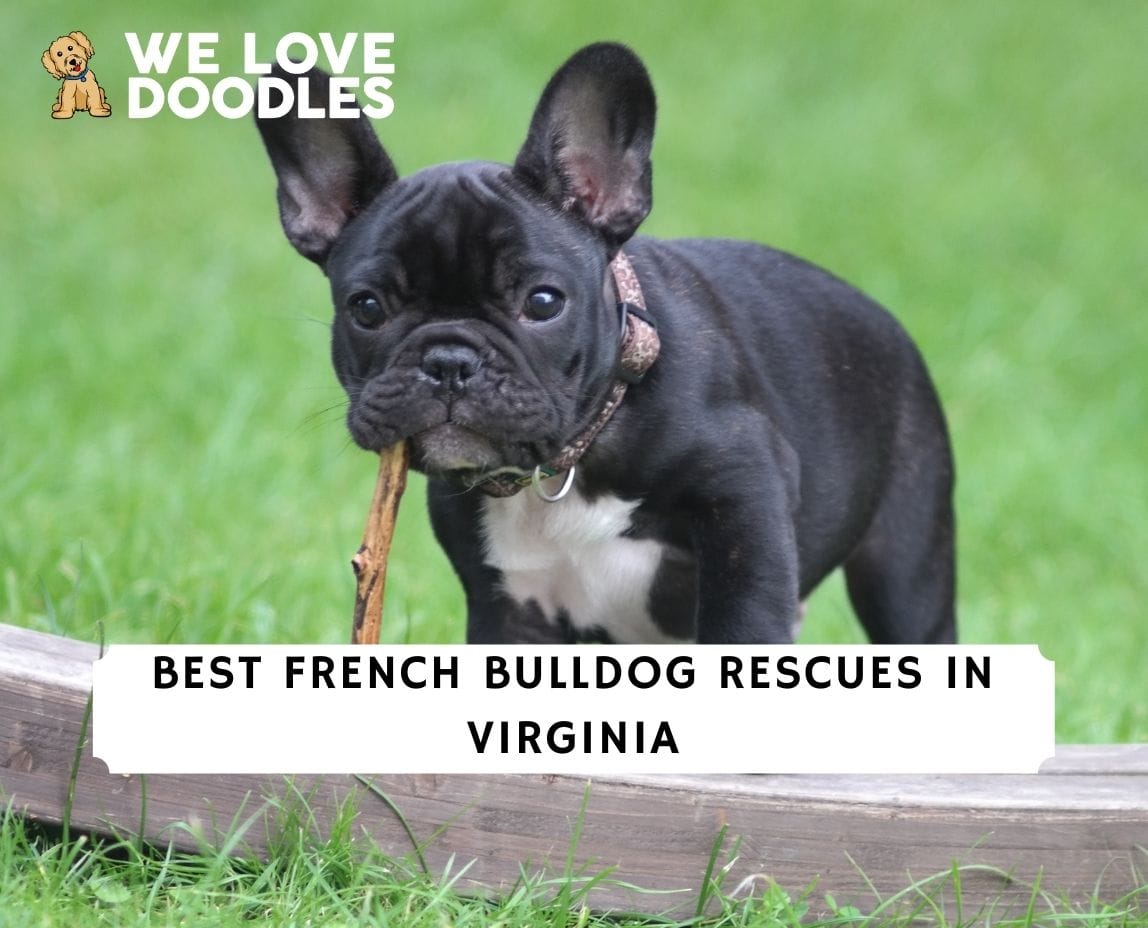 Are you looking for French Bulldog rescues? If so, then you'll love reading about these French Bulldog rescues in Virginia. French Bulldogs are one of the most popular dog breeds in the world and for a good reason. They're lovable and have an incredible capacity to make us smile. Therefore, adopting one is an easy choice.
Before scrolling down this list of French Bulldog rescues in Virginia, check out these other recommendations from our team at We Love Doodles: Best Dog Rescues in Virginia and Best German Shepherd Rescues in Virginia.
French Bulldog Rescue Near Me in Virginia
In this post, we will discuss the best dog rescues that are rescuing and rehoming French Bulldogs from overcrowding in shelters in Virginia.
French Bulldog Product Recommendations: Best Pet Insurances For French Bulldogs and Best Bone Broth For Dogs.
1. French Bulldog Rescue Network
The French Bulldog Rescue Network is a Massachusetts-registered nonprofit that works across all 50 states in the US, including Virginia. Their mission is to rescue, rehabilitate and rehome.
The organization is recognized nationally and is run entirely by volunteers. It operates on a foster system where volunteers care for the dogs until they find their forever homes.
If you want to adopt a dog from the French Bulldog Rescue Network, keep the following in mind:
The rescue allows out-of-state individuals to adopt from their rescue, even those residing in Canada. So, if you find don't find a dog in your state, do not hesitate to contact them.
Once you have gone through the dogs that are listed on the site, you can fill out an application form.
The dogs listed on the site have descriptions and requirements, so it is possible that not every dog will be a good fit for your home and family situation. Read the profiles of dogs that catch your eye, and shortlist those who are most suited to your lifestyle.
If the dogs have a pending file, this means that they are in the process of being adopted, and that dog is not available for adoption at the moment. Once a dog receives 20 applications, they are put on the pending file as the organization reviews the applications.
Each application must be submitted with a $10 application fee.
Once a dog has been adopted, anyone who has applied will be notified.

French Bulldog

Rescue Network does not believe in shipping dogs in cargo. However, if there is a dog in a far-off location, then it is possible to make arrangements to assist in transportation.
French Bulldog Rescue Network Animal Shelter Details
2. Richmond SPCA
The Richmond Society for the Prevention of Cruelty to Animals or SPCA works for the protection of animals and abides by the principle that all lives are precious.
About 4,000 cats and dogs are saved each year in the Virginia area by this organization, and they pride themselves on providing a free behavior helpline and resource library.
Important facts about the SPCA include:
They are a no-kill humane society.
They were founded in 1891 and have a great amount of experience when it comes to protecting animals.
They are an independent organization and not associated with any other association that has the words SPCA or the words Society to Prevent Cruelty to Animals in it.
They take in the most vulnerable animals that are at the most risk due to injury or sickness.
In 2016 they opened a veterinary hospital that sees about 11,000 pet patients who belong to families who cannot afford their medical care.
They currently have 150 part-time employees and 450 volunteers.
If you are looking to adopt from French Bulldog rescues in Virginia, SPCA might be what you need. Fill out an adopter survey before you come so that staff knows what kind of animal you are looking for.
Here is how you can adopt from Richmond SPCA:
Visit the shelter and walk through the adoption center, where you can view the animals.
Counselors will be on hand to help you if you have any questions.
When you visit the adoption center, you need to bring Government approved photo ID, proof of address, and payment for your pet's adoption fees.
Richmond SPCA Details
3. Bulldog Rescue Club of America Network
The Bulldog Rescue Club of America Network is an organization dedicated to the preservation of French Bulldogs in the states. It is an organization that comprises members that may be associated with other nonprofits that help protect and rehabilitate French Bulldogs.
They are looking out for the greater good of French Bulldogs across the United States. Their mission is to rescue, rehabilitate and rehome Bulldogs.
They do not have a physical shelter but comprise of foster homes and volunteers who take in Bulldogs to be rehomed. The foster families will help to care for the French Bulldogs while the network will cover veterinarian costs.
Veterinary and Personal care that is provided to the Bulldogs during foster care before adoption includes:
Spaying and neutering
Heartworm check-ups
Up to date vaccinations
Microchipped
Regular grooming, including eye care
Some dogs require specialized feed like grain-free food etc.
If you wish to adopt from the Bulldog Rescue Club of America Network, you will need to do the following:
Fill out an Adopt a Bulldog application form
You will then email the closest BRCAN member to you. The network consists of foster homes that are called Bulldog members. If you are in Virginia, then you will contact someone at the number below.
The wait time before you hear back from a member can be a month or up to a year. Each Bulldog has specific requirements, and the members will need to make sure you are a good match. Some dogs cannot be around children or in specific home situations.
Bulldog Rescue Club of America Network Details
4. French Bulldog Village Rescue
The French Bulldog Village Rescue is a rescue and rehabilitation center for French Bulldogs and French mixes. The organization has a simple motto; if a Frenchie needs a home, they will be taken in. The French Bulldog Village Rescue is not a commercial venture and is run by volunteers and donations from the community.
If you wish to adopt a French Bulldog from the organization, then you need to follow their adoption process:
Go through the pictures of the dogs posted on their website. The descriptions describe the circumstances in which the dog was found.
It can take anywhere from 4-6 weeks to complete the adoption process.
Fill out an adoption application form with as much detail as possible. Include information about older adults and children.
A home visit will be undertaken to check your home and yard area to make sure it is suitable for the dog.
Before you adopt the dog, you will be asked to sign an adoption agreement. It is a good idea to read the fine print of the agreement.
The adoption fees are not fixed here but evaluated at the time of adoption.
Once the adoption goes through, it is the responsibility of the pet owner to come and pick up the dog. They will not ship it.
If you are not ready to adopt a French Bulldog, you can always donate to the organization. You can donate by giving funds through a mobile app that will track your steps while you walk your dog and donate accordingly to a shelter of your choice.
If you are looking for a big dog rescue in Virginia, then French Bulldog Village Rescue might be the shelter for you. Contact them for more information.
French Bulldog Village Rescue Details
5. Bullies 2 the Rescue
Bullies 2 the Rescue is the last on our list of chosen French Bulldog rescues in Virginia. It is an individual-owned shelter that is run by volunteers that are close-knit and refer to themselves as a family.
The organization is a registered nonprofit that is run by volunteers. Bullies 2 the Rescue works to rehabilitate and rehome Bulldogs who have been abandoned or injured.
The organization wants potential owners to know the responsibility of owning a rescued Bulldog before they commit. Bullies 2 the Rescue provides rescued Bulldogs in Virginia and surrounding areas, including North and South Carolina.
To adopt from Bullies 2 the Rescue, you need to do the following after submitting your application:
Phone interview where you will be educated about how to take care of

Bulldogs

.
Home visit where staff will inspect your home and surrounding areas to make sure it is safe for the Bulldog.
You will then be invited to a private group where you can see all the

Bulldogs

that are up for adoption and choose one that you feel is a good match. The foster home will then follow up with you to make sure that the Bulldog would be a good choice for your home.
After this, a day will be chosen where you will be able to come and pick up your Bulldog. This may take sometimes you will need to be patient.
They do out-of-state adoptions but will not do out-of-country adoptions. If you live in Canada, you will not be able to adopt a Bulldog from here.
They do have puppy

rescues

in Virginia, but they are mostly puppies that have medical issues.
Bullies 2 The Rescue Details
How to Choose a French Bulldog Rescue in Virginia
A Bulldog is an excellent dog breed and with the increasing number of abused and abandoned Bulldogs found across the country, adopting one is doing a big service to your community.
However, some considerations must be kept in mind when choosing a rescue dog, these are:
Adopt from a reputable breeder
Consider the cost of adoption
Visit the rescue in person to determine the standard of care
Consider the temperament and personality of each

French Bulldog

How old is the Frenchie? Puppies and seniors require more individual attention and care than healthy adults.
Ultimately, you should choose a dog that touches your heart. Most importantly, adopt with sincerity and with the intention of providing the dog with a permanent home.
Conclusion For The "Best French Bulldog Rescues in Virginia"
For first-time pet owners, having an adopted dog as a pet is a satisfying feeling. Not only do you get a friend, but you also have the satisfaction of knowing that you have done well for your community and the overall population of dogs.
Educating friends and family about the importance of adopting from animal shelters is something that we should all do. With so many vulnerable and homeless cats and dogs filling shelters across the country, we should do our part. So go right ahead and start your search today.
For more guides similar to this list of French Bulldog rescues in Virginia, you can check out:
Before you adopt a French Bulldog from a rescue shelter in Virginia, you can learn more about the breed by watching "How to Take Care of a Frenchie" down below: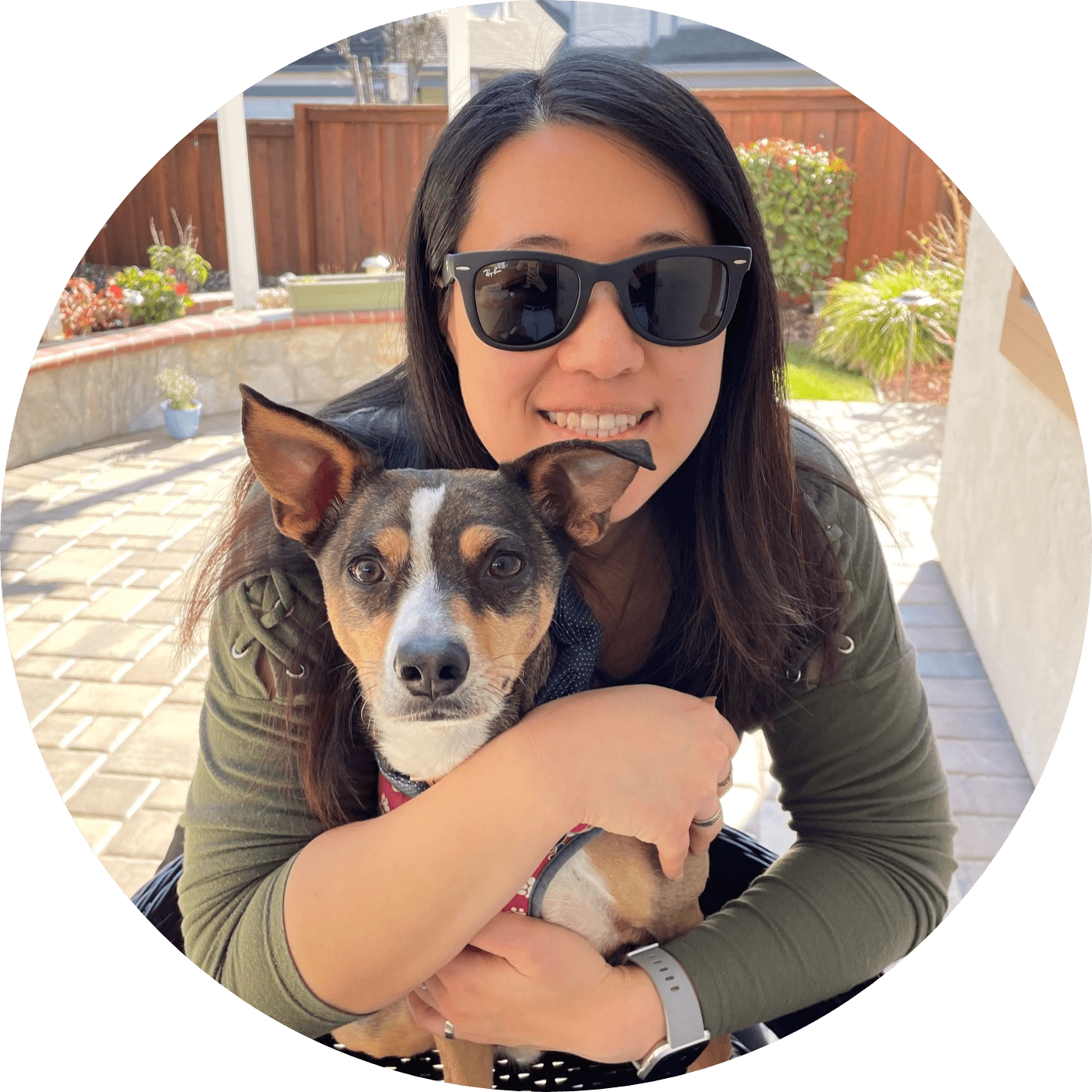 Dr. Sabrina Kong graduated from the Royal Veterinary College in England in 2016 and has been working at a small animal clinic in Northern California since then. She grew up in the Bay Area and got her bachelor's degree from Cal Poly San Luis Obispo. She also became a Certified Canine Rehabilitation Practitioner through a program at the University of Tennessee.
When she isn't in the clinic taking care of her four-legged patients, she enjoys traveling and trying new foods with her friends and her three-legged dog, Apollo. She adopted Apollo from her clinic when he was a puppy with numerous health issues. Dr. Kong truly cares about taking care of animals.