Here's what you need to know if you're searching for the best blue French Bulldog breeders in the United States. Dogs for centuries have been man's best friend, and the blue French Bulldog is yet another dog that plays the role of companion.
They are the right size and come with beautiful gray and blue fur. Their happy and mature disposition makes them great pets. They are wonderful with children, and their size makes them a great indoor dog breed.
French Bulldogs are so popular that they are the 4th most owned brand in the United States. This is according to the American Kennel Club. If all of this makes you interested in getting a blue French Bulldog, then the only thing you left is to find a breeder to get one from.
Before scrolling down this list of blue French Bulldog breeders in the United States, check out these other recommendations from our team at We Love Doodles: Best French Bulldog Breeders in the United States and
Blue French Bulldog Puppies For Sale in the United States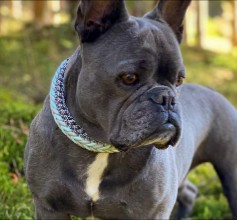 Finding original blue French Bulldogs and puppies is extremely rare since there are so many unreliable blue French Bulldog breeders. Nevertheless, the breeders on this list are some of the most reputable French Bulldog breeders.
From them, you can get a happy and healthy puppy that has been ethically bred and is purebred. To help make your decision a lot better, we have decided to compile the very best blue French Bulldog breeders in the United States. Let's begin.
Blue French Bulldog Product Recommendations: Best Dog Grooming Kit and Best Dog Soccer Ball.
1. PuppySpot's Blue French Bulldogs For The United States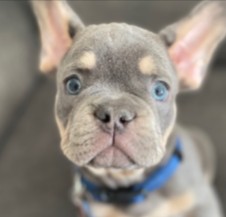 Since you're searching for blue French Bulldog breeders in the United States, we recommend checking out PuppySpot's platform. All PuppySpot breeders must go through a strict screening process, so you can rest assured knowing that your blue French Bulldog will be safely shipped to your home anywhere in the country.
While the link we provided will direct you to a list of Frenchies, you'll have to browse for the specific colors that you want. PuppySpot has a filter option for your French Bulldog. Before you continue searching for a blue French Bulldog puppy for sale, check out the link to the marketplace below.
PuppySpot Details
2. Tato's Frenchies
Tato's Frenchies is a small family-owned French Bulldog breeder. It operates in West Palms Beach, Florida. This breeder's services are extremely reliable for both the buyer and the puppy they are buying. All the puppies live on sight with the family, ensuring adequate socialization.
The puppies live healthy lives and are happy. Every Frenchie has its bed, toy, and access to a massive backyard where they can socialize with other puppies and breeders. The puppies spend most of their time in contact with humans, making them adaptable and extremely active as pets.
Tato's Frenchies also concentrate on the natural breeding process, which is why every breeding pair is scheduled for frequent medical check-ups. This attention to each Frenchie's health makes Tato's Frenchies one of the safest and most reliable Frenchie breeders.
There is a 48-hour return policy on puppies if they aren't healthy. To avoid this, every puppy undergoes thorough checks with its personal vet. There is also a year health guarantee that covers all health defects.
Tato's Frenchies Details
3. Northwest Frenchies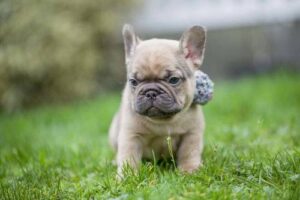 Northwest Frenchies are one of the top-rated French Bulldog breeders in Washington. While they might be small breeders, they have perhaps the best stud services available. This, combined with their years of experience and great facility, make them top-rated.
While their facility might not be the largest, they can maintain the behaviors of their French Bulldogs by providing them with pads, toys, and crates. The aim is to help develop active and happy personalities. This is done by raising the Frenchies in the home with the breeders.
Northwest Frenchies have restricted breeding and selling rights. They are very particular about every blue Frenchie they breed since they completely understand the future health problems Frenchies can suffer from.
To this end, the puppies they offer come with a firm commitment of non-breeding terms to prospective buyers if there are any observed complications in the puppy's health. Considering all the puppies are hand-raised, they are adorable to have around and are well-trained.
Northwest Frenchies Details
4. French Bulldogs Inc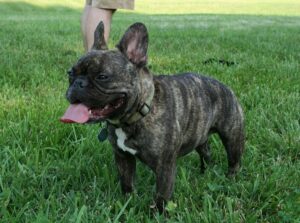 French Bulldogs Inc is located in Jacksonville, Florida, and is owned by Ms. Nataliya. She has 11 years of experience and a love for French Bulldogs. She imports the healthiest puppies from all over the United States and numerous European nations.
French Bulldogs Inc is spread across three acres of farmland, so the puppies live among Nataliya's own family and more farm animals. This expanse enables the blue Frenchies to have enough space to roam. The family takes great care of all animals, especially the blue Frenchies.
The puppies are never put in kennels or caged. They, however, do live in 24 by 24-foot playpens. The operating family of French Bulldogs Inc is very knowledgeable about blue Frenchies. This is why they are especially careful when it comes to breeding.
This kennel is never involved in inbreeding, with a concerted effort to get breeding partners from overseas, if necessary. Moreover, French Bulldogs Inc is a Bulldog breeder with extremely high ethical values. They provide a 1-year health guarantee for every puppy you purchase from them. You also get lifetime health shorts and health certification to prove that each puppy is healthy.
French Bulldogs Inc Details
5. Blue Frenchies US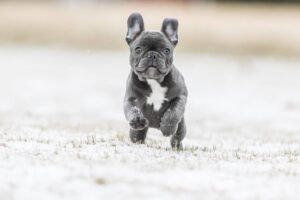 Blue Frenchies US is another reputable blue French Bulldog breeder. This Bulldog breeder is based in Orange County, California. They have been operating for over 20 years and have been breeding Frenchies every step. You can get a blue French Bulldog delivered to your doorstep regardless of where you are in the United States or the world.
Blue Frenchies, US' story started tragically, with them having to care for a Frenchie found on the street. However, they have fallen in love with Frenchies to become a well-known breeder both in the United Kingdom and the United States since that time. The blue French Bulldogs at this breeder are not housed in kennels.
Blue Frenchies US has a piece of land dedicated to the puppies to aid this. This ensures that every puppy is raised with its siblings and has lots of socialization. Furthermore, they also make sure insemination is safe for the female Frenchies when it is breeding time. Blue Frenchies US is extremely particular about breeding and the health of all puppies from birth to delivery.
Blue Frenchies US Details
6. French Bulldog Texas
French Bulldog Texas has been in business for about 20 years, handling various French Bulldogs. This breeder is located in Texas with everything Frenchie, from fawn to blue. All of their puppies are active and healthy, ensuring that prospective owners fall in love with them.
All the Frenchies at these kennels are raised and bred around the vast land in Houston, Texas. Every Frenchie gets its own extensive healthy and genetic testing to ensure that only the fittest Frenchies go out the door.
This breeder's health is paramount, with in-house safe mating and breeding procedures. For customers outside Texas, French Bulldog Texas offers a flight nanny for shipping purposes. The nanny delivery service functions in all states in the union.
You get a comprehensive health guaranty that lasts for a year and support from the kennel for a lifetime. With this support, you don't even have to have purchased your Frenchie from French Bulldog Texas to get support. This breeder is always available to help you.
French Bulldog Texas Details
7. Ethical Frenchie
Last on the best blue French Bulldog breeders list in the United States is "Ethical Frenchie." Ethical Frenchie is a blue French Bulldog breeder operating an ethical breeding program. It is family-operated and has been so for generations.
The aim of this is to provide a healthy environment for the puppies. This, in turn, ensures that there is a perfect pet for every family. For this reason, they are one of the top blue French Bulldog breeders in New York. Clients who visit their facility are impressed by it; it is their home and their kennel, with numerous puppies there.
Every Frenchie gets raised in the home to ensure they are an important member of the cute and tiny community. The puppies are attentive and active, perfect for those that want a lively pet. Ethical Frenchie also has a Frenchie education center, where new owners are taught everything they need to know about Frenchies.
This education helps them raise their puppies with care, love, and attention. Furthermore, the breeders are extremely knowledgeable about all the health issues blue Frenchies face. This knowledge helps them ensure a healthy life for the puppies.
You can also get a comprehensive health guarantee which lasts for about 2 to 4 weeks. There is also a long-term healthy guarantee that lasts for about a year. There is an extension for two years. All you need to do is ask.
Ethical Frenchie Details
Finding a Reputable Blue French Bulldog Breeder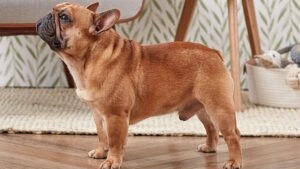 While it is possible to purchase a blue French Bulldog from any breeder near you, you should also note that you can fall into a scam or purchase a mixed breed or unhealthy Frenchie. To help you avoid this, there are some things you should know and check before purchasing from any breeder.
Do they offer health guarantees?
Many breeders will offer a couple of years of health guarantee when you purchase a puppy from there. They can also offer required shot prescriptions and health services to ensure your puppy stays healthy throughout its stay with you. The best blue French Bulldog breeder will give you all the important health certifications to ensure your puppy is healthy and properly cared for.
What are the breeding methods?
On average, a French Bulldog lives 10 to 12 years, which means the ideal breeding and mating age is anything from 2 to 8 years. After eight years, the dogs are considered too old. Moreover, a female French Bulldog can have 3 to 4 litters in its life, with each litter having three puppies at a time.
Typically, breeding and mating can be difficult for French Bulldogs to do naturally. That is why breeders must take full responsibility for it to happen in the safest environment. To this end, most breeders utilize artificial insemination. Very few breeders attempt to breed the female Frenchie safely at 18 to 20 months.
They also monitor the delivery process and the health of the female Frenchie. This makes it very rare for a Frenchie to be born naturally. This is why it is the responsibility of the breeder to conduct a safe cesarean section.
This ensures the safety of both the mother and the puppies. Once a Frenchie is considered too old to breed, they are cared for and leads a healthy and happy life till the end. You should be able to ask questions about each puppy's welfare from the vet.
What are the facilities like?
You should be able to observe the area the puppies live freely. The breeders typically provide blue Frenchies and other puppies with ample room or a playpen for free movement. And while they might have cages or kennels for the Frenchies, they need to be spacious, having enough room for the animals to roam around comfortably.
What is the breeder's personality?
The most effective way to get an insight into a breeder is to find out how they treat their dogs. Great breeders are typically kind with their dogs, and if you look closely, you will notice they have a bond with their Frenchies. The most effective way to view their attitude towards the Frenchies is to watch how they handle the Bulldog while making them eat. The same can be said for when the breeder handles the litter.
Furthermore, a great French Bulldog breeder will be happy to answer any questions you have about the blue French Bulldog and its puppies. The breeder will be happy to divulge as much information as you need, from their behavior, to when and how they were born.
Conclusion For The "Best Blue French Bulldog Breeders in the United States"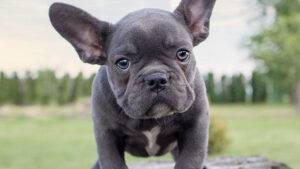 Before you consider making a purchase, you need to get as many references as possible for your blue French Bulldog. These references from past buyers can help you understand the quality of the dogs you are about to purchase. Moreover, if you have any inquiries, you can ask previous buyers about their opinions and experience with the breeder.
For more guides similar to this list of blue French Bulldog breeders in the United States, you can check out:
Before you continue on your search for a blue French Bulldog breeder in the United States, you can learn more about the breed by watching "Top Ten French Bulldog Color Trends" down below: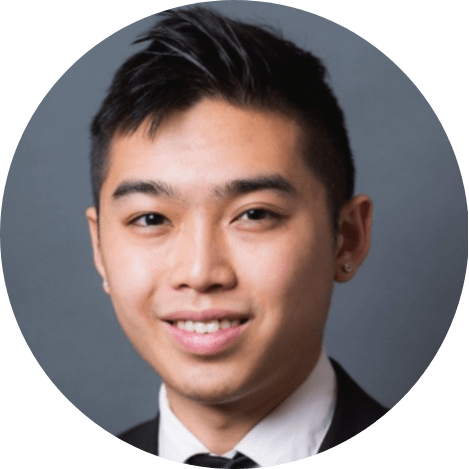 Andy is a full-time animal rescuer and owner of a toy doodle. When he's not saving dogs, Andy is one of our core writers and editors. He has been writing about dogs for over a decade. Andy joined our team because he believes that words are powerful tools that can change a dog's life for the better.
Why Trust We Love Doodles?
At We Love Doodles, we're a team of writers, veterinarians, and puppy trainers that love dogs. Our team of qualified experts researches and provides reliable information on a wide range of dog topics. Our reviews are based on customer feedback, hands-on testing, and in-depth analysis. We are fully transparent and honest to our community of dog owners and future owners.