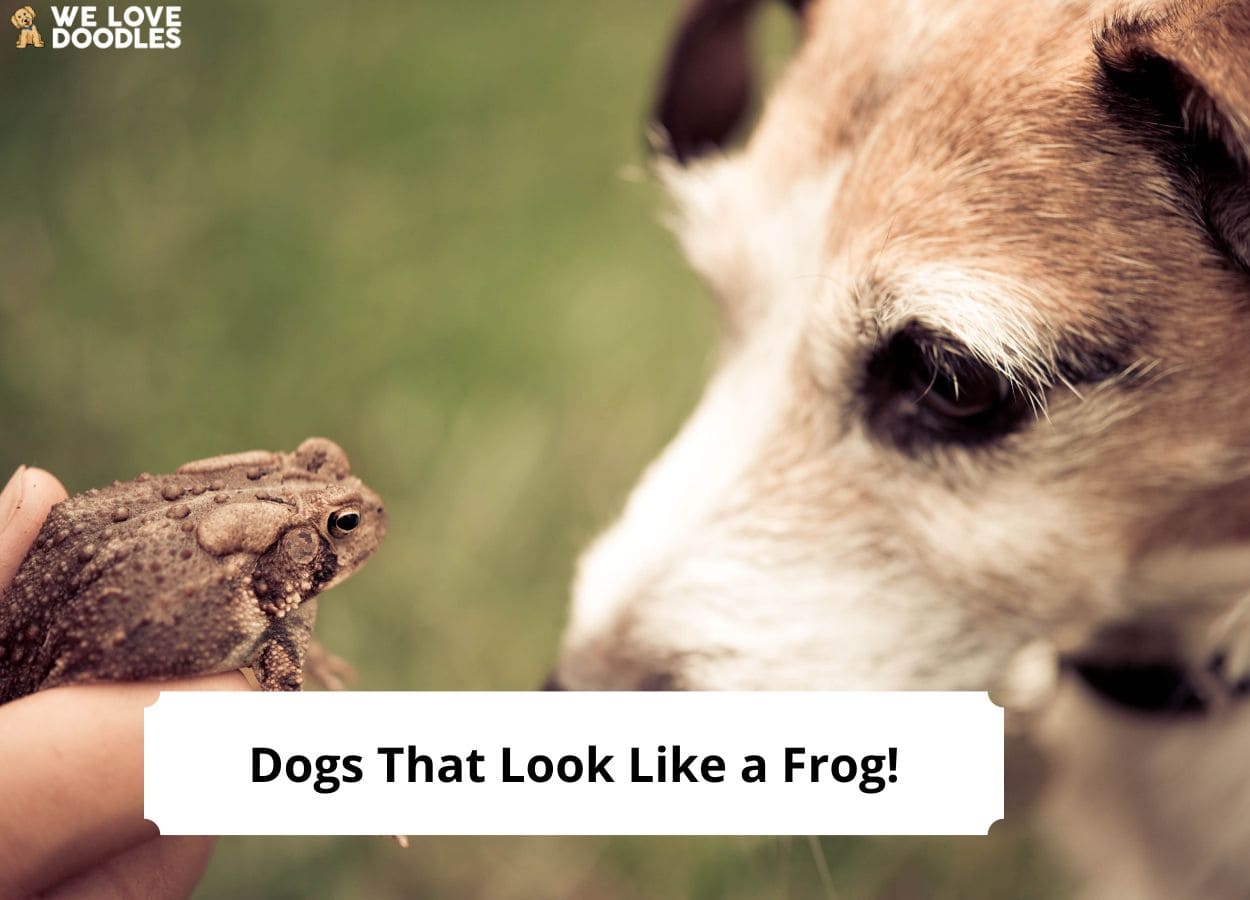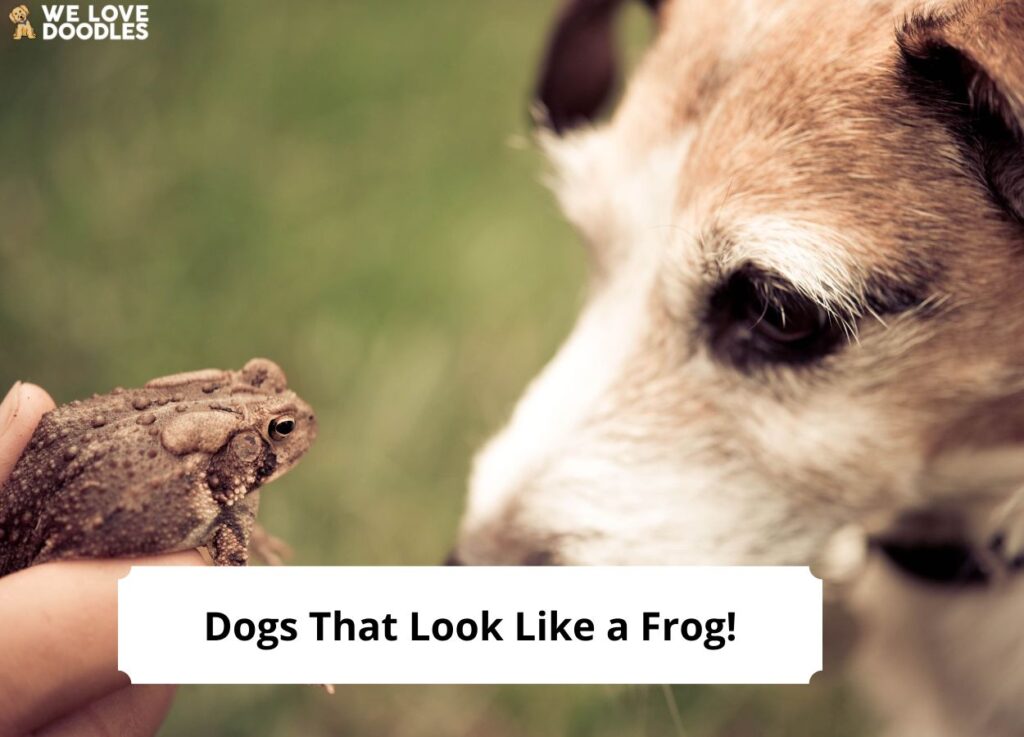 You may not think of the amphibious frog and mammalian dog as being similar. However, there are a few characteristics that may lead to a dog that looks like a frog. Those characteristics include large eyes, squished faces, a lack of a tail, and certain behaviors. Read on to discover some of the dogs that look like a frog.
Before scrolling down this list of dogs that look like Frogs, you can check out these other guides: Dogs That Look Like Pitbulls and Dog Breeds That Look Like a Fox.
Dogs With Frog-Like Faces
Many dogs look similar to frogs thanks to their face shape and eye size since frogs are known for their large eyes and flat faces. Therefore, it makes sense that dogs with those same qualities look similar to frogs. A smushed face on a dog often means they are brachycephalic and may have some breathing issues. Several breeds have big eyes and a flat or smushed face shape.
1. Pug
While Pugs have a curly little tail that is not similar to a frog's rear end, they have wideset eyes and a squished face that causes many to compare them to frogs. Pugs can be in several colors, including black and beige. These small dogs weigh between 14 and 18 pounds and are about 12 inches tall.
Pugs are known for their friendly tendencies and affectionate nature. They love humans of all ages, including children and dogs. They do well in cities and rural areas as long as they get plenty of exercises. However, it is a good idea to keep your pug in a moderate climate as high levels of heat or cold can aggravate their brachycephalic breathing ability.
2.  Shih Tzu
While no frog has the long shaggy fur of a Shih Tzu, this dog breed somewhat resembles a frog thanks to its short snout and wide-set eyes. This breed can grow its hair quite long. As a result, it often looks more like a frog when its hair is cut short.
These little pups weigh between 10 and 15 pounds and measure about 10 inches tall. This breed comes in countless colors, including black, red, silver, white, gold, or combinations of those colors. While no dog is fully hypoallergenic, this breed has hair that produces fewer allergens than other breeds.
Even though little dogs have a reputation for standoffishness, Shih Tzus are affectionate family-friendly dogs. Shih Tzus will run and play, but at the end of the day, they prefer being the ultimate lap dog.
3. Chihuahua
Chihuahuas have some very un-frog-like features, including a long tail and pointy ears, they do have wide-set eyes and sometimes a squished face that makes them look like frogs. Members of this breed can also be small, providing another frog-like feature.
These dogs can have a wide range of appearances. They can measure between a tiny 5 inches tall and a slightly less tiny eight inches tall. They usually weigh less than 6 pounds, making them easy to carry. The Chihuahua's short coats can be black, tan, brown, cream, red, or a combination of all the colors.
Despite their small size, Chihuahuas have a lot of personalities. They are loyal and friendly pups who are smart and confident. Training is vital for this breed since, without consistent guidance, Chihuahuas can get bossy. They do well in most environments. However, they need extra protection in cold weather.
Dogs With Frog-Like Rears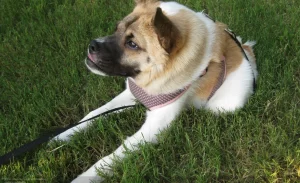 While many dogs look like frogs because of their face shapes, other dogs look similar to frogs thanks to their tailless derrieres. Frogs tend to have a smooth and tailless butt. While fur covers a dog's butt, a frog's butt has smooth skin. Dogs with a similar rear may not have the same texture to their skin, but they can achieve a similar butt shape.
4. Corgi
While the Corgi's face looks a lot like the closely related cattle dog, its tailless butt is quite frog-like. Besides its rear, this dog is also recognizable due to its long body, short legs, big pointy ears, and medium-length fur coat. That coat can come in several colors, including red, fawn, black, and sable. These pups usually weigh close to 25 pounds and measure around 11 inches tall.
Corgis make ideal companions thanks to their affectionate natures. While Corgis can have an independent streak, they make great family dogs and are easy to train. It is essential to provide corgis with plenty of exercise and stimulation since they are smart and prone to weight gain.
5. Australian Stumpy Tail Cattle Dog
Australian Cattle Dogs, also known as Heelers, come in many shapes, sizes, and colors. The Stumpy Tail variety is notable for its lack of a tail compared to its long-tailed cousins.
These dogs were originally bred to herd cattle in Australia in the 1830s. They have a short coat that can be red or blue with spots and speckles. These pups are usually medium-sized, weighing between 35 and 50 pounds. Cattle Dogs are loyal to their humans, and with proper socialization, they can learn tricks easily. Thanks to their high energy levels, it is essential to provide this breed with plenty of stimulation.
6. Brittany Spaniel
The face of the Brittany Spaniel is not similar to a frog by most metrics. However, the back end of this breed can be considered quite frog-like. It has very little tail, making its butt look kind of like a frog's.
This spaniel is a bird dog that is a good retriever. As a result, this breed is often not called a spaniel. Instead, it is only known as a Brittany. The name comes from Brittany, France. Besides this dog's tailless behind, it has a red and cream medium-length coat. These medium-sized dogs weigh between 30 and 40 pounds. Brittanys are easy to train and good with children and adults alike.
Dogs With Frog-Like Faces and Rears
Some breeds only resemble that jumpy amphibian thanks to their face or butt shape. However, the breeds that appear to be the most frog-like often have both. These characteristics are often the result of mutations throughout several generations of dogs and some intentional breeding.
7. English Bulldog
The English Bulldog often receives comparison to a from because of their wide-set eyes, smushed face, and tiny tail. They are known as good family dogs who are great with children. These dogs tend to be very easygoing and loyal to their favorite humans.
This dense, medium-sized breed usually weighs between 40 and 50 pounds and measures around 15 inches tall. Bulldogs can be vulnerable to weight gain. So, providing them with plenty of exercise and a thoughtful diet is vital.
Like many brachycephalic dogs, the English Bulldog's shortened snout can lead to breathing issues. Keep this breed inside during hot weather for optimum breathing.
8. French Bulldog
French Bulldogs are another extremely frog-like dog breed. They have a shortened snout and squished face and lack a tail that mirrors the look of a frog. French Bulldogs weigh 28 pounds at most and measure about 12 inches tall.
The breed is the result of the English Bulldog and French Terrier. The French Bulldog is one of the most popular dog breeds, for good reason. This friendly breed is great with people of all ages, including children, and they get along nicely with other pups. However, this love of companionship is a double-edged sword since they can suffer from separation anxiety when left alone.
9. Boston Terrier
Boston Terriers are little dogs with big personalities. These dogs have several characteristics that mirror those of a frog. Boston Terriers have big wide-set eyes, round heads, and no tail.
Some of these dogs have the smushed faces found in some of the other breeds in this list, but that feature is not found in all Boston Terriers. They can also be quite bouncy in the way they carry themselves, creating more parallels with frogs.
You'd probably know a Boston Terrier by its boundless energy and tuxedo-like short black and white coat. As small pups, Boston Terriers weigh between 12 and 25 pounds. They are ideal family dogs since they get along with humans of all ages and other ages. Early training is essential for optimum behavior from this breed.
Honorable Mentions
While some dogs may not closely resemble a frog, they may exhibit behaviors or characteristics similar to frogs.
Dogs That Sploot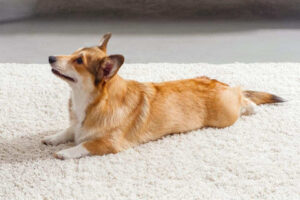 "Sporting" is the term used when a dog lies flat on the ground and splays its legs out behind it. This behavior is sometimes described colloquially as frog legs, and several dogs sploot, including Labradoodles, Corgis, Beagles, and Terriers.
Dogs engage in this behavior to stretch and relax. However, frequent splooting can indicate hip dysplasia, which can lead to bigger health issues. While every splooter does not necessarily have hip dysplasia, it is a good idea to have your vet check your dog out, just in case.
Dogs That Love Water
Many dogs take to water very nicely. However, there are a few breeds in particular that love water, who may look a bit like big frogs when they go for a swim. Breeds with a unique appreciation for water include English Setters, American Water Spaniels, German Shepards, and Labrador Retrievers.
These breeds all love to swim and play in the water with their humans and other dogs. Always follow the necessary safety protocol when taking your dog in the water.
Conclusion For "Dogs That Look Like a Frog"
While frogs and dogs have very little in common beyond the last two letters of their name, you would not be the first person to see some parallels between these two groups of animals. Whether that similarity relates to a face shape, eye size, butt shape,  hobbies, or other characteristics, these cute animals may be more alike than you think.
For more guides similar to this list of dog breeds that look like a Frog, you can check out:
You can learn more about a dog that looks like a Frog by watching "The Short Spine Frog Dog | Full Story Part 1" down below:
Garrett loves animals and is a huge advocate for all Doodle dog breeds. He owns his own Goldendoodle named Kona. In addition, he volunteers at the Humane Society of Silicon Valley, where he fosters dogs and helps animals. Garrett enjoys writing about Doodles and believes that dogs can teach humans more about how to live than humans can teach a dog.
Why Trust We Love Doodles?
At We Love Doodles, we're a team of writers, veterinarians, and puppy trainers that love dogs. Our team of qualified experts researches and provides reliable information on a wide range of dog topics. Our reviews are based on customer feedback, hands-on testing, and in-depth analysis. We are fully transparent and honest to our community of dog owners and future owners.