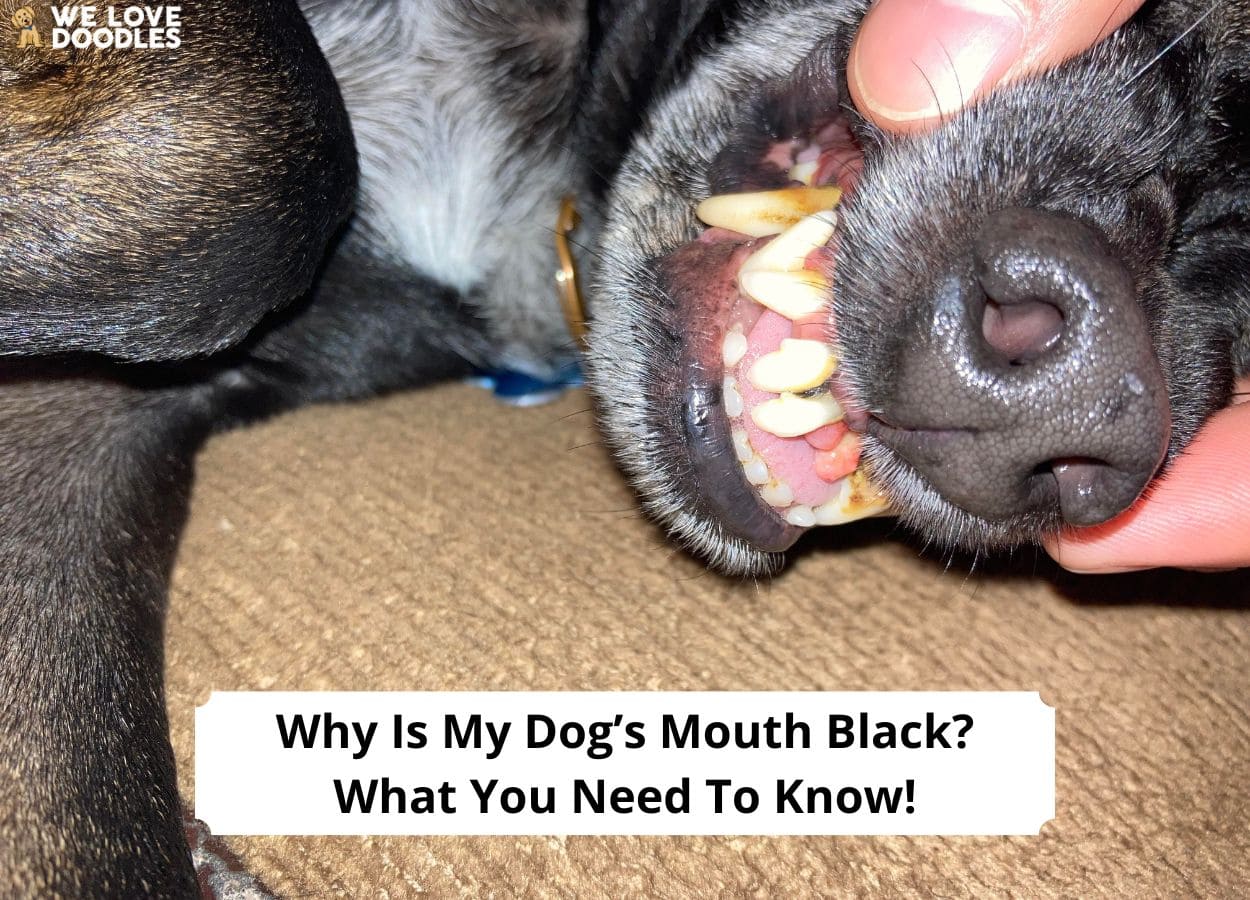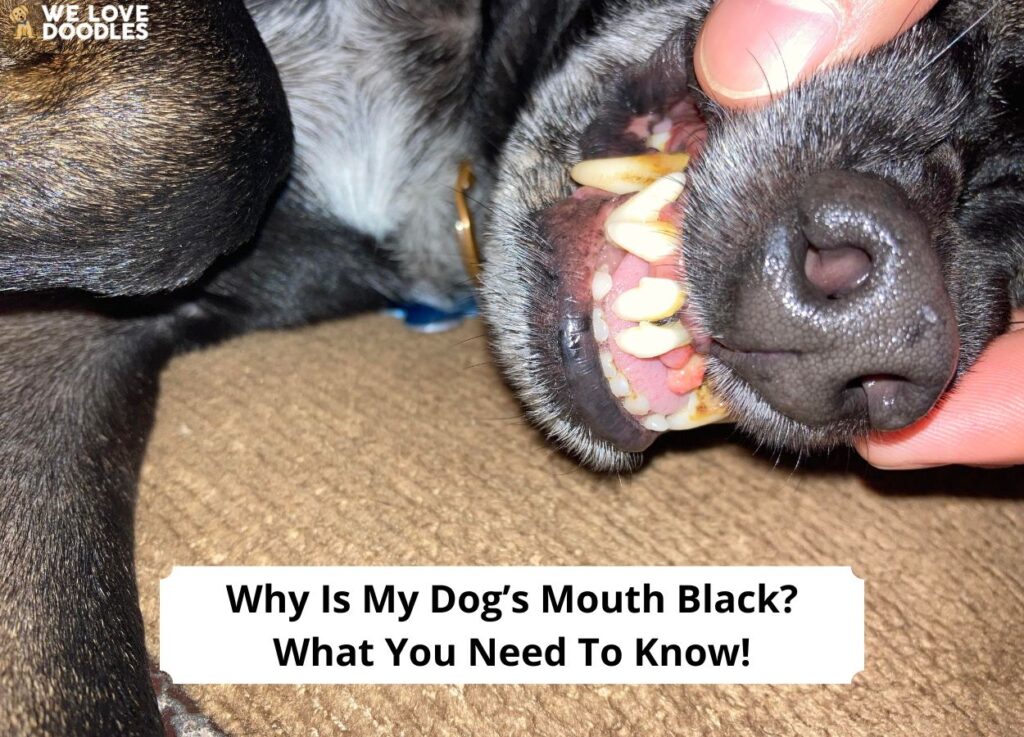 Maintaining your dog's oral hygiene and wellness is crucial. Most oral disorders symptoms tend to worsen with time, and some can even cause other diseases to develop. Among the frequent questions dog owners pose to vets is what causes black in their dog's mouth.
Having an understanding of this problem might help you in predicting how it may affect your dog. So, if you've been wondering why your dog's mouth is black and what you can do to help your furry friend, read on to find out more.
Before reading this article, "Why Is My Dog's Mouth Black," check out: Why Is My Dog's Belly Turning Black? (2023) and Why Is My Dog's Tongue Dark Pink? (2023).
Why Is Your Dog's Mouth Black?
Even though you should take the dog to the vet for a full diagnosis and assessment, knowing what to prepare for is still helpful. Here are the most common causes of a black mouth in dogs.
Plaque
There is a high chance that plaque accumulation is the culprit causing the discoloration. Tartar forms when plaque, often triggered by bacteria, hardens on your dog's teeth. The result is a black or brown film on the dog's tongue and mouth.
Diet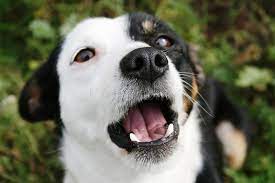 Similar to plaque accumulation, a dog's black mouth may result from what you feed them. If your dog consumes large portions of dry food, they're more likely to ingest too many grains and charcoal. That gives rise to black spots in their mouth.
Some dogs will develop black coloring around the teeth if you feed them an iron-rich diet. However, such blackening doesn't harm the dog but requires extra attention to keep the dog's mouth clean.
Genetics
Some dogs acquire a naturally dark palate from their parents. Because of their darker coloration, these dogs tend to have black gums. Typically, these situations manifest in German Shepherds, Boxers, Boston Terriers, and American Bulldogs. Thus, it's not a cause for concern but a mere breed characteristic.
Puppies are more likely to have this condition than adult dogs. However, no hard and fast rule says your dog has unhealthy gums because they don't belong to any of these breeds and have black patches on their mouth. It's still possible that the coloring is a result of natural aging.
Melanoma
Melanoma is an aggressive skin cancer that affects animals and humans alike. Although the condition is rare, it can cause tongue discoloration and other symptoms like weight loss, skin lumps, or mouth bleeding.
If your dog exhibits any of these symptoms besides a black tongue, you should take them to the vet immediately. Your vet may initiate surgery or radiation therapy if they discover your dog has this condition. Alternatively, they may suggest chemotherapy or a canine vaccine, depending on the severity.
Periodontal Disease
Your dog is at risk of developing periodontal disease if you don't give them proper oral care. The gums may become darker with time if you don't clean them adequately. The condition might also lead to other symptoms like a foul smell and bleeding gums.
Your dog may have periodontal disease if they have chronic pain or gum erosion. We recommend seeking immediate medical help as the decaying bacteria can infect your dog's bloodstream and heart.
Your veterinarian may recommend constant brushing to prevent further deterioration of your dog's gum.
Black Mouth in Aging Dogs
Your dog's darkening mouth may result from the natural aging process. Aging is associated with a general decline in a dog's health. However, that doesn't mean they have to endure a painful life. It would help if you discussed pain medications with your vet to make your dog's senior years more comfortable.
Your dog's gums may degenerate more rapidly than usual because of a genetic defect. You may need to adjust your dog's diet to accommodate delicate teeth and a slower digestive tract.
What Does It Mean When My Dog's Mouth Is Black?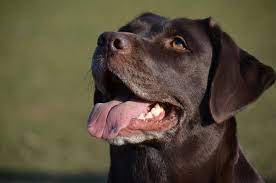 Dogs with black spots on their mouths may be more intelligent and simpler to train. For instance, some hunters believe that the best hunting dogs are the blackest in their mouths.
To some owners, dark patches in the mouth indicate a purebred dog. Although there are numerous dog breeds with black mouths, that isn't essentially indicative of being a purebred dog or a dog with exceptional intelligence. The dog in question is also not guaranteed to be a top-tier hunter.
What Should I Do if My Dog Has a Black Mouth?
Your dog's mouth darkening could be a symptom of a severe underlying illness, so you must have them checked out by a vet. You should avoid providing medications to your dog with a vet's diagnosis.
You run the risk of misdiagnosing the dog and end up not treating the underlying issue. Furthermore, multiple human medicines are toxic to dogs or unsafe.
The progression of the underlying problem will determine your dog's therapeutic outlook. A dog with benign oral tumors might benefit from surgery, whereas a dog with melanoma might have a more challenging time overcoming the disease.
It can be challenging to prevent periodontal disease, but modifying your dog's dental hygiene can be quite beneficial.
After determining the cause of the black spots, your vet may prescribe antibiotics to clear them up. They may also recommend dietary changes or supplements. Regardless of the reason, you should adhere to your vet's instructions to ensure the condition doesn't worsen.
When Should I See a Vet?
Black gums are a sign of something wrong with your dog's oral health, but they shouldn't be the only indicator. Watch for symptoms like sensitivity, difficulty swallowing, pain, swelling, bad breath, or bleeding from the gums. If your dog exhibits any of these signs, don't delay taking them to the vet.
If your dog's mouth didn't have any black patches in the past, but there is one now, it might be problematic. In addition, it may indicate gum disease if the dark area is near the gum line or the edge of the tooth. Although it could be a cavity, the likelihood of it being gum disease is far higher.
Any raised black spots on your dog's mouth may signify a more severe condition besides gum disease. Canine gum cancer symptoms may include painful, raised black patches on the gums and increased tooth sensitivity.
The only sure way to spare your dog the anguish and premature death of cancer is to diagnose it at its earliest stages.
How Can I Prevent My Dog's Mouth From Becoming Black?
You may prevent your dog's gums from turning black by brushing them regularly. Brushing your dog's teeth regularly removes plaque and tartar buildup, which might result in a black appearance in the mouth. Strive to brush at least once a week.
If your dog has severe plaque, it might necessitate professional dental cleaning. Your vet will recommend the proper cleaning frequency depending on your dog's dental health.
A healthy diet can help keep your dog's teeth and gums healthy, preventing the blackening of the mouth. Thus, you should avoid giving them sweets if you want to keep their gums healthy. Dogs' teeth and gums might become unhealthy if they consume too much sugar.
Whereas it may be tempting to buy your dog a puppuccino every time you go out for coffee, doing so may lead to dental problems and discomfort. Chew toys usually keep a dog's teeth clean and healthy, preventing blackening of the mouth.
Furthermore, it's best to examine your dog's mouth frequently for signs of infection, including:
Red and swollen gums
Bad breath
Do All Dogs Have Black Mouths?
While it's common to notice black in a dog's mouth, it's still important to consult a veterinarian. If your dog breed isn't prone to having a black mouth, it might be suffering from a condition that needs urgent attention.
Does the Color of a Dog's Mouth Mean Anything?
Your dog is healthy if its gums are pink. However, your canine may have health issues if its gums are pale.
Frequently Asked Questions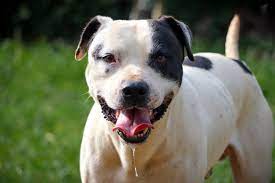 Here are the most common questions people ask about why their dog's mouth is black.
Is it normal for a dog's mouth to be black?
Some dogs naturally have black pigment in their mouths. However, black patches might not be natural and could necessitate a trip to the veterinarian.
What does it mean when your dog's mouth turns black?
If your dog's mouth turns black, it could be a sign of a medical issue resulting from tooth decay and oral tumors. It would help if you took them to a veterinarian as soon as possible for a thorough examination and proper treatment.
What dogs have black inside their mouth?
The most well-known dog breeds for having a black pigment in their mouth include German Shepherds and Boston Terriers. However, dark patches in a dog's mouth are not limited to these breeds and may also be present in others.
What do dogs' gums look like when they are sick?
Dogs' gums will have different appearances when they're sick, depending on the specific condition they're suffering from. They could be pale, purple, blue, yellow, or red.
Why is my dog's mouth black?
Your dog's mouth could be black because of pigmentation buildup in the skin or mucous membranes. In addition, they could be suffering from melanosis. It's a good idea to consult a veterinarian since they can determine the source of the problem and recommend proper treatment.
What color should the inside of my dog's mouth be?
A dog's gums should be pink, except for specific breeds, such as the Chow Chow and the Chinese Shar-Pei, famous for having bluish or black tongues and speckled or mottled gums.
Why is the roof of my dog's mouth black?
Your dog's mouth roof is black due to a pigment cell layer known as melanocytes. The cells produce melanin pigment that gives the skin its color. It also offers protection against UV rays.
Do purebred dogs have black mouths?
Some purebred dogs might have black mouths, whereas others have pink, brown, or spotted mouths. Nevertheless, the presence or absence of black spots in a dog's mouth isn't always an indication of their breed.
Conclusion for "Why Is My Dog's Mouth Black"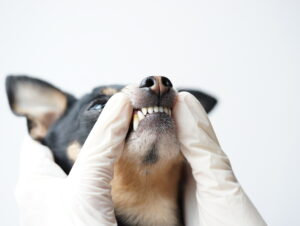 Your dog's gums are an indicator of its general health. Therefore, you should pay attention to their color and condition. Abnormally dark gums are a warning indication of illness in dogs. The primary culprits of gum discoloration in canines are gum disease and cancer.
Consult your vet right away if you have any reason to suspect that your dog is suffering from either of these conditions. The sooner you discover and treat it, the better off they'll be.
We hope our guide will help you know why your dog's mouth is black.
If you liked this guide, "Why Is My Dog's Mouth Black," check out:
Learn more by watching "Dog Mouth Emergency: What To Do At Home" down below:
Garrett loves animals and is a huge advocate for all Doodle dog breeds. He owns his own Goldendoodle named Kona. In addition, he volunteers at the Humane Society of Silicon Valley, where he fosters dogs and helps animals. Garrett enjoys writing about Doodles and believes that dogs can teach humans more about how to live than humans can teach a dog.
Why Trust We Love Doodles?
At We Love Doodles, we're a team of writers, veterinarians, and puppy trainers that love dogs. Our team of qualified experts researches and provides reliable information on a wide range of dog topics. Our reviews are based on customer feedback, hands-on testing, and in-depth analysis. We are fully transparent and honest to our community of dog owners and future owners.