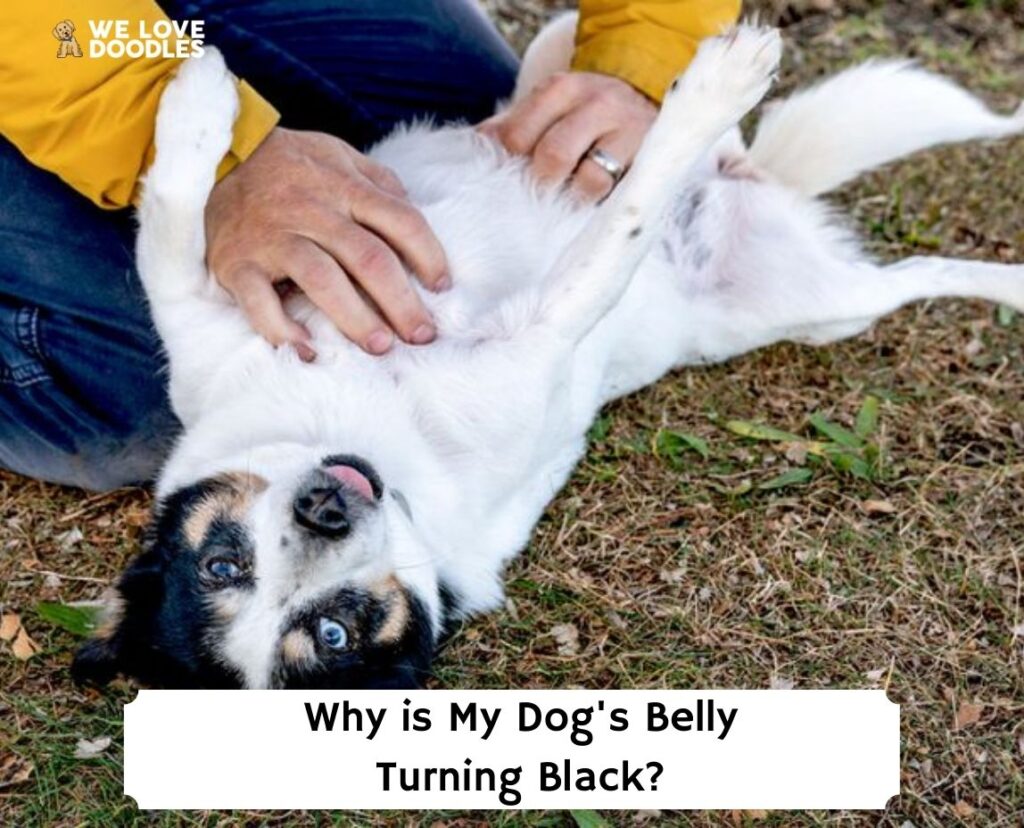 As a pet owner, it's normal if your pet's health is always on your mind. That's why the smallest things may set alarm bells off in your head. For example, you may have just noticed that your pup's cute pink belly is turning black. This can deeply worry pet owners. You might be happy to learn that you're not alone in your concern. Many pet owners also ask: "Why is my dog's belly turning black?"
People often think that their dog's belly changes color immediately. But it may surprise you to learn that the change from pink to black happens over time, and you've only just noticed it now. This is more common than you think. Unless your dog is showing off their belly during a nap, asking for a belly rub, or rolling over constantly, you might not see its stomach often enough notice the change.
Typical reasons behind changing skin color on a dog's belly shouldn't cause worry. The most common cause for your furry companion's black belly is hyperpigmentation, a condition that causes skin to appear darker. Now, you may be wondering what causes hyperpigmentation and possible symptoms to look out for. Luckily, we'll cover all of that information in this article. Let's begin!
Check out for more: Everything You Need to Know About Dog Nipples – Vet Advice! and My Dog's Stomach Is Turning Purple. What Do I Do?
Hyperpigmentation in Dogs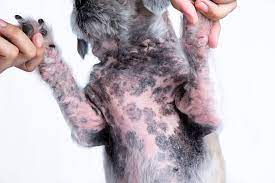 Just like in humans, hyperpigmentation in dogs causes a darkening of the skin. It essentially means that more pigment is visible, so deeper colors are more noticeable. The effect is more dramatic in dogs with light-colored fur and skin.
It's important to remember that skin discoloration is not a condition that happens overnight. Instead, there has to be some degree of continual exposure for hyperpigmentation to appear on a dog's stomach. Furthermore, hyperpigmentation is usually a secondary condition that is accompanied by other skin conditions, allergies, etc. Hyperpigmentation is not a disease in and of itself, rather it is a reaction to something else that may be happening with the skin.
Hyperpigmentation can show itself in a few ways. The most typical symptoms are discoloration and skin texture changes. Discoloration means that the areas affected may be light brown to black in color, while skin changes refer to the impacted area becoming velvety, rough, or thickened. Your dog may also experience hair loss in an affected area. The areas that are most prone to hyperpigmentation are the groin, legs, and armpits.
Your dog's skin may also appear red, which can occur as a result of a bacterial or yeast infection that is secondary to the hyperpigmentation. Any infection may signal underlying issues that can spread to other parts of your dog's body. If you suspect infection, you should take your dog for veterinary care.
Typical Causes of Hyperpigmentation in Dogs
Now that we've discovered what hyperpigmentation is and what it can look like, it's important to understand how it happens to dogs. The following are some of the reasons why your dog's belly may turn black.
Hypothyroidism – Up to 33% of dogs diagnosed with hypothyroidism showed signs of hyperpigmentation as one of their symptoms. Generally, there are many other things going on with the dog than just a black tummy if the dog has hypothyroidism or another hormone imbalance. Essentially, if the thyroid is overactive (hyperthyroidism), the body's metabolism will work more quickly. If it is underactive (hypothyroidism), the metabolism slows down. Along with hyperpigmentation, dogs with hypothyroidism can have large areas of fur missing, patchy fur loss, secondary skin infections, thinning hair, thin or thickened skin, as well as changes in energy, thirst, and appetite.
Systemic Lupus Erythematosus (SLE) – SLE is an immune disorder in which a dog's immune system begins to attack its own tissues. In some cases, dogs diagnosed with this disease may experience hyperpigmentation. Some breeds are predisposed to developing SLE. These include, but are not limited to, the Afghan hound, Beagle, Collie, German shepherd, and Irish setter.
Allergies – If your dog experiences allergies, it may also develop hyperpigmentation. This is because hyperpigmentation is most often associated with chronic itching, which can lead to those dark spots wherever your dog is itching frequently. Work with your veterinarian to manage the allergies causing itching and chronically inflamed skin. Although the skin may never return to its former light color, treating chronic skin conditions and the causes of itching is important for your dog's health and comfort.
Skin Infections – Skin infections can occur on their own or in conjunction with allergies. Malassezia is a yeast infection for which changing skin colors is a primary symptom. Malasezzia doesn't typically cause any major health problems. But, if the skin's immunity dips, the Malassezia can multiply rapidly and cause damage. Other skin conditions where hyperpigmentation is a primary symptom include Mange and Ringworm. In both of these conditions, hyperpigmentation tends to be temporary and usually resolves with treatment. In severe cases, the hyperpigmentation may be permanent even with treatment.
Demodicosis – This disease is a lesser-known cause of hyperpigmentation. Demodex spp. are cigar-shaped microscopic parasitic mites that live in dogs' hair. These mites are passed to puppies from their mothers in the first few days of life. They can live in the hair for the duration of an animal's life without causing problems. However, in some instances, mite populations can multiply too rapidly and become extremely large, causing inflammation and disease. The resulting disease is called demodicosis.
Other Reasons Your Dog's Belly Mey Be Turning Black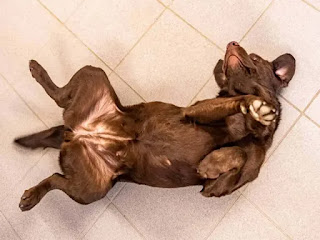 We have covered the most common reasons why your dog's belly may be turning black. But there are other, more uncommon, reasons why your pup's cute pink belly has gone black. These reasons are much less concerning and usually resolve themselves or need little interference.
Post-Clipper Alopecia – If your dog's skin is turning black after a trip to the groomer, it could be from post-clipper alopecia. Simply translated, this means that no fur regrowth after clipping or shaving is occurring. This can result in hyperpigmentation. The darkening may fade with time, and the fur may grow back eventually. This condition is particularly common in Nordic breeds. Shaving close to the skin of those oversized fluffy babies, such as Samoyeds and Akitas, is not recommended.
Chronic Licking – If you have noticed that your dog's hyperpigmentation is only occurring in areas where they tend to lick themselves, this could be the reason for your pup's black belly. Your dog's saliva can cause pigment changes in its skin and fur. This is more typical in dogs with light-colored coats. If your dog's chronic licking is due to allergies, take sure to address it with your veterinarian so you can stop the licking.
Old Age – Hyperpigmentation is normal to notice as your dog ages. Just like humans, mild darkening of the skin can occur from exposure to the sun and elements over the years. Just like chronic licking, this condition most commonly occurs in dogs with light-colored fur.
Hair Cycle Changes – Any changes in hair cycle arrest, particularly in plush-coated breeds (Bichon Frise, Chow Chow, Shih Tzu, etc.), can cause hyperpigmentation. Hair cycle arrest is characterized by progressive non-pruritic alopecia, in which your dog loses its primary fur and grows a duller, drier coat in its place.
Hormone Changes – Changes in your dog's hormones are usually caused by old age or medical treatment and can result in hyperpigmentation.
Genetic Predisposition – Dachshunds are extremely prone to hyperpigmentation. They have a lot of pigment in their skin, which means that any small change can lead to hyperpigmentation. Other breeds that are genetically prone to changing skin color are Huskies and Yorkies.
Frequently Asked Questions
How do you treat black skin on dogs?
First, you need to determine the cause of your dog's changing skin color. A veterinarian will likely prescribe a topical medication to address the problem. The black skin may also go away on its own.
Is it normal for a dog's belly to change colors?
A change in skin color on your dog's belly is normal, especially if it's because of old age or a reaction to medication. However, there are other, more serious causes of hyperpigmentation. Always consult a veterinarian if you are concerned.
What does a yeast infection look like on a dog's belly?
At first, a yeast infection on a dog's belly will appear pink or red. Advanced or chronic yeast infections may turn the skin thick and leathery or cause a change in skin color.
Why is My Dog's Belly Turning Black?
That's a lot of information! Now that you understand what hyperpigmentation is, you'll be better able to answer figure out why your dog's belly is turning black. The most popular reasons your pup's belly might be black include hypothyroidism, allergies, and skin infections. There are also other less-concerning causes such as chronic licking, hormone changes, and old age.
If you notice hyperpigmentation on your dog, it is important to consult a veterinarian to determine whether the reason for your pup's black belly needs serious treatment or will resolve on its own.
You will also like:
Want to learn more? Check out this VIDEO:
Garrett loves animals and is a huge advocate for all Doodle dog breeds. He owns his own Goldendoodle named Kona. In addition, he volunteers at the Humane Society of Silicon Valley, where he fosters dogs and helps animals. Garrett enjoys writing about Doodles and believes that dogs can teach humans more about how to live than humans can teach a dog.
Why Trust We Love Doodles?
At We Love Doodles, we're a team of writers, veterinarians, and puppy trainers that love dogs. Our team of qualified experts researches and provides reliable information on a wide range of dog topics. Our reviews are based on customer feedback, hands-on testing, and in-depth analysis. We are fully transparent and honest to our community of dog owners and future owners.