Belly bands, sometimes called belly wraps, are a bit like diapers for male dogs – except they are only designed to catch urine, not poop. They can be re-usable or disposable and are either made out of fabric or diaper material that wraps around the belly to catch and absorb urine. There are a lot of different uses for belly bands, as well as many pros and cons, so are they worth a purchase? Let's take a look.
Before you scroll further down this guide, "Pros and Cons of Belly Bands For Dogs," you can check out these other dog guides: Dog Diaper Rash and Best Diapers For Dogs in Heat.
Pros of Belly Bands for Dogs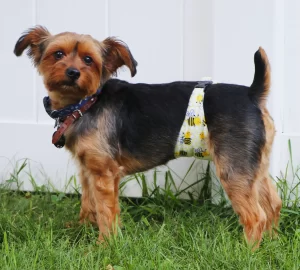 Let's take a look at the pros of using belly bands for dogs.
They're Easy to Use
First and foremost, they're very easy to use. Here is a quick five-step guide on how to use belly bands for first-timers:
Separate the velcro and drape the belly band evenly over your dog's midsection from behind
Wrap it around their waist and ensure their privates are covered by the band
Make sure that it is snug but comfortable and that your dog can breathe and move around easily
Close the velcro
Double check everything is covered – voila!
They're Comfortable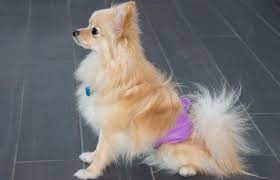 The second pro of belly bands for dogs is their comfort factor. So long as they are the right size and made of soft material, they are pretty comfortable to wear and should not construct your dog's movements and they will have no trouble sitting or lying down whilst wearing their belly band, particularly if they are made out of washable material.
They're Affordable & Convenient
Thirdly, belly bands are not just good for dogs – they're also good for owners. Whether you buy disposable or re-usable belly bands, they tend to be very affordably priced and if you do buy a re-usable one, it's super convenient, too, as you won't have to buy too many, and they're easy to clean as they're machine washable.
They Keep the House Clean
One of the major pros of belly bands is that they help to keep your home clean. No more smelly puddles or horrible pee stains on your nice floors or furniture!
They Have Multiple Uses
Finally, belly bands have tonnes of uses, such as:
Incontinence & illness
Belly bands are commonly used to help with symptoms of incontinence in seniors & dogs with health-related bladder control issues, such as UTIs and diabetes. Although they can't fix the problem, you can use them alongside veterinary treatments to manage your dog's symptoms, or until their illness is cured.
Overexcitement
Lots of dogs pee by accident when they get excited; it's quite natural in younger dogs, and they usually grow out of it. If they don't, it's nothing to worry about, but  you may want to use a belly bands to avoid making a mess on special occasions like family gatherings and parties.
Submissive urination
Submissive urination is when a dog pees in response to fear or anxiety. It is more common in young puppies who are gaining their confidence and usually resolves by itself, but can also occur in adults who are naturally nervous or come from certain backgrounds.
Although you should ultimately try to help your dog build their confidence with exposure, positive reinforcement, socialization, and positive association training, you may want to use a belly band in the meantime when your dog meets new people, does something new, or in situations they find scary, like vet visits and thunder storms.
Spot Marking
Spot marking is when a dog pees to mark their territory. It is perfectly normal behavior, but when they insist on doing it everywhere, including indoors, it becomes a problem.
It's often related to testosterone production in younger male dogs and usually resolves itself when you get your dog neutered, but it can also occur in adult dogs, and it can be related to anxiety or lack of training. Both of which can be fixed, but until then, a belly band can help.
Separation Anxiety
Spearation anxiety is another common behavioral problem in dogs, in which they feel anxious when separated from their owners. A lack of care or training, boredom, anxiety, loneliness, and trauma can all contribute to separation anxiety, which can cause destructive behaviors including peeing when left home alone. It can be resolved with training, but meanwhile, it may help to use a belly band.
Night-time Peeing
Dogs pee during the night for various reasons, including a weak bladder and anxeity, but they can usually be treated with training and by creating a firm daily and night-time routine. However, a belly band may help to keep your home clean whilst they adjust.
Traveling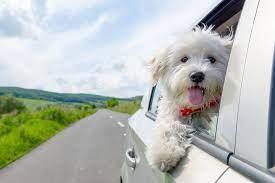 Belly bands are also great for long travels in which you can't really stop for pee breaks, as well as when you're going to new indoor locations, in which you're worried your dog might pee!
Training
Finally, belly bands can be good potty training aids for puppies when you're not able to let them go outside to pee because of bad weather etc, whilst still discouraging making a mess indoors.
Cons of Belly Bands for Dogs
Let's take a look at the cons of belly bands for dogs.
They can't be Worn for too Long
The first con of belly bands is that they can't be worn for too long. Ideally, you should check your dog's belly band at least once an hour. This is because, unlike a diaper, they're not designed to absorb a lot of pee.
So, once your dog pees in them, they need to be changed or cleaned, depending on the type of belly band you use – which isn't great for crate training or dogs who spend long periods of time alone.
They can Irritate the Skin
If you do accidentally leave a belly band on your dog once they've peed in it, the wet fabric against their skin can irritate it and make it sore or itchy. Top tip should this occur; apply a little talcum powder to the inflamed area to ease the irritation.
They Require a lot of Cleaning
As mentioned above, if you use a re-usable belly band, you'll have to clean it whenever your dog pees in it, which is fine if you only need to use it occasionally, but if you need to use it regularly, for incontinance, for example, you will have to do a lot of cleaning.
They can Create a lot of Waste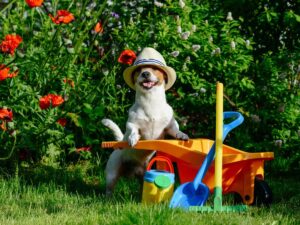 Alternatively to the point above, if you use disposable belly bands on a regular basis, it can end up creating a lot of waste, depending on the material. Although, there are bands made out of recyclable materials.
They're not a Cure for Anything
Finally, as we illustrated in the above section, belly bands are not a cure for any behavioral or health problem. They're simply a way of dealing with the sympoms – whether they're temporary or permanent.
How to Find the Right Belly Band for Your Dog
When you're looking for the right belly band for your dog, consider the size, fit, and material of the band. Getting the right size and fit by measuring your dog is crucial to its comfort and effectiveness. You should also consider how often you're going to use them to determine which type of belly band you get; re-usable or disposable.
Disposable belly bands are better for short-term use, and re-usable bands are better for long-term or regular usage. Re-usable bands are also better for fussy dogs, as they tend to be made from softer material. You can also get disposable bands that are recyclable and re-usable bands that look nice – if that's important to you!
Can you Make Your own Belly Band for Dogs?
There are a lot of homemade DIY belly band ideas for dogs online, but we recommend staying away from them. If your dog needs a belly band, it's best to buy one, as they're designed to do the job properly. Homemade ones can be diffcult to make, ineffective if made wrong, and in the long run, you'll probably save your money buying commercial ones.
Alternatives to Belly Bands for Dogs
If you're not sure about getting a belly band for your dog, check out these alternatives.
Pee Pads
If your dog is peeing indoors during the night or whilst they are still being housebroken, consider using pee pads. Pee pads absorb urine into sponge-like layers, similarly to diapers, and enclose it with a leak-proof layer with material that helps to control the odor.
Many of them also use natural scents that encourage pups and dogs to pee on them, rather than anywhere else. If your dog is housetrained, putting them by the door to your yard will help.
Dog Diapers
Like human diapers, dog diapers go all the way around their bodies and catch everything that comes out – not just pee! These are great for dogs who have medical issues with their bowels as well as their bladders, but shouldn't really be used unless they're absolutely necessary, as they cover more of the body and therefore aren't quite as comfortable.
Conclusion For "Pros and Cons of Belly Bands For Dogs"
Belly bands for dogs are a great purchase for those who need them, but they do not substitute veterinary treatment or training. You should use belly bands alongside these things, and consult your vet if you're not sure whether or not they're right for you!
If you find this guide, "Pros and Cons of Belly Bands For Dogs," helpful, you can check out these other dog guides from our team at We Love Doodles:
You can learn more about this topic by watching "Information About Belly Bands for Dogs" down below:
Garrett loves animals and is a huge advocate for all Doodle dog breeds. He owns his own Goldendoodle named Kona. In addition, he volunteers at the Humane Society of Silicon Valley, where he fosters dogs and helps animals. Garrett enjoys writing about Doodles and believes that dogs can teach humans more about how to live than humans can teach a dog.
Why Trust We Love Doodles?
At We Love Doodles, we're a team of writers, veterinarians, and puppy trainers that love dogs. Our team of qualified experts researches and provides reliable information on a wide range of dog topics. Our reviews are based on customer feedback, hands-on testing, and in-depth analysis. We are fully transparent and honest to our community of dog owners and future owners.