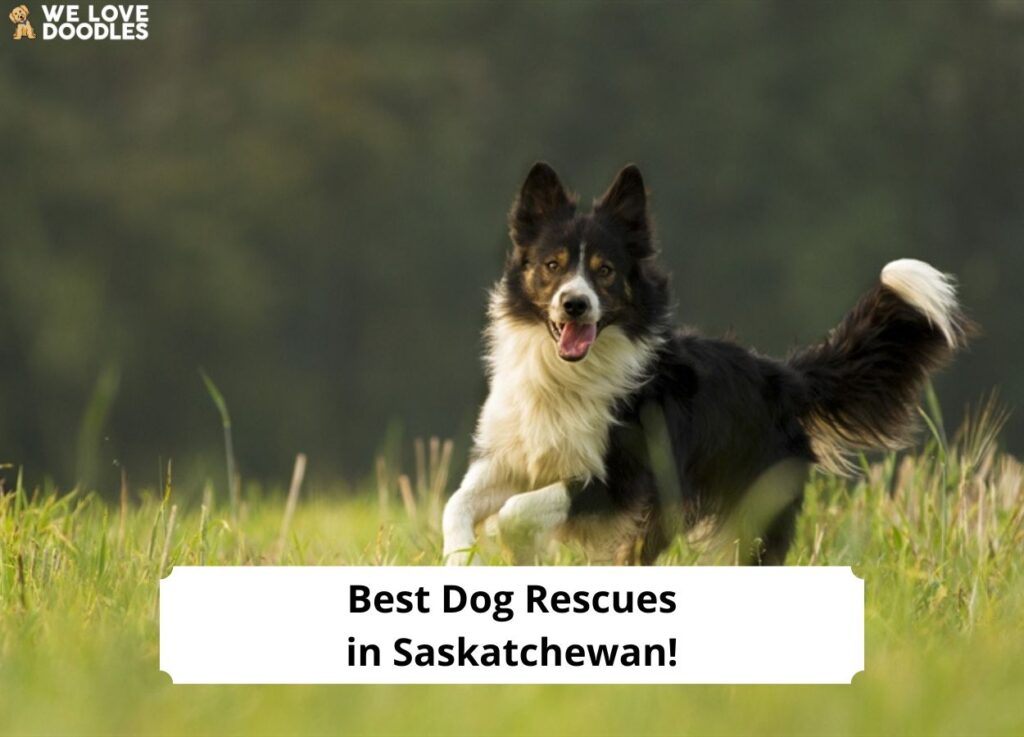 Looking for dog rescues in Saskatchewan? Good for you. Rescuing a dog can be such a rewarding experience.
Not only do you get to save a life, but you'll also have some hefty savings money-wise, as rescue dogs typically cost way less than a pooch from a reputable breeder.
If you're looking to adopt your new bestie in Saskatchewan, you've come to the right place. Here are some of our favorite dog rescues in Saskatchewan.
Before you scroll further down this list of dog rescues in Saskatchewan, check out: Best German Shepherd Rescues in Canada and Best Golden Retriever Rescues in Canada.
1. Bright Eyes Dog Rescue
Part of the mission of this Saskatchewan-based dog rescue is community outreach that aims to promote the human-animal bond.
Aside from their core mission to provide a haven for dogs without caring homes, they are determined to reduce the number of homeless dogs by educating the public on responsible pet ownership.
Since 2003, this dog shelter has been registered as a non-profit with all proceeds from its activities going back into fostering and re-homing dogs. This means that any donation is entitled to a charitable tax receipt.
They have a network of volunteer homes where these dogs are fostered until they find their forever homes. The rescue shelter is always open to volunteers who can donate financially to meet the needs of running the dog rescue, open their homes to foster dogs, or any other services to help the pooches out like taking them out for walks.
The Bright Eyes dog rescue opens its arms to all dog breeds. You can check out their website for all the dogs that are eligible for adoption and those eligible for fostering. They also host several events as their fundraising efforts, such as educating the public or allowing the public to spend a fun day with the dogs.
Bright Eyes Dog Rescue Details:
2. Hanna's Haven
Hanna's Haven was started in 2006 and has been able to rescue and re-home more than 2,000 dogs. They are a dog rescue in Saskatoon, Saskatchewan, and are huge advocates for dogs' rights. The dogs in this rescue are placed in foster care until they meet their permanent family.
This dog rescue accepts surrendered dogs, but there is a $300 fee charged to owners who want to surrender dogs that require medical or training services as a result of the owner's negligence. No fee is charged in any other dog surrender situation. The rescue also has a no-kill policy, and they accept all dogs regardless of their condition or origin.
Donations are greatly appreciated as that's entirely how the facility is run. You can donate cash or doggy items like treats, toys, and food. Volunteering your time to spend with the pooches and helping to foster them is also very much welcomed.
If you would like to adopt one of the dogs, it is as simple as picking one from the website and reaching out to the dog shelter for the next step.
Hanna's Haven Details:
3. Lucky Paws Dog Rescue
This dog rescue is a registered non-profit dog rescue in Saskatchewan. Since they opened their doors in 2017, they have dedicated themselves to helping dogs that have been abandoned or living in harmful situations. They seek to find these dogs safe havens and will try to place them in loving homes.
The dog rescue is 100% run by volunteers and they have no central location where they keep their dogs. Instead, they have various foster homes within the Regina and Moose Jaw areas. You can view the dogs on their website and if you're interested in adopting or fostering, contact them for a face-to-face meeting.
All dogs are accepted regardless of their health or age, but aggressive dogs are further assessed before a decision is made because the safety of foster parents is paramount.
Lucky Paws Dog Rescue Details:
4. Saskatoon Dog Rescue
The Saskatoon Dog Rescue provides shelter for dogs in Saskatchewan without homes and participates in community outreach to try to reduce the number of abandoned dogs. They have a spay/neuter and return program for locals who cannot afford it to control the dog population and prevent further dog abandonment.
Once a dog is brought to the dog rescue, it is given medical services and is assessed behaviorally and mentally. Once they are deemed healthy, they are placed in a foster home to wait for a permanent home.
Saskatoon Dog Rescue is a non-profit organization that is entirely dependent on volunteers since starting in 2012. Despite being run by volunteers, the group has managed to find forever homes for more than 700 dogs.
To support the dogs, they accept donations from like-minded individuals and also have merchandise on their online shop on their website, where you can get yourself dog-themed items while supporting the running of the dog rescue.
Volunteers are always in demand at this dog rescue. If you believe in the cause and would like to volunteer your home or time, fill out the online application form that is on their website. Alternatively, they have a wish list on their website where you can get the dogs what they need.
Saskatoon Dog Rescue Details:
5. The Pack Project
With their mission being uniting hearts and paws, this dog rescue embraces wittiness and light-heartedness in everything they do. From the clever dog puns on their website to the happy, enthusiastic volunteers, the Pack Project is a cheerful place to be.
They are based in Regina, Saskatchewan, and have been open since July 2014. The Pack Project accepts dogs of all breeds and ages. Once accepted into the dog rescue, the dogs are placed in foster homes around the Regina area with loving families.
During their foster care, they receive veterinary care and training so that when they are ready, they can be easily matched with their forever homes.
Rescue and outreach are the two key programs run by the Pack Project. Under the rescue program, they take in dogs that have no homes or come from abusive environments.
As for the outreach programs, the dog rescue participates in several activities that promote the health and well-being of dogs. To support the shelter in any way, please visit their website for more information.
The Pack Project Details:
6. Ta Ta Fur Now K9 Country Lodge
Ta Ta Fur Now started as a dog boarding facility where people can leave their dogs for a short while. They started opening their doors to dogs without homes in June of 2012 under a program called We All Need A Rescue (WANAR) K9 rescue.
All the dogs in this facility receive love and care whether they are being fostered or boarded awaiting their owner's return. WANAR, being a separate entity, runs its operations like any other dog rescue. The dogs brought in as rescues are initially quarantined until they are medically and mentally examined.
After this, they get to mingle with the other dogs, and details of their regular veterinary visits are kept for their future adoptive family. This is a no-kill facility and they keep the dogs under their care for as long as it takes to find them a family.
Since WANAR is a charity, they accept donations to support their efforts to keep their rescue dogs happy and healthy until they get adopted. You can browse through a list of their adorable, adoption-ready dogs on their website.
Ta Ta Fur Now K9 Country Lodge Details:
7. New Hope Dog Rescue
With about 4,000 dogs re-homed since 2003, New Hope is the perfect place to adopt a dog. They are a registered non-profit organization based in Saskatoon, Saskatchewan, run entirely by volunteers, and funded by donations.
Every dog under the New Hope's care is fostered at their volunteer foster homes until their adoption into a permanent home. As they await adoption, all the dogs receive the required medical care like vaccination, spaying or neutering, and microchipping. Some dogs receive special medical procedures like dental work and the dog rescue will cover the cost.
If you are up for either fostering or adopting a dog from this shelter, you can look at the available dogs on their website. There, you will get a picture and description of their range of adorable dogs of all shapes, sizes, and breeds.
New Hope participates in several activities that help raise funds for the running of the rescue and activities aimed at promoting the well-being of dogs. There are many ways of supporting the rescue including buying merchandise from their online store and volunteering.
New Hope Dog Rescue Details:
FAQs
How much does it cost to adopt a dog in Saskatchewan?
Adoption fees for rescues in Saskatchewan range from $100-$500 per dog or puppy. Factors that increase the price past $300 seem to be spay/neuter needs. If the animals need to be spayed, then they will cost more, or some will refund a portion of the adoption fee after providing proof of the procedure. Like most rescues, puppies tend to cost more than adult dogs.
What happens when a dog goes to a rescue?
When dogs go to a rescue, rescues will have a process to care for any medical needs and house them until either their owner claims them or they are adopted. They should have a holding period, usually 5-7 days, so the owner has a chance to claim them if they are looking for their dog. Some shelters vaccinate immediately, while others delay vaccinations until the animal is up for adoption.

If an animal is unclaimed, they will proceed to the next steps in the animal's care, from vaccinations to spaying and neutering, and preparing their profile for adoption. Every rescue has different housing, from kennels, to foster homes, and everything in-between.
Are dogs allowed in Saskatchewan provincial parks?
Saskatchewan Parks are dog friendly at every park. There are hiking trails available, and some locations have dog-specific activities, such as dog beaches and off-leash dog parks. There are medical and social requirements to know before going, including vaccination requirements, leash requirements, and more. Social requirements include: animals must remain quiet, you must clean up after your pet, keep them from damaging property, and they're not allowed in buildings or on public beaches (unless signage indicates otherwise). Visit the Saskatchewan Parks website for full details.
Conclusion for 7 Best Dog Rescues in Saskatchewan
The rescues reviewed in this article are some of the best dog rescues in Saskatchewan. They have great processes, facilities, and take good care of their animals. Many are non-profit organizations that focus all efforts on finding great homes for the animals in their care.
When searching for dogs to adopt in Saskatchewan, start by visiting the websites of rescues in your area. Read their FAQ pages, about us, and read about the dogs. When reading profiles of the available dogs, look for thorough profiles, and consider how the dogs you are interested in would fit your lifestyle.
Before signing those adoption papers, make sure you have secured all of the necessities for your new pet. Best of luck in your search for your next companion.
For more guides similar to this list of dog rescues in Saskatchewan, you can check out these other dog-related recommendations from our team:
Before you adopt a dog from a rescue shelter in Saskatchewan, you can learn more about dogs by watching "14 Signs Your Dog REALLY Loves You, Confirmed by Science" down below:
Garrett loves animals and is a huge advocate for all Doodle dog breeds. He owns his own Goldendoodle named Kona. In addition, he volunteers at the Humane Society of Silicon Valley, where he fosters dogs and helps animals. Garrett enjoys writing about Doodles and believes that dogs can teach humans more about how to live than humans can teach a dog.
Why Trust We Love Doodles?
At We Love Doodles, we're a team of writers, veterinarians, and puppy trainers that love dogs. Our team of qualified experts researches and provides reliable information on a wide range of dog topics. Our reviews are based on customer feedback, hands-on testing, and in-depth analysis. We are fully transparent and honest to our community of dog owners and future owners.