The French Bulldog is the most popular small dog breed in Canada, so there's no wonder why there are some truly great French Bulldog rescues in Canada. The little award-winning dogs are friendly, loyal, and playful little buddies that will be a member of the family for between 10 to 14 years on average.
If you'd like to adopt a Frenchie, start here. By adopting a shelter dog, you'll be making a difference not just to one dog, but to many that are on the streets of Canada's provinces.
Choose from one of the thousands of dogs in Canadian shelters and you'll help combat puppy mills and dog homelessness while enriching your own life.
Before you scroll further down this list of French Bulldog rescues in Canada, check out: Best French Bulldog Breeders in North Dakota and Best French Bulldog Brush for Shedding.
1. Eastern Canada French Bulldog Rescue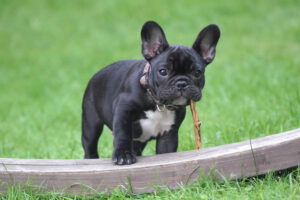 Eastern Canada French Bulldog Rescue serves the Atlantic side of the country, including the provinces from Ontario East. Whether you live in Montreal, Toronto, or even in Nova Scotia, you can find a Frenchie to call your own.
The dogs that are available through Eastern Canada French Bulldog Rescue are in shelter care due to abuse, abandonment, or neglect. They're rehabilitated and rehomed into families like your own.
Each dog at Eastern Canada French Bulldog Rescue has a different history. With that in mind, fill out the application thoroughly and truthfully. The ECFBR will do everything in its power to match you with the Frenchie that's best for your family.
You're certainly free to state your preferences if you find a dog you love. The team will work with you to decide whether it's a match.
You can expect to pay around $950 for your dog, though the adoption fee may vary based on the dog's pedigree, age, and health. Each dog will have a biography published on the website; read the bio to learn more about the dog's history and any special needs he or she may have.
Your dog will be vet-checked and will have been vaccinated and wormed. All dogs are spayed or neutered as a part of the ECFBR's mission to end dog homelessness in Canada.
Eastern Canada French Bulldog Rescue Details:
2. French Bulldog Fanciers of Canada
French Bulldog Fanciers of Canada is a nationwide organization that was founded to promote breeding and show standards for Frenchies in the country.
The group offers education and other resources to current and would-be French Bulldog owners in Canada, and as a part of their outreach, the FBFC showcases rescued Frenchies that are available for adoption.
View the available dogs, then fill out an application once you find one you like. You'll let the volunteers know about your household, existing pets, experience with dogs, and your schedule.
Once you're approved you'll be asked to pay the adoption fee, which is typically around 1,000 CAD. Each dog has a bio beside his or her picture. Learn more about a dog's health and history before you make a commitment.
In addition to offering dogs for adoption, French Bulldog Fanciers of Canada has foster opportunities available. If you're not sure a Frenchie is right for your family, consider taking a puppy in on a temporary basis. You'll be responsible for providing shelter, food, and transport to the vet until the puppy is ready to be placed in a forever home.
French Bulldog Fanciers of Canada Details:
3. Alberta Bulldog Rescue
Those of you who live in the western portion of Canada will want to check out Alberta Bulldog Rescue. This shelter specializes in both French and English Bulldogs, but they're a small-scale operation. There are typically only a handful of available dogs, so check back frequently.
To adopt a puppy or adult dog, take a look at who's available. Once you find a dog you're interested in you may fill out an application. Assuming all goes well you will be asked to pay an adoption fee. This fee will vary greatly from dog to dog based on its pedigree, health, and age.
Dogs are vaccinated, wormed, and altered (spayed or neutered) before they join their forever family. Contact the volunteers to learn more about your dog's history and special needs. From time to time, you'll see that dogs are still in care.
If you're interested in a dog that's not yet available for adoption, consider donating to help offset the cost of the dog's medical expenses.
Alberta Bulldog Rescue Details:
4. Homeward Bound Rescue
Homeward Bound Rescue is a volunteer-run rescue in the Ottawa area. The shelter specializes in snub-nosed breeds, and English and French Bulldogs often find themselves in Homeward Bound's care. In addition to French Bulldogs, you'll find mastiffs, shih tzus, pugs, and more.
You can view the adoptable dogs on the Homeward Bound website, then fill out an application to adopt. Foster opportunities are available for those who may be interested in short-term arrangements; contact the rescue for more information.
The adoption fee for your dog will range from $350 to $850, depending on the breed, age, and health of the dog. Seniors are available for just $350, while French Bulldog puppies will cost $850.
You must live in Ontario to adopt from Homeward Bound, and a home visit may be required. Speak to the kennel team for more information. Your existing dogs must be altered before you're permitted to adopt from HBR.
Keep in mind that dogs are not offered on a first-come, first-served basis. Your dog will be matched with you based on your lifestyle, needs, and personality.
Homeward Bound Rescue Details:
5. Kijiji
Kijiji was founded in the early part of the 21st century as a classifieds platform for Canadians. In the time since, they've grown to include listings for homes, furniture, services, and pets. While Kijiji isn't a French Bulldog rescue in Canada, the site does host listings from shelters that have Frenchies available.
To use this nationwide website you'll simply enter "French Bulldog." A list of dogs that are waiting to be rehomed will populate. Scroll through and find a dog you're interested in, then contact the poster through their preferred method. Most will have an email address listed while others will ask that you call.
When you purchase or adopt a French Bulldog from a Kijiji poster, remember that anyone can list animals. You may be adopting from a shelter, an individual, or even a breeder. When possible, you'll want to visit the facility in person to ensure that your puppy is coming from a safe and healthy environment. Take measures to avoid scams.
Upon pickup, be sure you receive copies of the dog's vet records and any registration papers that may be available. Bring your dog to the vet as soon as possible after adoption for the best likelihood that he or she will remain in good health for years to come.
Kijiji Details:
6. Facebook
Finally, you may be able to find a French Bulldog on Facebook. This social media platform is a great way to adopt a French Bulldog and connect with other Frenchie enthusiasts. If you're not already a member, sign up for a free account and begin your search.
To find a Frenchie for adoption on Facebook, try the search function first. By entering "French Bulldog" into the search bar with your approximate location you'll learn more about what's available in your area. Pages and profiles may be from individuals, breeders, or shelters; you can choose to "like" or "follow" the groups you're interested in.
Facebook does not screen those posting Frenchies for sale in Canada, so you'll have to do your own research. Meet the seller in person and bring a trusted friend for your safety. If you have pets, it's a good idea to bring them along for a mini meet-and-greet before you commit to bringing a dog home with you.
Prices of French Bulldogs for sale on Facebook will be set by the seller. Some dogs will cost several hundred dollars while others may require just a small rehoming or adoption fee.
As with any dog purchase, you'll need to ensure that you receive the dog's paperwork – vet records and registration papers – before you exchange money with the seller.
Facebook Details:
FAQs
How much is a French Bulldog in Canada?
French Bulldogs cost between $2,000-$4,000 from a reliable breeder in Canada. However, adopting is typically less expensive, but can have a wider cost range. Adopting a French Bulldog in Canada ranges from $300-$900. Rescues that charge per the dog's age and health are more likely to be higher priced. Don't let that discourage your search, though, because a healthy French Bulldog should be in the most affordable range.
Are French Bulldogs popular in Canada?
French Bulldogs are in the top 10 most popular dog breeds in Canada, according to the Continental Kennel Club. They are in the top 4 most popular small dog breeds in the area. While this can drive up the price of French Bulldog puppies, there may be more breeders available. There may also be more opportunities to adopt a French Bulldog, so watch your favorite rescues closely if you are looking for a new dog.
What color French Bulldog is most expensive?
The most expensive French Bulldog colors are merle, sable, fawn, lilac, and blue. The most expensive of these is the Isabella Frenchie, which has a silver-blue coat and light eyes. Isabella Frenchies have been sold for up to $30,000.
Conclusion For "Best French Bulldog Rescues in Canada"
Canadian individuals and families can make a difference in the life of a Frenchie when they check out French Bulldog rescues in Canada. Dogs in shelter care are there for many reasons. Some will have been abused, others neglected. Still, others may have lost a human to death, divorce, or a big move.
When you're ready to adopt a puppy or adult dog, consider Canadian shelters and rescues. There are great French Bulldog rescues across the Great White North – all you have to do is choose your dog. Begin with the shelters on our list, then get ready to welcome a new Frenchie into your family.
For more guides similar to this list of French Bulldog rescues in Canada, you can check out these other dog-related recommendations from our team:
Before you adopt a French Bulldog from a rescue shelter in Canada, you can learn more about this dog breed by watching "5 Things You Must Never Do to Your French Bulldog" down below:
Garrett loves animals and is a huge advocate for all Doodle dog breeds. He owns his own Goldendoodle named Kona. In addition, he volunteers at the Humane Society of Silicon Valley, where he fosters dogs and helps animals. Garrett enjoys writing about Doodles and believes that dogs can teach humans more about how to live than humans can teach a dog.
Why Trust We Love Doodles?
At We Love Doodles, we're a team of writers, veterinarians, and puppy trainers that love dogs. Our team of qualified experts researches and provides reliable information on a wide range of dog topics. Our reviews are based on customer feedback, hands-on testing, and in-depth analysis. We are fully transparent and honest to our community of dog owners and future owners.