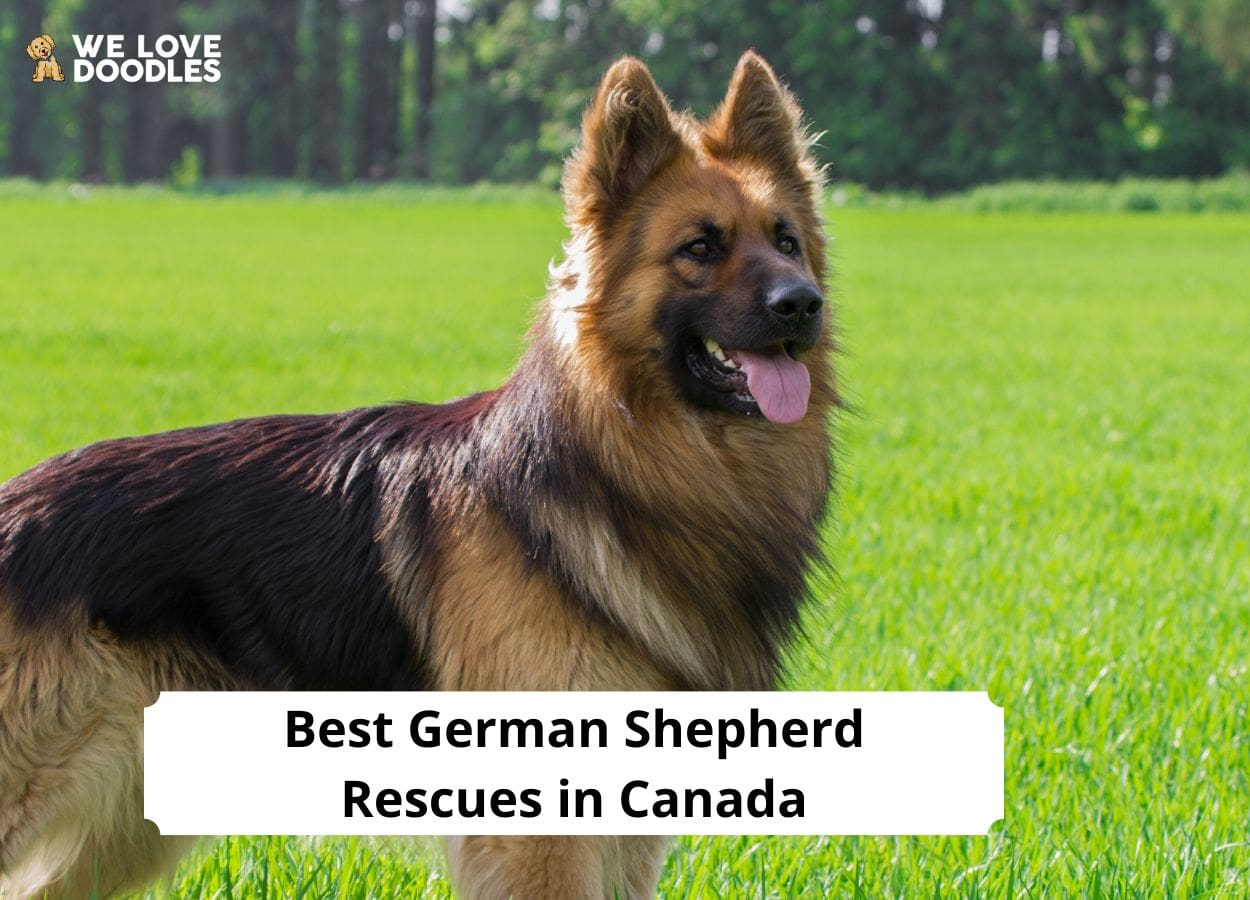 If you're searching for the best German Shepherd rescues in Canada, you've come to the right place. There aren't many things more pleasant than puppy breath kisses and good morning wiggles.
But if you're a Canadian family searching for a dog, why not consider checking out some German Shepherd rescues in Canada? Hundreds of German Shepherds across Canada call shelters home.
Maybe the dogs have been abused or abandoned, or their owners couldn't afford to care for them anymore. The shepherds are placed in rescues or foster care until they're brought home to join a family like yours.
Before you scroll further down this list of German Shepherd rescues in Canada, you can check out these other dog-related recommendations from our team at We Love Doodles: Best Goldendoodle Rescues in Canada For Adoption and Best German Shepherd Breeders in Alberta.
Find a German Shepherd Rescue Shelter Near Me in Canada
Adopting a German Shepherd is a life-changing decision for you and the dog. Check out our guide to finding the best German Shepherd rescues in Canada, and start on your way to bringing home a deserving dog today.
German Shepherd Product Recommendations: Best Slicker Brushes For Dogs and Best Toyota 4Runner Dog Barriers.
1. Manitoba All Shepherd Rescue
Manitoba All Shepherd Rescue sees many German Shepherds come through its doors. In addition to Germans, the shelter takes in Australians, Belgians, and even collies.
Your new-to-you shepherd could be just an email away. You'll need to fill out an application before you're permitted to adopt from this shelter, and dogs are adopted on a first-come, first-served basis.
The Manitoba All Shepherd Rescue will do everything possible to ensure that dogs are matched to a good home. Be honest on your application; you'll need to provide information about your home, family, lifestyle, and your experience with dogs.
Once approved to adopt, you can expect to pay between 200 and 400 CAD for your dog. Pricing depends on age, and seniors are offered a lower adoption fee than puppies or adult shepherds.
Your dog will be vet-checked and rehabilitated to the best of the shelter's ability. He or she will be vaccinated, wormed, flea-treated, spayed, or neutered before arriving at your home.
Manitoba All Shepherd Rescue Details
2. East Coast German Shepherd Rescue
East Coast German Shepherd Rescue is a Nova Scotia-based rescue committed to rescuing, rehabilitating, and rehoming German Shepherds with Canadian families. As is the case for all shelters, East Coast German Shepherd Rescue dogs come from various backgrounds.
Some may have been abused or neglected, while others may have been abandoned or used in fighting. The shelter dogs will need varying levels of TLC once adopted.
East Coast German Shepherd Rescue doesn't maintain an active website, but you can view the most recent information and available dogs on their Facebook page.
Some dogs posted are adoptable through the shelter, while others are courtesy posts for Nova Scotians rehoming a pet. As such, your adoption fee will vary from puppy to puppy.
As part of its mission to reduce the homeless dog population in Canada, your dog will be spayed or neutered before going home with you.
All necessary shots will have been administered, and your dog will be microchipped for safety. Your adoption fee helps cover the medical care given while your dog was in the hands of East Coast German Shepherd.
East Coast German Shepherd Rescue Details
3. Second Chance Auction Animals Rescue
Second Chance Auction Animals Rescue saves dogs from high-kill shelters, places them in foster homes, and connects them with Canadians looking to adopt a new pet.
While they don't specialize in German Shepherds, the shelter sees many dogs of the breed, and you can usually find a shepherd or shepherd mix at SCAAR.
Dogs waiting for their forever family are pictured on the SCAAR website, and each dog will have a sweet little biography beside his picture. The SCAAR team does an amazing job of describing the perfect home or family for each dog.
Read through the bio fully to understand whether your home is suitable for a particular German Shepherd puppy. There is an application to adopt, and you'll need to let the team of volunteers know about your experience with dogs, why you want to adopt, and your lifestyle.
Once approved, you can schedule a meet-and-greet with the dogs, and if all goes well, you can take your dog home with you. The adoption fees at Second Chance Auction Animals rescue begins at 500 CAD and will be based on your dog's health.
All dogs are spayed or neutered as a part of the shelter's mission, and your pup will come with a free dog license registration form if adopted in London.
Second Chance Auction Animals Rescue Details
4. Guide Us Home German Shepherd Rescue Society
Next on our list of the best German Shepherd rescues in Canada is Guide Us Home. This shelter is located in Sooke, BC, and they're a Provincially Registered Non-Profit Registered Society.
Your adoption fee – as well as any other donations – can be reviewed with a tax adviser. The Guide Us Home team does not bite off more than it can chew.
They have a four-dog maximum, so they must rehome dogs as fast as possible. If you're unsure whether a German Shepherd is right for you, volunteer to foster.
This frees up space for another dog in need and allows you to get to know the breed better. If you're sure you're ready to adopt, click on the appropriate link to view the available puppies, adults, and seniors.
Then, when you find a puppy you love, contact the volunteers. You'll be given information about the adoption fees and the history of the adoptable pups so you can decide.
Consider volunteering with Guide Us Home. Foster care, social media assistance, and other opportunities are available should you give a bit of your free time to help this cause.
Guide Us Home German Shepherd Rescue Society Details
5. Petfinder's German Shepherds For Canada
Whether you live in Nunavut, Newfoundland, or Nova Scotia (or anywhere in between), you can find a German Shepherd on Petfinder. This website partner with breeders, rescues, and individuals who wish to rehome puppies and adults.
There is no particular breed the website focuses on; instead offers dogs and cats of all breeds and sizes, including German Shepherds. It's easy to find a dog on Petfinder.
Enter your location and the breed into the appropriate search box, then view the results. You'll be presented with a list of dogs and their pictures waiting for a forever home like yours.
Clicking the dog's picture will bring you to a biography page with further information about the dog. The current owner's or German Shepherd rescue's contact info is also listed on the biography.
Rehoming and adoption fees will vary greatly, as all dogs come from different situations. An individual may ask for a small rehoming fee, while a rescue may ask for several hundred in adoption costs.
Of course, you are responsible for vetting the shelter or person and asking for vet records before exchanging money. When possible, visit the shelter or home to verify that your dog was raised in healthy and humane conditions.
Petfinder Details
6. Facebook's German Shepherds For Canada
There's a good chance you're already a member of Facebook. The social media platform has a global user base and offers a wonderful opportunity to connect with others worldwide.
It's also a great resource for Canadians looking for a German Shepherd to rescue. Note that Facebook does not allow pet listings in its Marketplace. You'll need to search Facebook groups and members to find your puppy or dog.
Try entering "German Shepherd" in the platform's search box and see what local results populate. Using Facebook, you can connect with German Shepherd lovers worldwide and in your local area.
Join groups and add friends to network with those who have German Shepherds to adopt. Many breeders and rescues use the platform to advertise instead of a website.
It's your responsibility to ensure that your German Shepherd is coming from a healthy environment, as Facebook does not screen those who post. Bring a trusted friend with you to pick up your puppy.
When you meet, ask for vet records and other pertinent information. Finally, if possible, bring your current pet and your family to make sure everyone gets along before you exchange money.
Facebook Details
Conclusion For The "Best German Shepherd Rescues in Canada"
If you're a Canadian family or individual and want to adopt a dog, look into the wonderful German Shepherd rescues in Canada. These rescues are focused on rehabilitating and rehoming Germans that are displaced by homelessness or that have been otherwise mistreated.
Adoption fees will vary from shelter to shelter, but adoption from a rescue is a cost-effective way to add a new pet to your home while making a difference in the life of a deserving dog.
For more guides similar to this list of German Shepherd rescues in Canada, you can check out these other dog-related recommendations from our team:
Before you adopt a German Shepherd companion from a rescue shelter in Canada, you can learn more about this dog breed by watching "Things Nobody Tells You About Owning a German Shepherd" down below: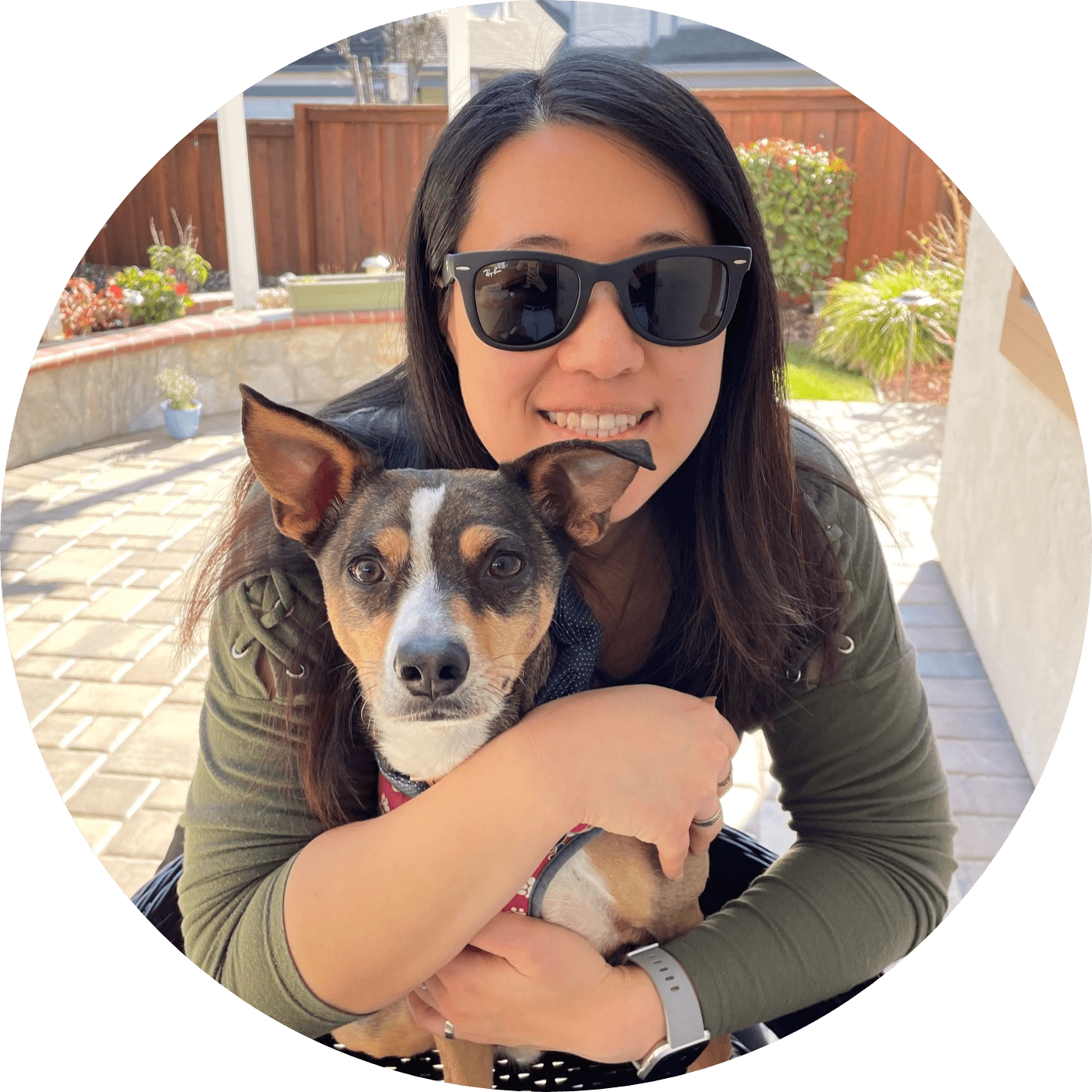 Dr. Sabrina Kong graduated from the Royal Veterinary College in England in 2016 and has been working at a small animal clinic in Northern California since then. She grew up in the Bay Area and got her bachelor's degree from Cal Poly San Luis Obispo. She also became a Certified Canine Rehabilitation Practitioner through a program at the University of Tennessee.
When she isn't in the clinic taking care of her four-legged patients, she enjoys traveling and trying new foods with her friends and her three-legged dog, Apollo. She adopted Apollo from her clinic when he was a puppy with numerous health issues. Dr. Kong truly cares about taking care of animals.