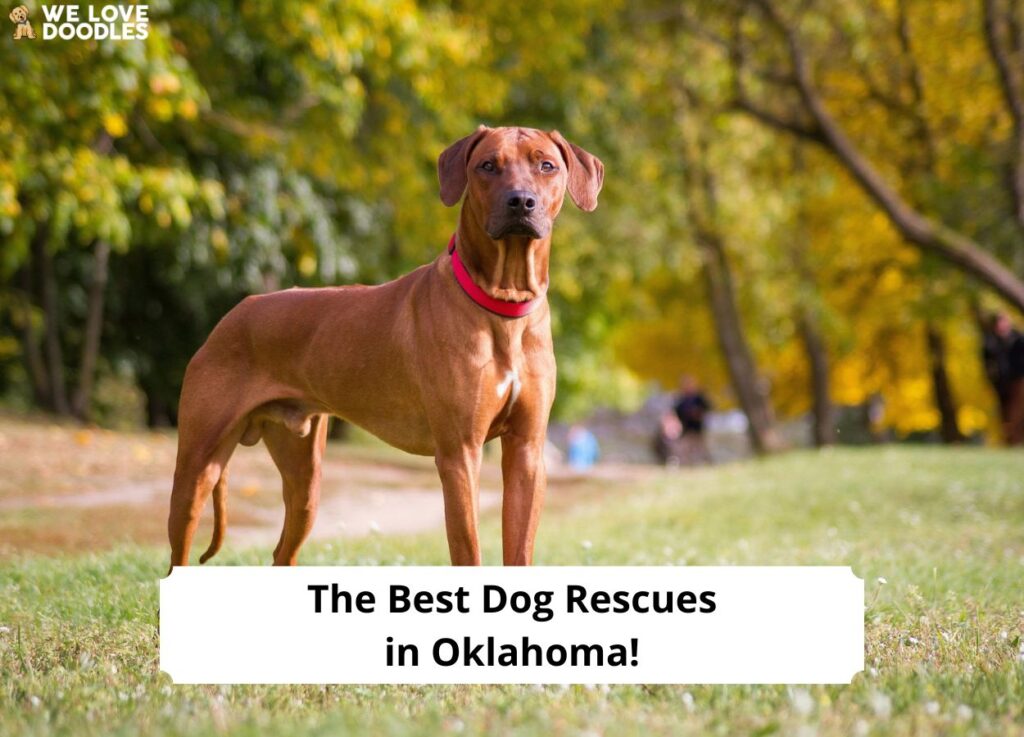 Did you know there are great dog rescues right here in Oklahoma? We've done the research and compiled a list of the best ones, so if you're looking for your new pup pal, look no further.
Whether you prefer small breeds or larger dogs, these awesome animal shelters have all shapes and sizes for adoption. Best of all, you'll be giving a loving home to an animal in need! What could be better?
So why wait any longer — go out and find your soul mate at one of Oklahoma's amazing dog rescues. Let's take a look and start making plans to welcome your new furry friend soon!
Before you scroll further down this list of dog rescues in Oklahoma, check out: 4 Best Boston Terrier Rescues in Oklahoma! (2023) and 10 Best Cocker Spaniel Rescues in Oklahoma! (2023).
1. Puppy Haven Rescue
Puppy Haven Rescue is determined to expand and save as many furry lives as possible.
Their outstanding growth has only been possible due to the generous support of their contributors and volunteers throughout the years.
When they opened doors in 2017, their small private boarding facility was able to accommodate a maximum of five adult dogs plus an exclusive nursery for moms and their pups.
The Dog House has been instrumental in its mission, and they wish to extend the facility's capacity by creating more spaces for dogs awaiting rescue, as well as outdoor play areas and training grounds. As passionate pet advocates, they've committed to offering these services for many years ahead.
Puppy Haven Rescue Details:
2. Animal Rescue Foundation of Bartlesville
Two compassionate individuals with a desire to assist the homeless animals of Bartlesville founded ARF.
Motivated by a desire to create positive change in the lives of animals, they dedicated themselves to providing care and comfort until each one could find a loving home.
After the news spread, it didn't take long for more people to jump at the chance of joining and contributing, causing their membership numbers to skyrocket.
ARF's ambitious dream of creating a rescue and adoption haven for homeless animals is now a reality. Unadopted pets have the opportunity to live happily with food, water, shelter, and tenderness.
By moving to an 18-acre location east of Bartlesville, ARF has achieved its original ambition. In stark contrast to other organizations backed by the government or state funds, ARF is solely reliant on public and private donations for its sustenance.
Animal Rescue Foundation of Bartlesville Details:
3. Forever Yours Dog Rescue
In 2011, three devoted and eager women launched Forever Yours Dog Rescue with a strong mission to save dogs in need.
With a total of 25 years in animal rescue, volunteering, fostering, and fundraising between them, these dog lovers have devoted their lives to their furry friends.
Located in Oklahoma City, this all-breed dog rescue has committed to rescuing dogs regardless of their breed, age, size, color, or condition. If it is within their means, they will do everything in their power to rescue a dog.
They care for abandoned, neglected, and abused pets that have been left behind. They rescue not only dogs from the streets but also local and rural shelters across Oklahoma that may not have public adoption programs available.
This provides a second chance at life to many dogs in desperate need of loving homes. You can make a real difference in the lives of those who need it most through charitable donations, volunteering your time and expertise, or even adopting from an animal shelter.
Forever Yours Dog Rescue Details:
4. Oklahoma German Shepherd Rescue
Oklahoma GSR is devoted to finding permanent, loving homes for German Shepherds in need, supporting ethical ownership practices, and providing helpful resources to caregivers.
The IRS has granted OK GSR its 501(c)(3) non-profit status, making all donations tax-deductible. This is a great way to show your support while also enjoying the benefits of a generous tax break.
This Tulsa-based foster care agency has recently branched out to Oklahoma City. It's important to note that they do not have a shelter, and instead, their animals are looked after in private homes.
All of our canine friends have been neutered or spayed, given age-relevant immunizations, microchipped, and supplied with heartworm tests and prevention as well as flea and tick treatments — so any potential adopters can rest assured that all the necessary procedures are taken care of.
Oklahoma German Shepherd Rescue Details:
5. Legacy of Hope Dog Rescue
After witnessing the devastating need to provide refuge for homeless, neglected, and injured dogs, Cristina decided to take action and establish an animal rescue.
She is a trauma surgeon in Florida most of the year, then returns to Oklahoma and provides invaluable assistance with meetings, adoptions, vet care, dog rescue operations, transportation, and all other needed services. However, her everyday involvement may be her greatest contribution yet.
Her team, dedicated to inspiring a knowledgeable and caring community regarding dog health and behavior training, hopes to one day see animal shelters emptied of their inhabitants.
As a non-profit organization devoted to helping homeless dogs, they take an uncompromising attitude and do whatever it takes to improve their rehabilitation.
By utilizing the invaluable expertise and advice of foster caregivers, they are able to ensure that all dogs find their ideal forever homes.
Legacy of Hope Dog Rescue Details:
6. 405 Animal Rescue
A staggering 11 million cats and dogs are euthanized annually in the United States, adding up to a heartbreaking number of animal lives lost each year.
This organization strives to save animals from euthanasia whenever possible. Through rescuing unwanted dogs, promoting spay and neuter procedures, providing microchipping for better return-to-owner rates, and socializing and rehabilitating psychologically or physically impaired dogs, this group is doing everything in its power to make a difference.
At this shelter, they strive to provide all the wonderful animals with a warm and loving home. They take it one step further by ensuring each animal has a safe and secure environment to call its own — full of joy, comfort, and endless affection.
405 Animal Rescue Details:
7. Safe Haven Animal Rescue
Safe Haven Animal Rescue, Inc. is a non-profit organization that strives to provide loving and supportive homes for abandoned animals in need of care.
As a 501(c)(3), they specialize in rescuing animals from shelters — often facing death.
Many animals are from puppy mills, while some come from owners who can no longer provide adequate care.
Safe Haven Animal Rescue, Inc. is now only able to rescue animals through foster homes, so please help them continue our mission. Your generosity will make a tremendous difference in the lives of these innocent creatures.
Safe Haven Animal Rescue Details:
8. Sooner Golden Retriever Rescue
Sooner Golden Retriever Rescue is a devoted charity organization that operates without the use of any profit. They are a 501(c)(3) tax-exempt, all-volunteer group created to find loving homes for homeless Golden Retrievers and raise awareness about their needs.
They firmly believe that each and every Golden Retriever should live in a secure home with a caring family. For this reason, they are here to help make it happen.
Established in 1986 by the Golden Retriever Club and concerned individuals, SGRR was created to tackle the growing issue of homeless Goldens within Central Oklahoma.
From their past success in rehoming strays and the deep love they had for Golden Retrievers, it was no surprise that rescue members suggested creating a group to help Goldens in need.
Since 1986, SGRR has fervently worked to provide medical care and temperament testing for Goldens in need of a home.
They offer temporary fostering opportunities, transport services when necessary, scan animal shelters daily, search for lost dogs diligently, and place the lucky ones that are suited with qualified adoptive homes. In their years of service, they have found forever homes for nearly 3,000 Golden Retrievers.
Sooner Golden Retriever Rescue Details:
9. Tornado Alley Bulldog Rescue
Across the United States, many conscientious volunteers love and value Bulldog breeds. Their commitment to the continued health of these animals has enabled them to establish TABR as part of BCARN's national organization.
Countless money is dedicated to ensuring rescued Bulldogs receive the medical treatment they need, as well as food, shelter, and training while awaiting adoption into their forever homes.
With no permanent facility, the rescue relies on foster homes to accommodate its dogs. At the same time, they undergo evaluations of their personalities and medical needs.
The rescued Bulldogs, who are owner surrenders, breeder surrenders, and strays from local shelters, undergo a costly process of medical care, food provisioning, and training until they find forever homes.
In order to ensure that all the bulldogs placed through TABR find their forever homes, over 50 dedicated volunteers work tirelessly — from holding adoption events and transporting their furry friends for vet visits to processing applications. They have an extensive vetting process for adoptive families, so they can guarantee a safe and secure home for every pup.
Before entrusting a pup to its adoptive home, the volunteers require vet documents and personal references in addition to conducting an on-site visit.
With a typical veterinary bill for a TABR dog standing at an astounding $1,000, the rescue relies heavily on generous donations from supporters to stay operational and help care for these bulldogs in need. Your monetary contributions will be allocated straight to the medical bills of over 40 Bulldogs under their watchful eye at any given time.
The rescue welcomes donations to assist with their current foster dogs while receiving medical care. Items such as dog beds, blankets, towels, crates, toys, leashes, and collars can help keep these animals in a comfortable environment during this crucial chapter of life. Every bit helps!
Tornado Alley Bulldog Rescue Details:
10. Friends for Life
In 2003, Friends for Life was founded and obtained 501(c)(3) tax status in the following year. Their purpose is to make a warm, secure home for neglected and mistreated animals by giving them compassionate care.
Their mission is twofold — to responsibly place animals in loving homes and to teach the public how to properly care for their pets. They also advocate for spaying and neutering as a means of helping reduce animal overpopulation.
They can't ship their beloved animals, so if you're interested in adopting one of them, you must come to Oklahoma. Adopting applicants may set up appointments to get acquainted with their future dog or visit them at an adoption event.
Filling out the application form doesn't mean you are bound by any commitment; it's simply part of the process before adoption. After the adoption process is complete, including references, visitations, and a meeting with your chosen animal companion, you will be asked to sign an Adoption Contract.
Their adoption center is open on the first and third Saturday of every month, so don't miss your chance to find a furry friend.
Friends for Life Details:
Frequently Asked Questions
What dogs are the hardest to rehome?
It can be particularly tricky for black dogs to stand out and find new homes.
What is the best age to rehome a dog?
Dogs should not be rehomed until they are at least eight to nine weeks old.
How traumatic is it for dogs to change owners?
It can be tough for dogs to change owners and they may even lose their appetite or seem depressed. That's not to say dogs shouldn't be rehomed when the situation calls for it, just that it's a big deal.
Conclusion for "Best Dog Rescues in Oklahoma"
No matter what type of dog you're looking for, there is sure to be the perfect fit at one of these amazing dog rescues located throughout Oklahoma. To learn more about adopting a rescue dog or volunteering at one of these organizations, visit their websites today.
Adopting a pet not only gives them a second chance at life but also helps reduce pet overpopulation in our state. So don't wait — find your four-legged companion today!
For more guides similar to this list of dog rescues in Oklahoma, check out:
Before you adopt a dog from rescues in Oklahoma, learn more by watching the "100 FACTS About DOGS That Will Surprise You 🐶🐾 Discover them!" down below:
Garrett loves animals and is a huge advocate for all Doodle dog breeds. He owns his own Goldendoodle named Kona. In addition, he volunteers at the Humane Society of Silicon Valley, where he fosters dogs and helps animals. Garrett enjoys writing about Doodles and believes that dogs can teach humans more about how to live than humans can teach a dog.
Why Trust We Love Doodles?
At We Love Doodles, we're a team of writers, veterinarians, and puppy trainers that love dogs. Our team of qualified experts researches and provides reliable information on a wide range of dog topics. Our reviews are based on customer feedback, hands-on testing, and in-depth analysis. We are fully transparent and honest to our community of dog owners and future owners.