Adding a new Cocker Spaniel puppy to the family is an exciting adventure, however, it can also be stressful. Once you decide on the puppy breed that best fits your family, how do you know that your puppy will be healthy and well-socialized? How do you know if they are at risk of genetic conditions? Unfortunately, puppy breeding has become a money-making adventure and puppy mills have exploded. Additionally, there are many Cocker Spaniel breeders in California that do not take the health of their dogs into consideration. When adding a Cocker Spaniel puppy to your family, it is important to find a reputable breeder that puts the health and wellbeing of their dogs first. Here we have a guide to the Cocker Spaniel, as well as information on choosing a Cocker Spaniel breeder in California.
Before scrolling down this list, check out these recommendations: 11 Best Cavalier King Charles Spaniel Breeders in the USA!
Cocker Spaniel Puppies in California
Originally bred as a hunting dog, the Cocker Spaniel is a loving, easy-going, and very intelligent dog that makes a perfect addition to any family. Because of their smaller size, they are perfect for either apartment living or a home with a spacious backyard for them to play in. They are very loyal, so do not be surprised if they follow you from room to room throughout the day and want to spend as much time as they can getting love from you.
The average Cocker Spaniel stands between 14-15 inches tall and weighs no more than 30 pounds. They come in a variety of colors including black, brown/chocolate/liver, blue, cream, gold/yellow, red, and white. Their color patterns will range from bicolor or tricolor to black and tan, sable, merle, or flecked. Their coat is thick, soft, and wavy hair that requires regular grooming.
Top Cocker Spaniel Breeders in California
Finding the perfect Cocker Spaniel puppy begins with finding the perfect breeder. Here we offer you a list of some of the top Cocker Spaniel breeders in California and the surrounding areas to help you with your search.
1. Timeless Cocker Spaniels
Timeless Cocker Spaniels is a small family show breeder in Northern California that specializes in buff Cocker Spaniels. All their dogs live in their home and are a part of their family. They pride themselves in providing puppies with outstanding temperament and health. They are AKC Breeders of Merit, and their dogs are actively shown in AKC Conformation, Scent Work, and Obedience shows. They are against puppy mills and pet store puppies. Additionally, if they do not have any Cocker Spaniel puppies available in California, they will refer you to their network of reputable breeders.
Cocker Spaniel Breeder Information:
2. Cuttin Blue Farms California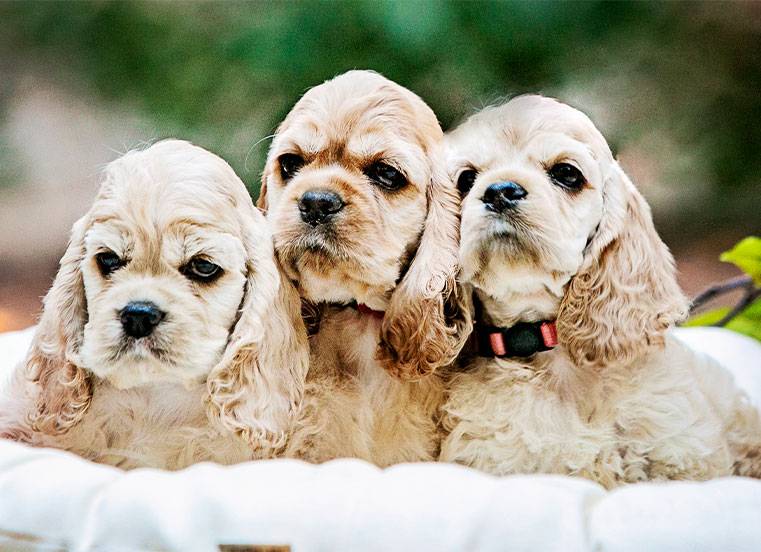 Cuttin Blue Farms is a farm located in San Diego, California, that specializes in Cocker Spaniels and Quarter Horses. Kay leads the team for Cocker Spaniel breeding and has been training and working with dogs for over 30 years, with a passion for improving the overall health and temperament of her dogs in order to make them a perfect addition to any family or as a service dog. In addition to breeding Cocker Spaniels puppies in California, they often rescue, train, and place other dogs.
Cocker Spaniel Breeder Information:
3. Lynann English Cockers
Lynann English Cockers, owned by Lynda and Robert Gall, has been raising and breeding English Cocker Spaniels since the 1970s and they are known worldwide for their quality English Cocker Spaniels. They raise champion dogs with the English Cocker Spaniel Club of America, as well as the English Cocker Club of Southern California. While they are proud of these champions, they take more pride in the love and devotion that their dogs provide to their families. Their goal is to strive for health, temperaments, and quality in their breeding program. They are Breeders of Merit with the AKC and have signed a Code of Conduct with the English Cocker Spaniel Club of America. They are one of the best Cocker Spaniel breeders in California if you're looking for a potential show dog.
Cocker Spaniel Breeder Information:
4. NorCal Cocker Rescue
If you don't have the time to potty train a puppy or are looking for a little older dog, contacting a rescue is a perfect way to save a Cocker Spaniel from a shelter and add an amazing new dog to your family. NorCal Cocker Rescue, located in Sacramento, California, began in 2013 and specializes in working with public shelters to place at-risk Cocker Spaniels into forever homes. Dogs are brought out of the shelters and placed into foster homes until their perfect family can be found. NorCal Cocker Rescue is a not-for-profit, all-volunteer rescue. We highly recommend contacting a Cocker Spaniel rescue before buying a dog from a breeder!
Cocker Spaniel Breeder Information:
5. California Cockers
California Cockers, located in Tulare, California, and owned by Summer Stanley, is a family breeder on a large farm that is dedicated to healthy happy puppies that quickly become your forever best friends. They welcome people to come and visit the farm and bring a ball to play with and meet the dogs. Their puppies are in high demand and most puppies are spoken for prior to birth. If you are considering a Cocker Spaniel puppy, they advise planning ahead and getting on a waiting list for future litters.
Cocker Spaniel Breeder Information:
Considerations When Choosing a Cocker Spaniel Breeder in California
When it comes to finding a reputable breeder, the main goal is always to avoid puppy mills. But how do you know if you have found a reputable breeder? Here are some common things to consider when researching and contacting Cocker Spaniel breeders in California:
Is the Breeder Willing to Talk and Meet You in Person – A reputable breeder is willing to answer all your questions and they should have questions for you. Their goal is to make sure your family is a good fit for their puppy and that he/she will be going to a loving home. They will be available to meet you in person at their breeding location. Be wary of breeders that want to meet you somewhere else.
Can You Meet the Breeding Parents – Breeders often have the breeding dogs on site for you to meet. This gives you a chance to see what your puppy will look like and what the temperament of the dogs are.
Breeder is Breed Specific – Puppy mills tend to breed a variety of dogs at the same time, offering many different breeds up for adoption. Reputable breeders focus on one or a few complimentary breeds. This allows them to focus on the breeding program, the best of the breeds, and provide you with a wealth of knowledge on the specific breed.
No Quick Shopping – Reputable breeders rarely have a yard full of puppies available for adoption right on the spot. You often must get on a waiting list before a puppy becomes available.
Health Checks and Guarantees – A reputable breeder provides you with a full health check on your puppy, as well as vaccination records. In addition, many breeders offer a health guarantee against congenital and genetic health conditions.
We hope that you were able to connect with a Cocker Spaniel breeder in California and get your next puppy!
You will also like:
Garrett loves animals and is a huge advocate for all Doodle dog breeds. He owns his own Goldendoodle named Kona. In addition, he volunteers at the Humane Society of Silicon Valley, where he fosters dogs and helps animals. Garrett enjoys writing about Doodles and believes that dogs can teach humans more about how to live than humans can teach a dog.
Why Trust We Love Doodles?
At We Love Doodles, we're a team of writers, veterinarians, and puppy trainers that love dogs. Our team of qualified experts researches and provides reliable information on a wide range of dog topics. Our reviews are based on customer feedback, hands-on testing, and in-depth analysis. We are fully transparent and honest to our community of dog owners and future owners.