If you're searching for the best Pomsky breeders in California, then here's what you need to know about the breed. The Pomsky is a devastatingly adorable "designer dog breed " that becomes increasingly popular with dog fanciers. Pomskies are a cross between a Husky dog and a Pomeranian. The resulting cross can favor either parent, and the most popular are the dogs that look like miniature Huskies. Pomskies are definitely smaller than purebred Huskies but have the same thick double-coat as a Husky and often carry the Husky markings and breed characteristics of the mask and blue eyes. They can also carry the Pomeranian's pointy face and teddy bear ears.
Most of the breeding of this cross is achieved through artificial insemination, using a Husky dam and a Pomeranian sire to protect the female dog from having oversized puppies that might harm her during whelping. However, Pomerani and Huskies carry genetic markers for certain diseases, and the breeder must have their breeding pairs genetically tested for those diseases prevalent to both breeds. A reputable breeder should be readily able to provide genetic testing results to anyone interested in obtaining a puppy from their breeding program.
Pomskies are lovable family dogs and can also be primarily devoted to one family member. Because of their thick coats and regular shedding, Pomskies require consistent and regular grooming to keep their long hair coat from becoming matted or unmanageable. Pomskies are not recommended for people with allergies. In addition, they are energetic and can be stubborn or hard to train, so they are not recommended as the first dog for someone who has no prior experience with dogs.
These cuddly pups are active and energetic, so they need lots of exercises, play, and socialization. They are wonderful, loving, loyal, and sweet pets when they have all of these factors. Be aware that some puppies in breed pairings will be a "throwback" to either the Pomeranian or Husky side of the parentage. These puppies can be larger or smaller than the breeder is attempting to produce. Keep this in mind when you select your puppy. Usually, however, the approximate size of your puppy in adulthood can be estimated quite closely by the breeder at the time of selection, which can be anywhere from 4 to 6 weeks of age.
Before scrolling down this list of Pomsky breeders in California, check out these other breeds: Best Samoyed Breeders in California and Best Bichon Frise Breeders in California.
Pomsky Puppies For Sale in California
Many breeders have jumped on the Pomsky bandwagon, but not all Pomsky breeders are created equal. When you're ready for your Pomsky puppy, we've got you covered. We've compiled a list of the best Pomsky breeders in the State of California for your use. Be advised that there may be a significant wait time for you to obtain your Pomsky puppy. Reputable breeders do not overbreed. Instead, they have select breedings a few times during the year. Therefore, we are sharing only the best Pomsky breeders in California. Anyone that looks like a puppy mill or clearinghouse that sources their puppies from puppy mills did not make our list. Here are the four best Pomsky breeders in California.
Pomsky Product Recommendations: Best Electronic Dog Doors and Best Smelling Dog Shampoos.
1. PuppySpot's Pomskies for California
Finding the best Pomsky breeders in California isn't an easy task, which is why we highly recommend using PuppySpot. PuppySpot is an enormous marketplace dedicated to dog breeders around the United States. PuppySpot has a strict reputation for the approval of breeders because the company is against puppy mills. You can utilize PuppySpot's search tools to find a specific Pomsky of your choice. You can filter out your Pomsky's age, gender, coat type, etc. Check out PuppySpot before continuing on your search for other Pomsky breeders in California.
PuppySpot Details
2. Northern California Pomskies
Northern California Pomskies was the first breeder in California to take on the task of breeding these adorable designer dogs.  They've been producing Pomskies for about seven years in hopes of improving this "designer dog" and cutting down on the wait times for potential owners to get a puppy.
NorCal Pomskies specializes in the 10 to 25-pound small dog variety, also known as miniatures. They plan their breedings carefully and consider the health of the dog first. They do genetic testing on their breeding pair through Embark and do not add any other bloodlines except Husky and Pomeranian into their linIn addition, then addition. They take special care to exclude merle color genetics to protect the health of future puppies from genetic conditions that the merle lines carry.
The process of reserving a puppy is to sign up for the newsletter. When they announce their "application day," you will be notified and can start the process of reserving a puppy when the current litter has reached 4 to 5 weeks of age. Northern California Pomskies does not have a waiting list. They require a monetary deposit to reserve a puppy. That deposit goes towards the price of the dog. There is a vigorous interview and screening process. They will deliver puppies within California by appointment.
Northern California Pomskies Details
3. Acacia Pomskies
In Oroville, CA, Acacia Pomskies is a reputable breeder of Pomeranian/Husky cross "Pomsky" dogs. Their goal is to produce healthy and happy puppies. They are a home breeder and treat their dogs like family, including the puppies. All their puppies are hand and home raised until they go home to their new families at eight weeks of age. Acacia Pomskies is a  member of the Pomsky Owners Association, the International Pomsky Association, and the Good Dog Responsible Breeding Program.
This breeder will sometimes cross American Eskimo dogs and other Spitz-type dogs into their breeding program. You will be notified if the puppy you select has these bloodlines. See the chart on the website for more information. Acacia Pomskies does not have a waiting list. They have an "application day" when puppies are 3-4 weeks of age, and their eye color and potential size/weight have been determined.
Some litters of dogs will have a "throwback" puppy that carries more from one breed than another. These puppies can be larger or smaller than the typical Pomsky. This is something you need to be aware of when selecting your puppy.  Puppies go home at eight weeks of age.  The breeder sends dogs home with a 2- year genetic health guarantee, all age-appropriate vaccinations, a paid microchip, and a free month of Trupanion pet insurance. In addition, they have a strict spay/neuter contract and will not sell a puppy if the owner refuses to sign.
Acacia Pomskies Details
4. Pomsky Pawz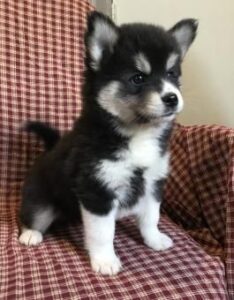 Pomsky Pawz is located in Redding, CA. They are a small home breeder of 50/50 Pomeranian/Husky puppies. They are members of the Pomsky Club of America, The Pomsky Owners Association, and The International Pomsky Association. They hand raise their puppies as members of the family, exposing them to children, adults, and other dogs to produce well-adjusted, well-socialized puppies that are ready to go to be a part of your family. In addition, Pomsky Pawz provides owner support even after the puppy goes home.
Pomsky Pawz strives to produce healthy, happy, and adorable dogs and do so in a kind and loving family environment. The Pomsky is a newer breed, and these are some of the responsible breeders that are shaping the future of the Pomsky dogs. If you're interested in a Pomsky puppy in the State of California or beyond, contact Pomsky Pawz via email for an application. Pomsky offers free delivery of your puppy in the Sacramento area and for a fee elsewhere in California and beyond. Puppies are closely monitored by Pomsky Pawz from birth to adoption at eight weeks of age.
Pomsky Pawz Details
5. Vaca Valley Pomskies
Last on the list of the best Pomsky breeders in California is "Vaca Valley." Vaca Valley Pomskies is in Vacaville, CA, has bred five generations of Pomsky puppies.  They are focused on generational breeding, which is how new dog breeds get accepted into the American Kennel Club. Unfortunately, the Pomsky is not recognized as a crossbreed and cannot be registered in the American Kennel Club. Vaca Valley Pomskies is an exclusive, small home breeder with a rigorous application and screening process for potential buyers of their puppies.
You must contact Vaca Valley Pomskies via email or direct message on Facebook to obtain an application. They do not guarantee that every application will be approved. However, they conduct thorough background checks on each potential buyer and strive to ensure that you are a good fit for one of their Pomsky pups. Selections are made when the puppies are 5-6 weeks old, and the puppies go home at eight weeks of age. A non-refundable deposit is required to hold your puppy and will be applied to the final purchase price of the dog.
The family of five residing on a five-acre ranch at Vaca Valley Pomskies is very hands-on with the dogs, and they have plenty of socialization, room to run and play, and the best environment to grow up in with plenty of exposure to kids and other dogs in a protected and safe environment. Vaca Valley Pomskies considers their dog parents as one big extended family and keeps in touch with their owners offering support long after the puppies go to their new homes.
Vaca Valley Pomskies Details
Conclusion For The "Best Pomsky Breeders in California"
The Pomsky dog breed is an adorable and loyal dog to have in your home. If you're planning to reach out to other Pomsky breeders in California, you should always do your research before making any further decisions. There are numerous puppy mills across the United States, and it's best to avoid them if possible.
For more articles with mentions of the Pomsky dog breed, check out:
To learn more about the Pomsky, watch "Pomsky Dog Breed Guide" from Smart Dog Lover down below: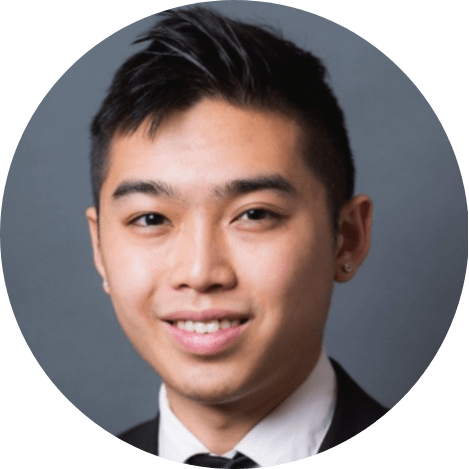 Andy is a full-time animal rescuer and owner of a toy doodle. When he's not saving dogs, Andy is one of our core writers and editors. He has been writing about dogs for over a decade. Andy joined our team because he believes that words are powerful tools that can change a dog's life for the better.
Why Trust We Love Doodles?
At We Love Doodles, we're a team of writers, veterinarians, and puppy trainers that love dogs. Our team of qualified experts researches and provides reliable information on a wide range of dog topics. Our reviews are based on customer feedback, hands-on testing, and in-depth analysis. We are fully transparent and honest to our community of dog owners and future owners.