If you're searching for the best Bichon Frise breeders in California, then you've come to the right place. The Bichon Frise is a minute breed of non-sporting canines. Besides its petite nature, the Bichon also has a distinct cute personality. They are cloud-like in looks. The Bichon Frise has over the years developed a reputation as a mild-tempered, curious, and playful dog.
Before scrolling down this list of Bichon Frise breeders in California, you might be interested in similar breeds: Best Pomeranian Breeders in California and Best Poodle Breeders in California.
Bichon Frise Puppies For Sale in California
Not all breeders can produce the right temperament and character, so it is imperative to find a reputable breeder.  Here's our list of some top-notch Bichon Frise breeders in California.
Get started in advance with your Bichon Frise companion with our recommendations: Best Wet Dog Food For Small Breeds and Best Training Collar For Small Dogs.
PuppySpot is an online community where top breeders of Bichon Frise puppies sell their puppies. Driven by the mission to ensure healthy and happy puppies find the most loving forever homes, PuppySpot has so far delivered over 225,000 puppies. They are the largest reputable puppy marketplace in the United States today.
With 100 points assigned to the criteria in the breeder screening process, it's not easy for Bichon Frise breeders to join this platform. Each breeder at a minimum has to be state registered. Their breeder selection process is backed by the USDA as well as the American Kennel Club (AKC).
Fully transparent in its processes, PuppySpot is a trusted source for your next Bichon Frise puppy in California. Each step of the adoption process is crystal-clear with no surprises. Before your puppy reaches you, PuppySpot has had it checked by a vet from nose to tail. Moreover, you get a 10-year health guarantee from here. This is the longest health guarantee in the industry for a Bichon Frise. The puppies are carefully handled while in transportation so that you get your best friend in good health and spirits. We highly recommend that you check them out.
PuppySpot Bichon Frise Details
2. California Bichons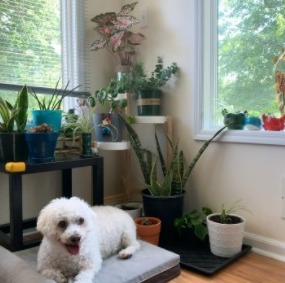 Second on the list of Bichon Frise breeders in California is "California Bichons." California Bichons is situated on a 12-acre hill in the Sierra Nevada Mountains. The breeder has been dedicated to breeding some of the most adorable, agile, playful, healthy, and social AKC Bichon Frise litters. California Bichons won the prize for the best Bichon breeder in California in 2016 by Vetary. They have a track record and brand name. The puppies at the breeder are socialized and are friendly with children and adults alike.  They are bred right inside the owner's home; this makes them accustomed to everyday noise and domestic activities. The breeder does not take the health of its puppies lightly and is a distinguished member of the AKC (Bred-with-Heart). When you adopt a Bichon at the breeder, you can be rest assured that they would be free of genetic diseases. The breeder has photos of its litters on its website, and the adoption process is seamless.
California Bichons Details
3. Culmore Canine Bichons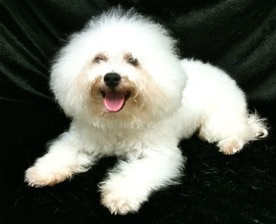 If you are seeking to adopt a championship dog, this breeder is the place for you. The breeder is family-owned and is located in Windsor, California. The breeder has two beautiful female Bichons, which they christened Gisella and Einstein. The two female Bichons have participated in events involving conformation and won 26 ribbons and awards. The Mensona Kennel Club inducted this breeder into the club in late 2007. The breeder takes excellent care to select only the best dogs with the highest standard pedigree.  Regular examinations and health checks are also run for the elbows, knees, hips, and eyes.  Dogs at the breeder are kept lean and healthy through proper dieting and regular exercise. If your goal is to adopt a sports savvy dog, the litters at the breeder are adept at sports.
Culmore Canine Bichons Details
4. Lore Bichon Frise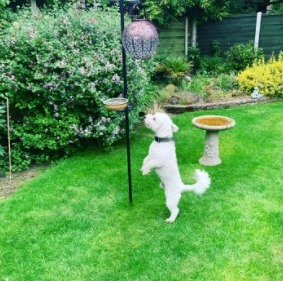 Established in 2013, Lore Bichon Frise, situated in Meadow Vista, has been breeding Bichons since 2013. The founder of this breeder is Roz Allen, a canine enthusiast who once served as a judge for the ICA. She has cared for dogs for over 35 years, and the bond she formed with them made her open a breeder. Her encounter with Bichons began in 2010 when she received an adorable Bichon from a friend. The experience changed her perception of the dog, and she became interested in breeding them. The breeder has received wide acclaim from customers who have adopted litters there. The owner serves as a member of the Bichon Frise Club of America Board of Directors. When breeding, she emphasizes temperament, health, and playfulness. This breeder comes highly recommended.
Lore Bichon Frise
5. Hollyhock Bichons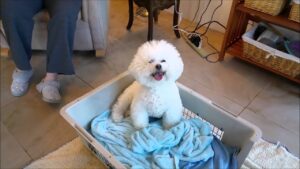 Hollyhock Bichons have been breeding Bichons for the past 50 years. Established in the early '70s, the breeder has strived to produce the breed's 'purest' offsprings. Their watchword is 'perfection,' and they only breed for the best.  All their studs and females are selected carefully. Before Hollyhock uses two Bichons for the breeding process, they must have passed OFA tests. They all have the potential to become AKC Champions. The litters in the breeder are raised inside the owner's home right up to the 10th or 14th week.
This helps the puppies to develop vital social skills and other indoor activities. Hollyhock Bichons put a lot of work into raising their breeds and were designated as Merit Breeder.  Adopting a puppy from the breeder is also relatively easy and professional. Just head over to their website and fill out an application. Priority is, however, given to those who have suitable homes or those who have had Bichons in the past. Prepare a place before applying to adopt—no need to worry about quality as Hollyhock Bichons has some of the best puppies in the state.
Hollyhock Bichons
6. Legend Breeder
The renowned Sacramento-based breeder is owned by Erayna Beckman, a veteran dog enthusiast. The breeder started on a small scale when Erayna purchased a female Bichon from and local breeder.  The dog, which she christened "Cricket," became the foundation Bichon of her breeder.  "Cricket" went to deliver three future show dogs, Champions beginning with her first puppy. The kennel has since grown significantly, and more Bichon champions have emerged from the breeder. The breeder has produced the Best Female Bichon at the Westminster Kennel Club. Their dogs have also gone on to win national and continental championships. The foundation female "Cricket" also won the Register of Merit award granted by the Bichon Frise Club of America. The prize is giving to female Bichons that have had about five births or more. The breeder has remained a steady source of Bichon Prise for people looking to adopt over the years.
Legend Breeder
7. SHE Bichons and Cotons
SHE Bichons and Cotons is one of the most renowned Bichon Frise breeders in Southern California. The boutique breeder specializes in producing and raising Bichon Frise. They also have a department dedicated to Coton de Tulear dogs. SHE Bichons and Cotons takes great care to pick unique high-ranking dogs from all over the United States and Europe. The ranch is replete with dogs, from show dogs to championship canines and beautiful ones.  The breeder has earned awards over the past few years, including from the American Kennel Club for breeder of Merit. The breeder is committed to breeding, raising, and showing the best Bichons possible in the market. Their dogs are trained to be playful and to socialize with humans and other dogs.
SHE Bichons and Cotons Details
Address: 91948 La Mesa, San Diego, California, USA
Phone: (619) 916-6556
8. Karmel Bichons
Last on the list of Bichon Frise breeders in California is "Karmel Bichons." Located in Santa Ana, California, Karmel Bichons is a private breeder owned by Wilson Ramirez. The breeder is in the same compound as his home, and the puppies are raised right in his sitting room. The goal is to raise highly socialized and social Bichon prises acclimatized to human environment and activity. The breeder sticks to the highest standards in its breeding program and conforms with the AKC breeding standard. The breeder produces dogs for show but also provides dogs for other purposes such as companionship and sports. They have a standard price for all their Bichon Prise, whether male or female. Karmel Bichons is the one-stop shop for friendly, well-mannered, and adequately trained dogs. Their breeds have been acclaimed to adapt and settle into their new homes quickly.  So, you should have no problems settling in your new puppy.
Karmel Bichons Details
Conclusion For The "Best Bichon Frise Breeders in California"
When choosing a Bichon Frise breeder, it's crucial to ensure that the puppies are from an OFA health-certified parent. When in doubt, you should also ask to see the parent. You do not want to adopt a puppy that isn't certified healthy. You also do not want to aid an illegal breeder to grow. We have gone through great lengths to find only the best breeders for you. We wish you the very best as you embark on your puppy adoption journey.
For more articles with mentions of the Bichon Frise, you can check out:
To learn more about the Bichon Frise, watch "Bichon Frise – Top 10 Facts" from Dogs Wiz down below: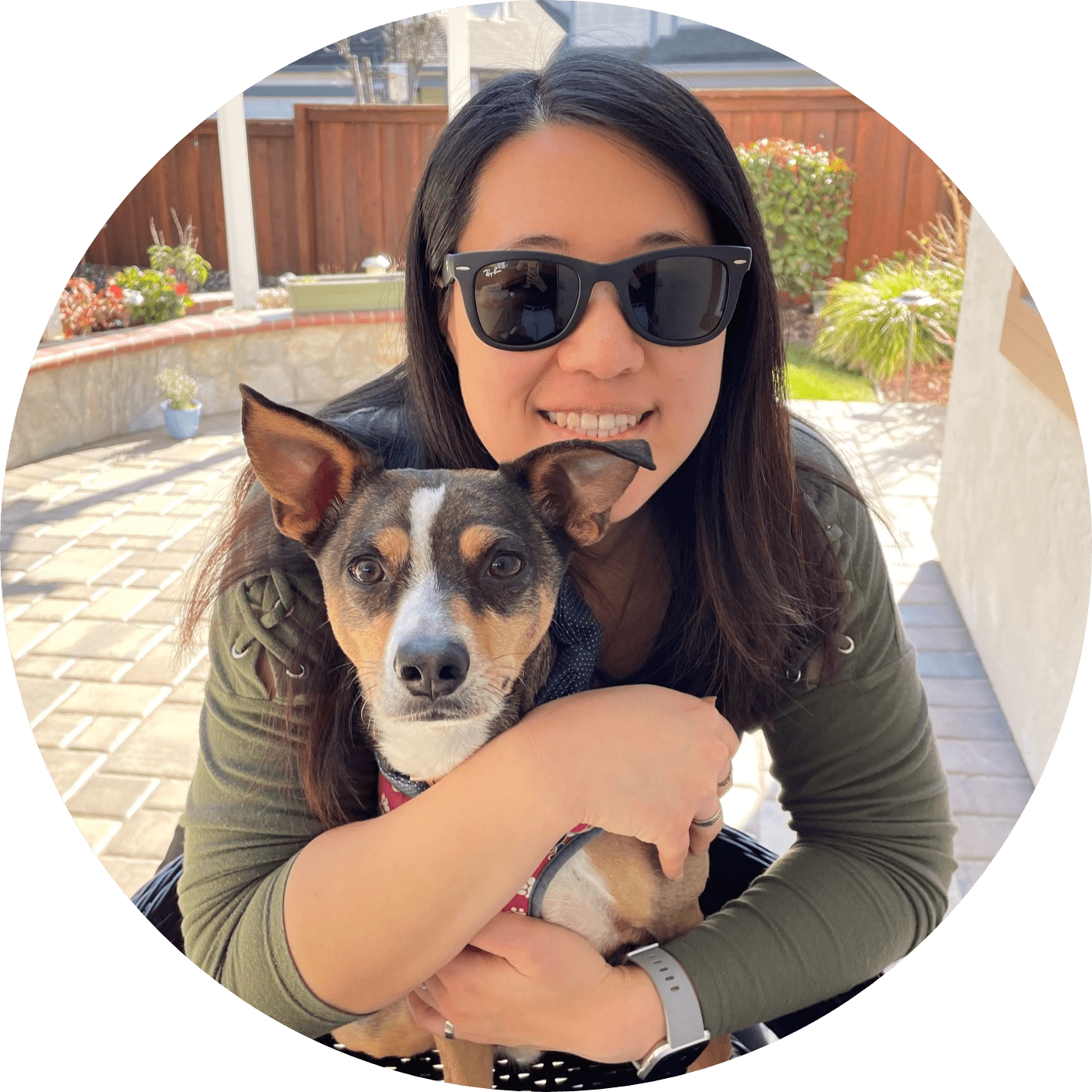 Dr. Sabrina Kong graduated from the Royal Veterinary College in England in 2016 and has been working at a small animal clinic in Northern California since then. She grew up in the Bay Area and got her bachelor's degree from Cal Poly San Luis Obispo. She also became a Certified Canine Rehabilitation Practitioner through a program at the University of Tennessee.
When she isn't in the clinic taking care of her four-legged patients, she enjoys traveling and trying new foods with her friends and her three-legged dog, Apollo. She adopted Apollo from her clinic when he was a puppy with numerous health issues. Dr. Kong truly cares about taking care of animals.