If you're searching for Cocker Spaniel breeders in Michigan, here's a little something interesting you should know. Disney's endearing 1955 animation Lady and the Tramp made the Cocker Spaniel popular among many moviegoers.
If you haven't seen it yet, grab your kids and enjoy this classic family film. While you're at it, keep an eye out for the iconic meatball-eating scene where Lady, the Cocker Spaniel, and a street mutt named Tramp enjoy a romantic dinner together.
The Cocker Spaniel is ranked as America's 23rd most popular breed. It isn't hard to see why people love this breed with its puppy-dog eyes, long drooping ears, and smooth flowing coat. Despite being bred for hunting, the breed is a great family companion with its playful personality.
Standing 14 to 15 inches tall, Cocker Spaniels are solid, medium-sized dogs that are sweet and jovial. They are the smallest sporting dog recognized by the American Kennel Club (AKC), so you can easily bring them along for trips and walks.
Before scrolling down this list of Cocker Spaniel breeders in Michigan, check out these recommendations: Best French Bulldog Breeders in Michigan and Best Yorkie Breeders in Michigan.
Cocker Spaniel Puppies For Sale in Michigan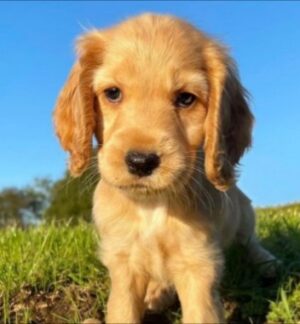 If you're thinking of adopting a dog and having kids, you can't go wrong with the gentle Cocker Spaniel. Like many small canines, Cocker Spaniels want to be part of whatever their human family is doing. They're easy to bond with and are willing playmates.
They're also a good match for the high and curious energy of toddlers. Sure, they can be a bit clingy, but with their gentle personalities and dreamy eyes, you won't mind.
If you're based in or around Michigan and have been thinking of adding this sweet-eyed dog to your family, take a look at some of the best Cocker Spaniel breeders in the area.
Cocker Spaniel Product Recommendations: Best Dehydrated Dog Food and Best Training Collar For Small Dogs.
1. PuppySpot's Cocker Spaniels For Michigan
This puppy finding and placement service works with breeders around the U.S. who share their beliefs that puppies should be with families that can provide secure and happy homes.
To ensure that they provide healthy, happy, and well-adjusted puppies, PuppySpot enforces a meticulous screening process for breeders who would like to join their network. Not only does this process guarantee that the Cocker Spaniels are of high caliber, but it also promotes better breeding practices.
As part of their zero-tolerance policy for puppy mills and substandard breeders, all breeders who belong to their network are U.S. Department of Agriculture (USDA) approved, licensed, and comply with stringent requirements.
Their breeders undergo interviews, field visits, an assessment of their operations, facility reviews, criminal background checks, and other forms of evaluation. Less than ten percent of those who apply with them go on to become PuppySpot partners.
PuppySpot stands by the health of its puppies. As such, each puppy comes with health guarantees that cover contagious diseases, illnesses, parasites as well as congenital and hereditary conditions. They deliver puppies to destinations all over the United States and have different options for shipping them to you.
For long-distance deliveries that entail air travel, they have Puppy Chaperones who will travel with your dog in pressurized cabins. During their operations, they've facilitated 200,000 adoptions and have over 10,000 rave reviews.
PuppySpot Details
 2. Hadherway Kennels
Hadherway Kennels is motivated by the intent of breeding the sweetest Cocker Spaniels in the whole of Michigan. To achieve this, Hadherway breeds and raises all their puppies in a loving and healthy home.
They give all their Cocker Spaniels a head start when it comes to socialization so they can be the perfect companions to your family. Guided by the principle of dogs first and breeding second, they strive to find secure homes that genuinely care for their Cocker Spaniels.
All the dogs of Hadherway Kennel are involved in human activities, and you'll often find the dogs snuggled on the laps of the kennel owner's family. Their Cocker Spaniels are at their healthiest state and follow the ideal breeding stages.
This ensures that the quality of the puppies is always guaranteed. Once a litter of Cocker Spaniels becomes available, they provide them with veterinary care, good nutrition, and a happy environment.
Hadherway Kennels sell their Cocker Spaniels on the condition that they will be neutered or spayed when they are old enough. Before you can bring home your new Cocker Spaniel, an extensive veterinary wellness check is conducted.
Every puppy is vaccinated accordingly, and preventive deworming is done. The kennel is ready to extend assistance for puppy transportation and even a puppy nanny when needed.
If you adopt from Hadherway Kennel, you need to have a licensed vet check your new Cocker Spaniel within two days of bringing it home to ensure the overall health of your new four-legged family member.
If you are 100% committed to purchasing a Cocker Spaniel at the soonest possible time, then send the kennel an email or give them a call to reserve one.
Hadherway Kennels Details
3. Kuipers' Cockers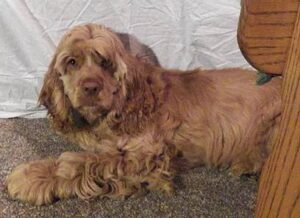 Kuipers' Cockers has some of the most sought-after Cocker Spaniels in Michigan. If you'd like to adopt one of their puppies, you'll need to join their waiting list by sending them an email with your preferred gender and color, if any.
While this doesn't guarantee an exact match, they'll do their best to meet your specifications. The wait for bringing home a puppy from Kuipers' can be anywhere from 9 to 18 months.
This can be sooner or later since producing litter has too many uncontrollable factors. Each waiting list can have up to 75 people. Once a litter is born, the owner of Kuipers will send everyone on the waiting list an update, allowing them to identify which buyers are still interested.
Throughout the adoption process, Kuipers' promotes transparency and visibility on where interested parties are on their waiting list. Female Cocker Spaniel puppies cost $1,000 while males cost $850. They strive to provide the same quality across litters, and every buyer is given a health guarantee.
Because Kuipers' Cockers understands the expense that comes with buying and keeping a dog, they ensure that each puppy is delivered in the best of health and is given opportunities for socialization as early as possible.
Kuipers' Cockers Details
4. Woofin Waggin Bred & Biscuit
Woofin Waggin Bred & Biscuit is a family of breeders based in Smith Creek, Michigan. If you're looking for breeders who prioritize well-socialized and healthy dogs, look no further than Woofin Waggin. This breeder considers their puppies an extension of their family.
They're treated like kids and are spoiled with loads of attention and love. As such, their Cocker Spaniels live inside the home with them, vacation with them, and sleep in human beds. They want their dogs to be taken in by loving homes.
If you're interested in acquiring one from them and have reserved a puppy, they encourage you to bond with your dog with weekly visits. Specializing in purebred American Cocker Spaniels, this family has been breeding quality Cocker Spaniels for more than five years.
Aside from producing Cocker Spaniels that are physically beautiful and have a sweet temperament, their main objective is to find them forever homes that will cherish their four-legged family members.
Once placed in new homes, each Woofin Waggin puppy arrives with a copy of its pedigree, American Canine Association (ACA) litter registration, and a health guarantee. In addition, all Woofin Waggin puppies leave their initial home with all their preliminary shots and a complete vet check.
Woofin Waggin Bred & Biscuit Details
5. The Family Puppy
Last on the list of the best Cocker Spaniel breeders in Michigan is "The Family Puppy." If you're unable to find a Cocker Spaniel with other breeders and have been waiting a long time, The Family Puppy may be able to help.
The Family Puppy relies on a network of professional breeders. They are driven to continuously improve their dogs' welfare not just physically but also psychologically and mentally. Therefore, all of their breeders are encouraged not just to meet but exceed the minimum standards set out by the USDA.
To ensure and maintain the quality of their puppies, they regularly carry out inspections which include checks on whether breeders are giving them adequate socialization and exercise.
Additionally, The Family Puppy works with reputable veterinarians who screen and track all the health-related concerns of the puppies.
Genetic testing on the parent dogs is also explicitly practiced. The hearts and patellas of smaller breeds are examined while larger dogs' hips are checked. This type of proactive veterinary care is uncommon with miniature breeders, so this is an added assurance that the puppy you get from The Family Puppy is healthy.
The Family Puppy Details
Conclusion For The "Best Cocker Spaniel Breeders in Michigan"
A Cocker Spaniel is an excellent addition to your family. It can bring you plenty of affection, fun, and companionship if you give it a healthy foundation and opportunities for socialization.
By choosing a reputable, ethical, and responsible breeder, you can have yourself a healthy, well-socialized puppy that you can share many memorable and wonderful years with.
For more articles with mentions of the Cocker Spaniel, you can check out:
Learn more about the Cocker Spaniel by watching "Everything You Need to Know About Owning a Cocker Spaniel Puppy" down below: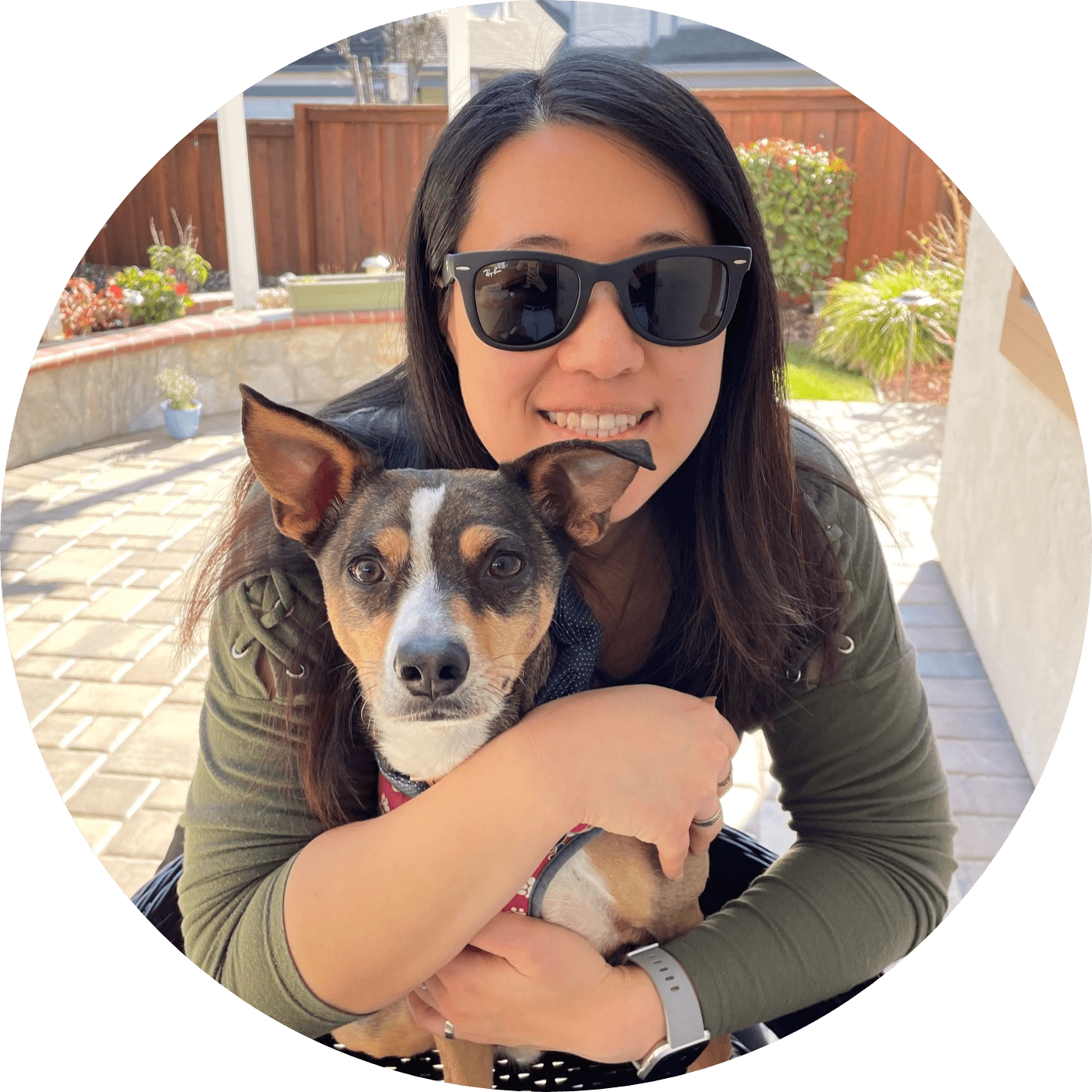 Dr. Sabrina Kong graduated from the Royal Veterinary College in England in 2016 and has been working at a small animal clinic in Northern California since then. She grew up in the Bay Area and got her bachelor's degree from Cal Poly San Luis Obispo. She also became a Certified Canine Rehabilitation Practitioner through a program at the University of Tennessee.
When she isn't in the clinic taking care of her four-legged patients, she enjoys traveling and trying new foods with her friends and her three-legged dog, Apollo. She adopted Apollo from her clinic when he was a puppy with numerous health issues. Dr. Kong truly cares about taking care of animals.