Here's what you need to know if you're searching for French Bulldog breeders in Michigan. At the mention of the French Bulldog, images of rotund smushy-faced, adorable bat-eared canines come to mind. Breed enthusiasts love their French Bulldogs with a passion, and we're here to tell you why the Frenchie has become a prevalent breed to own and love.
Before scrolling down this list of French Bulldog breeders in Michigan, check out these recommendations: Best Boston Terrier Breeders in Michigan and Best Boxer Breeders in Michigan.
Here's What You Need to Know About The French Bulldog
The French Bulldog is bred to be a snuggly companion. They are squishy and cute, easy to train, and highly interactive with their owners.  They make great family dogs and are quite affectionate and playful.
French Bulldogs are listed among the best breeds for first-time dog owners because of their affectionate, friendly, and affable nature. These dogs don't bark excessively but can be pretty vocal.
They are small but sturdy, so they make great dogs for homes with kids and do well with other dogs. They're also well-suited for an apartment or small space living and take to crate training better than most other small breeds.
If French Bulldogs have a downside to them, they can suffer from some veterinary issues (due to being Bulldogs) and are known for narrow ear canals, so they must be monitored for their health routinely.
So you can expect some veterinary bills. They can also suffer from separation anxiety. They don't like being alone, so crate training is imperative with French Bulldogs from puppyhood on. French Bulldogs are known as velcro dogs.
They are always happiest when they are near their chosen person. They can be just as happy in their crate if they can look out and see their human nearby. They do well as road dogs and traveling companions and take to travel and camping very well.
They also thrive when there are two French Bulldogs in the home as they are companion dogs at heart. However, because Frenchies do crave companionship, you must understand the level of commitment it takes to care for one of these great little dogs properly.
If the cuteness and affection factors outweigh any cons on your list, You might be the perfect French Bulldog owner. When you're ready to make a Frenchie puppy a part of your life, and you reside in Michigan or the surrounding area, we've got you covered with a list of the most popular French Bulldog breeders in the State of Michigan.
French Bulldog Puppies For Sale in Michigan
This list is compiled from reputable breeders in Michigan, based on our research and the breeders' customer reviews. We're only listing small home breeders of quality dogs. No puppy mills or brokers that source their dogs from puppy mills will ever make our list. So here are the top French Bulldogs in Michigan.
French Bulldog Product Recommendations: Best Dog Vibration Collar and Best Devie to Stop Dog Barking.
1. PuppySpot's French Bulldogs for Michigan
Since you're searching for French Bulldog breeders in Michigan, then PuppySpot could be a great help. By using PuppySpot for your French Bulldog puppy, you'll find numerous listings on the website. After finding and purchasing your desirable French Bulldog puppy, it'll be safely shipped to your home in Michigan.
French Bulldog breeders on this platform are all strictly screened by the team of PuppySpot to ensure no unethical practices are happening. So before you continue on your search for a French Bulldog breeder in Michigan, check out the link below.
PuppySpot Details
2. Bullish Pride
In Fenton, Michigan, we find Bullish Pride. This is a hobby breeder of AKC French Bulldogs. These dogs are home-raised with the goal of producing a well-socialized, well-adjusted, and happy companion dog.
Bullish Pride genetically tests their parent dogs for genetic defects and OFA certifications. In addition, they raise their dogs with Puppy Culture and early neurological stimulation to promote development and encourage a good temperament.
Their breeding program is certified by the AKC. This breeder requires a lifetime connection to their puppies. They provide support and continue to follow -up with their customers throughout the dog's life.
Once your puppy has been chosen, you will receive weekly updates and videos on your puppy's growth and progress. The puppy will go home with a great starter pack.
All puppies are sold with a one-year health guarantee, age-appropriate vaccinations and deworming as well as pre-paid AKC registration and a microchip. The sale contract and deposit information are on the website. In addition, you may contact the breeder via phone or email.
Bullish Pride Details
3. BlueStar Frenchie
Blue Star Frenchie is located in Novi, Michigan. They specialize in producing French Bulldogs with exotic color genetics. They have a mission to contribute positively to the French Bulldog breed as a whole, and take care to test their dogs for defects genetically, and take a clinical approach to breed using Artificial Insemination, birth via C-section, and incubate the newborn puppies to reduce the risk to both dam and puppies.
Once they are thriving on their own, the puppies are hand raised in the home with other dogs and children to produce a well-socialized dog that has a good temperament. This breeder does not allow home visits for health and privacy reasons.
They will FaceTime with you or meet you locally at the vet's office or another agreed-upon location. Puppies go home with age-appropriate vaccinations and deworming as well as a starter pack.
BlueStar Frenchie will deliver your dog personally to an airport near you, but they do not ship their puppies. Instead, contact BlueStar Frenchie via the website contact form to make arrangements to send a deposit and reserve a puppy.
BlueStar Frenchie Details
4. Blanton's Bullies
Also known as Blanton's Bulls are located in Taylor, Michigan, and are a small home breeder of French and English Bulldogs. They specialize in producing high-quality dogs in non-standard colorations.
Puppies from Blantons get Early Neurological Stimulation and are home-raised along with the family hustle and bustle of daily life as well as cats and other dogs, to make them into well-adjusted and well-socialized pets for their new owners.
They hope to cultivate a relationship with their customers and follow their puppies through adulthood with regular check-ins and updates. In addition, all their breeding dogs are health tested and cleared before breeding.
Puppies will go home with a puppy pack, health guarantee, vet records, vaccinations, deworming, and a microchip. You must message them through their Facebook and have an approved application before you can reserve a puppy.
This breeder does not allow home visits to protect the health and safety of both dogs and humans but will arrange to meet you to deliver your puppy.
Send a personal message on Facebook with your mailing address to begin the application process to adopt one of these adorable Frenchie puppies from Blanton's Bullies.
Blanton's Bullies Details
Location: Taylor, Michigan
5. North Star Frenchies for Michigan
Last on the list of French Bulldog breeders in Michigan is "North Star Frenchies." North Star Frenchies is a small home breeder of purebred French Bulldogs. They are located in Alger, Michigan.
All their dogs are genetically tested and come from top bloodlines. There is not an active website, and it appears that North Star Frenchies does all of its marketing on social media sites.
North Star is a name used by several dog breeders in the United States, so be sure you contact the one located in Michigan (North Star is two words, the other is combined and is located in AK).
Tiffany Ann runs the Instagram account for @northstarfrenchies. You can contact this breeder via Facebook and Instagram. There are many photos on their social media sites but no further information about their adoption process or the pricing of their puppies.
Browsing their Instagram is quite an experience. If you thought you might want one, you definitely will after looking through these photo galleries. Puppies don't get much cuter than these dogs.
You can direct message North Star Frenchies on social media or email them at the address on Facebook to get more information on how to reserve a French Bulldog from the next pairing. They have some adorable dogs with interesting color genetics, including the somewhat rare blues and lilacs.
North Star Frenchies Details
6. Jessicah's Frenchies
Note: At this moment, we can no longer recommend this breeder.
In Howell, Michigan, Jessicah's Frenchies is a small home breeder of AKC Registered French Bulldogs. Their puppies are raised with early puppy stimulation and are home-raised with their children.
Their goal as a breeder is to provide socialization and enrichment to their puppies, and they constantly strive to produce a top-quality French Bulldog that conforms to the AKC standard for the breed.
The puppies go home at ten weeks of age with a starter kit, one-year health guarantee, age-appropriate vaccinations, deworming, and heart guard started.
This is a breeder that cares about the puppy and provides long-term support for the dog after it goes home with its new family.
Jessicah's Frenchies requests that you contact them via the application on the website and subscribe for email updates regarding upcoming breedings and expected litters. There's a great photo gallery and customer reviews on the website as well.
Jessicah's Frenchies Details
Conclusion For The "Best French Bulldog Breeders in Michigan"
Remember always to do your research on each breeder if you're searching for a French Bulldog in Michigan, especially if it's an unknown breeder. Since the French Bulldog is such a popular breed, there's always a chance of encountering a puppy mill.
You want to search thoroughly, whether it's from reading Yelp reviews to Google Business reviews. With that in mind, we hope this guide will help you bring home a French Bulldog in Michigan.
For more articles with mentions of the French Bulldog, you can check out:
Learn more about the French Bulldog by watching "How to Take Care of a Frenchie" down below: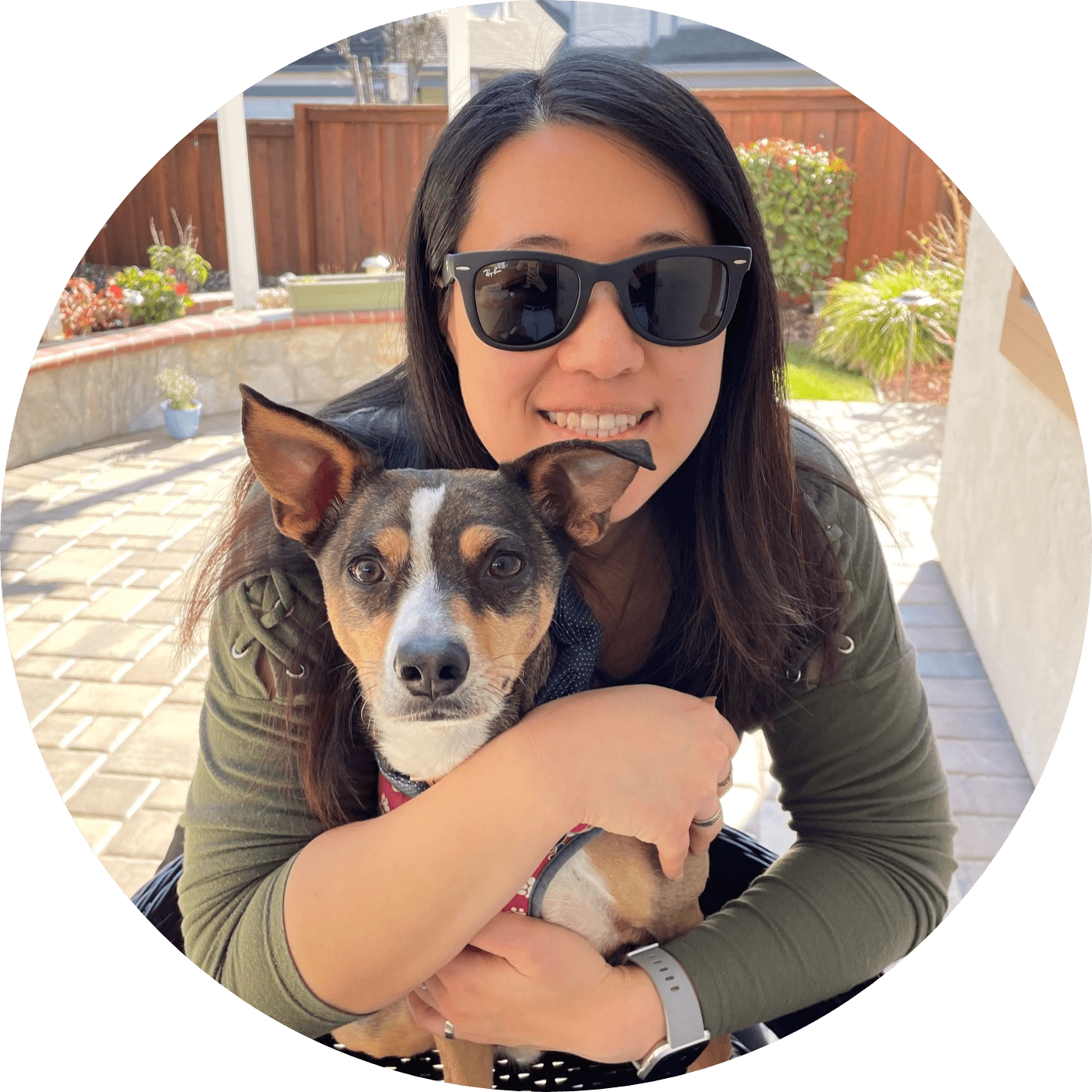 Dr. Sabrina Kong graduated from the Royal Veterinary College in England in 2016 and has been working at a small animal clinic in Northern California since then. She grew up in the Bay Area and got her bachelor's degree from Cal Poly San Luis Obispo. She also became a Certified Canine Rehabilitation Practitioner through a program at the University of Tennessee.
When she isn't in the clinic taking care of her four-legged patients, she enjoys traveling and trying new foods with her friends and her three-legged dog, Apollo. She adopted Apollo from her clinic when he was a puppy with numerous health issues. Dr. Kong truly cares about taking care of animals.