Can you use a shock collar on a wet dog, and would it harm the dog in any way? Considering that shock collars use electricity to keep your dog in your yard, it's understandable for a first-time pet owner or first-time shock collar owner to worry about their dog's safety. 
Shock collars are controversial, so knowing the extra safety tips is essential so they can be effective. That includes the extra precaution of ensuring they are safe to use when wet. You can use a shock collar on a wet dog or when it's raining if the collar is certifiably waterproof.
Before you scroll down to a more in-depth answer to this guide, "Can You Use a Shock Collar on a Wet Dog," you can check out these other related guides from our team at We Love Doodles: How to Treat a Shock Collar Wounds For a Dog and Best Remote Shock Collars For Dogs.
How Does a Shock Collar Work?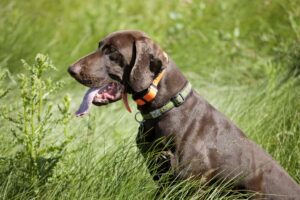 Shock collars shock your dog if they surpass a boundary laid out for them or if you use a hand remote. Electric signals are sent to the metal pieces on the collar when they reach that point in the yard. These shocks can start as a painless jolt and make their way to something quite painful and anxiety-inducing for your dog.
Shock collars are a powerful tool that pet owners can easily abuse. Therefore, they are no longer as popular as they were when they hit the market. However, they are safe when used for the right reasons.
More Dog-Related Guides: Best Cheap Shock Collars For Dogs and Best Shock Collars For Dogs Barking.
How Can You Use a Shock Collar on a Wet Dog?
You can use a shock collar on a wet dog because most are waterproof, but not all are. Most collars should be, but some cheaper collars may neglect this essential feature. If you don't know whether or not your shock collar is certifiably water-resistant, you could seriously harm your dog in two ways.
One would be the collar shocking or burning them, and another would be the collar not working anymore and allowing your untrained dog to run into the street or away. Ensuring the shock collar you've purchased for your dog is waterproof is doing the bare minimum and can go a long way regarding your pet's safety. Make sure you read about your product before using it on your dog.
More Dog-Related Guides: Best Shock Collars For a Mastiff
Can You Use a Shock Collar in Water?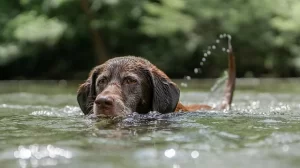 If you have a backyard pool your dog likes to cool off in, they'll still be able to wear a shock collar. Even if you turn off the collar and take them to a local lake or a dog beach, a notable brand shock collar will be safe.
Most collars get designed to be submerged fully, but you must double-check your purchase to ensure your dog's safety. There are other ways to ensure your pet is safe when using a shock collar, and they stem from the idea that your dog shouldn't need one at all.
More Dog-Related Guides: Best Shock Collars to Keep Your Dog in the Yard and Strongest Shock Collars For Dogs.
How to Keep Your Dog Away From Water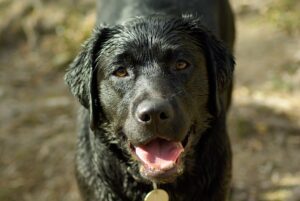 If you are worried about the water resistance of your shock collar because your dog cannot swim or you're training them to stay out of your pool, you can acclimate them and then utilize the shock collar. In the same way, you set a boundary in your yard.
You can set a perimeter around your pool. If you've chosen to implement a shock collar to keep your dog safe, boundaries must get taught first. If your dog can't swim, not training them to stay away and using a shock collar will put their lives at risk.
More Dog-Related Guides: Best Shock Collars For Labrador Retrievers and Best Shock Collars For an American Bully.
Shock Collar Tips To Ensure Your Dog's Safety
Shock collars aren't as commonly used anymore because of the pain, anxiety, and fear they can instill in dogs if they don't get used properly. If you're considering purchasing a shock collar, don't go in blind. Your dog deserves better than that, and it will be better for your relationship in the long run.
Here are some tips and guidelines to ensure your choice in using a shock collar is safe for your dog and effective. In the same way that you want to ensure shock collars are waterproof, you want to be sure your dog is safe.
More Dog-Related Guides: Best Shock Collars For a Biting Puppy and Best Shock Collars For Dogs Chasing Cars.
1. You Should Train Your Dog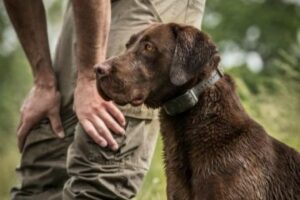 Shock collars should not be your first training tactic when raising a puppy or even adopting an adult dog. They should be a last resort as a way to keep your dog safe from running into oncoming traffic at the end of your driveway. Teaching them boundaries and where it's safe to run and where it isn't safe to run is crucial.
Even with a shock collar, your dog won't learn if you don't teach them first. Not to mention the possibility of a collar turning off and leaving your dog with zero boundaries to keep them safe. Shock collars are supposed to keep your dogs safe, not traumatized. Training them first and then using their shock collar as the last line of defense is better.
More Dog-Related Guides: Best Puppy Potty Training Sprays.
2. Know the Risks of Using a Shock Collar
Doing the necessary research before purchasing a shock collar is just as important as training your dog. It's crucial to hold yourself responsible if your dog doesn't understand at first. Inform yourself as to what increasing the level of the shock can do to your dog. Alongside emotional trauma can be physical harm with too high of a voltage.
It's crucial to know that if your dog isn't listening to your warning shocks if you keep pressing a button for continuous shocks, it can increase a dog's heart rate and put them at risk. Every animal is different, so a shock that seems fine to you or another dog may be completely different to another dog. A jolt that doesn't hurt you can easily injure them.
More Dog-Related Guides: Best Shock Collars For Two Dogs and Best Shock Collars For Medium Dogs.
3. Start at the Lowest Voltage When Using a Shock Collar For Your Dog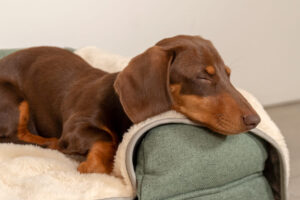 Because a tickle on one dog could physically harm another, you must start low and see how your dog reacts to the tiniest shock. Gauge what your dog can handle without it harming them, and don't go over that voltage. If they don't listen to you, increasing the voltage on the collar won't work either.
Even if you test the collar on yourself first, that doesn't mean it will feel the same to your dog, who may weigh significantly less than you. They should get trained well enough that a tiny tickle or pinch should be a reminder they follow, not a threat.
More Dog-Related Guides: How to Train a Beagle with a Shock Collar.
4. Buy a Good and Reliable Shock Collar Brands For Your Dog
If you decide to go through with purchasing one of these collars, at least make sure it is a reliable one that won't break or turn off in the middle of your dog's outdoor adventure. A shock collar can be effective with a trained dog if you invest in a trustworthy brand.
That is also how you can ensure the shock collar is waterproof. Using a reliable, well-known brand brings credibility, and in the unfortunate case where something bad happens, you can hold that company accountable.
More Dog-Related Guides: How Tight Should a Shock Collar Be and Can a Shock Collar Hurt a Dog?
Are Shock Collars Worth it For Dogs?
You hear plenty of scary facts from professionals and other pet owners about shock collars, so the question eventually becomes whether or not they are worth it. Shock collars do have benefits. They derive from the reason for which you utilize one.
It won't be beneficial or effective if you buy a shock collar to teach your dog. Dogs need to be taught lessons by you, not an unknown source shocking their neck. Shock collars are worth it if you ensure they are waterproof and use them to encourage already-trained behavior.
Shock collars are especially worth it if the issue is an expense. They are infinitely cheaper than putting up a stable fence or hiring a dog trainer. However, if your dog has obedience issues, a shock collar isn't going to fix them.
Shock collars should only be on dogs that know your boundaries. They are worth it for that split second your good boy puts his life at risk on a whim, not when they don't know any better.
More Dog-Related Guides: How Much Does a Shock Collar Cost and When is a Dog Old Enough For a Shock Collar?
Shock Collar Waterproof Alternatives
If, after everything you've researched, you decide you want an alternative waterproof solution to enforcing your dog's boundaries, here are a few options.
Dog Whistle: A dog whistle may not be as effective solely because it is only an auditory reminder. The physical reminders can grab a dog's attention faster, but dog whistles are waterproof and safe solutions to keeping your dog in check.
Halo Collar: The halo collar is an expensive alternative, but one that is guaranteed waterproof and can reinforce a lot more than your dog's boundaries. It's a smart collar that gets accessed via your phone. This way, even if you aren't home, you have control.
Vibrating Collar: A vibrating collar is water-resistant and avoids the potential dangers of choking altogether. Vibrations are painless and still work to capture your dog's attention when they aren't doing what you've taught them.
More Dog-Related Guides: Best Shock Collars For Pitbulls and Best Dog Training Shock Collars.
Conclusion For "Can You Use a Shock Collar on a Wet Dog"
You can use a shock collar on a wet dog if you're certain the shock collar is waterproof. Ensuring your shock collar is water-resistant is the first step. The next is making sure you buy one to keep your dog safe and not as a shortcut for training. It's ultimately not the collar's job to train the dog– it's yours.
If you find this guide, "Can You Use a Shock Collar on a Wet Dog," you can check out these other dog guides from our team:
You can learn more about having your dog wear a shock collar by watching "How to Use an Electric Collar to Train a Dog to Cone When Called" down below: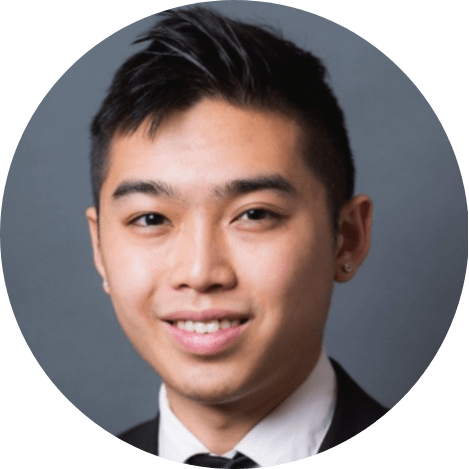 Andy is a full-time animal rescuer and owner of a toy doodle. When he's not saving dogs, Andy is one of our core writers and editors. He has been writing about dogs for over a decade. Andy joined our team because he believes that words are powerful tools that can change a dog's life for the better.
Why Trust We Love Doodles?
At We Love Doodles, we're a team of writers, veterinarians, and puppy trainers that love dogs. Our team of qualified experts researches and provides reliable information on a wide range of dog topics. Our reviews are based on customer feedback, hands-on testing, and in-depth analysis. We are fully transparent and honest to our community of dog owners and future owners.