Curious about the biggest Poodle mix? There is no one answer to this question. Breeders crossbreed Poodles and other large breeds in a wide variety, resulting in many options for considerably large Poodle mixes, which we'll cover in-depth below.
Opting for a big dog over a small one can be driven by various factors. Generally, larger dogs exhibit greater calmness, which becomes significant as their size increases. Moreover, they typically display fewer behavioral issues than smaller dogs and are less prone to excessive barking.
Large dogs also make excellent pets for highly active families. However, it's essential to consider that these dogs often come with higher costs and require more space and exercise.
Suppose you have thoroughly considered these aspects and concluded you have both the affection and the adequate environment. In that case, large Poodle mixes might be the perfect companion for you.
Large Poodle mixes include the Irish Wolfdoodle, Flandoodle, Mastidoodle, Weimardoodle, Rottle, Giant Schnoodle, Great Danoodle, Boxerdoodle, Huskydoodle, Bordoodle, Shepadoodle, Sheepadoodle, Newfypoo, Saint Berdoodle, Pyredoodle, Irishdoodle, Aussiedoodle, Labradoodle, and Bernedoodle.
We'll talk about the many different types of large Doodles below.
Before reading this guide, "How Large Is the Biggest Poodle Mix," check out: What Labradoodle Size Is Best? Mini, Medium, Standard! (2023) and Best Goldendoodle Generations: F1, F1B, F1BB, F2, F2B, F3! (2023).
Irish Wolfadoodle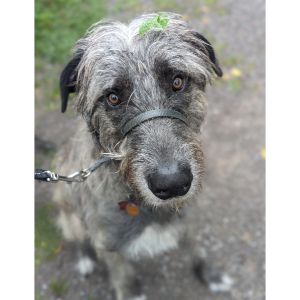 Referred to as Woodles (distinct from Whoodles), Irish Wolfadoodles are a delightful mix of Irish Wolfhounds and Poodles. Originating in Ireland, they were initially bred for hunting and military purposes, famously utilized to dismount riders.
Although the Irish Wolfhound is the tallest of all dog breeds, they have shed their formidable temperament from ancient times. Today, they are famous for their intelligence and sociability, which they impart to their Irish Wolfadoodle progeny.
Flandoodle
These sizable dogs were originally famous for farm tasks, such as herding cows in Belgium. As the offspring of Bouviers and Poodles, Flandoodles inherit their parents' rugged and adventurous spirit while blending it with the cleverness of Poodles.
The result is an energetic and lively canine companion who brings great joy to your life. However, be prepared for stubbornness and the need to stay active, as they will keep you on your toes.
Mastidoodle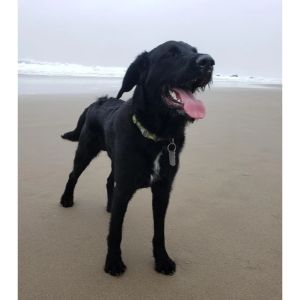 Originating from the Mastiff, the world's giant dog breed, Mastidoodles are impressive Poodle mixes that can reach considerable proportions, measuring up to 32 inches and weighing around 120 pounds.
These dogs possess the potential for strength and muscularity like their ancestors. They are an excellent choice for owners who can accommodate their substantial size while providing ample exercise and stimulation.
Beyond their dimensions, Mastidoodles have a gentle and affectionate nature, demonstrating calmness and obedience within their families. However, it's important to note they may sometimes exhibit different levels of ease around strangers or unfamiliar dogs, requiring caution.
Weimardoodle
The Weimardoodle, a breed that deserves more recognition, is a remarkable canine companion. While undoubtedly large, reaching weights of up to 70 pounds, they predominantly exhibit the appearance of Poodles, with a subtle touch of the hunter-hound Weimaraner in their features.
These dogs are known for their unwavering loyalty and strong attachment to owners, which can sometimes lead to separation anxiety if left alone for extended periods. With a cheerful and spirited disposition, these beautiful pups thrive in households with constant companionship and playtime.
Rottle
Although the Rottweiler has had a somewhat notorious history, those who have experienced the joy of owning delightful Rottles would attest to their remarkable qualities as pets.
These dogs are undeniably intelligent and require ample physical activity. Additionally, they are highly trainable, deriving immense pleasure from pleasing their owners and acquiring new tricks and abilities.
It's worth noting that Rottles are inclined to become overly protective, which you should prevent. Therefore, early and extensive socialization is essential to familiarize them with strangers and other dogs.
Giant Schnoodle
With their impressive height, regal presence, and boundless energy, Giant Schnoodles are a fantastic choice for relaxed families who relish outdoor activities. That said, they have a relatively high exercise requirement and demand more grooming than other Doodles on this roster.
These dogs are brilliant, necessitating an array of toys and games to keep their agile minds engaged. Moreover, their parent breeds, the Poodle and the Giant Schnauzer, are recognized as hypoallergenic, making a Giant Schnoodle a safe and reliable option for individuals with allergies.
Great Danoodle
Scooby-Doo fans will surely adore the wonderful blend of the Great Dane and the (typically) Standard Poodle. While these dogs are noticeably large crosses and won't suit everyone, those who adopt one will not have regrets.
Great Danoodles are not only stunning in their athletic physique but also possess an outgoing and friendly demeanor.
Their substantial size also makes them excellent guard dogs, deterring strangers from approaching without hesitation. However, once you get to know them, you'll discover they are absolute cuddle enthusiasts, ready to shower you with affection.
Boxerdoodle
Boxerdoodles, with their endearing appearance and often inheriting the distinctive facial features of the magnificent Boxer, are undeniably charming large Poodle mixes.
Although they can be considered more medium-sized, with some reaching up to 25 inches at the shoulder, these dogs possess a friendly and playful nature, leaving their fighter-dog ancestry far from the past.
Boxerdoodles generally get along well with children, enjoying playful interactions. However, they may need to be more compatible with other dogs and smaller pets within the household.
While socialization can assist them in being around other animals outdoors, Boxerdoodles typically thrive best in a single-pet family setting.
Huskydoodle
The Huskydoodle claims the title of the most dynamic member of this group. With the impressive lineage of Siberian Husky and Poodle parents, these dogs embody the essence of hard work.
It's crucial to note that Huskydoodles are incredibly energetic. Despite their friendly and affectionate nature, which allows for enjoyable cuddle sessions, they necessitate ample daily exercise to ensure their happiness and well-being.
Bordoodle
Regarding intelligence, the Border Collie takes the crown as the world's most intelligent dog, closely followed by the Poodle in second place. With that in mind, your Bordoodle will likely be at the top of the charts regarding brainpower.
These dogs require significant training and socialization to stay engaged. They may become stubborn and display unwanted behaviors such as chewing and excessive barking without proper mental stimulation. However, you can have immense fun with these pups with time and the right approach.
Shepadoodle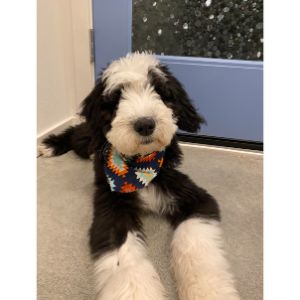 Shepadoodles are the result of crossing a Poodle with a German Shepherd. Both breeds are renowned for exceptional intelligence and athleticism, which you should consider before adopting one of these remarkable pups.
A mere half-hour stroll around the block won't suffice in terms of exercise for these energetic dogs. However, if you're seeking a sporting companion or a canine athlete, Shepadoodles are an ideal choice for you.
Sheepadoodle
Sheepadoodles, usually donning the black and white coats reminiscent of their Old English Sheepdog heritage but occasionally found in solid black or gray, are undeniably striking canines.
These lovable and spirited pups effortlessly form connections with most individuals, including children and other pets.
In fact, despite their larger size, these dogs tend to view themselves as lap dogs, resulting in an abundance of cuddles, kisses, and the occasional challenge of finding personal space as they attempt to snuggle up to you whenever possible.
Newfypoo
The Newfypoo is primarily overshadowed by its substantial size and Newfoundland's reputation for shedding and drooling, despite being less well-known among Doodle breeds. However, it is a dog with an endearing temperament that is hard to match.
These gentle giants are known for their even-tempered nature, sociability, and loveliness. The Newfypoo inherits this laid-back and affectionate disposition while offering the advantage of significantly reduced shedding compared to its Newfoundland parent.
Saint Berdoodle
Approaching the size of Pyredoodles and possessing the same impressive build, Saint Berdoodles undeniably inherit the striking appearance (and size) from their Saint Bernard parents.
Fortunately, these large Poodle mixes combine beauty with the low-shedding qualities of the Poodle, creating a gentle giant that requires slightly less coat maintenance (although daily brushing is still best).
Saint Bernedoodles, with their kind, calm, and composed demeanor, are excellent pets, even for those new to dog ownership. Although their appearance may seem imposing, their teddy-bear-like nature shines through, showcasing their innate affectionate and lovable disposition.
Pyredoodle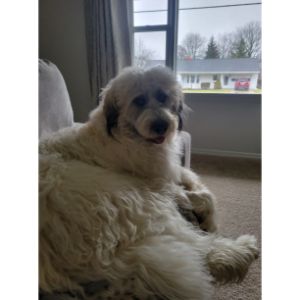 Among our impressive breeds, Pyredoodles stand tall as large Poodle mixes, reaching heights of up to 32 inches at the shoulder and weighing as much as 100 pounds!
Their substantial stature, height, and muscular build can appear intimidating to those unfamiliar. However, these dogs are gentle and affectionate, often displaying timidity around strangers.
Adequate socialization is crucial for Pyredoodles to ensure their comfort in various situations. While they are generally easy to train, stubbornness inherited from the Great Pyrenees side may pose a challenge.
Irish Doodle
Although lesser-known, Irish Doodles are remarkably large Poodle mixes that incorporate the irresistible charm of the stunning Irish Setter.
Their friendly and carefree personalities, complemented by their gorgeous russet-hued coats, make them a delightful addition to any family. Irish Doodles are playful and adaptable, showcasing a moderate exercise requirement.
They will eagerly join you on outdoor adventures or happily indulge in a cozy day of snuggling on the couch. It's important to note that their luscious long hair, inherited from both parent breeds, requires diligent grooming to keep them looking their best.
Labradoodle
A beloved Labrador Retriever makes up one-half of these canine companions. Combined with the sassy and intelligent Poodle, the result is an extraordinary and exceptional breed.
Though they lean more towards a medium size, the leggy and delightful Labra holds a special place as a fan-favorite, thanks to their affectionate and loyal nature, akin to that of the Goldendoodle.
However, these pups exhibit a slightly calmer, reserved, and independent demeanor, making them easier to handle for individuals with busy lifestyles.
Bernedoodle
Among the larger breeds of Poodle mixes, the Bernedoodle is a beloved choice for many pet owners. Recognized as gentle giants of the Doodle world, these dogs live up to their reputation for good reason.
Much like their Bernese Mountain Dog parent, they possess a calm and composed demeanor characterized by their patient and affectionate nature and thick, shaggy, tri-colored coats.
These pups find true happiness in the company of their families, including small and shy children. However, it's important to note that Bernedoodles can experience significant separation anxiety when left alone for extended periods due to their strong bond with their owners.
Goldendoodle
Considered more medium-sized than large, the adored Goldendoodle is one of the most sought-after Doodles. These dogs possess a genuine fondness for people, particularly children, which stems from their Golden Retriever lineage, making them exceptional family pets.
The Poodle influence adds an element of intelligence that enhances their trainability while reducing shedding, which is especially beneficial for those with allergies. However, larger Goldendoodles can sometimes be too exuberant for very young children.
Frequently Asked Questions
What is the best Poodle mix?
Determining the "best" Poodle mix is subjective and depends on individual preferences and lifestyle. These designer dogs have gained popularity due to desirable traits like intelligence, hypoallergenic coats, and friendly temperaments.

Here are a few popular Poodle mixes:

Labradoodle: This crossbreed between a Labrador Retriever and a Poodle is known for its friendly nature, intelligence, and suitability as a family dog.

Goldendoodle: A mix between a Golden Retriever and a Poodle, it is highly sought after for its friendly personality, family compatibility, and versatility as a therapy or service dog.

Cockapoo: A combination of a Cocker Spaniel and a Poodle, Cockapoos are known for their affectionate nature, intelligence, and adaptability to various living environments.

Bernedoodle: This mix between a Bernese Mountain Dog and a Poodle results in a large, gentle, and friendly companion with a hypoallergenic coat.

Sheepadoodle: A crossbreed between an Old English Sheepdog and a Poodle, Sheepadoodles are known for their loyal and friendly demeanor and hypoallergenic coats.
What is the largest breed of Poodle?
The most giant recognized breed of Poodle is the Standard Poodle. Most kennel clubs, including the American Kennel Club (AKC), classify Standard Poodles as a large breed.

According to AKC standards, a Standard Poodle should be over 15 inches tall at the shoulder. Males typically stand between 22 and 27 inches and females between 21 and 25 inches.

However, it's worth noting that individual size can vary within the breed. Standard Poodles have elegance, intelligence, and versatility in activities such as obedience, agility, and hunting.
Is there a giant Poodle breed?
Yes, a larger variety of Poodle is known as the Giant Poodle. While the term "Giant Poodle" is not commonly used, some breeders and enthusiasts may refer to exceptionally large Standard Poodles as such. The Giant Poodle is not an officially recognized breed separate from the Standard Poodle but rather a descriptor for enormous individuals within the Standard Poodle breed.

These larger Standard Poodles can exceed the typical size range, even reaching heights above 27 inches at the shoulder. They can have a heavier build and weigh more than the Standard Poodle.

Suppose you are specifically interested in a larger-sized Poodle. In that case, it's best to communicate with reputable breeders who focus on breeding larger Standard Poodles. Or, you can explore breed-specific rescue organizations that occasionally have larger Poodles for adoption.
How big will a Poodle mix get?
The size of a Poodle mix can vary depending on the specific mix and the sizes of the parent breeds involved. Since Poodle mixes come into being with various other breeds, it's tough to estimate unless you know the specific mix.

However, here is general information based on Standard Poodle mixes:

Labradoodle: Labradoodles are typically medium to large-sized dogs. The size can range from a small to medium-sized Standard Poodle mix with a Labrador Retriever to a larger size if bred with a larger Poodle variant.

Goldendoodle: Goldendoodles can vary in size as well. They generally range from small to large, depending on the size of the Poodle parent (Standard, Miniature, or Toy) and the Golden Retriever parent.

Cockapoo: Cockapoos are typically small to medium-sized dogs. The size can vary depending on whether the Poodle parent is a Toy or Miniature Poodle.

Bernedoodle: Bernedoodles are usually medium to large-sized dogs. The size can vary depending on the size of the Poodle parent (Standard, Miniature, or Toy) and the Bernese Mountain Dog parent.
What are the different sizes of Poodles?
Poodles come in three main sizes: Standard, Miniature, and Toy. Major kennel clubs such as the American Kennel Club and the Fédération Cynologique Internationale recognize these sizes.

Here are the general size ranges for each category:

Standard Poodle

Standard Poodles are the largest Poodles. According to AKC standards, male Standard Poodles should stand at least 15 inches (38 cm) tall at the shoulder, while females should be at least 14 inches (35 cm) tall. Typically, Standard Poodles stand between 22 and 27 inches (56-68 cm) at the shoulder.

Miniature Poodle

Miniature Poodles are more petite than Standard Poodles but larger than Toy Poodles. AKC standards specify that Miniature Poodles should stand over 10 inches (25 cm) and not exceed 15 inches (38 cm) at the shoulder. Their height typically ranges between 11 and 15 inches (28-38 cm).

Toy Poodle

Toy Poodles are the smallest size category. AKC standards state that Toy Poodles should stand at or under 10 inches (25 cm) at the shoulder. Their height usually ranges between nine and 10 inches (23-25 cm).
Conclusion for "How Large Is the Biggest Poodle Mix"
Opting for a large Poodle mix can be a rewarding choice for those with the space, resources, and active lifestyle to accommodate their needs.
Large Poodle mixes include the Irish Wolfadoodle, Flandoodle, Mastidoodle, Weimardoodle, Rottle, Giant Schnoodle, Great Danoodle, Boxerdoodle, Huskydoodle, Bordoodle, Shepadoodle, Sheepadoodle, Newfypoo, Saint Berdoodle, Pyredoodle, Irishdoodle, Aussiedoodle, Labradoodle, Bernedoodle, and Goldendoodle.
They offer a variety of desirable traits inherited from their Poodle and non-Poodle parents. From intelligence and sociability to loyalty and affection, these large Poodle mixes can make excellent companions for the right individuals or families.
It's essential to consider each mix's specific needs and characteristics and then ensure you can provide proper care, exercise, and socialization. By thoroughly assessing your preferences, living environment, and resources, you can find the perfect large Poodle mix that will bring joy to your life.
If you find this guide, "How Large is the Biggest Poodle Mix," helpful, check out:
Learn more by watching "15 Poodle Mix Breeds That Will Melt Your Heart" down below:
Garrett loves animals and is a huge advocate for all Doodle dog breeds. He owns his own Goldendoodle named Kona. In addition, he volunteers at the Humane Society of Silicon Valley, where he fosters dogs and helps animals. Garrett enjoys writing about Doodles and believes that dogs can teach humans more about how to live than humans can teach a dog.
Why Trust We Love Doodles?
At We Love Doodles, we're a team of writers, veterinarians, and puppy trainers that love dogs. Our team of qualified experts researches and provides reliable information on a wide range of dog topics. Our reviews are based on customer feedback, hands-on testing, and in-depth analysis. We are fully transparent and honest to our community of dog owners and future owners.