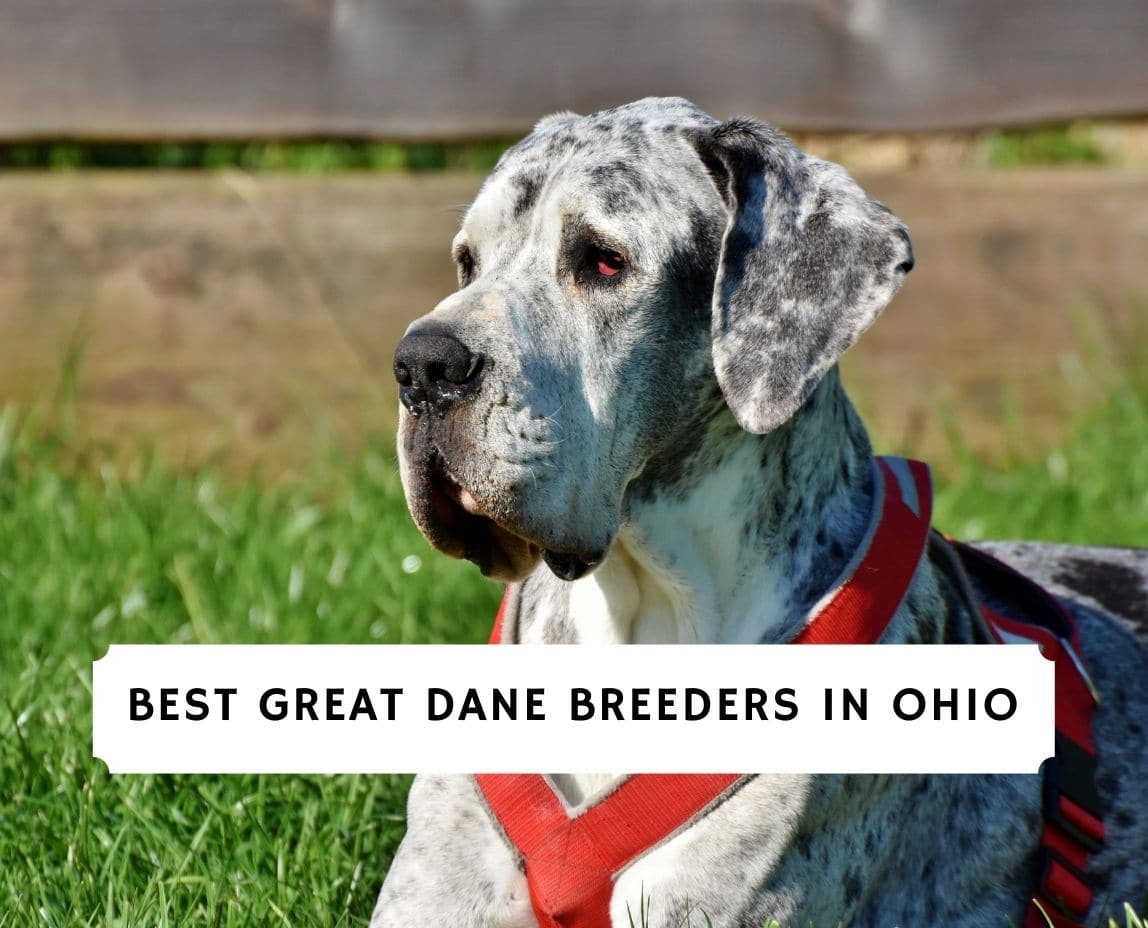 Finding the best Great Dane breeders in Ohio isn't quite an easy task, especially when many people want it. These dogs are excellent companions, but they can be great working dogs as well. First, you need to find a reputable breeder to help you discover which puppy is right for you and your family. Whether you want to show, work with your dog, or curl up on the couch together, these breeders will help you find what you're looking for.
Before scrolling down this list of Great Dane breeders in Ohio, check out these awesome recommendations: Best Beagle Breeders in Ohio and Best Boxer Breeders in Ohio.
Great Dane Puppies For Sale in Ohio
If you are ready to find the best Great Dane breeders in Ohio, look no further.
Great Dane Product Recommendations: Best Smelling Dog Shampoos and Best Ground Cover For Dog Potty Area.
1. PuppySpot's Great Danes for Ohio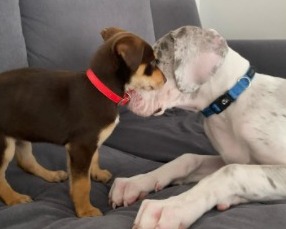 We highly recommend checking out PuppySpot at the beginning of your journey for Great Dane breeders in Ohio. PuppySpot is an enormous platform filled with many Great Dane breeders across the United States. You can use PuppySpot's search tools to find specific features for your upcoming Great Dane puppy. Great Dane breeders on PuppySpot are all trustworthy because these breeders are strictly screened.
All the breeders on PuppySpot are dedicated to raising quality and healthy Great Danes. Their goal is to create happy and healthy puppies who will be great family companions and have outstanding temperaments. The puppies are socialized with new people, children, and people. The breeders also work with them on leash training, crate training, car rides, and grooming. In the end, they end up producing very well-rounded Great Dane puppies who are prepared for their new home.
All Great Dane puppies in Ohio come with an industry-leading 10-year health guarantee. They will also be given limited AKC registration. To save time on your search for a companion, check out PuppySpot before continuing down this list.
PuppySpot Details
2. Darby Plains Danes
If you want a well-established breeder who has been in the breeding business for a while, Darby Plains Danes could be the right fit for you. They have been in the Great Dane business since the fall of 2010. Ted Wright, the owner of Darby Plains Danes, does everything he can to contribute to the breed's health. Unfortunately, as a result, he does not breed all colors that some prospective puppy buyers have come to accept.
While beautiful, he does not breed from the Harlequin, Mantel, or Black groups. Some owners want a guarantee that their puppy will meet specific health standards. Darby Plains Danes have a robust health guarantee on all of their puppies. For the guarantee to be valid, you must have the puppy examined by a state-licensed veterinarian within three days of delivery of the puppy.
If the puppy is unhealthy or dies of a genetic condition in the first two years, a replacement puppy will be provided. There are exclusions to this guarantee, so be sure to inquire about what it does not cover. The property itself is nice and roomy for these large-breed dogs to stretch their legs. They live on a small farm that grows fruits and vegetables. They are allowed to roam the entire property. At night, they are permitted to sleep in the house or the climate-controlled farm shop.
Darby Plains Danes Details
3. Hilltop Great Danes
Do you have a specific goal in mind for your new Great Dane? The dogs bred by Hilltop Great Danes often go on to fill big shoes. Many of them are used as therapy dogs or service dogs due to their excellent temperament. These dogs are bred to be significant in size and to have excellent dispositions that make them a wonderful addition to their new families. Hilltop advertises that they have some of the largest Great Danes you will find among local breeders.
Unlike Darby Plains Danes, they breed for most colors. Their favorite colors are brindle and reverse brindle, but they also have fawn, blue, harlequin, merles, blue harlequins, and brindlequins. Pricing varies based on color. Every dog they sell is AKC, and most of the puppies also have championship lines. Dogs are free to roam the seventy-acre property located in rural Ohio. Mike and Maggie McKinley have owned Great Danes for more than thirty years, and Maggie currently works with their breeding program full-time.
Hilltop Great Danes Details
4. Harbinger Great Danes
Jen Nicholson has worked in breeding for more than twenty years. While she did take a brief break from this profession, she has rejoined the breeding community with a selection of healthy Great Dane puppies. She breeds for excellent structure, temperament, and health. All puppies are temperament tested to ensure they will be an excellent fit with a new family. Unlike many breeders who focus on creating good pets, Nicholson focuses on breeding dogs that are great workers.
Many of the dogs she breeds have gone on to become therapy dogs or mobility dogs in addition to making great pets. She is particularly interested in breeding dogs that can help with the mental health needs of first responders and veterans. Harbinger Great Danes have all standard color Danes as well as some alternative colors. All dogs will be AKC registered.
She is working toward all dogs being health-tested and titled. Puppies are extensively worked with to prepare them for their new homes. They are socialized as a group with kids, cats, and loud noises. They also begin their house training, crate training, and potty training. Leash walking and name recognition are part of their routine care. All puppies are litter trained by four weeks to increase the ease of their crate training.
Harbinger Great Danes Details
5. TW Great Danes
Last on the list of the best Great Dane breeders in Ohio is "TW Great Danes." TW Great Danes is another breeder committed to testing their Great Danes and ensuring the healthiest and happiest puppies. Each dog is tested for hip dysplasia, thyroid issues, congenital heart defects, and eye issues. None of their dogs are bred until they are at least two years old. Jennifer Bussey, the owner of TW Great Danes, is committed to following the GDCA Breeder Code of Ethics.
These dogs are raised in the home with the family by standards set by Puppy Culture to enhance the mental development of the puppies. Bussey also performs Volhard testing at 49 days old to help match temperament to their new families. Dogs are socialized in public places, with children and the elderly, and car rides. They are also handled regularly to get them accustomed to grooming. Crate training and potty training begin at an early age before the puppies go to their new homes.
TW Great Danes Details
Conclusion For The "Best Great Dane Breeders in Ohio"
If you are looking for a healthy Great Dane to fit into your family, these top breeders will help pair you with the ideal companion. Consider which one of these highly sought-after companies is the best fit for you.
For more articles with mentions of the Great Dane dog breed, you can check out:
To learn more about the Great Dane, watch "Perfect Great Dane Puppy Guide" from Fenrir Canine Show down below: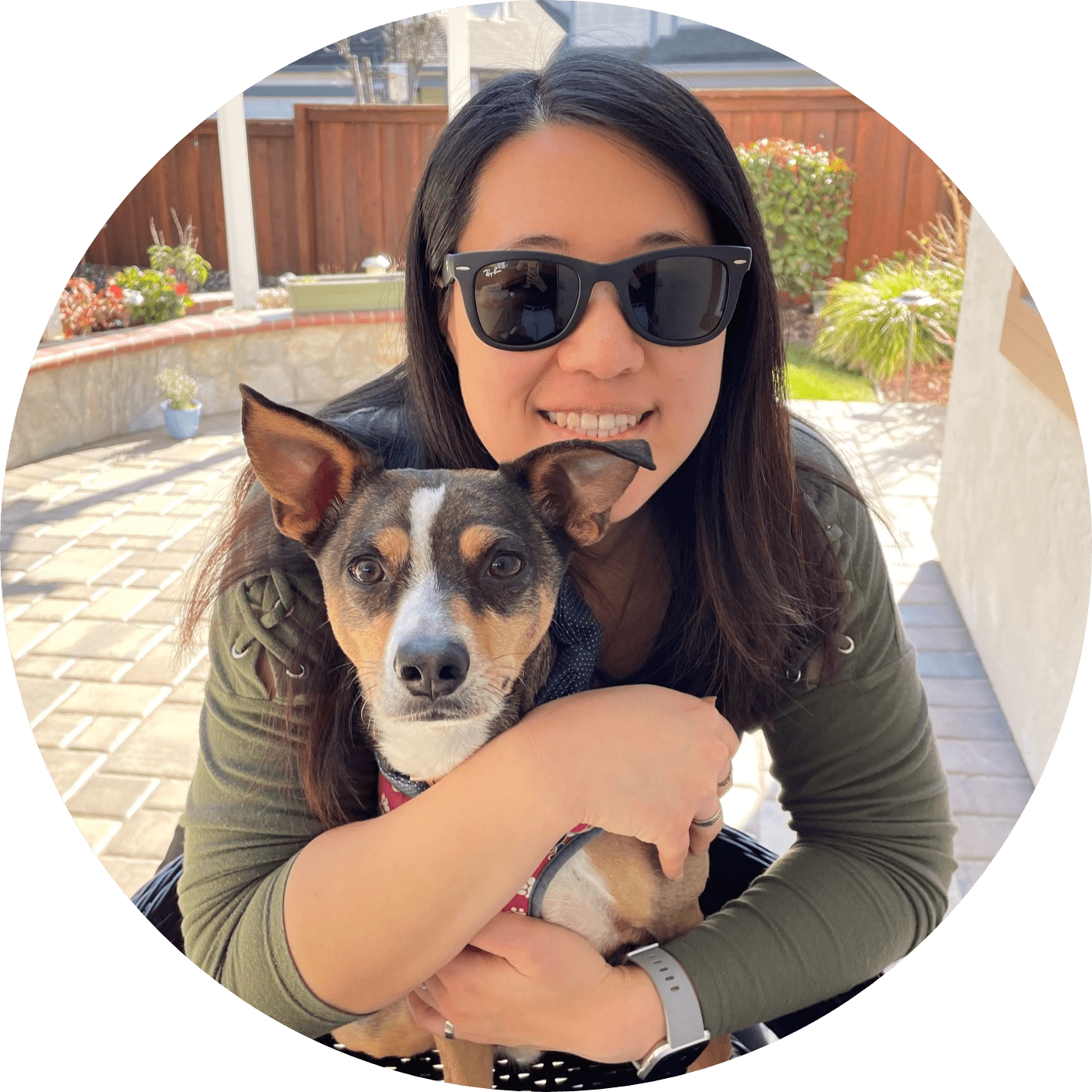 Dr. Sabrina Kong graduated from the Royal Veterinary College in England in 2016 and has been working at a small animal clinic in Northern California since then. She grew up in the Bay Area and got her bachelor's degree from Cal Poly San Luis Obispo. She also became a Certified Canine Rehabilitation Practitioner through a program at the University of Tennessee.
When she isn't in the clinic taking care of her four-legged patients, she enjoys traveling and trying new foods with her friends and her three-legged dog, Apollo. She adopted Apollo from her clinic when he was a puppy with numerous health issues. Dr. Kong truly cares about taking care of animals.