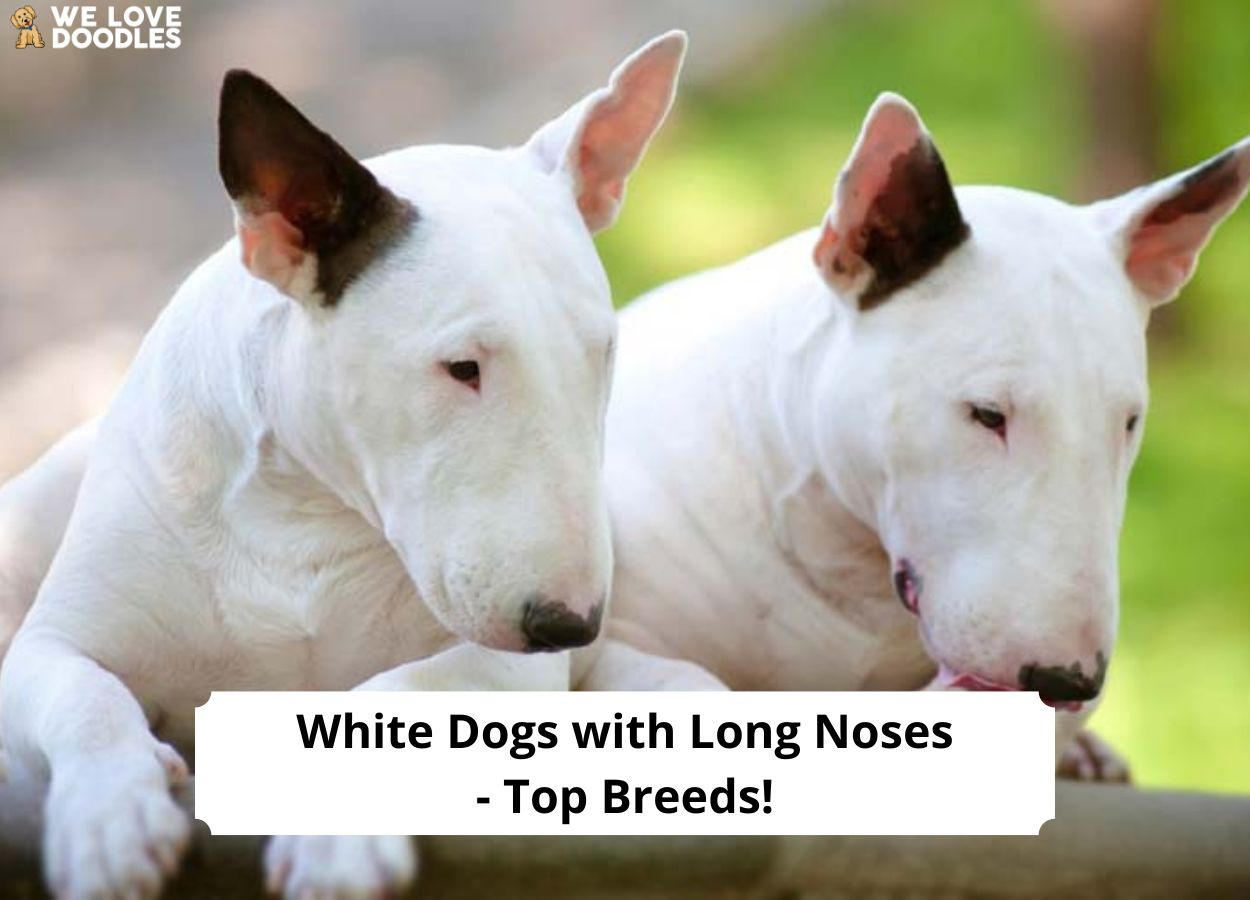 Everyone has an aesthetic they prefer when it comes to dogs. Some like the snub-nosed breeds, while others like a long snout, perfect for puppy kisses! If you're looking for white dogs with long noses, we've covered the basics for you!
Take a look at the dog breeds on this list, then visit your local breeder or shelter. A reputable breeder can connect you with a puppy that is perfect for you. Or, better still, your neighborhood dog rescue can match you with a dog that deserves a second chance.
Ready to begin? Here are the top seven white dogs with long noses.
Before you scroll down this list of white dogs with long noses, check out: 7 Small Non-Shedding Dog Breeds! (2023) and 9 Scrunchy-Faced Dog Breeds with Pictures! (2023).
1. Dachshund
When you think of a Dachshund, a brown little hot dog probably comes to mind. But did you know Dachshunds can also be white? While uncommon, these white dogs with long noses are available through breeders, or you may be able to find a deserving dog in your local shelter.
Everything about the Dachshund is long. From snout to tail, the pups are irresistibly elongated, and when those tails get to wagging, the dogs will melt your heart.
A joyful breed, the Dachshund will be your household pet, your partner in exploration, and your brave companion. Take care to establish yourself as the pack leader, though. These dogs are extremely stubborn and will exhibit their independence in ways that will get them into trouble.
Caring for your Dachshund will involve around an hour of exercise a day. Thankfully, these pups will play independently on their own in your fenced yard, but a walk is good for your dog's physical and mental health. You'll also need to brush your pup several times each week to ensure his coat is looking sleek and free from dead hair.
Did you know that hot dogs were originally called Dachshund sausages? The lunch meat was named after the dog, not the other way around.
2. English Pointer
English Pointers are bred for hunting and, as such, have long and sensitive noses. They come in a variety of colors, and if your dog is white with a long nose, you'll probably notice brown or black spots on her. In some cases, however, the pups will be pure white. Your breeder or shelter can help direct you to a dog that meets your criteria.
The English Pointer is a mid-to-large-sized dog, growing to weigh around 75 pounds when fully grown. Despite his size, your Pointer will get along well with kids and with other animals in your household. Ensure that your dog is given plenty of the attention he craves; English Pointers require a lot of affection.
Your dog's hair will grow fast and, even if you choose to keep it at a longer length, will need to be groomed every now and then. Trim around the ears and tail, and make sure your Pointer's nails are trimmed. Otherwise, the pups are average shedders and will need to be brushed a few times each week.
Did you know that depictions of the Pointer have been found in Egyptian art dating back up to 3,000 years? Athletic dogs have earned a place in Eastern and Western art through the ages.
3. Whippet
The Whippet has a distinctive look — your white dog with a long nose will be easy to pick out of a crowd! They are long and lean with small heads relative to their bodies. The Whippet's body was built for speed, and the long nose assists in the pup's greatest skill: hunting.
Whippets are affectionate and jolly, and they love being house dogs. They'll need room to run around, however. Apartment life isn't suited for a Whippet; a fenced yard is ideal.
Bear in mind that your dog can jump over eight feet! Speak with a trainer or breeder for more information regarding ideas to keep your pup enclosed in your yard.
The Whippet is one of the most low-maintenance dogs when it comes to vet visits and general health. They're not prone to many diseases, though you'll still want to take your dog to the vet every six months. Brush your Whippet several times a week to keep her looking sleek. She will love the attention.
A Whippet can run almost as fast as a Greyhound, and the breeds are frequently mistaken for one another. The streamlined dogs can reach speeds of 35 miles per hour, so be sure your dog is leashed when you walk her.
4. Golden Retriever
Most people visualize a literal Golden Retriever when they picture the breed. But the English Cream Golden Retriever is a white dog breed with a long nose, and we think you'll fall in love with the coloration.
You can find these puppies available through local, reputable breeders. Alternatively, you can wait for the perfect pup to come along to a shelter in your area.
The Golden Retriever has a long coat, will shed, and will smell if not bathed every other month or so. Be sure you use a shampoo that will protect your dog's coat. The pups have naturally thick fur and oils that protect them from water. Speak to a professional groomer or to your vet for the best shampoo options.
The Golden Retriever is an outgoing, friendly, and smart breed. Your dog will love playing fetch with you, or you can feel free to bring him along on your hike or a trip to the lake! They're naturally predisposed to love the great outdoors and will accompany your kids on romps in the backyard, too.
Did you know that Golden Retrievers are one of the most frequently used breeds as service dogs? Their intelligence, loyalty, and sweet dispositions make them ideal candidates for the job.
5. Greyhound
Not all Greyhounds are gray. Some are white, and these pups are next on our list of the best white dogs with long noses. As you may be aware, Greyhounds are known for their speed and agility. The dogs can run over 40 miles per hour and are frequently used in racing.
If you have the time to exercise your dog and plenty of space for your pup to play outside, a Greyhound may be a good option for you. They're gentle dogs, and their intelligence makes them easy to train. Generally speaking, your dog will fit in with your kids and they enjoy being around other dogs.
Your Greyhound won't need frequent bathing unless he gets into "nature" a lot. Brushing your dog with a slicker brush and a curry brush will keep her looking healthy and shiny. Greyhounds are a low-shedding breed, but removing dead hair from your dog is advisable.
Did you know that the Greyhound comes in 18 different colors? Of course, white is one. But there are 55 total color combinations you may find as you're shopping for your new Greyhound.
6. Afghan Hound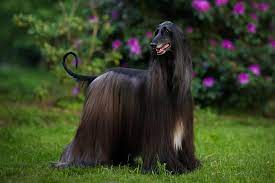 The Afghan Hound is another breed with a distinctive look. These dogs originated in the mountains of Afghanistan, and they can measure up to 29 inches at the shoulder. Despite their height, the dogs typically only weigh around 60 pounds when they're fully grown, giving them a tall, lean appearance.
Afghan Hounds can be red, black, or cream, and their hair is one of their most prized features. The silky tresses are a byproduct of their cold-climate origins, and the hair gives them a show-dog look even when not in competition.
Many Afghan Hound owners are intimidated by the dogs' locks. You may find that you're more comfortable bringing your dog to a groomer instead of taking a DIY approach to grooming.
Afghan Hounds are independent and aloof, and will often latch on to one family member. They will tolerate children and other dogs but thrive in households with just one or two active adults.
The dogs shed very minimally, and they're not known to drool a lot. In other words, they're very clean and low-maintenance dogs.
Your Afghan Hound will probably be one of the most observant dogs you've ever owned. They're bred to hunt, but they use their vision more than their sense of smell to do so. They're fast, too, clocking speeds of over 40 miles per hour.
7. Bull Terrier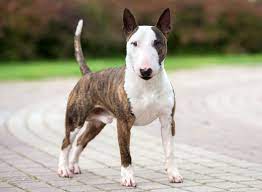 Last on our list of white dogs with long noses is the Bull Terrier. Many of these dogs are white, but you can also find these "Gentleman's Companions" with red, tri-color, fawn, and brindle coloration.
The compact little dogs are stocky but are perfectly content as apartment dwellers despite their size. With proper training, the pups can be raised as family dogs. Obedience classes are always a good idea, as the dogs sometimes don't know their own strength.
Bull Terriers don't shed much, but your dog will still appreciate a calming brush now and then. Spoil your dog with the occasional bath, too. Your pup loves to play in the mud, and a conditioning shampoo will be a welcome treat for your dog. Be sure you keep your pup's nails trimmed to avoid pain and clean his ears to help prevent infection.
Your Bull Terrier will be sweet, but it's a good idea to adopt only if you have experience with dogs. In addition, it's a good idea to have your Bull Terrier spayed or neutered to avoid aggressive tendencies.
Did you know that the Bull Terrier has triangular eyes? They're widespread and deep-set, giving the dog an even more unique appearance. The Bull Terrier aesthetic isn't for everyone, but you can't deny they're a one-of-a-kind dog.
Frequently Asked Questions
Why are Borzois' noses so long?
As active hunting dogs, Borzois have long snouts to help them breathe well.
What is a Dudley nose?
A dog that typically has a black nose but instead has a pink one has a Dudley nose.
Do dogs with longer snouts smell better?
Generally speaking, the longer a dog's snout, the better its sense of smell will be.
Conclusion for "White Dogs with Long Noses – Top Breeds"
Sometimes, humans who are in search of a dog will have a particular look they prefer. Some people like short and sweet while others like tall and regal. Some may prefer snub-nosed breeds, while others prefer a dog with a long, sensitive nose.
The white dog breeds with long noses in our guide will give you a head start at finding the pup of your dreams. Be sure to check your local shelter for dogs who need a second chance at a happy life.
Check out these other lists of dog breeds:
Learn more about dogs with long noses by watching "Top 10 Dog Breeds With Long Snouts" down below:
Garrett loves animals and is a huge advocate for all Doodle dog breeds. He owns his own Goldendoodle named Kona. In addition, he volunteers at the Humane Society of Silicon Valley, where he fosters dogs and helps animals. Garrett enjoys writing about Doodles and believes that dogs can teach humans more about how to live than humans can teach a dog.
Why Trust We Love Doodles?
At We Love Doodles, we're a team of writers, veterinarians, and puppy trainers that love dogs. Our team of qualified experts researches and provides reliable information on a wide range of dog topics. Our reviews are based on customer feedback, hands-on testing, and in-depth analysis. We are fully transparent and honest to our community of dog owners and future owners.