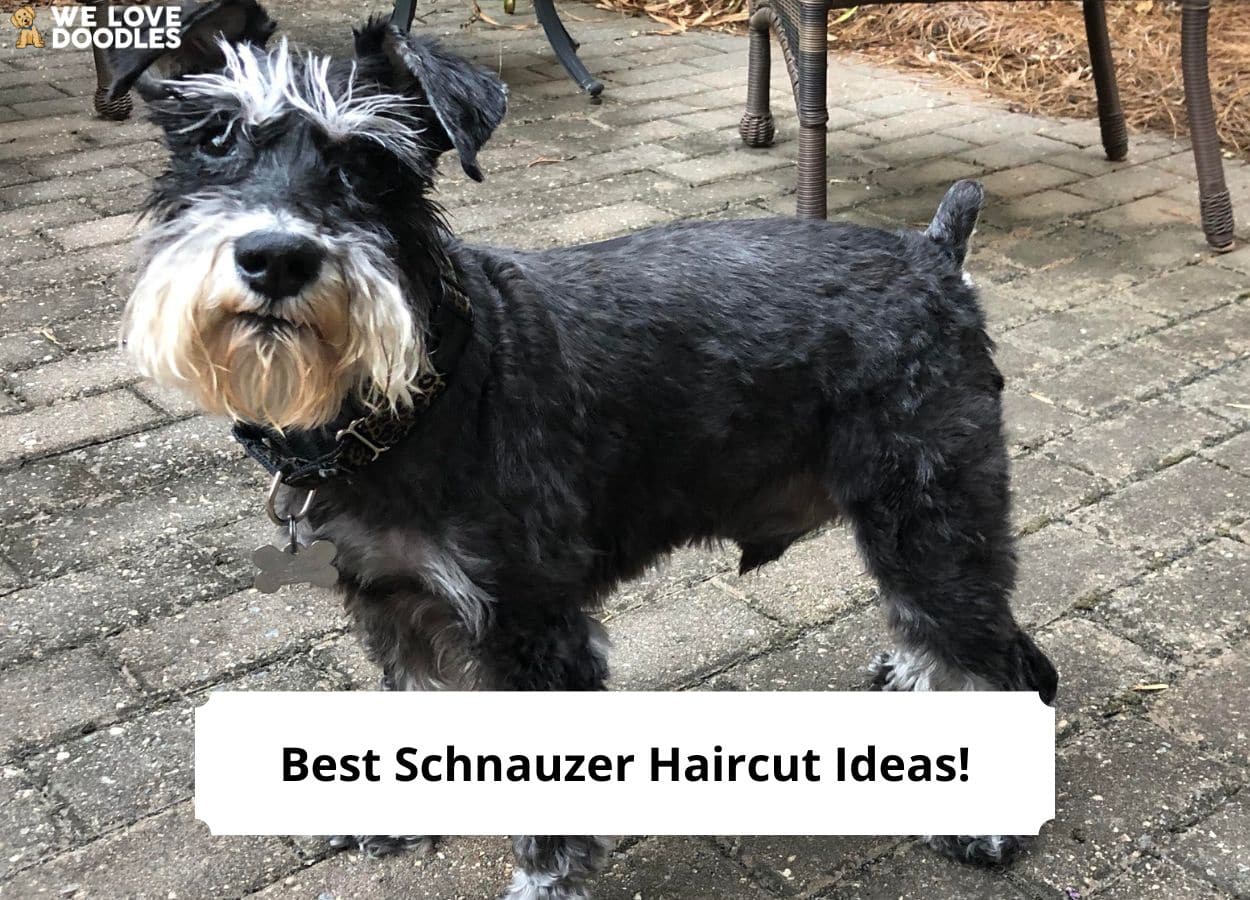 Schnauzers are among the most fearless dog breeds around! They're also highly intelligent, full of spirit, and have stunning coats of hair. This dog breed will need frequent haircuts, which offers a fun chance to try out different styles and Schnauzer haircut ideas!
Your Schnauzer can get a traditional or modern haircut, depending on how you want them to look. You can go elegant, royal, spunky, or cute. Maybe you'll want to mix it up every time! Thankfully, you'll be able to do just that by giving your Schnauzer any of the styles below.
Before scrolling down this guide "Best Schnauzer Haircut Ideas," check out these other grooming-related guides: Best Springer Spaniel Haircut Ideas and Best Parti Yorkie Haircut Ideas.
1. Puppy Cut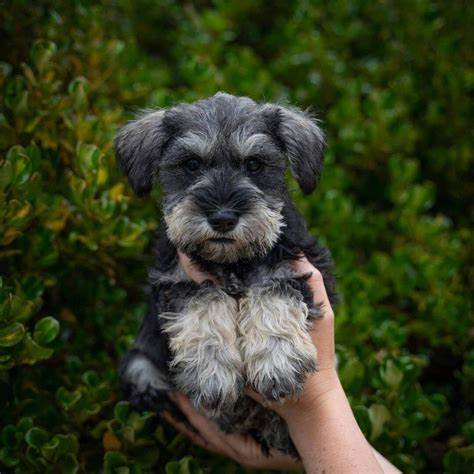 A puppy cut is a great Schnauzer haircut idea because it makes your puppy cleaner and easier to manage. This haircut will also ensure your dog looks stunning, cute, and pawsitively adorable!
A puppy cut will give your dog an even trim all over but leave some extra hair around the bottom legs and face to create a youthful, vibrant look.
2. Teddy Bear Cut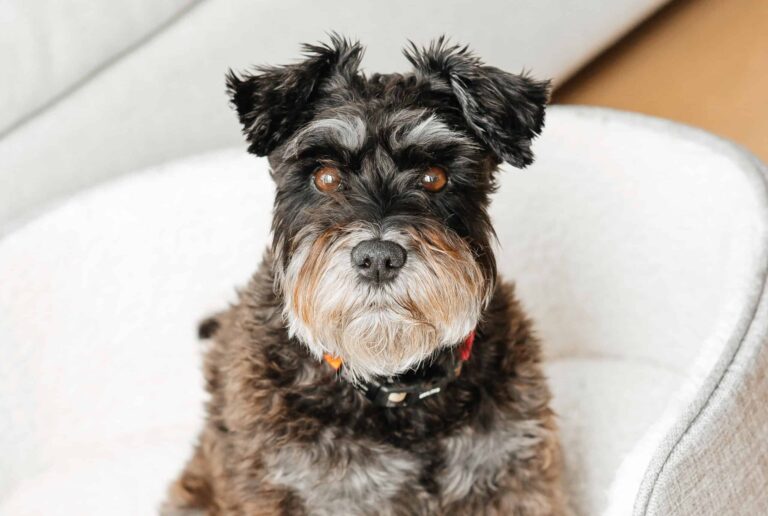 A teddy bear cut is a good choice for any Schnauzer, especially mini or toy Schnauzers. It's also perfect for making your Schnauzer look like a stuffed toy rather than a dog. This haircut is similar to a puppy cut, except that more hair will be around your Schnauzer's head.
A teddy bear cut is ideal for young dogs, owners who want a cute photo of their dog, or those who value cleanliness and easy grooming.
3. Summer Cut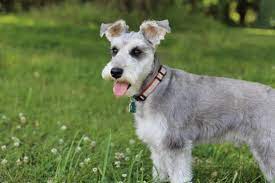 Summer cuts are among the most common and beneficial haircuts for Schnauzers. This haircut entails trimming the hair across the whole body to create a uniform look that won't cause your dog to overheat, especially during the warm season.
A summer cut makes playing, running, and exercising easier throughout the day. Additionally, the groomer will trim your Schnauzer's snout hair, meaning they will have less trouble eating.
4. Classic Schnauzer Cut
The classic Schnauzer cut is the most common haircut for Schnauzers and also the easiest to recognize. Almost any dog groomer should be able to emulate this look.
A classic Schnauzer cut involves leaving snout hair long and angling the strands so they come down around neck level. Some groomers may allow the hair on the underbelly to grow a little longer and the hair around the legs to remain. The rest of the body is shaved shorter to create a stunning contrast in length.
5. Royal Leg Cut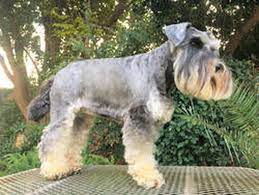 The royal leg cut will keep your Schnauzer's leg hair longer than the rest of its body. This haircut includes leaving the leg hair long enough to be curly and fluffy without puffing up like cotton balls.
Your Schnauzer's snout hair is trimmed shorter than usual and manicured to ensure it doesn't get in the way while eating. This haircut is common among Schnauzer owners. You can easily modify the cut to include unique traits from other styles you like.
6. Grown Out Cut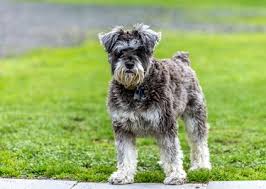 A grown-out cut can look untamed and wild to some, but many enjoy this look on their Schnauzer. It's a great option for Schnauzers who don't like having their hair cut or going to the groomer.
Some dogs may not tolerate clippers well, and this haircut can be a perfect middle ground for them, as it's the perfect blend of unkempt and manicured.
Owners with Schnauzers who have had a bad history with dog grooming salons or trimming in the past can use this hairstyle to keep their dogs maintained without them looking like a stray.
7. Show Cut
A Schnauzer show cut will make your dog look elegant, regal, and stunning. It is perfect for dog shows or competitions. However, you can use this look for parties, holidays, or other special occasions.
A show cut leaves your Schnauzer's legs puffy and round, making it an adorable choice for those seeking a cute look for their dog. A groomer will trim your dog's hair short enough to puff up without taking too much off. You can expect your Schnauzer to have long, luxurious locks on its snout, angled to create a framed look around its face.
8. Mohawk Cut
A mohawk cut may be one of the more uncommon Schnauzer haircut ideas, but it can be a perfect choice for dogs living in warm climates. To create a mohawk style, the groomer will shave most of your Schnauzer's hair short and leave a line of hair from the top of your dog's head to its tail, across its back.
This haircut will also leave your Schnauzer's snout hair trimmed and manicured. You can modify this haircut to leave your Schnauzer's leg hair more curly or trimmed shorter.
9. Asian Fusion Cut
An Asian fusion haircut on a Schnauzer looks unlike any other haircut you've seen. It creates a cute look, with large eyes that pop out at you and short snout hair to make your dog's face look tiny and adorable.
This haircut seeks to give your dog an aura of innocence and overstated cuteness. It may be hard to accomplish at home, especially if you don't have any grooming experience. So, consider taking your dog to an experienced dog groomer to handle this haircut.
10. Curly Tail Cut
A curly tail cut is a uniform haircut that allows your dog to keep their snout hair long, like a classic Schnauzer cut. However, this cut also leaves the tail long to show off your Schnauzer's hypnotizing curls.
The curly tail cut is easy to modify and can be changed to include other preferences. For example, you may want your pup's snout or leg hair longer than usual to make them look more full and puffy.
11. Full Shave Cut
We do not recommend giving your Schnauzer a full shave since they have a short undercoat critical to regulating your pup's body temperature. Removing this undercoat could put your Schnauzer at risk. However, there are some reasons why you might decide to give your Schnauzer a full shave.
Some of the most common reasons for a Schnauzer's full shave include lice, fleas, or ticks that can't be managed without a complete shave. When possible, solve these pest issues with shampoos, chemicals, or veterinary assistance.
Your Schnauzer may also need a full shave to deal with dermatitis, skin rashes, or medical procedures. For example, surgeries or medical procedures may require you to shave part or all of your Schnauzer for better access.
How To Choose The Best Schnauzer Haircut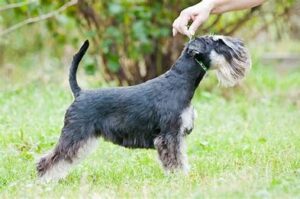 Our Schnauzer haircut ideas are all a great choice for your pup! But you also need to consider other factors when choosing a cut for your furry friend.
Activity Level
Your dog's activity level will determine which haircut style is best for him. Although some styles won't work well for an active dog, others are perfect for reducing the dirt and mud your precious pup drags into the house.
Consider how often your dog goes outside, how rough they play, if they enjoy rolling in the mud, or other activities that may make grooming a long coat more difficult.
Comfort
Your Schnauzer's comfort level should be at the forefront of your mind when choosing a haircut. Pick one that gives your dog the most comfort, and try to choose styles that won't impede on daily activities. For example, some dogs may not be comfortable with hairstyles that involve a ponytail and may shake a lot to let you know.
Take note of how your dog behaves with some hairstyles to see if they find them annoying or enjoyable.
Climate And Season
The climate or season you live in is another major consideration for you and your precious pup. Consider hairstyles that coincide with the season and climate in your region.
For example, families with Schnauzers likely won't give their dog a show cut or other long-haired cut in the summer since this can cause them to overheat. You should avoid haircuts that may give your dog heat stroke or heat exhaustion in warm weather.
Frequently Asked Questions
Having some answers to common questions can make choosing the right haircut for your Schnauzer easier.
Do Schnauzers need haircuts?
Schnauzers will need a haircut every four to six weeks, depending on how quickly their hair grows. Some Schnauzers may have quick-growing hair and need more frequent cuts.
Do you need to brush a Schnauzer's hair?
Schnauzers have long hair and need to have their hair brushed often. Without brushing twice a week, your Schnauzer could be at risk for matting or tangling. Consider brushing your dog's hair more often if they have longer hair.
How often should you bathe a Schnauzer?
A Schnauzer should have a bath every week and should not go any longer than four weeks without a bath. Be careful not to over-bathe since this can cause skin rashes or dermatitis.
Do Schnauzers have an undercoat?
Schnauzers have an undercoat that shouldn't be shaved. This undercoat is short and will allow you plenty of versatility with haircuts and hair trimming.
Can you comb a Schnauzer?
You can comb a Schnauzer with a wide-toothed comb or a smaller comb if your Schnauzer is trimmed or had a haircut. However, a comb may not be the best tool for Schnauzers who have longer hair.
Use One of These Schnauzer Haircut Ideas on Your Pup!
Your Schnauzer deserves the best quality haircut your dog groomer can offer. And these Schnauzer haircut ideas are some of the best, most modern, and classic styles around!
Your Schnauzer may not shed but will likely need a haircut every four to six weeks to ensure it doesn't suffer from obstructed vision or tangled hair. Schnauzers enjoy playing with children and will gladly run around the backyard, meaning you may need to choose a haircut that suits their activity level and outdoor needs.
Consider the weather, temperature, and climate of the place you live before picking your Schnauzer's haircut. Your dog's comfort should be your utmost priority when choosing a hairstyle.
For more guides similar to this list showing Schnauzer haircut ideas, check out:
If you want to learn more about Schnauzer grooming, watch "How I Groom Schnauzers | Complete Shave With Schnauzer Face" down below:
Garrett loves animals and is a huge advocate for all Doodle dog breeds. He owns his own Goldendoodle named Kona. In addition, he volunteers at the Humane Society of Silicon Valley, where he fosters dogs and helps animals. Garrett enjoys writing about Doodles and believes that dogs can teach humans more about how to live than humans can teach a dog.
Why Trust We Love Doodles?
At We Love Doodles, we're a team of writers, veterinarians, and puppy trainers that love dogs. Our team of qualified experts researches and provides reliable information on a wide range of dog topics. Our reviews are based on customer feedback, hands-on testing, and in-depth analysis. We are fully transparent and honest to our community of dog owners and future owners.