Springer Spaniels are beloved for their wavy, soft hair but they're also unfortunately known for their shedding! If you're the pup parent to a Springer, you'll need to take care of their coat. Brushing your dog daily will help remove excess hair, and regular grooming will make the brushing process easier.
Not sure how to groom your dog? We've got ideas! We've put together the best Springer Spaniel haircut ideas to make your next trip to the groomer easier. Take a look at the styles, choose the one you like the most for your dog, and let your groomer work magic on your dog's silky coat.
Before scrolling down this guide "Best Springer Spaniel Haircut Ideas," check out: Springerdoodle Information, Facts, Images! (2023) and 13 Best Spaniel Breeders in the United States! (2023).
Grooming Your Springer Spaniel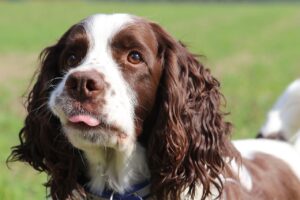 Springer Spaniels are likely to shed quite a bit, and their fine hair tangles quite easily. Springers are water dogs, so their coats consist of two layers. Your dog has a soft undercoat and a top coat that's water-resistant, part of what makes him such an eager swimmer.
To care for your dog's coat, you'll need to brush him several times each week. This will help loosen and remove hair that's already detached and will keep your dog looking sleek and gorgeous. Use a slicker brush for the best results.
When you bathe your dog, use a shampoo and conditioner designed for thick, waterproof coats. This will protect your dog's hair and make the brushing and grooming process go smoothly. Always dry and blow out your pup's hair before brushing to prevent damage and pulling.
Finally, if you're trimming your dog's hair yourself, use clippers and scissors that are high quality. Using well-oiled and maintained clippers will help prevent uneven trims and hair pulling. Sharp scissors will further help ensure an even cut.
Now that you have the basics of caring for your Springer's lovely locks, it's time to check out the best Springer Spaniel haircut ideas!
Puppy Cut
The puppy cut is a basic, no-frills haircut for Springer Spaniel. It's easy to achieve and easier to maintain, making it a good choice for those with busy lifestyles. Of course, your dog will still naturally shed. However, a quick pass-through with a slicker brush or dog comb will help you keep the fluff around your home to a minimum.
To get the perfect puppy cut, your groomer will trim your dog's hair to about two inches in length all over. Your groomer will ask you for your preferences regarding the length of hair on your pup's ears and tail, but typically a little length is left.
A puppy cut is arguably one of the easiest doggy 'dos to DIY. You won't need to worry about switching your clipper guard too often; you'll just need to ensure that your dog's hair is conditioned and well-brushed. Knots and mats in your pup's hair can catch on the clipper blades and cause pulling and pain.
Overall, the puppy cut is a classic look for your dog that's ideal for active, playful dogs.
Show Cut
Whether you're going to show your dog or just want him to look like a million bucks, a show cut is a great option. A Springer Spaniel headed to the arena will have slightly longer hair on his ears and elbows. He'll also usually have a skirt — longer hair draping around the belly.
If you're planning to show your dog, it may be in your best interest to enlist a groomer's help. They will have professional experience with preparing dogs for shows.
If you're doing the grooming on your own, start with your dog's ears and paw pads. Then, remove the excess, dead hair from your dog either by brushing, blowing out, or manually removing it. Finally, use quality clippers to cut your hair to the desired length.
Many Spaniel owners choose to keep the hair on their dog's ears very long. Shop your local pet store for a snood to keep the ears out of the way while you trim your pup's face, then simply use scissors to give your pup's ears a tidy, clean look.
Natural Hair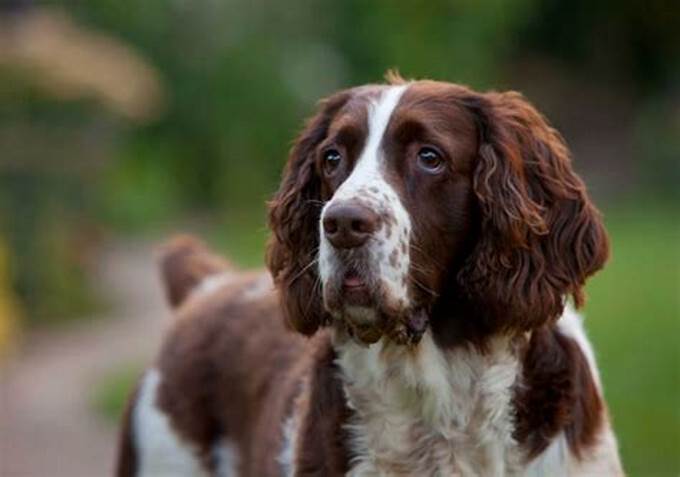 Your Springer Spaniel has gorgeous hair and it's perfectly fine to want to keep it natural. Remember, though, that your dog will shed. Additionally, your pup's hair is fine and wavy — the perfect storm for collecting dirt, knots, and mats if it's not maintained.
If you choose to keep your dog's hair natural, you'll still need to do a little maintenance. You'll need to clean up your dog's ears, the area around his bottom, and the hair between paw pads.
A handy resource to have on hand with a natural-haired Springer Spaniel is a conditioning spray. You'll be combing your pup's hair out frequently, and mats and clumps are likely. Spritzing your baby's hair with some detangler designed for dogs will help the process go much more easily.
Fully Shaved
Your dog doesn't have to have a fancy haircut to show off his beauty! By far, the easiest Springer Spaniel haircut to maintain is a fully shaved look. Your dog will look sleek and shiny even without long locks, and it's a DIY haircut that's simple to do at home.
As always, you'll want to be sure your Spaniel is washed, conditioned, and fully brushed before clipping their hair. Prior to cutting, you'll also want to remove dead hair that's accumulated on your dog. There are rubber gloves designed for this purpose, or you can use a brush or comb.
Before you take the clippers to your pup, decide how much, if any, length you want to leave on your dog's ears and tail. Your Spaniel will look just fine if you keep both clipped, but many Springer Spaniel owners like to leave a few inches on.
Finally, remember that your dog can get sunburned, too. If you choose to keep your dog shaved, consider buying a doggy-approved sunblock to protect his skin.
Visiting a Groomer with Your Springer Spaniel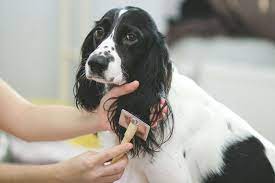 Despite their shedding, Springer Spaniels are relatively easy dogs to keep groomed at home. However, it's recommended that you bring your pup to a professional, too! Your groomer will provide much more for your dog than just a haircut.
Pups' teeth will be brushed, ears will be cleaned, and anal glands will be expressed. Your groomer will trim your dog's nails and can check your pup for signs of skin infections and other issues. Some groomers will even give your dog a relaxing pup-massage!
While you can do these things at home, why not let your dog be pampered by a pro? Make it a part of your dog's routine to see a professional groomer several times each year, or as needed.
Frequently Asked Questions
What is the best haircut for a Springer Spaniel?
For many dog owners, the puppy cut is ideal for their Springer Spaniel.
Are Springer Spaniels' tails docked?
Originally, owners docked their dogs' tails to avoid damage during work, but these days, tail docking is not strictly necessary.
How often should a Springer Spaniel be clipped?
Try to brush your Springer Spaniel several times each week and head to the groomer every two to three months.
Conclusion for "Best Springer Spaniel Haircut Ideas"
Springer Spaniels have beautiful, glossy hair, and many Spaniel owners aren't quite sure how to style it. We've put together a few ideas for you, so you can go to the groomer knowing precisely how you'd like your pup to be taken care of.
Many of these styles are simple and most pet owners can take a do-it-yourself approach. But for a special treat, hire a professional to spoil your pet on a regular basis.
For more guides similar to this list showing Springer Spaniel haircut ideas, check out:
If you find these Springer Spaniel haircut ideas interesting, learn more by watching "Grooming Guide – English Springer Spaniel – Show/Competition – Pro Groomer" below:
Garrett loves animals and is a huge advocate for all Doodle dog breeds. He owns his own Goldendoodle named Kona. In addition, he volunteers at the Humane Society of Silicon Valley, where he fosters dogs and helps animals. Garrett enjoys writing about Doodles and believes that dogs can teach humans more about how to live than humans can teach a dog.
Why Trust We Love Doodles?
At We Love Doodles, we're a team of writers, veterinarians, and puppy trainers that love dogs. Our team of qualified experts researches and provides reliable information on a wide range of dog topics. Our reviews are based on customer feedback, hands-on testing, and in-depth analysis. We are fully transparent and honest to our community of dog owners and future owners.