It's easy to find healthy and temperamentally stable puppies under $900 these days. Whether you're looking to welcome any adorable puppy into your heart and home or are looking for a specific breed, it's out there.
Before you go searching for cheap and affordable puppies, it is essential to research the place or breeder you buy your puppy from. After all, the last thing you want is to fall victim to some unethical breeder or a puppy mill.
This might sound overwhelming but worry not, we have done all the research for you. The resources listed below are all reliable places to find intelligent, healthy, and happy puppies under $900.
Before reviewing this guide, check out these other puppy-related articles: Where Can You Get Free Westie Puppies? and Where Can You Get Free Husky Puppies?.
1. Puppy Finder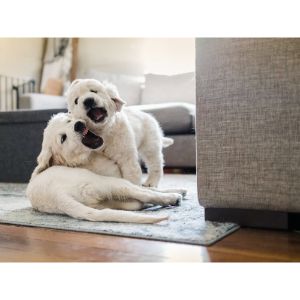 On Puppy Finder, we found several purebred puppies being sold for between $350-$900. Some of the breeds we found at this price were Labrador Retrievers, Chihuahuas, Yorkshire Terriers, Dachshunds, Shih Tzus, and French Bulldogs. We also found listings for mixed-breed puppies like Labradoodles, Goldendoodles, and Cockapoos.
Here is a bit about Puppy Finder:
Puppy Finder is a trustworthy source of finding reliable and healthy puppies in the USA.
They usually have over 1000 dogs (both purebred and mixed breed) at a time for sale and adoption.
They have a dog breeder directory so you can get in touch with reliable and reputed breeders if you're interested in a particular dog breed.
In case you are interested in adopting, Puppy Finder also has puppies and adult dogs that have been rescued from some negative situations.
Visit Puppy Finder and enter your search criteria to find reliable and healthy puppies for sale for under $900.
Puppy Finder Details:
2. PuppySpot
PuppySpot is another reliable place to find puppies under $900. It has received over 15,000 positive reviews from genuine buyers. We found breeds like Poodles, Bernedoodles, Labrador Retrievers, Havanese, Cavalier King Charles Spaniels, Maltipoos, Cavapoos, Dachshunds, and many other mixed and purebred dogs here for less than $900.
PuppySpot has partnered with USDA to bring you over 500 trusted breeders you can contact. The site also has the longest health guarantee for their pets – most puppies come with a 10-year puppy health commitment.
Furthermore, they have a travel network that comfortably and safely transports your puppy to your doorstep.
Puppy Spot Details:
3. Greenfield Puppies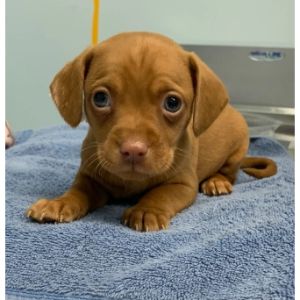 On the Greenfield Puppy website, you can find puppies for sale under $500 and even under $300. You can also search for a specific mixed breed or purebred dogs on the site.
At the time of writing this guide, we found Border Collie mix, Labrador Retriever mix, mini Australian Shepherd, Newfypoo (Newfoundland and Poodle mix), mini Australian Shepherd, Beagle mix, and Doberman mixes.
If you find the puppy but cannot make the trip to pick it up, Greenfield arranges to ship the puppy over to you safely. The site also has plenty of tips and resources for you to get information about dog training, diet, and overall care of your new pet.
Greenfield Puppies Details:
4. VIP Puppies
On VIP Puppies, you can find apartment dogs, hypoallergenic dogs, family dogs, dogs that are easy to train, and designer dogs. Furthermore, to help you find the right puppy, browse available dog breeds on the site, search by breed, view breed photos, or take a quiz to find your perfect breed match.
VIP Puppies was founded with the aim to connect dog lovers with elite dog breeders in the USA. Here is how it works:
Browse through the selection of puppies under $900
Talk to the breeder.
Arrange to meet your potential pet.
Bring your puppy home.
The entire process is so smooth that VIP Puppies has not only received rave reviews from genuine buyers but has also been featured on ABC 8 NEWS, FOX News, and The Telegraph.
VIP Puppies Details:
5. AKC Marketplace
AKC Marketplace also has reliable breeders at a range of prices. In fact, at the time of writing this guide, we found 25,715 puppies looking for loving homes.
They also have a "Puppy Visor" that can guide you through the puppy-buying process. For a small one-time fee, this personal counselor will help you provide thorough information about the breeders and breed.
The Puppy-Visor will also help you find the perfect match for your lifestyle. Puppy Visor can guide you into asking the right questions to the breeders. Furthermore, you get lifetime access to AKC's on-call vet as well as AKC GoodDog lifeline access.
AKC Marketplace Details:
6. Keystone Puppies
We found several puppies for under $900 at Keystone Puppies located in Lancaster, PA. Some of the breeds being sold for this price were Labrador Retrievers, Cockapoos, Cavapoos, Mini Bernedoodles, Bichpoos, Goldendoodles, Cavalier King Charles Spaniels, Shih Tzu mix, and even Golden Retrievers.
Keystone Puppies have partnered with reputable breeders who make it a point to keep their dog's welfare a top priority. They also provide adequate socialization to their puppies and raise them in a loving environment.
Keystone Puppies Details:
7. Facebook Marketplace
Facebook is not a platform that allows the sale of kittens and puppies. However, individual sellers are known to sell puppies under $900 here. In fact, you may even find free puppies on Facebook Marketplace.
While some of these sellers are individuals who have had a litter of healthy puppies that they either sell for a small amount or give away for free, there are some sellers who are unscrupulous breeders who breed dogs in their backyards. These individuals often breed indiscriminately. They even have 4-5 litters a year just to make profits. Their dogs are often kept in unhygienic conditions.
Moreover, some scammers pose as breeders. They take money upfront and then don't deliver the puppy. Some puppies are even offered for a "worldwide delivery," which is not the case.
Rescue Charities like ASPCA and Humane Societies are urging people to stop encouraging such unethical breeders and falling prey to scammers on this platform. Facebook has also promised to investigate such frauds and is encouraging users to report unethical dog/cat breeders and scammers.
Facebook Marketplace Details:
8. Breeders
You can also directly contact breeders of a specific dog breed when looking for ways to get puppies under $900. It is important to first research the breed thoroughly and ensure it is suitable for your lifestyle.
Remember that adorable puppies soon grow up and most dogs need plenty of socialization, training, daily exercise, and a healthy diet to thrive. Without these, your dog could misbehave and many dogs end up in shelters for this reason.
Once you have finalized your dog breed, you can contact top breeders of that breed near you. Look for breeders who only keep one or two breeds and raise only 1 or 2 litters a year.
Check out their reviews and visit their websites. The breeders should allow you to come over, check out their facility, and meet the puppies and their mother.
It is essential that you learn more about the breeder's breeding philosophy to ensure that they only breed according to the breed's club standards. You may also ask them about the genetic tests and health checks they have conducted on their breeding dogs.
Good breeders of top dog breeds usually sell their dogs for more than $1000. Some show-quality puppies are even sold for $3000. Dogs in certain rare colors may cost even more. Sometimes, breeders have circumstances where they may sell for less.
9. Newspaper Listings and Classifieds
You might also find ads about free puppies or puppies for sale under $900 through newspaper classifieds or local classified magazines. Often, these ads are posted by privately bred dog owners who have excess puppies that they want to sell. Other times, they are backyard breeders and should be avoided.
Occasionally, newspaper puppy sale ads could be about local adoption drives where several breeders come together to sell or rehome dogs of various breeds under one roof.
10. Adoption Centers
If you want to buy really cheap puppies of certain purebred dogs that are usually sold for over $1000, consider adopting them instead. Many breed-specific dog rescues have rescued dogs of the breed you are interested in.
For example, many purebred Golden Retriever puppies are usually sold for more than $1000. Some show-quality dogs fetch up to $5000.
But, if you choose to adopt a Golden Retriever, then you'd typically pay less than $500 in adoption fees. In any case, you might want to call and check your local animal shelters for the dog breed you're interested in.
The benefit of adopting dogs is that you might get a house-trained dog. Reputable shelters even give all initial vaccinations, deworming, and spaying or neutering, which are included in the fees they charge for rehoming.
What is The Lowest Cost Puppy?
The lowest cost of a puppy is $0. Yes, there are places you could find free puppies. Sometimes, you may even get purebred puppies for free. You'd hear about such puppies either on Craigslist or on Facebook.
Often, people who give puppies away for free usually have had a large or unexpected litter and they may sell some puppies while giving the others away for free.
Breeds like Chihuahuas and Labrador Retrievers, as well as mixed-dog breeds like Cavapoos and Cockapoos, are often more affordable than some of the larger and rarer dog breeds.
FAQs
Where is the safest place to buy a puppy?
The resources listed above such as Puppy Finder, Puppy Spot, and Keystone Puppies. are all trustworthy places to buy a puppy online. They are committed to only working with USDA-screened breeders and they even conduct surprise visits to the breeder's place to ensure that their dogs are well-cared for.

You can also buy your puppy from a local rescue or a top breeder of a specific dog breed. Go for AKC-registered breeders who belong to various Canine Clubs for that breed. This way, they are sure to adhere to the code of ethics laid down by those clubs.
What are the cons of buying from a dog breeder?
The biggest cons of buying from a reputable dog breeder are the price and breed-specific health issues. Breeders today have access to more information and testing than ever, and while this is costly, they are better able to create diversity in their lineage and take preventive measures against breed-specific health issues. Puppies are vet checked, vaccinated, and often come with a health guarantee.

The cons of buying from a dog breeder that operates as a puppy mill are far worse, including unsafe conditions, poor socialization, inbreeding, litters too close together, no veterinary checks, and more.
What are the top 5 dogs in America?
According to the American Kennel Club, the French Bulldog surpassed the Labrador Retriever for the most popular dog breed in the US in 2022. The top 5 dog breeds in America are French Bulldogs, Labrador Retrievers, Golden Retrievers, German Shepherds, and Poodles.
Conclusion For "How To Get Puppies Under $900"
The best way to find puppies under $900 is to visit sites like Puppy Spot, Puppy Finder, etc. These sites often have affordable dogs and they have both mixed breeds and purebred dogs for sale under $900. Some of these dogs are even available for as low as $250.
Another way is to adopt a dog or puppy from a local rescue. Breed-specific rescues are a great resource for finding the kind of puppies you are specifically looking to adopt. We hope this guide helps you find a healthy and happy puppy in your price range.
If you find this guide, "How to Get Puppies Under $900," informative and helpful, you can check out these other dog-related articles from our team:
Before you find a puppy for sale under $900, you can learn more about dogs by watching "The Meaning Behind 21 Strangest Dog Behaviors | Jaw-Dropping Facts about Dogs" down below:
Garrett loves animals and is a huge advocate for all Doodle dog breeds. He owns his own Goldendoodle named Kona. In addition, he volunteers at the Humane Society of Silicon Valley, where he fosters dogs and helps animals. Garrett enjoys writing about Doodles and believes that dogs can teach humans more about how to live than humans can teach a dog.
Why Trust We Love Doodles?
At We Love Doodles, we're a team of writers, veterinarians, and puppy trainers that love dogs. Our team of qualified experts researches and provides reliable information on a wide range of dog topics. Our reviews are based on customer feedback, hands-on testing, and in-depth analysis. We are fully transparent and honest to our community of dog owners and future owners.