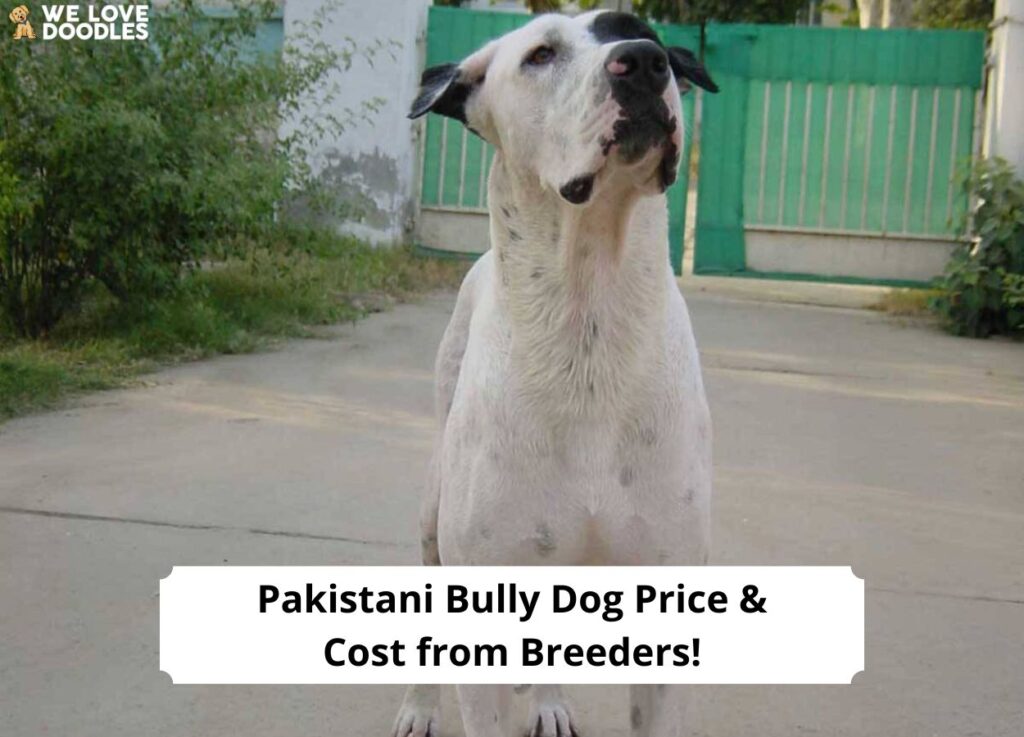 Pakistani Bully dogs are raised to be watchdogs and protect cattle and property in rural parts of China, India, Pakistan, and other Asian nations. But what is the price of a Pakistani Bully dog?
Based on certain factors, the cost of a Pakistani Bully puppy ranges from Rs 1,500 to Rs 30,000.
That said, it's essential to remember that Bully Kutta prices rise with age and size. The cost also varies by type since certain kinds are more expensive than others because of market demand and scarcity.
Before scrolling down this guide, "Pakistani Bully Dog Price & Cost from Breeders," check out: 90 Best Punjabi Dog Names! (2023) and American Bully Puppies For Sale: Top 5 Breeders! (2023).
Pakistani Bully Dog Price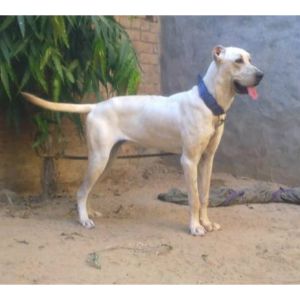 Bully Kutta puppies do not rank among the priciest dogs in the world. This breed costs anywhere from $800 to $1,500. The cost of a puppy in India will be as low as $300. This dog breed is inexpensive and relatively accessible compared to other Bully breeds like Bulldogs, Pitbulls, and Bull Terriers.
In addition to the purchase price, you must consider certain basic expenses. This includes food supplies, veterinary visits, poop bags, a scooper, and neutering or spaying, along with a few other expenses you need to factor into the first-year price.
The total cost of the dog, including other expenses, is about $1,700. This is pretty acceptable and less expensive than other large breeds when compared to what first-time dog owners pay on average.
When compared with owners of Pakistani Bully dogs, those of German Shepherds, Golden Retrievers, Labradors, and Rottweilers, on average, spend twice as much on their companions, if not more.
Now let's project the puppy's yearly expenditures.
The Bully Kutta puppy might cost anywhere from $1,500 to $8,000 each year. Everything depends on the breed of dog, the kind of coat, whether or not your dog sheds, health complications, the general well-being of a puppy, extra supplements, the size of the litter, and the lifestyle in general.
When it comes to pricing a Pakistani Bully dog, we can say that the typical yearly cost is in the range of $1,600 to $1,700, which is really reasonable. It is a low-maintenance dog that doesn't need a great deal of upkeep, taking into account the puppy's requirements and the coat type.
Nonetheless, these Indian Mastiffs may incur unforeseen bills, such as urgent care visits or chronic illnesses, just like any other dog breed. These charges are typically not included in price estimates, but they can dramatically alter the total cost.
Other expenses for puppies include pet insurance, dog carriers, and passports. Everything depends on the state you call home and the kind of lifestyle you choose.
The Cost of a Puppy
The price of a Bully Kutta is affected by many factors, including the breeder's caliber.
For example, since vet checks, microchips, leashes, collars, and many other items were originally included in the purchase, professional breeders would likely sell the puppy for more than other breeders.
At reputable kennels, you may expect to pay more than $1,200; however, the investment will likely be worthwhile in the long term.
In the first year, you'll receive a dependable puppy that doesn't require as much upkeep. Veterinarian visits are less frequent, and health is ensured.
The second factor that determines this guard dog's cost is the location where the puppy is acquired. Despite the fact that the price of the dog is the same across all U.S. states, the sales tax is not. Give or take a few hundred, it might raise the final cost.
But, if the puppy is purchased outside the United States, the cost will likely be less, particularly in India or Pakistan. Due to the Bully Kutta's popularity and lack of perceived uniqueness, its price is substantially lower in the Indian subcontinent and among Punjabis.
Initial Expenses
Let's discuss first-year expenses. While the purchase price of a Pakistani Bully dog is not very expensive, the breed requires daily additional supplies, which raises the yearly cost of ownership.
Due to its reputation as one of the world's most dangerous dogs, the Bully Kutta may require additional funding for socialization and obedience training. This is especially true for novice dog owners who decide to get this lovely but risky creature.
Food Supplies
Food is the most important consideration for these combat dogs. This means both conventional food and extras, such as necessary supplements like vitamins and minerals.
Avoiding budget dog food products is a good idea if you want to keep your Pakistani Mastiff healthy. You must keep in mind that when it comes to food, cheaper most definitely does not equate to better. With that said, we estimate the average cost will be $300 per year.
Large dog breeds like the Pakistani Bully require more protein to preserve their muscular bodies. Homemade recipes are an excellent alternative as well, but you should speak with your veterinarian before creating the feeding schedule.
You'll need more food supplies if you want to strengthen the dog's immune system. The most important supplements required for this dog include vitamins, minerals, and foods high in omega-3 fatty acids. Carefully research a brand's reputation before purchasing it, and try to avoid unreliable suppliers.
Scooper with Poop Bags
Consider starting potty training for your dog at a young age if you want to be successful. This breed is clever, so it won't have any problem mastering this skill.
Poop bags and the scooper must also be included in the first year's expenses, though. Bully Kutta dogs demand outdoor activities, and some owners keep the puppy outdoors as a guard dog by choice.
This means you'll be using poop bags on a regular basis to tidy the backyard or the public area after taking your dog for a walk.
Grooming
The Bully Kutta doesn't require a lot of upkeep since it has a short-haired coat that mimics a Beagle, commonly known in Indian households as Tiger. It is thick and silky — a weekly brushing is plenty.
The typical first-year grooming expense is little more than $60. Dog grooming calls for a brush, nail clippers, and shampoo. Some pet owners brush their puppies with a toothbrush as well.
Dog shampoos with the best scents are widely available, costing less than $15, and work well for all coat types. The cost of a dog brush is about $20, and the typical cost of a nail clipper is also about $20.
Veterinary Examinations
Routine vet examinations often cost $40 to $50. You should also check your puppy for common illnesses affecting Pakistani Bully dogs. Heart issues, rheumatoid arthritis, and progressive retinal atrophy are some examples of this. Further medical examinations might raise the final cost by $100 to $200.
First-time puppy checkups typically involve more expensive procedures like vaccinations and deworming. On average, vaccinations cost about $70. Deworming will cost you about $20.
You should think about neutering or spaying your dog at the end of the sixth month. The typical price for it is in the range of $100. Reliable breeders will provide you with a contract requiring you to spay or neuter your dog within a certain timeframe. Usually, it happens in the puppy's first eight to nine months.
You won't necessarily have to worry about all of these expenses in the first year because good breeders include the cost of vaccination, deworming, and annual vet checkups in the total purchase price.
Yearly Costs
After the first stages of dog ownership are complete, all you are left with are yearly expenses.
The Bully Kutta dog typically costs roughly $1,700 per year. The typical longevity of a Pakistani Bully is eight to 10 years, which is shorter than the average lifespan of many other dog breeds.
Yearly expenses include dog beds, leashes, collars, licenses, toys, vet visits, and poop bags. A Bully Kutta costs about $17,000 to own in total.
Equipment
Dog food, treats, nutritional supplements, poop bags, and grooming equipment are all included in puppy supplies. On a yearly basis, dog food costs about $300. This is just an average, though.
You may also look into dog food for the American Bully and glean some crucial information from the feeding chart if you are having trouble selecting the right dog food for your Bully Kutta. The two breeds' dietary requirements are comparable.
Puppy treats are a must-have for training, and the average cost per year is just around $300. Dog treats are given during as well as following training sessions as a form of positive reinforcement. Positive reinforcement is essential for socializing with Pakistani Bullies and for obedience training.
You will also spend $60 a year on grooming necessities, which is not much. This dog doesn't need to be groomed as often as some others, thanks to its short, easy-care coat.
The last category is medicinal supplements, which cost about $250. This is because your dog may have acute or long-term medical issues that require medication.
Regular Visits to the Veterinarian
A healthy puppy won't require as many annual trips to the doctor. A yearly vet visit for a healthy Bully Kutta should cost no more than $200 on average. This means a dog free of ongoing medical conditions including arthritis, PRA (progressive retinal atrophy), or GDV (Gastric Dilatation Volvulus).
Also, the dog must previously have had rigorous physical examinations, sterilization, and immunization procedures. Usually, keeping your dog healthy only requires routine feeding schedules and immune system supplements.
Toys, a Leash, and a Collar
On a yearly basis, one or two leashes will be sufficient. A leash that you may use for your Bully Kutta typically costs between $10 and $15 on the low end.
On the other hand, because this is an aggressive dog breed that requires supervision in public areas and around strangers, you will want to think about getting a sturdy collar. A dog collar typically costs $20.
When choosing dog toys, keep in mind that this is a huge dog breed with a strong jaw grasp. There are plenty of inventive ideas online for toys for Pakistani Bullies that are similar to those for Rottweilers. The pricing could be as low as $50 to $60 each year.
Frequently Asked Questions
What is the best age for a Pakistani Bully?
Like other dog breeds, it's best to get a Bully Kutta puppy at eight weeks of age.
How tall are Pakistani Bullies?
The typical Bully Kutta will stand between 30 to 33 inches depending on gender. Male dogs tend to be taller than females.
Is dog fighting illegal in Pakistan?
Dogfights are illegal in Pakistan due to animal cruelty laws.
Conclusion for "Pakistani Bully Dog Price & Cost from Breeders"
Several variables affect the pricing of the Bully Kutta. In contrast to other Bully dog breeds, this one is not pricey. But dog owners must consider yearly fees as well as any other expenses their puppy requires.
For guides similar to this article, "Pakistani Bully Dog Price & Cost from Breeders," check out:
Learn more by watching "What Breeds Of Dogs Have The Strongest Bite?" down below:
Garrett loves animals and is a huge advocate for all Doodle dog breeds. He owns his own Goldendoodle named Kona. In addition, he volunteers at the Humane Society of Silicon Valley, where he fosters dogs and helps animals. Garrett enjoys writing about Doodles and believes that dogs can teach humans more about how to live than humans can teach a dog.
Why Trust We Love Doodles?
At We Love Doodles, we're a team of writers, veterinarians, and puppy trainers that love dogs. Our team of qualified experts researches and provides reliable information on a wide range of dog topics. Our reviews are based on customer feedback, hands-on testing, and in-depth analysis. We are fully transparent and honest to our community of dog owners and future owners.