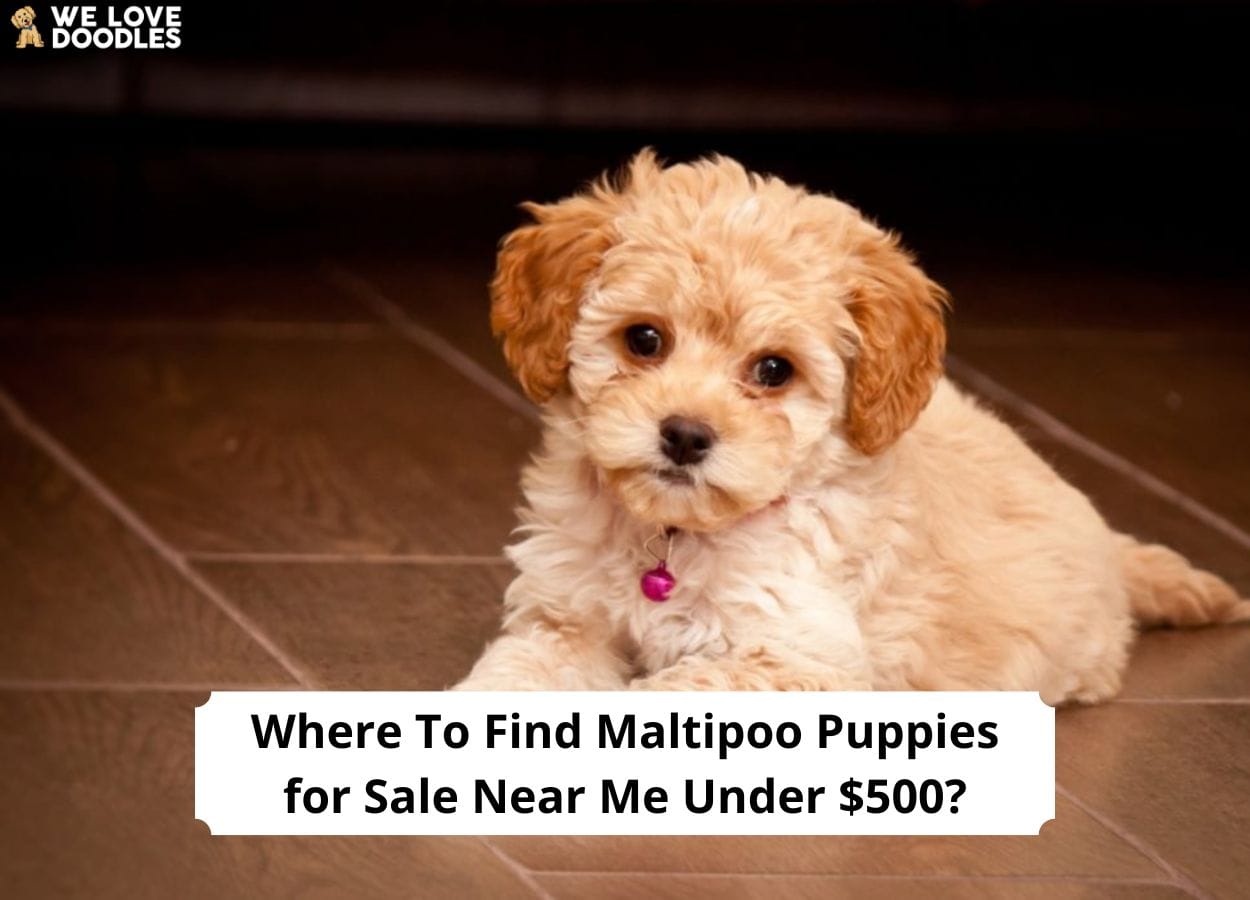 Are you looking for Maltipoo puppies for sale near you for under $500? This guide will save you time. Maltipoos are sweet little hybrid dogs obtained by crossing Maltese and Toy or Miniature Poodles. The resulting puppies are smart, easy to train, and also hypoallergenic.
There are various places where you can find responsibly bred Maltipoo pups for under $500. The list below will help you get started.
Before you scroll down this guide, check out: 11 Best Maltipoo Breeders in the United States! (2023) and Why Is My Maltipoo Shedding? (2023).
1. Puppy Finder
Puppy Finder is the Internet's go-to resource for finding healthy puppies and dogs all in one place. This site connects dog lovers with top breeders, rescue organizations, and private sellers all around the globe.
At the time of writing this guide, Puppy Finder's website had several Maltipoo puppies for sale under $500 and some were being sold for as less as $250. There was also one puppy labeled Best Offer, meaning its breeder is open to negotiations.
So, go ahead and browse Puppy Finder's listings to find responsibly bred Matipoos. You can also consider looking through their adoption listings to find Maltipoos.
Puppyfinder Details:
2. Pet Finder
Pet Finder has partnered with Purina to help connect dog breeders and dog lovers. Some of the Pet Finder dogs are rescued from bad situations, although the site also has listings from Maltipoo breeders.
To use Pet Finder, simply enter your zip code so you can get a list of available Maltipoos near you. The site does not enlist the price of the puppies, but you can email or call them to find out.
Pet Finder Details:
3. Next Day Pets
Next Day Pets has listings for Maltipoo puppies for $495 and less. All you have to do is select the puppy's gender and your zip code. You may also add a filter for your budget. At the time of writing this guide, we found several Maltipoos for under $500 in the zip code near us.
Next Day Pets, LLC is based in Maryland. Their site also has a forum where you can chat about all things dog. They have a Facebook page where you can get plenty of information about dogs and puppies.
Next Day Pets Details:
4. Puppy Spot
You can rely on Puppy Spot to help you find Maltipoo puppies for under $500. They partner with USDA breeders, and all puppies come with one- to 10-year health guarantees for certain issues. Puppy Spot even has puppy nannies and a safe travel network that lets them safely ship your puppy anywhere in the country.
Puppy Spot Details:
5. Pet Classifieds
This is another wonderful resource for finding dogs, cats, reptiles, and other pets. At the time of writing this guide, we found almost 439 listings for Maltipoos on Pet Classifieds.
Some listings are by Maltipoo breeders although some were by individual sellers. Many listings provide the price on call per puppy and some breeders even mentioned being open to negotiating the price.
Pet Classifieds Details:
6. Adoption Homes and Rescue Shelters
There are many Maltipoos rescued from negative situations. In some cases, the owners have to move to another country and cannot take their dogs with them.
Sometimes, the owners get sick or pass away. On a few occasions, you also have Maltipoos labeled as "untrainable" and "stubborn." Whatever the circumstances, there are Maltipoos looking for second (or maybe even third) homes.
That is why you must always first look for Maltipoos for adoption instead of searching for Maltipoo puppies for sale nearby for under $500. That way, you might save a dog from going to a kill shelter.
Here are some Doodle breed-specific rescues in the US with Maltipoos:
You can also check with your local animal shelters for Maltipoo puppies near you. Most shelters like ASPCA, North Shore Animal League America, and Rescue Me! charge a nominal fee to rehome rescued dogs.
7. Maltipoo Breeders
The best way to find healthy Maltipoo puppies for sale near you under $500 is to seek out responsibly sourced dogs from breeders. Sometimes, they have a large litter and are looking for buyers who will provide loving homes. In such cases, they may be willing to sell their puppies for less than normal.
Note that the Maltipoo's popularity has skyrocketed in the past few years. Due to this, more and more Maltipoo breeders are charging upwards of $500 for their puppies.
Some puppies are even sold for $1,000 to $1,500. Show-quality trained Maltipoos and Maltipoos in certain coat colors like apricot, black and brown, white, and sable are even sold for $2,000.
Maltipoo breeders spend time and effort on breeding healthy dogs. They test their parent dogs for health issues like hip and elbow dysplasia, heart-related issues, and eye problems like PRA. They only breed Maltipoos that are cleared for these health issues. Due to the effort and time spent, they naturally charge over $1,000 for their puppies.
8. Craigslist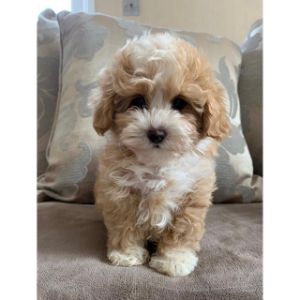 Craigslist is another resource to help you find Maltipoo puppies for sale near you under $500. You can find dogs being sold by individuals and small-time breeders. However, the site also attracts puppies from puppy mills and bulk breeders or hobby breeders. So, please be careful.
If possible, ask to visit the facility and also to meet the dogs — especially the dam. If the breeder refuses to let you visit, steer clear. Never make any online transactions; always meet the dog first before paying.
Craigslist Details:
9. Facebook Marketplace
Facebook lets you buy and sell items, including dogs, and it's a great place for connecting buyers and sellers. Many people sell Maltipoo puppies for under $500 on Facebook and you might be lucky to find a seller in your area.
Sometimes, you can also get information about free Maltipoo puppies on Facebook Marketplace that are in need of loving homes. They may have been rescued from dangerous or negative situations. As always, be cautious and only buy the puppy after you have met the seller and the dog in person.
Facebook Marketplace Details:
About the Maltipoo Breed
Maltipoos are a popular hybrid or designer dog breed obtained by crossing a Toy or Mini Poodle with a Maltese. They are sweet, affectionate, cuddly dogs known for their teddy-bear-like looks. They also have cheerful personalities.
Maltipoos are small dogs weighing between five to 15 lbs and measuring less than 15 inches. Since they are not recognized by the AKC or UKC, there are no standards set for the breed.
Maltipoos are available in various colors including apricot, black, white, beige, phantom, and sable. Since both parent breeds have hypoallergenic coats, the Maltipoo also has low-shedding hypoallergenic coats. This feature makes them excellent for people who suffer from pet allergies.
That said, no dog is 100% hypoallergenic. After all, allergies can also be triggered by the dog's saliva and urine. So, someone with allergies must follow basic precautions even when they are around a Maltipoo.
Maltipoos have an outgoing temperament. They love people and make friends wherever they go. For this reason, they may not make the best guard dogs but they will alert you to strangers or intruders on your property with their loud barking.
You'll want to train your Maltipoo from the start in basic obedience to ensure it does not get bossy.
How Much is a Maltipoo Puppy?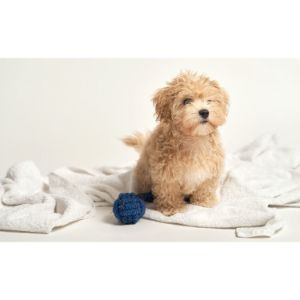 As mentioned, most breeders charge a premium for this designer breed. Some responsibly bred Maltipoos from top breeders may even cost up to $6,000 depending on their parent dogs, coat colors, and reputation.
On places like Craigslist and Facebook, you could find free Maltipoos. But always meet the dog and seller first, before sending any money online on these sites. You can also approach your local animal adoption shelters to check if they have Matipoos with them.
Are Maltipoos Worth It?
Naturally, if you consider buying your Maltipoo puppy from a top breeder, you might wonder if it is worth paying all that money.
Yes, buying Maltioo puppies from a good breeder means you don't need to worry about health issues or temperament problems as much. Good breeders lovingly raise their puppies at home with other dogs and their children, which ensures confidence.
Some breeders are even willing to take back dogs that develop health issues within a certain period. They also make sure the dogs won't develop genetic issues in the first place by thoroughly testing them through EMBARK, OFA, and CERF tests.
Frequently Asked Questions
How much do Maltipoos usually cost?
While it is possible to find a Maltipoo puppy in the $500 range, that is not the norm outside of shelters or rescues. Expect a breeder to charge anywhere from $1,000 to $4,000 for a Maltipoo.
How often do you bathe a Maltipoo?
Ideally, you should give your Maltipoo a bath once or twice a month.
Conclusion for "Where to Find Maltipoo Puppies for Sale Near Me Under $500"
Yes, it's possible to find Maltipoo puppies for sale near you for under $500 using the resources in this guide.
You can always go to an adoption center nearby to adopt a Maltipoo in need. Alternatively, seek out a breeder who might have extra puppies they may be willing to sell for under $500.
Either way, we hope this guide helps you in your search. Good luck!
If you find this guide, "Where to Find Maltipoo Puppies for Sale Near Me Under $500," helpful, check out:
Before you bring home a Maltipoo puppy, learn more by watching "10 Facts About Maltipoo | Poodle Mixes World" down below:
Garrett loves animals and is a huge advocate for all Doodle dog breeds. He owns his own Goldendoodle named Kona. In addition, he volunteers at the Humane Society of Silicon Valley, where he fosters dogs and helps animals. Garrett enjoys writing about Doodles and believes that dogs can teach humans more about how to live than humans can teach a dog.
Why Trust We Love Doodles?
At We Love Doodles, we're a team of writers, veterinarians, and puppy trainers that love dogs. Our team of qualified experts researches and provides reliable information on a wide range of dog topics. Our reviews are based on customer feedback, hands-on testing, and in-depth analysis. We are fully transparent and honest to our community of dog owners and future owners.