Maybe you've just added a Yorkie puppy to your family, or maybe your dog has been a household member for years. No matter how long you've had your Yorkshire Terrier, there's a good chance you've been curious about male Yorkie haircut ideas.
Want to give your little Yorkie boy a new 'do? Getting ready for a family photo session or want to make your little guy feel like a new man? We've compiled some ideas for your baby's next haircut. Take your favorite style to your groomer and give your pup the new look he deserves.
Before you scroll down this list of male Yorkie haircut ideas, check out: Why is My Yorkie Shaking? (2023) and Teacup Yorkie vs. Yorkie: What's The Difference? (2023).
Tips for Grooming Your Yorkie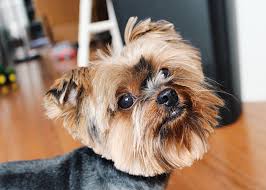 Most pet owners choose to bring their Yorkies to a professional groomer. Whether it's a mobile service, a big box pet store, or a fancy boutique, these professionals do much more than clipping your dog's hair.
They'll trim toenails, clean your pup's ears, brush his teeth, express anal glands, and pamper your pet. Plus, you don't have to worry about the cleanup after shampooing and conditioning your pup.
If you do decide to groom your Yorkie on your own, there are a few tips to remember. First, it's important that you condition your dog's coat when you wash it. Use a quality shampoo — your vet can give you recommendations — and then apply a cream or spray conditioner.
Your Yorkie has long hair that's prone to tangling if not conditioned properly. Many conditioning products will help moisturize your dog's skin, too!
Secondly, always brush your Yorkie's hair thoroughly before you start to trim or clip it. Eliminating tangles, mats, and knots will help you clip more evenly and prevent injury to your baby. Use a pin brush to prevent the breakage of your dog's hair, and brush it in sections.
Finally, use excellent-quality scissors to carefully clip around your dog's paws and ears. Then, when it's time to cut your dog's hair, slow and steady wins the race! It's difficult to "mess up" with clippers, but take your time to ensure an even cut.
The Top Male Yorkie Haircut Ideas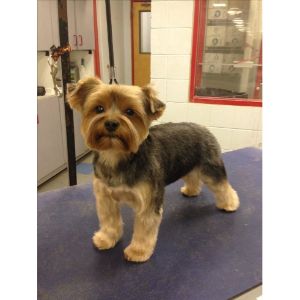 Should you decide to bring your dog to the groomer, show your professional your pick from our list of the top male Yorkie haircuts.
Puppy Cut
The puppy cut tops the list of the most popular male Yorkie haircuts. This cut is easy to achieve and maintain, and it'll make your pup look freshly groomed even when it's been a few weeks.
The puppy cut is short, and the length is uniform over the entirety of your dog's body. If you're new to grooming your own dog, the puppy cut is a great trim to start with as you won't have to worry about a lot of varying lengths.
The hairstyle is also easy to comb out after a bath and between shampoos, so it's an excellent option for pup parents who don't have time to commit to daily brushing and frequent conditioning.
As with any style, you'll need to pay special attention to your dog's brows, ears, and paw pads. Use a sharp pair of hair-cutting scissors to ensure that your dog stays comfortable and unharmed.
Teddy Bear Haircut
The teddy bear haircut is one of the most adorable male Yorkie haircut ideas. As you may have imagined, the teddy bear cut keeps your Yorkie pup looking fluffy and soft; you won't be able to keep yourself from hugging your baby and petting his smooth fur.
Your groomer will likely know what you mean when you tell him or her you want a teddy bear cut for your dog. If not, explain that you'd like to see about a two-inch hair length all over his body, and a "bottlebrush," round appearance to his face. The hair on your Yorkie's ears should be trimmed to a relatively short length, lending a bit of a feathery look.
Yorkie hair texture will vary from dog to dog, so should you choose to cut your dog's hair on your own, it's best to blow it out first. This will let you see just how much fluff you're dealing with, and it will make the clipping process go much more smoothly.
The teddy bear cut is an excellent choice as a puppy haircut; you'll love how your pup is even more irresistible with that round face and those short, fluffy legs.
Schnauzer Trim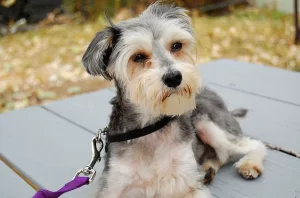 The next of the top male Yorkie haircuts is a traditional Schnauzer trim. If you've ever taken a look at a Schnauzer's hair, you'll notice that the dogs are closely cut on their little bodies with a skirt around the belly. Their little faces have a wispy beard around the mouth, but the upper portion of the face is closely clipped too.
Because your Yorkie boy has long hair, the Schnauzer cut is achievable … and adorable! Your groomer will know what you mean if you tell him you'd like a schnauzer cut, and will likely ask you how much length you'd like left around the belly and your dog's snout. That's up to you!
If you're planning a DIY grooming session, you should ensure that your dog's skirt is uniform. To do this, you can just eyeball the lines you're cutting, or you can use hair chalk specifically designed for dogs if you're nervous! Just mark the lines in a color that's similar to your dog's coat, and clip along those lines. The chalk will come out easily with water and a bit of shampoo.
The Schnauzer trim is best executed on adult dogs; it's not a practical puppy haircut.
Yorkie Show Cut
Have you ever watched a beautiful Yorkie prancing regally around the dog show arenas? Their long, shiny hair looks like silk, soft and flowing. This is a look you can achieve with your own male Yorkie!
A Yorkie show cut is going to require more upkeep than most of the other male Yorkie haircuts on this list, so be sure you have the time to commit to the daily grooming. Because of the length, your dog's hair will be more likely to mat and tangle, so a conditioning spray and a daily brush will be necessary.
Giving your dog a show cut is usually best left to the groomers as it takes time and patience. That said, should you decide to do it yourself you should expect to trim your dog's hair in sections. Bathe and condition your dog, then comb his hair very well. Part his hair down the middle of his back.
It's easiest to separate sections of hair using hair clips. This will keep excess hair out of the way and prevent accidents that give your dog's cut an uneven appearance.
Lamb Cut
The lamb cut works best on dogs that have a little curl to their hair. If your Yorkie is purebred or has very straight hair, you might do better to give your dog a teddy bear cut. If, however, you have a mixed breed like a Yorkiepoo with curly hair, a lamb cut is a cute option.
A lamb cut gives your dog a little volume around his legs, head, and ears while keeping his body trimmed closely. It's an excellent haircut for warmer climates, or for during the summer, as it helps your dog keep cool. Be mindful of the sun; a closer cut will leave your dog more vulnerable to sunburn.
The lamb cut isn't optimal as a puppy cut, as your puppy's hair may be finer than it will be when he grows. If you're determined to give it a try, ask your groomer if your puppy's hair will cooperate with this style.
Full Shave Haircut
A full-shave haircut isn't the most popular style for the Yorkie, but it's an option that should be considered if your dog is severely matted and needs a fresh start. Additionally, a full shave can be a welcome style if you're in a warm climate. Again, be aware of your pup's exposure to the sun should you choose a full shave.
Yorkie moms and dads who opt for a full shave usually leave the facial and tail hair with a little length. Of course, that's up to you, but consider your dog's build. Whether your pup's tail is docked or not, some Yorkies don't have the body type required to make an all-over shave look attractive.
A full shave is perhaps the easiest of the male Yorkie haircuts, and you can absolutely do it yourself. Use caution around the eyes and the ears; you'll need to invest in a good, sharp pair of scissors to clip around your pup's paw pads and ears. Take your time to ensure your dog's eyebrows are cut evenly, too.
Kennel Cut
Last on our list of the best male Yorkie haircut ideas is the kennel cut.
To achieve this look, you'll closely trim a majority of your dog's hair. Leave length at the bottom third or so of his legs, and keep the hair on your dog's tail at about the same length. Your dog's face will be cut in a similar way to a Schnauzer cut, but you may wish to give the fur more of a rounded, teddy bear appearance.
As with many of the other doggy 'dos on this list, the kennel cut is a relatively easy DIY project. You'll want to ensure your pup has plenty of trimming around his paw pads to keep him clean and mat-free.
The kennel cut is low-maintenance, but you will need to brush your pup. The longer hair, particularly around your dog's feet, is prone to tangles when your dog is at play. Speak with your groomer about whether this is an appropriate cut for your puppy.
Frequently Asked Questions
What is the best haircut for a Yorkie?
The puppy cut is a frequent favorite haircut for Yorkies.
Do you cut a dog's hair wet or dry?
When cutting a dog's hair, you'll want it to be dry and clean, not wet.
How do you clean under a Yorkie's eyes?
You can use eye wipes or try dog food formulated to help with tear stains.
Conclusion for "Best Male Yorkie Haircut Ideas"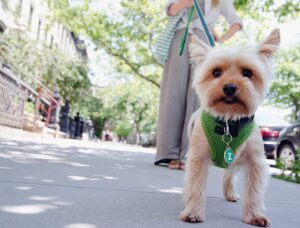 Whether it's for pictures with Santa or just to give your dog a new style, a haircut is a great way to pamper your Yorkie. You can adapt our list of the top male Yorkie haircut ideas for female dogs, too, so use your imagination.
Bring your dog to a groomer for a professional, tidy appearance, or do it yourself at home with quality clippers and scissors. If you're apprehensive about cutting your dog's hair for the first time, start with a simple style like the puppy cut until your confidence builds.
Most importantly, have fun giving your pup a new look!
For more guides similar to this list showing the ideas of Male Yorkie haircuts, check out:
If you find these male Yorkie haircuts interesting, learn more by watching "Grooming Yorkie head – Yorkie transformation" down below:
Garrett loves animals and is a huge advocate for all Doodle dog breeds. He owns his own Goldendoodle named Kona. In addition, he volunteers at the Humane Society of Silicon Valley, where he fosters dogs and helps animals. Garrett enjoys writing about Doodles and believes that dogs can teach humans more about how to live than humans can teach a dog.
Why Trust We Love Doodles?
At We Love Doodles, we're a team of writers, veterinarians, and puppy trainers that love dogs. Our team of qualified experts researches and provides reliable information on a wide range of dog topics. Our reviews are based on customer feedback, hands-on testing, and in-depth analysis. We are fully transparent and honest to our community of dog owners and future owners.