Yorkshire Terriers are born with a small amount of hair that is slowly grown over a few weeks. These dogs need frequent grooming to remain healthy and happy. Consider a grooming schedule or at-home kit. And while you're at it, start thinking about ideas for your ideal female Yorkie haircut.
Yorkies are lightweight dogs who love to play and bark. They have stunning coats of hair that can be so long it brushes against the floor like a small curtain. These dogs look like small mops against the floor, and the number of hairstyles they can have feels endless.
Certain haircuts will provide your Yorkie with the utmost comfort without sacrificing style and elegance. Read on to learn which Yorkie haircut ideas are best suited for your female pup.
Before you scroll down this list of Female Yorkie haircut ideas, check out: When Do Yorkie Ears Stand Up? (2023) and Why is My Yorkie Shaking? (2023).
1. Teddy Bear Haircut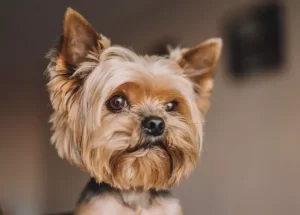 The teddy bear haircut is a stunning look on nearly any dog. But especially on a Yorkie, the teddy bear haircut can make them indistinguishable from a stuffed animal.
This haircut will ensure your dog has a uniform and tidy cut that makes them easy to brush and clean. Teddy bear haircuts rely on making the hair on your Yorkie even around the body, and fluffy around the face.
This facial haircut will have stark edges that fade from short around the nose, eyes, and mouth to longer at the sides. Additionally, teddy bear haircuts on female Yorkies will help with any messes made during potty time or training.
This haircut keeps the hair short, meaning you won't have to worry about dirt, grime, and dust. For example, Yorkies can run around the backyard but may come back covered in mud if their hair is long like a curtain. With a teddy bear cut, you may only need to wipe them off to get them ready for cuddle time.
When you get a chance, toss your female Yorkie among a pile of teddy bears to see the resemblance.
2. Puppy Haircut
A puppy haircut is similar to a teddy bear haircut, and this style can look nearly indistinguishable. However, there are some significant differences between the two. The most vital difference is the amount of hair left around the neck, head, and face.
With a puppy cut, your Yorkie will have a uniform look while accentuating their curls. This haircut will make your dog's head and neck look curly and innocent. However, this haircut will also trim the hair around your dog's body to make them look neat.
It will also make your dog look sweet and innocent and provide your dog with a short set of hair around its back legs and underbelly to prevent any accidents during potty times. This haircut is most popular with puppies still learning to potty outside because it's the most effective haircut for hygiene.
A puppy haircut can make your female Yorkie look like a teddy bear, too, and may be modified to ensure your dog can stay warm in the winter and cool in the summer months. Additionally, a puppy haircut can work on a dog of any age, including senior dogs suffering from incontinence and other bladder problems.
3. Schnauzer Trim
Naturally, a Schnauzer trim is a haircut based on the Schnauzer's signature style.
Schnauzers are fearless dogs who are highly intelligent and lively. These dogs are famous for their elegant and regal appearance. Schnauzers are posh dogs who have short, trimmed hair nearly everywhere on their body and maintain hair slightly grown out from the bottom of their legs and face.
On your female Yorkie, this haircut will make them look like a Miniature Schnauzer. With this look, your dog will retain longer hair at the snout, which will cascade downward and create a beard. Some Yorkie owners may dislike this look, but a Schnauzer haircut is modular — the snout hair can be trimmed shorter.
A Schnauzer haircut can be done on your female Yorkie to make them look lively and posh while adding an air of elegance to them, especially when the hair around their snout is kept short and their ears are manicured with little bows.
One of the most ideal times of the year for a Schnauzer haircut for your female Yorkie is the summer. That way, they can feel the cool breeze of wind on their short hair and let it flow backward while running in the yard.
4. Show Cut
Anyone who has ever seen a dog show should be familiar with the Yorkie show cut. This haircut will require your female Yorkie to have a long, grown-out coat of hair that sweeps across the floor as they walk. This haircut will also require the hair on the tail, face, neck, and head to be grown long.
Your female Yorkie may also have long hair around and on their ears, making them look stunning and vibrant. A show cut is best used for dog shows and competitions that can show off your dog's coat of luxurious hair.
Although eye-catching, this haircut may be challenging for some Yorkie owners to manage. You'll likely need to brush your Yorkie daily and wash their hair after every walk around the neighborhood. This haircut will have your Yorkie's hair dragging across the floor, and this type of hairstyle entails much more cleaning and grooming than usual.
However, Yorkies are small and may not take much time to groom, making them the perfect candidate for an elaborate hairstyle like the show cut. These dogs will do their best to keep themselves clean. Still, they may need a good dry shampoo to clean with after a long play session outside in the backyard.
5. Lamb Haircut
The lamb haircut is similar to the puppy and teddy bear haircuts, except it will leave your female Yorkie with a little extra curly hair around its body. This haircut will give your Yorkie a few inches of curly, stunning hair that will have them fluffy and soft.
Unlike the puppy and teddy bear haircuts, the lamb cut will ensure your dog has a puffed chest but leave the underbelly shaved short. As the name suggests, a lamb cut will make your dog look like a lamb. Your Yorkie's face will likely be gently manicured and keep a short amount of snout hair that won't go down far past the bottom jaw.
This haircut won't need much touching up for several weeks, making it a perfect choice for those who want a uniform and regal look on their Yorkie. This haircut can also be modified with a manicured tail, long hair on the ears, and a short trim at the snout to make them look sweeter than before.
Although this haircut will keep a little more hair on your dog's back legs, the underbelly is shaved close to the skin, making it a perfect option for hygiene and dogs currently potty training.
6. Poodle Haircut
A Poodle haircut on your female Yorkie will offer your dog a posh and elegant look. It can boost their confidence and give them plenty of attention from those passing by on their morning walk. With this style, your Yorkie will resemble a Poodle, complete with semi-curly hair and trimmed hair and body.
A Poodle haircut on a Yorkie will leave the hair on your Yorkie's ears long and manicured, giving them an eye-catching appearance. Your Yorkie will have an even hair trim across their body with enough hair to curl and run your fingers through.
A Poodle haircut will ensure your dog doesn't need much grooming, brushing, or bathing. Yorkies don't shed and a Poodle cut will ensure that your dog is tangle-free and doesn't lose much hair from getting caught, tangled, or stuck on anything.
Additionally, a Poodle haircut is a good choice for local dog competitions and shows that don't require a show cut for your precious pup. This alternative can be a good choice for offering a lively appearance without any added work.
7. Full-Shave Haircut
A full-shave haircut on female Yorkies is rare. That said, there are a few situations in which this haircut may be necessary. Some owners may choose a full-shave haircut for a female Yorkie living in a tropical location that rarely experiences cold temperatures. For example, Yorkie owners living in the Caribbean or the southern United States may choose to do a full shave on their female Yorkie during heat waves.
Some medical conditions like dermatitis and skin rashes may require you to shave your female Yorkie completely. Additionally, your Yorkie may need surgery that will require you to shave a portion of its hair for better access to its veterinarian or surgeon.
Some female Yorkies who have spent a long time in kennels, shelters, or boarding homes may need a full shave when they get into their forever home.
Fleas, ticks, and other pests are common in community settings and can make daily life challenging for your dog. Consider using shampoos and other products before opting for a clean shave. However, a shave can be a good way to get rid of some pests once and for all.
Frequently Asked Questions
Figuring out which Yorkie haircut for a female dog can be challenging, but these questions can help you decide on the best one.
How do you groom a female Yorkie?
A female Yorkie is easily groomed if you see a dog groomer or use the right tools and training with your Yorkie. Consider investing in a pair of scissors, clippers, and a dog brush to thoroughly groom your dog.
What is the best haircut for a female Yorkie?
One of the best haircuts for Yorkies is the puppy cut because it will make them look clean and tidy. This haircut is one of the best ideas for a female Yorkie because it will allow plenty of hair to remain for bows and other accessories.
How often should a Yorkie get a haircut?
Try to aim for grooming every four to six weeks.
Conclusion for "Best Female Yorkie Haircut Ideas"
Yorkies are stunning dogs who can provide you with endless hours of fun, love, and relaxation. These dogs thrive on affection and playtime. Although these dogs may bark a lot, they prefer to have fun more than anything else.
Yorkies have a long and luxurious coat of hair that can be done up in a variety of ways. Choosing the best Yorkie haircut for your female dog can be challenging, but these haircut styles are some of the best. Not only will your Yorkie be utterly stunning, but they will also have the highest comfort level possible.
For more guides similar to this list showing female Yorkie haircut ideas, try these topics:
If you find these Female Yorkie haircuts interesting and incredible, you can learn more about grooming your companion by watching "Very tiny Yorkshire Terrier excited at the groomers" down below:
Garrett loves animals and is a huge advocate for all Doodle dog breeds. He owns his own Goldendoodle named Kona. In addition, he volunteers at the Humane Society of Silicon Valley, where he fosters dogs and helps animals. Garrett enjoys writing about Doodles and believes that dogs can teach humans more about how to live than humans can teach a dog.
Why Trust We Love Doodles?
At We Love Doodles, we're a team of writers, veterinarians, and puppy trainers that love dogs. Our team of qualified experts researches and provides reliable information on a wide range of dog topics. Our reviews are based on customer feedback, hands-on testing, and in-depth analysis. We are fully transparent and honest to our community of dog owners and future owners.