While there's no real reason for dogs to have eyebrows, pups do use their eyes to communicate with us and with each other. Your dog with brown eyebrows can do that especially well given the contrast of his markings!
Dogs don't need eyebrows. Humans do, as they help keep the sweat from our eyes. But because dogs don't sweat in the same way we do, eyebrows are completely unnecessary features. With that in mind, wouldn't you agree that dogs with eyebrow markings appear to have more personality than those without them?
We've compiled a list of the top dog breeds with brown eyebrows. If you're looking for a dog with an expressive little face, start here; these dogs bring new meaning to the phrase "puppy dog eyes." You'll fall in love with their sweet, thoughtful expressions, so get your home ready for a new companion.
Before scrolling down this list of dogs with brown eyebrows, check out: 17 Popular Dogs with Pink Noses! (2023) and 10 Friendliest Dog Breeds with Images! (2023).
1. Rottweiler
The Rottweiler is first on our list of dogs with brown eyebrows. These dogs are famously black with brown markings, and you'll find that the majority of these dogs do have brown eyebrows.
Their unique markings will vary from dog to dog, but typically the eyebrows appear as circles above the dog's eyes. Your pup uses his eyes to communicate with other animals, and these brown eyebrows aid in that silent conversation.
The Rottweiler is a large, stocky dog, but don't let his stature fool you! Your Rottweiler is as gentle as a bunny when given the proper socialization. Start this socialization early, introducing your puppy to other dogs and to children. You'll find that your Rottie is nothing but a big lazybones.
Before you adopt your Rottweiler, there are a few things you should know. First of all, they're couch potatoes but they do require exercise. Plan to take your pup for a couple of walks each day.
Second, your Rottweiler will lightly shed. Brush your dog daily to lessen the amount of dog hair in your home. Finally, the dogs are bred as herding dogs. You will be your pup's pack, so establish yourself as the leader while your dog is young, or when he first joins your family.
2. German Shepherd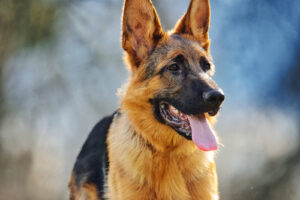 German Shepherds are working dogs, and they're brilliant at what they do! Their intelligence and agility brew up the perfect storm for a top-notch work dog. For that reason, the German Shepherd is frequently employed by law enforcement and the military. The dogs do make good companions, but the German Shepherd breed isn't for everyone.
Your German Shepherd will require a great deal of exercise. They're known for their jumping abilities, so your dog's outdoor time should be supervised. Even if you do have a fenced yard, these dogs can jump up to six feet from a standing position! Take your pup for frequent leashed walks to allow her to explore. And note that your dog will shed — a lot! Before your walk, brush your dog outdoors to remove dead hair.
Your German Shepherd is a beautiful dog with brown eyebrows, and you don't need to do much to maintain her coat. Give her a bath every few months and brush her daily to keep shedding to a minimum. Plan to bring your dog to a groomer several times each year for a full blowout of her hair.
3. Miniature Pinscher
The Miniature Pinscher, or Min Pin, is a small dog that looks like a tiny version of the Doberman Pinscher. The two breeds are not related, but they're both dogs with brown eyebrows. Min Pins are clever dogs with big personalities that defy their small size. When you adopt a Miniature Pinscher, you're bringing home a companion and a playmate.
As with most dogs, you'll want to socialize your Min Pin with children and with other dogs from an early age, if possible. The dogs are energetic and playful, but they can tend to get a little irritable if mishandled. In the same way that you'll need to train your dog to get along with children, please teach your children how to handle your dog. This will help avoid injury to everyone in the family.
Your Miniature Pinscher, of course, sports beautiful brown or black fur with brown eyebrows, and they're extremely easy to keep groomed. Your pup has short hair and sheds very minimally, so a brush every few days should suffice. Should your dog spend a lot of time outdoors, you'll need to bathe him every few months or so.
4. Bernese Mountain Dogs
Bernese Mountain Dogs are usually tri-colored dogs with brown eyebrows. Brown, white, and black fur cover the entirety of your dog's body, and his double coat is prone to shedding. You'll absolutely need to budget for a trip to the groomer at least twice each year. Your groomer can give your pup a blowout to minimize the amount of hair he leaves in your home.
Bernese Mountain Dogs are, like others on this list, working dogs. They make wonderful service animals, and are well-loved on the farm! This work ethic translates to a loyal, obedient companion that will get along well with all members of the family whether they be human, canine, feline, or any other species.
Your Bernese Mountain Dog can grow to over 100 pounds as an adult. Thankfully, these dogs are quite docile and aren't prone to jumping on people. Instead, they'll use their inherent protective nature to guard you and your family. Your Berner will alert you to a car in the driveway or a stranger in the neighborhood but does not have aggressive tendencies.
5. Doberman Pinscher
We mentioned the Miniature Pinscher earlier in this guide. Their larger look-alike is the Doberman, and while the dogs aren't related, they share similar characteristics. Dobermans are sleek, large dogs that can weigh up to 100 pounds as adults. They can have a reputation for being aggressive, so firm training is an absolute necessity.
The first Doberman Pinscher was bred by a man named Dobermann, a tax collector. Because of the sensitive nature of his job, Dobermann desired a dog that would be fierce and protective. Since then, the Doberman Pinscher has been employed in law enforcement frequently because of the breed's intelligence, agility, and loyalty.
Because the Doberman has a reputation for aggression, your apartment complex or homeowners' association may have breed restrictions against him. You may need to get written permission to adopt or purchase a Doberman from a breeder or shelter. Speak to the seller or rescue for more information. Regardless of restrictions, it's a good idea to bring your Doberman to obedience training at an early age.
6. Boston Terrier
Not all Boston Terriers are dogs with brown eyebrows. But those who do have the added charm of an expressive, tiny face to match their vibrant, playful personalities. Boston Terriers grow to be around 25 pounds, but can be as light as ten! They're friendly with strangers and get along just fine with seniors, children, and special needs populations.
The Boston Terrier is recognized by the American Kennel Club, and those interested in breeding or showing their pups will find a wealth of information about the breed on the AKC website. Should you choose to show your dog, you'll need to check the breed standards for coloration and other acceptable characteristics.
Boston Terriers are fun dogs, but they can be strong-willed. You may need to take extra time and exercise a little more patience as you potty- and obedience-train your dog. Overall, dogs can be taught to have good manners, but you'll need to establish yourself as your dog's "boss" from an early age.
7. French Bulldog
Last on our list of dogs with brown eyebrows is the French Bulldog. The Frenchie is one of the most beloved dogs among American families. They're easy to train, friendly, have sweet dispositions, and it doesn't hurt that they're absolutely adorable! Frenchies have won many best-in-show awards, and when you meet your little buddy you'll certainly understand why.
The Frenchie is, perhaps, the perfect dog. The pups don't care whether you live in an apartment or a large home, and they don't need a lot of space to run outside.
You can take your dog for a walk a few times each day and she will be perfectly content. Once she's expended a bit of energy, your Frenchie will be very happy just to be in your company while you help the kids with homework or make dinner and watch TV.
Take your Frenchie to the vet on a regular basis. Little dogs are prone to a number of conditions, including obesity. Because these wiggle-butts are so top-heavy, they can also develop joint conditions that may be painful and even lead to mobility issues. Most of your dog's ailments can be treated, but early detection is key to a healthy lifespan of 10 to 14 years.
Frequently Asked Questions
Why do some white dogs have brown around their eyes?
Dogs can excrete porphyrins through their tears, which can stain light or white-colored fur. This is common in small white dogs like Poodles, Maltese, and Bichon Frise.
Which dog breed has bushy eyebrows?
A number of breeds fit this look, but you might be thinking of the Welsh Terrier.
What color is a purebred Rottweiler?
A purebred Rottweiler will always be black with either tan, rust, or mahogany markings.
Conclusion for "Dogs with Brown Eyebrows"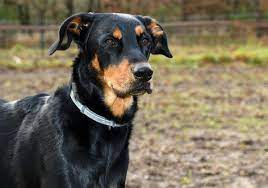 Dogs use their eyes to communicate with each other, and those little eyebrows can be quite expressive to humans, too! If you're looking for a dog with brown eyebrows, it's likely because you've noticed how distinctive the characteristic is, particularly on dark-colored dogs.
The dog breeds in this guide are known for their brown facial markings. We've included breeds that are large and some that are small, so you can choose the pup that's right for your lifestyle.
Now, you'll simply need to research breeders or visit your local shelter to bring home a dog with the characteristics you're looking for!
For more guides similar to this list of dogs with brown eyebrows, try these topics:
You can learn more about dogs' eyes by watching "THIS Is What Eye Color Tells You About Your Dog!" down below:
Garrett loves animals and is a huge advocate for all Doodle dog breeds. He owns his own Goldendoodle named Kona. In addition, he volunteers at the Humane Society of Silicon Valley, where he fosters dogs and helps animals. Garrett enjoys writing about Doodles and believes that dogs can teach humans more about how to live than humans can teach a dog.
Why Trust We Love Doodles?
At We Love Doodles, we're a team of writers, veterinarians, and puppy trainers that love dogs. Our team of qualified experts researches and provides reliable information on a wide range of dog topics. Our reviews are based on customer feedback, hands-on testing, and in-depth analysis. We are fully transparent and honest to our community of dog owners and future owners.