For some people, finding the perfect Labradoodle for your family is a challenge because you don't want to purchase from a puppy mill. This cross-bred between a Poodle and a Labrador Retriever can be a challenge to find since there aren't that many breeders in South Dakota. While this breed was first created in 1989 by Wally Conran, it's soon become one of the most popular breeds for people because they are cute, nonshedding, and mostly hypoallergenic.
However, finding the right breeder for this is incredibly important because they do face a variety of health problems if bred incorrectly. Also, making sure you have a reputable breeder that'll take care of their Labradoodle puppies in South Dakota helps make sure to minimize health problems. Below are some of the best Labradoodle breeders in South Dakota, along with some information about each of these reputable breeders.
Before scrolling down this guide, check out these recommendations for your dog: Goldendoodle Puppies in South Dakota! – Top 3 Breeders
1. Sioux River Labradoodles South Dakota
Located in Brookings, this Labradoodle breeder is eager to provide puppies that are healthy, socialized, and happy. They're bred with the intention that they're the perfect member of your family. Additionally, they do offer different kinds of Poodles, including standard and toy Poodles, and depending on what their current litter is producing, it offers a variety of different Labradoodle puppies to choose from.
Sioux River Labradoodles pricing is reasonable, with males being $600 and females being $700. To reserve a Labradoodle puppy, there is a $200 reservation fee. They also do offer to ship to airports too if you can't make it out there to pick it up. Overall they're a good, reliable breeder that home raises all of their Labradoodles so they're the perfect furry companion.
Labradoodle Breeder information
2. Baby Bear Labradoodles South Dakota
This is a Labradoodle breeder that has a Facebook page and operates out our Aberdeen, South Dakota. They do offer Labradoodle puppies that are bred very carefully and are also raised to the highest kind of pedigree.
Additionally, their puppies are F1 bred, are loyal, and have a good temperament. The breeders themselves have been doing this for over 12 years, with the most recent litter being in 2020. They also have other social media accounts they post on too, so if you want to follow this Labradoodle breeder, they make it quite easy.
Contacting them is done either via Facebook message or via calling them to get more information.
Labradoodle Breeder information
3. South Dakota Labradoodles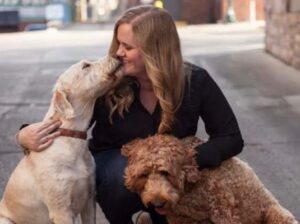 This is another reliable South Dakota Labradoodle breeder dedicated to making sure you have your new best friend. Their Labradoodle puppies in South Dakota are bred to be companion dogs, whether for hunting, service dogs, therapy dogs, or even friends.
Every puppy in this is cared for and properly socialized around cats and other humans. South Dakota Labradoodles also works on house-training them as well before they arrive in your home. Every Labradoodle puppy gets standard vet checkups and also are up-to-date on their shots too.
Most of the "oodles" they breed come in all shapes and sizes, including F1, F1bb, and F1b types of Labradoodles. They also breed Goldendoodles and even standard Poodles. Most litters are standard, but they do occasionally offer smaller sizes for the oodles.
To reserve one of their Labradoodle puppies for sale in South Dakota, you need to send a $300 deposit via a cashier's check, PayPal, a personal check, or a money order.
The puppies are usually ready around 10 weeks old, and are made sure that they're stimulated, healthy, and comfortable.  They can ship the puppy to the destination in a crate or cargo, but you will need to discuss the shipping options with them before they commit to it.
They have a variety of pictures on their site of the puppies themselves, and also some pictures of the dames and the sires too. The first Poodle they bred was "Little Miss" back in 2005, and since then has had her son and her granddaughter produce litters too, with the most recent being in March 2020.
South Dakota Labradoodles is a reputable breeder with over 15 years of experience and are a good one if you want a Labradoodle that's a good companion for any home.
Labradoodle Breeder information
4. Blueberry Cottage Labradoodles
If you're willing to travel, this Labradoodle breeder in Minnesota is a great option. Living on a 120-acre farm, these Labradoodle puppies have it made.  The farm is run by a woman named Heather, who raises and breeds the puppies. She's been there since 2015 and has been breeding Labradoodle puppies since then.
Every puppy is given a general health warranty that offers a two-year guarantee on health insurance, especially if there is hip dysplasia, PRA, EIC, DM, and vWD.
All their Labradoodle puppies are extensively health tested and all of them have really good temperaments. They are all bred with good dispositions and coats that are easy on the allergies, making them great pets for the entire family.
They do offer hand delivery, but they will not ship the puppies without someone going with them. Additionally, they do offer multigene and Australian Labradoodles if that's what you'd like. Blueberry Cottage Labradoodles also offer basic skills training for anywhere from $250-550 a week, with a minimum of 2 weeks. They primarily breed multi-gen and Australian Labradoodle puppies that are $3000, but there are other options as well.
Labradoodle Breeder information
5. JNB Stables
Located in Nebraska, this Labradoodle breeder also offers horse training from March through August, so if you're interested in horses, they also have you covered. However, their Labradoodle puppies span a variety of different sizes, and they ended up starting because they found out that their current Labradoodle had genetic and inheritance issues. They bred their first litter in 2012 and have been doing this since.
JNB Stables goal is to provide a variety of Labradoodle puppies that can live a healthy life and are perfect companions. They've been recognized by the Continental Kennel Club and are the only Nebraskan breeder that has been.
Additionally, they do offer small, multigene, F3, F3b, and other varieties.  Their site has different litters listed, and also pictures of the puppies. You can purchase one of these Labradoodle pups from them for $2100 and this includes all the shots and any checkups necessary. The payments are made either via Venmo, cash, check, or PayPal, with a service fee included. There is also a $500 non-refundable deposit.
If you would like to breed one of their Labradoodle puppies that you buy, it is an additional $200, and does require health testing. Otherwise, they must be spayed or neutered beforehand.
Labradoodle Breeder information
Conclusion for Labradoodle Breeders in South Dakota
These are just a few of the many Labradoodle breeders in South Dakota. There are a variety of other "oodles" as well, but these Labradoodle breeders are reputable, good to rely on, and are capable of bringing a wonderful canine companion to the family. If you've thought long and hard and know that a Labradoodle puppy is what you want, then check out these breeders today if you're located in South Dakota or in that general area.
You will also like:
Garrett loves animals and is a huge advocate for all Doodle dog breeds. He owns his own Goldendoodle named Kona. In addition, he volunteers at the Humane Society of Silicon Valley, where he fosters dogs and helps animals. Garrett enjoys writing about Doodles and believes that dogs can teach humans more about how to live than humans can teach a dog.
Why Trust We Love Doodles?
At We Love Doodles, we're a team of writers, veterinarians, and puppy trainers that love dogs. Our team of qualified experts researches and provides reliable information on a wide range of dog topics. Our reviews are based on customer feedback, hands-on testing, and in-depth analysis. We are fully transparent and honest to our community of dog owners and future owners.