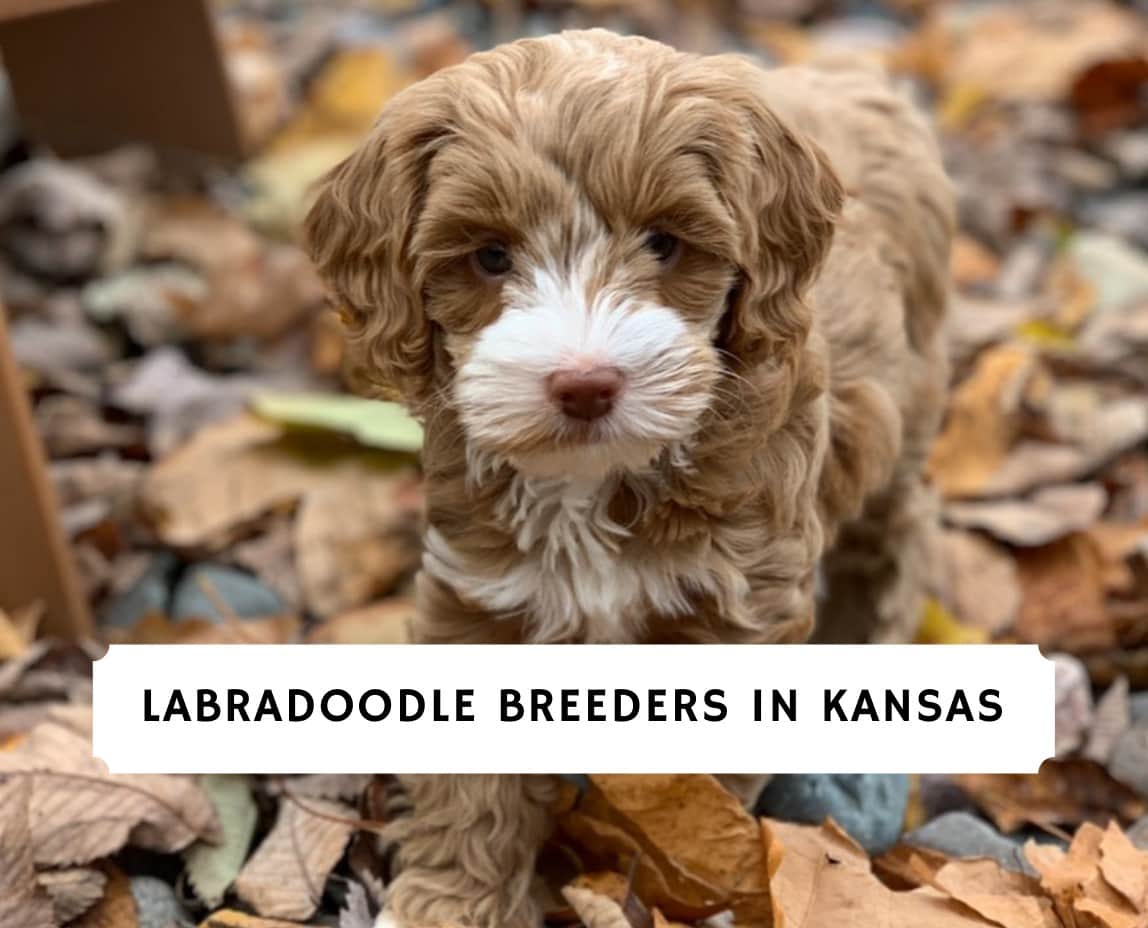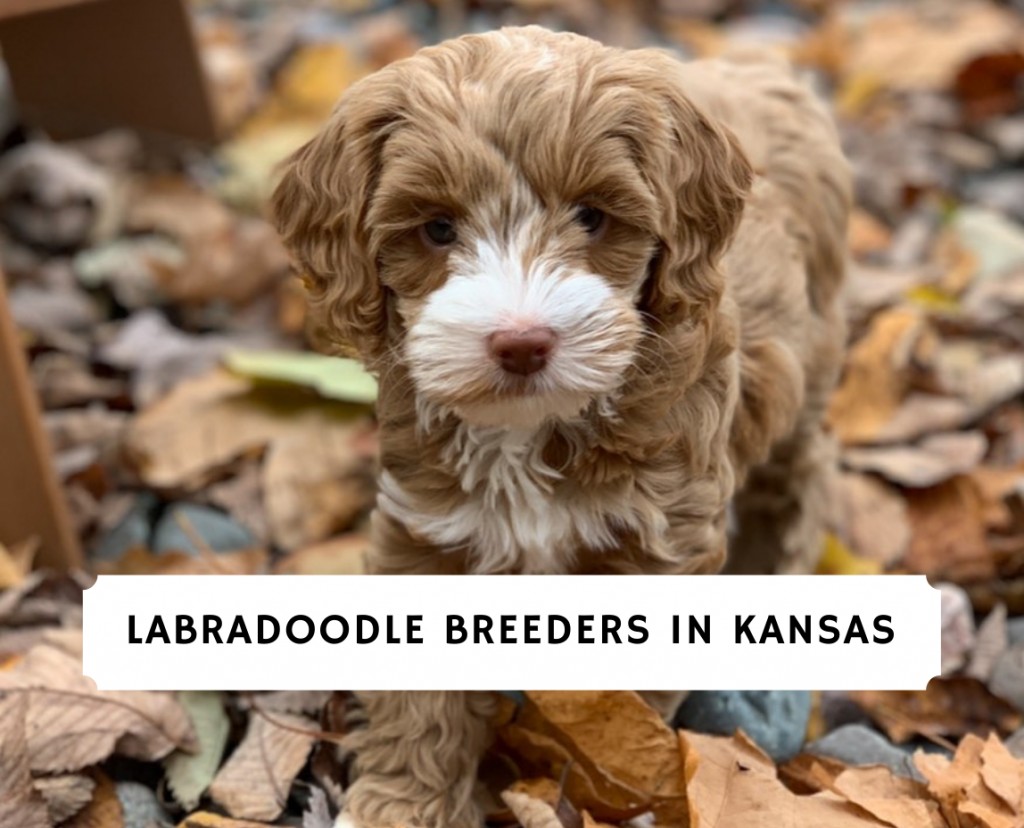 Do you live in Kansas and want to add a dog to your family? Alternatively, maybe you are looking for a dog that will be your best friend and cuddle buddy? Labradoodles are beautiful and affectionate dogs that would be a great addition to any family. They have a very easygoing temperament and get along well with strangers and children. In addition, Labradoodles have extraordinary genetic traits in that they are typically hypoallergenic and nonshedding. This means that you won't have to worry about pet allergies or vacuuming your floors!
If you have recently decided that a Labradoodle puppy in Kansas is for you, you might be a bit overwhelmed by all the information available. There are many options to adopt a Labradoodle, including breeders all across the state and country. It is important to get your puppy from a reputable Labradoodle breeder to ensure a healthy and well-behaved dog.
Below is a list of reputable Labradoodle breeders in Kansas who can help provide you with a perfect little puppy. If there was a breeder who looked like a puppy mill or backyard breeder we did not include them on our list. However, we always recommend that you reach out to any potential breeder and ask them questions before you put a deposit down for a Labradoodle puppy. You want to ask questions about their personality, temperament, health testing, genetic testing, and develop a sense of trust.
Other articles you would like: Best Crate for a Labradoodle and Best Dog Food for a Labradoodle.
1. Siess Ranch Labradoodles Kansas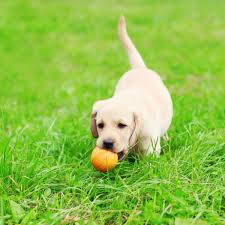 The Siess Ranch has been breeding dogs for over 15 years including Labradoodle puppies. The family breeds Labradoodles, English Bulldogs, and Labrador Retrievers. The family began their breeding business 15 years ago when they bred their very own Labrador and Toy Poodle. For what it's worth, they are one of the oldest Labradoodle breeders in Kansas that we could find.
They have bred F1B, F2B, and F3B generations of Labradoodles since beginning their journey. If you're not familiar with the various Labradoodle Generations then please read our article. This essentially means that the Labradoodles they breed can vary in size, color, and coat depending on the generation. Potential applicants are encouraged to contact the Siess Ranch to discuss what size and color of Labradoodle puppy in Kansas they are interested in so that they can be contacted when puppies fitting this description are born.
Siess Ranch Labradoodles does not start a waiting list for puppies until they are born. They will keep interested customers up-to-date on new litters when they are born so that people can begin applying to adopt the puppies. Potential adopters must provide the Siess Ranch with references, which will be called to ensure that puppies are going to suitable homes. They truly want the best for their Labradoodle puppies in Kansas and don't want any of them to end up in rescues or shelters.
All puppies that are born at the Siess Ranch are given high-quality dog food to ensure that they are healthy. Additionally, the Siess family begins to train their Labradoodle puppies from a young age so that when you come to pick up your new puppy, it already has learned some manners.
So, if you live in Kansas and are looking for a Labradoodle puppy for sale, check out the Siess Ranch to see if they have a new addition for you!
Labradoodle Breeder Information
Website: Siess Ranch Labradoodles Kansas
Address: 2406 State Highway 63, Seneca, KS 66538
Email: Fill-out the form on their website to be contacted via email
Telephone: (785) 294-0209
Labradoodle Puppy Information
F1, F1B, F2B, F3B Labradoodle generations
Miniature Labradoodle puppies (may vary slightly in size)
2. Diamond Country Dogs Kansas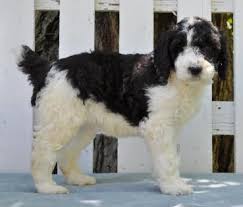 A notable personality trait of Labradoodles is the affection and good nature that comes from the Labrador Retriever genes. At Diamond Country Dogs, they make extra certain that you will receive a nice and well-socialized puppy.
Diamond Country Dogs, located in Northern Kansas in Belleville, is a family-oriented farm where they introduce their Labradoodles puppies to people before being adopted. This guarantees that these puppies will grow into well-socialized dogs. Socializing their Labradoodle puppies helps to ensure that they will transition more easily to their forever homes with less stress and anxiety.
Diamond Country Dogs exclusively breeds Labradoodles, Goldendoodles, and Miniature Doodles. So they have lots of experience with Poodle mixes and can help you answer all your questions. When born, each Labradoodle puppy is registered with the American Canine Hybrid Club, a national registry specifically for hybrid dogs.
Occasionally, the organization has purebred puppies available (such as Poodles and Golden Retrievers). These puppies are always registered with the American Kennel Club (KC), which is the highest pedigree purebred dog registry in America. 
You can find a list of the dams and sires they currently have at their farm on their website. With each new litter of Labradoodle puppies, the website tells you who the sire is and who is the dam. This gives you a good idea of what size and color your Labradoodle puppy will be. They have the standard, medium, and miniature Labradoodles available so it is good to contact them and discuss what you are looking for.
On the website, you can find the planned litters and their expected delivery date. If you are interested in one of their planned Labradoodles puppies in Kansas, you can contact Diamond Country Dogs and put a puppy on hold.
There is a $100 deposit needed to hold one of their Labradoodle puppies for you. Each puppy has a 1-year health guarantee, is up-to-date on 4 to 6 weeks worth of shots, dewormed, and has its dewclaws removed before being brought home to its new family.
If you live in Kansas and are interested in adopting a Labradoodle puppy, Diamond Country dogs can help you find your perfect fit!
Labradoodle Breeder Information
Labradoodle Puppy Information
F2B Generation Labradoodle puppies
Standard, Medium, and Miniature Labradoodle puppies
3. KC Labradoodles
KC Labradoodles are located on the Kansas and Missouri state line, catering to people in and around both states. This organization focuses on breeding Labradoodle puppies and miniature and standard sized Bernedoodles, and Double Doodles (a mix between a Goldendoodle and a Labradoodle).
KC Labradoodles are very conscious of how many litters a specific dog can have. They pride themselves on the quality and care given to their dams, sires, and the Labradoodle puppies that they have together. This business is kept small to ensure that every dog in their care is being well-cared for.
This breeder is located on a clean and spacious acre of land where the dogs can run and play with the family. The Labradoodle puppies will be socialized before adoption as they are often around the family, including children of varying ages. Each puppy in the care of KC Labradoodles is fed high-quality dog food to ensure that they receive the required nutrients to grow into healthy dogs.
If you are interested in adopting a puppy from KC Labradoodles, you can browse their upcoming litters on their website. If there is a litter that appeals to you then send them an email to join the waiting list. You must put down a small non-refundable fee before being added to the waiting list. This deposit indicates that the puppy is sold which helps to ensure only serious applicants are considered.
Every litter of puppies at KC Labradoodles is kept for at least six weeks. This is to ensure the health of the puppy and that they don't leave their parents too early. They also assess for temperament during this time to have an accurate picture of what puppy is best for you.
After the six weeks, families who are highest on the list are contacted to choose their puppy. All puppies can be picked up after eight weeks, ensuring that they are properly weaned from their mothers. KC Labradoodles does not ship puppies, so all puppy pickup must be done in person.
All KC Labradoodle puppies have their dew claws removed, are given their first round of vaccinations, are given a veterinary visit, and come with a small bag of dog food and training tips. KC Labradoodles is a great place to find the right Labradoodle for your family!
Labradoodle Breeder Information
Website: KC Labradoodles
Address: Kansas City (Kansas and Missouri state line)
Email: Send a message on Facebook for more information.
Telephone: (816) 510-6215
Labradoodle Puppy Information
How to Choose a Labradoodle Breeder in Kansas
Choosing a Labradoodle breeder in Kansas will depend on what you are looking for and how far you are willing to travel to get your puppy. Some breeders deal exclusively with miniature Labradoodles, while some breeders have the larger standardized Labradoodles. Sometimes breeders do not have all sizes available at one time. In addition, some breeders may have different Labradoodle colors that you may be picky about. However, since this is a crossbred dog, it's difficult to accurately predict the size and weight.
You may have also noticed that a lot of breeders do not focus exclusively on Labradoodles and may also have Bernedoodles (Bernese Mountain Dog/Poodle mix), Goldendoodles (Golden Retriever/Poodle mix), and Australian Labradoodles (Labrador Retriever/Poodle/Cocker Spaniel mix).
All these dogs make great companion pets, so keep an open mind when contacting breeders with multiple breeds available. It is a good idea to check out a couple of these breeders to ensure that you find the perfect dog for your family!
Conclusion for Labradoodle Breeders in Kansas
Labradoodles are extremely intelligent, friendly, and playful. It doesn't hurt that Labradoodles are also absolutely gorgeous dogs with nonshedding and hypoallergenic coats. Inviting a Labradoodle into your family will ensure that you always have a companion that will love you unconditionally.
If you have any questions about a potential doodle, reach out to any of these Labradoodle breeders in Kansas. Breeders are happy to educate people about their dogs to know that their puppies will be part of the best families. So, if you live in Kansas and are interested in adopting a Labradoodle, contact one of these breeders today and get started on welcoming your new best friend!
Check out these other articles:
Garrett loves animals and is a huge advocate for all Doodle dog breeds. He owns his own Goldendoodle named Kona. In addition, he volunteers at the Humane Society of Silicon Valley, where he fosters dogs and helps animals. Garrett enjoys writing about Doodles and believes that dogs can teach humans more about how to live than humans can teach a dog.
Why Trust We Love Doodles?
At We Love Doodles, we're a team of writers, veterinarians, and puppy trainers that love dogs. Our team of qualified experts researches and provides reliable information on a wide range of dog topics. Our reviews are based on customer feedback, hands-on testing, and in-depth analysis. We are fully transparent and honest to our community of dog owners and future owners.