Basset Hounds lead an enviable life, enjoying extended periods of rest. Even after a good night's sleep of 10 to 12 hours, you might still find your dog peacefully dozing in the warm sunbeams or lounging on the couch during the day. So, how long is your Basset hound sleeping?
Unlike humans, dogs have unique sleep patterns, so it's natural to wonder about the sleeping habits of Basset Hounds. On average, adult Basset Hounds tend to sleep approximately 14 to 16 hours daily. However, Basset Hound puppies require even more sleep, typically 16 to 18 hours daily.
Before you read this guide, check out these other articles: Where Can You Find Basset Hound Puppies for Sale Under $500? (2023) and 9 Best Basset Hound Rescues in the United States! (2023).
Why Do They Sleep So Much?
The Basset Hound requires a significant amount of sleep among different dog breeds. With their medium-to-large size, Bassets typically sleep up to 16 hours daily.
In the past, Basset Hounds were for their hunting abilities. These dogs would actively assist their handlers in tracking down and flushing out small game animals like rabbits and hares from their burrows. During hunting expeditions, their focus on sleep would naturally decrease as they had a crucial role to fulfill.
Today, Basset Hounds have predominantly transitioned into companion animals and beloved house pets. Without the demands of a specific job, most Bassets spend most of their time dozing, except for mealtimes, walks, and play sessions with their human companions.
What Affects Your Basset Hound's Sleep?
Various factors can influence the sleeping requirements of your Basset Hound. Consider the following elements that may contribute to their sleeping habits:
Health
The overall health of a Basset Hound plays a significant role in determining its sleep duration. Various health conditions, such as joint problems, urinary infections, systemic infections, metabolic diseases, pain, itching, skin issues, heart-related conditions, and coughing, can disrupt Basset's sleep and keep them awake.
Surroundings
The environment and surroundings in which your dog resides significantly influence the quality and quantity of their sleep.
If you live in a noisy area with disruptive sounds like fireworks, construction noise, or heavy traffic, or if your home frequently hosts gatherings and guests, your dog may remain vigilant and experience a decrease in their regular sleep patterns.
However, your Basset Hound should resume a regular sleep schedule once the situation returns to normal.
Physical Activity
Your Basset Hound's activity and exercise level directly impacts its sleep duration. When you provide your Basset with 45 to 60 minutes of daily exercise, they will likely experience longer and deeper naps during daytime and nighttime.
It's crucial to continue walking and exercising your senior Basset as long as your veterinarian has approved it. Even in their golden years, old dogs can suffer muscle atrophy without regular exercise. Therefore, it is essential to maintain your dog's daily exercise routine to ensure their well-being.
REM Sleep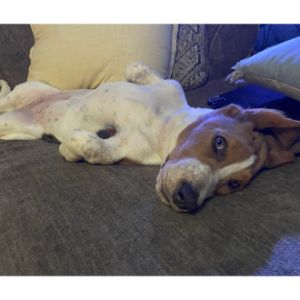 REM sleep, which stands for rapid eye movement, is crucial in determining the duration of your Basset Hound's sleep. Both REM and non-REM sleep cycles contribute to their overall sleep patterns.
Like other dog breeds, Basset Hounds do not sleep continuously for long stretches. Instead, they tend to take short naps. This characteristic suggests they have fewer hours of REM sleep and are considered light sleepers.
The faster and lighter REM sleep phases contribute to their tendency to take frequent naps while allowing them to quickly regain alertness upon waking up.
Age
The age of your Basset Hound is one of the most significant factors influencing their sleep duration. Basset puppies and senior Bassets sleep approximately 16 to 18 hours daily, while the average adult Basset typically sleeps around 15 hours daily.
Veterinary experts emphasize that puppies require a minimum of 16 to 18 hours of sleep to support their growth and development.
As your Basset puppy reaches the age of one year, their sleep patterns will naturally shift, and they will sleep less. Experts recommend that adult Bassets, aged one to eight years, should ideally receive between eight to 14 hours of sleep to maintain their happiness and overall health.
Older dogs, especially senior Bassets aged ten years and above, may appear to sleep more frequently. However, veterinarians ensure that this is normal behavior. Your furry companion is simply making things more accessible, and as long as they are eating and engaging in regular exercise, there is no cause for concern.
How Can You Improve Your Dog's Sleep?
To ensure that your Basset Hound sleeps well and sufficiently, specific "sleep essentials" are required. These essentials include:
Cater Health Issues
You can address most sleep-related issues in your Basset Hound by prioritizing the three sleep essentials mentioned above.
However, if you observe that your Basset is consistently sleeping significantly more or less than the recommended hours or if there are notable deviations from their regular sleep habits, it's advisable to consult with your veterinarian. They can provide further guidance and insights into your buddy's sleep patterns and overall health.
Provide a Comfortable Bed
Senior Bassets experiencing joint issues can find relief and comfort with orthopedic memory foam beds specially designed to be gentle on their joints.
Offering your dog a warm heating pad or a bed with heat retention properties can help them stay cozy and snug during the winter. Conversely, in the warmer months, cooling pads or elevated beds can prevent your Basset from becoming overheated and enable them to sleep more comfortably, avoiding excessive sweating caused by the oppressive heat.
Calm Environment
Communicating with your children and teaching them not to disturb your dog while asleep is essential to ensure uninterrupted sleep for your Basset Hound. Whenever feasible, designate a quiet sleeping area for your dog in a secluded part of the house.
Consider crate training your Basset puppy as an option. Crate training provides a safe and secure environment for your puppy to sleep soundly and assists in potty training endeavors. A designated crate lets your puppy establish a consistent routine and feel more comfortable during sleep.
Better Exercise
Finding the right balance of exercise is crucial for ensuring your Basset Hound can sleep adequately. Both excessive and insufficient exercise can impact their sleep patterns. Giving your dog a minimum of 45 to 60 minutes of exercise is best, which can be divided into two or three shorter sessions if needed.
Regular exercise is essential for your Basset's physical well-being and contributes to their mental health. For further insights into the exercise needs of Basset Hounds, you can explore our informative article on the topic.
Frequently Asked Questions
Why do basset Hounds like to sleep on their back?
Like many other dog breeds, Basset Hounds may sometimes sleep on their backs for various reasons. Here are a few possible explanations for why basset hounds, in particular, may exhibit this behavior:

Comfort

Sleeping on their backs allows Basset Hounds to stretch out and relax, providing an entirely comfortable position. It will enable them to expose their bellies, which are often sensitive and vulnerable, indicating that they feel safe and secure in their surroundings.

Temperature regulation

Sleeping on their backs helps Basset Hounds regulate their body temperature. Since their bellies have less fur compared to their backs, exposing their bellies to the more excellent surface below can help them stay calm during warm weather.

Trust and vulnerability

When dogs sleep on their backs, it demonstrates confidence and vulnerability. It indicates they feel safe and secure in their environment and are not worried about potential threats. Basset Hounds are generally known for their friendly and laid-back nature, so they may feel comfortable enough to sleep in this exposed position.

Easy access to scratching

Basset Hounds have long bodies and relatively short legs, making it challenging to reach certain areas of their bodies for scratching. Sleeping on their backs may provide easier access for them to scratch their bellies or other itchy spots using their paws.
How many hours do Basset Hound puppies sleep?
Basset Hound puppies, like most puppies, tend to sleep a lot of time. On average, Basset Hound puppies can sleep 18 to 20 hours daily. However, it's important to note that the exact number of hours can vary depending on the individual puppy and various factors such as age, activity level, and overall health.

Puppies have high-energy bursts followed by periods of rest and sleep as they grow and develop. Their bodies and brains are actively growing and maturing during this time, so they require plenty of sleep to support their development. As they age and their energy levels stabilize, they may gradually reduce the rest they need.

It's essential to provide Basset Hound puppies with a quiet, comfortable sleeping area to rest undisturbed. Puppies also benefit from a routine that includes playtime, socialization, and mental stimulation to help balance their sleep-wake cycles. If you have concerns about your Basset Hound puppy's sleep patterns, it's always a good idea to consult a veterinarian for guidance and advice.
Can Basset Hounds sleep outside?
Basset Hounds are not typically well-suited to sleeping outside. Basset Hounds have short coats and a low body fat percentage, which makes them sensitive to extreme temperatures. They are prone to heat exhaustion and heatstroke in hot weather and can suffer from hypothermia in cold weather.

Additionally, Basset Hounds are known for their affectionate and social nature. They thrive on human companionship and are prone to separation anxiety if left alone for extended periods. Sleeping outside, away from their family, can be stressful for them and negatively impact their well-being.

If you have a Basset Hound, it's generally best that they sleep indoors to be part of the family. They should have a comfortable and designated sleeping area indoors, such as a crate, dog bed, or a specific room with their bedding. That helps provide them with a secure and cozy environment and promotes their overall happiness and well-being.

However, it's important to note that short periods of supervised outdoor time for exercise and play benefit Basset Hounds as long as you take appropriate precautions to ensure their safety and comfort.
Conclusion for "How Long Do Basset Hounds Sleep

"
Basset Hounds naturally tend to sleep, requiring ample rest to maintain their health and well-being. Health, surroundings, physical activity, REM sleep patterns, and age can influence their sleep duration.
You can improve your Basset Hound's sleep by addressing health issues, providing a comfortable bed, creating a calm environment, and ensuring adequate exercise.
Remember that each Basset Hound is unique, so it's essential to observe their needs and consult a veterinarian if you have any concerns. While Basset Hounds may enjoy sleeping on their backs, providing them with safe and cozy indoor sleeping is necessary.
If you find this guide, "How Long Do Basset Hounds Sleep," helpful, check out:
Learn more by watching "Basset Hound Pros And Cons | The Good AND The Bad!!" down below:
Garrett loves animals and is a huge advocate for all Doodle dog breeds. He owns his own Goldendoodle named Kona. In addition, he volunteers at the Humane Society of Silicon Valley, where he fosters dogs and helps animals. Garrett enjoys writing about Doodles and believes that dogs can teach humans more about how to live than humans can teach a dog.
Why Trust We Love Doodles?
At We Love Doodles, we're a team of writers, veterinarians, and puppy trainers that love dogs. Our team of qualified experts researches and provides reliable information on a wide range of dog topics. Our reviews are based on customer feedback, hands-on testing, and in-depth analysis. We are fully transparent and honest to our community of dog owners and future owners.