When you adopt or purchase a dog, you are committing to a lot of responsibility. Owning a dog is a lot like having a child. While they are very different experiences, you are responsible for a life. What happens to the dog reflects on you as an owner. You should never get a dog if you are not capable of taking care of it.
We have no doubt that the majority of you reading this are prepared for the responsibilities that come with taking care of a dog. However, you cannot know what to expect until you own the dog. As a result, you need to figure out what dog to get. A Golden Labradoodle is an interesting option for several reasons.
Golden Labradoodles are very popular among younger people as they are cute and playful. However, there are some downsides to owning a Golden Labradoodle. Do not fret—we will take you through the pros and cons of Golden Labradoodles. When you are done reading, you should be able to figure out whether it is a good option for you.
Other articles you would like: Labradoodle Colors Guide and Best Double Doodle Breeders.
What Is a Golden Labradoodle?
Also known as Double Doodles, Golden Labradoodles is a mix between:
Because of this hybrid combination, not all Golden Labradoodles have the same physical traits and personalities. However, they are all perfect for families with kids or first-time dog owners, as they tend to be protective yet playful and gentle.
Golden Labradoodle Pros
We do not want to start on a negative note, so we will look at the pros first. Here you can read about everything positive about owning a Golden Labradoodle. Golden Labradoodles are good dogs, and as a result, they are solid options for first-time dog owners and families.
They Are Hypoallergenic
Unfortunately, many people cannot adopt dogs because of their allergies. One of the most common allergies is to dogs and cats. However, most people are not affected by their allergies throughout the year. They are mostly affected by the hair of the dog when they shed. Golden Labradoodles are good options for people who are allergic to dogs.
You might think that it makes no sense that one dog triggers allergies less than another, but that is the case. Golden Labradoodles shed much less than other dogs. As a result, there is less fur floating around, which causes dog owners to have fewer allergic reactions. It is for that reason that people say Golden Labradoodles are hypoallergenic.
However, it is crucial to note that being hypoallergenic does not mean you cannot be allergic to a Golden Labradoodle. Everyone has different severities of allergies, and as a result, some people will still react poorly to dogs that do not shed much.
Additionally, dogs that are considered hypoallergenic are fantastic for people with asthma and eczema. Dogs that do not shed much do not exacerbate the symptoms of those conditions. You can also let your dog sleep with you if it does not shed much.
Another thing to consider is the type of coat of fur your dog has. Golden Labradoodles can have curly, wavy, or straight fur. The curlier it is, the less the dog will shed. So, if you have a Golden Labradoodle with curly or wavy fur, it will shed less than a Golden Labradoodle with straight fur.
They Have a Good Temperament
When you get a dog, it can feel like a lottery when it comes to its temperament. Some dogs are angels that never do anything wrong, and others bite at your ankles any chance they get. However, dogs of the same breed tend to have similar temperaments. Fortunately, Golden Labradoodles tend to have a good temperament.
Golden Labradoodles are sweet dogs with gentle spirits. They love adventure, but they are gentle giants. They do not get too aggressive when they play, so you can trust them around kids. Additionally, you should be happy to hear that Golden Labradoodles love to cuddle.
Another benefit of getting a Golden Labradoodle is they love to spend time outside. So, if you like to go on runs, hikes, or walks, you can bring your Golden Labradoodle.
They Are Easy To Train
Training a dog is a lot of work, and as a result, you need to be ready for that challenge when you get a dog. Fortunately, Golden Labradoodles are among the smartest dogs in the world. As a result, they are easier to train, and they are happy to please. Potty training should not be a challenge, and they pick up basic commands very quickly.
They Come in Many Different Colors
Some dog breeds have a narrow range of colors for you to choose from, but that is not the case. That might be surprising to hear for dogs called Golden Labradoodles, but they are not all golden.
The most popular Golden Labradoodle colors are gold and cream, but there are other colors. For example, you can get a black, chocolate, or tan Golden Labradoodle.
They Come in Many Different Sizes
People often choose breeds because of the size of the dog. Some people prefer large dogs, others want small dogs, and some want something in between. Most Golden Labradoodles are medium-sized dogs, weighing 50 to 80 pounds. You can get your Golden Labradoodle puppy and watch it grow to full size. However, there are smaller options that grow to around 40 pounds.
They Live a Long Time
Compared to cats, dogs tend to live shorter lives. Notably, large dogs tend to have especially short lives. Unfortunately, it is rare for large dogs to reach 10 years of age. However, Golden Labradoodles tend to live longer than most large dog breeds. If you take care of them, get them exercise, and feed them a balanced diet, there is no reason a Golden Labradoodle cannot live for 12 to 15 years.
They Do Not Bark Much
Some dog breeds have problems with barking. You can leave them out in the yard, and they will bark at everyone person that goes by. Fortunately, Golden Labradoodles do not bark much. They will only bark when provoked, feel they are in danger, or are anxious about something.
It Is Easy To Find Golden Labradoodles
The final benefit of getting a Golden Labradoodle is you should not have any trouble finding one. They are available in most major cities. Additionally, the number of Golden Labradoodles available means the price goes down.
Golden Labradoodle Cons
Unfortunately, every dog has its cons, and Golden Labradoodles are no different. There are downsides to getting a Golden Labradoodle, and we will take you through them here.
They Require a Lot of Grooming
One unfortunate reality of owning a Golden Labradoodle is you need to groom them regularly. All dogs need you to groom them every once in a while, but Golden Labradoodles are much higher maintenance. The curlier the hair, the more you need to brush them.
Additionally, Golden Labradoodles with curly and wavy hair need to be trimmed every six to eight weeks. Not only is this a hassle, but it costs a significant amount of money. So, if you cannot afford to spend extra money on your dog, you should consider purchasing another breed.
Mixes Are Hard To Predict
Another thing to consider is the fact that it is hard to figure out exactly what type of dog a Golden Labradoodle is. If it is not a pure breed, it will have mixtures of Poodles, Golden Retrievers, and Labrador Retrievers in it. A typical Labradoodle Golden Retriever mix should be 50% Poodle, 25% Golden Retriever, and 25% Labrador Retriever to get what is traditionally considered a Golden Labradoodle.
However, dogs will inherit different traits, and as a result, a Golden Labradoodle can act more like a Poodle than a Golden Retriever. Unfortunately, it is not possible to predict how they will act.
They Need To Stay Active
Depending on how you live your life, this can be a pro or a con. Golden Labradoodles need to spend a lot of time moving around. They love physical activity and playing outside. So, if you are a runner, you will not have much trouble taking care of a Golden Labradoodle. However, if you are not an active person, you might have trouble keeping up with your new puppy.
Typically, Golden Labradoodles should get at least an hour of exercise every day. That is enough time to keep them healthy and avoid boredom. Walks are not always enough, as they need time to run around.
Golden Labradoodles Need a Lot of Attention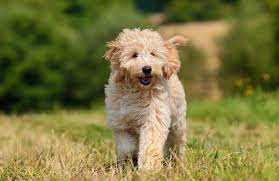 One thing to remember about Golden Labradoodles is they need a lot of attention to thrive. They are social dogs, and as a result, they will become depressed if you do not keep them entertained throughout the day.
Your dog will get antsy if no one is home throughout the day. This can lead to your Golden Labradoodle breaking things in your house. As a result, many people hire dog walkers for the middle of the day if they cannot come home.
They Can Have Many Health Issues
No one wants to see their loved ones or pets sick, but that is almost unavoidable with a Golden Labradoodle. They are healthy under normal circumstances, but as they age, they experience several health issues.
Notably, Golden Labradoodles get joint problems as they approach age 10. Additionally, they can experience:
Eye disease
Genetic heart conditions
Addison's disease
Digestive issues
The best way to prepare is to ask your breeder to test them before you adopt them. Knowing what type of diseases they are predisposed to can help you prepare for them before they happen.
Golden Labradoodles Are Often Bred Unethically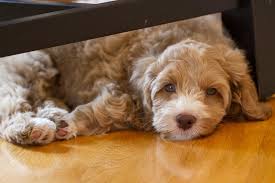 Many dog breeders take good care of their animals but often foster bad breeding environments. Doodles of any kind are at the top of the list in terms of likeness to come from backyard breeders. They are so popular that puppy mills take advantage of this factor and sell them for a lot of money.
Always do your research before you purchase a dog from a dog breeder. Look into their breeding practices, read reviews, and see if they keep their dogs in healthy living areas. Finally, you should look closely at the contract they give you before you sign.
Golden Labradoodles Are Very Expensive
We touched on this a few times above, but the costs of owning a Golden Labradoodle get very high. Depending on where you live, they can cost up to $5,000. Even the cheapest options usually do not sell for less than $1,000. However, the higher prices are usually for smaller dogs in rare colors.
We also want to reiterate that it costs more to take care of these dogs than other breeds. They need regular grooming, which may put a dent in your expenses. You also need to remember that as they age, you will need to spend more on their pet insurance and treatment.
Are Golden Labradoodles Good Dogs?
After reading through the cons, you might be worried about getting a Golden Labradoodle. However, remember that there are several pros to purchasing one of these dogs too. They are very loyal, loveable, and friendly dogs. They are great around kids, and you should not have many problems training them.
It is true that they are expensive and experience health issues later in life, but that does not mean you cannot get them. Every dog breed has its problems, so you need to prepare no matter what dog you adopt or purchase. As long as you provide them with a loving home, your experience with your new dog will be good.
Conclusion For What Is a Golden Labradoodle? Pros and Cons!
Owning a dog is a lot of work. When you get a dog, you are committing to take care of it for the rest of it's life. Fortunately, Golden Labradoodles are great dogs for people who have not owned a dog before. They are loving, friendly, and great around kids.
Check out our video on double doodes to learn more about the Golden Labradoodle:
Garrett loves animals and is a huge advocate for all Doodle dog breeds. He owns his own Goldendoodle named Kona. In addition, he volunteers at the Humane Society of Silicon Valley, where he fosters dogs and helps animals. Garrett enjoys writing about Doodles and believes that dogs can teach humans more about how to live than humans can teach a dog.
Why Trust We Love Doodles?
At We Love Doodles, we're a team of writers, veterinarians, and puppy trainers that love dogs. Our team of qualified experts researches and provides reliable information on a wide range of dog topics. Our reviews are based on customer feedback, hands-on testing, and in-depth analysis. We are fully transparent and honest to our community of dog owners and future owners.