Choosing a name for your new dog can be fun, but it can be challenging to pick a name that perfectly captures your canine's personality. Many dogs have fiery personalities, and it makes sense you would want a name to match. Maybe you have a red dog and want a name that captures its appearance.
There are many different types of fire-related names from which you can choose. Maybe you want a name inspired by firefighters, fiery characters, or fire itself. Whether you are looking to name a fire dog or are just using fire as general inspiration, these names are sure to help you find a name for your best friend. Read on if you are on the lookout for fiery monikers for pets.
Another article you would like: Hippie Dog Names!
Dog Names Related to Fire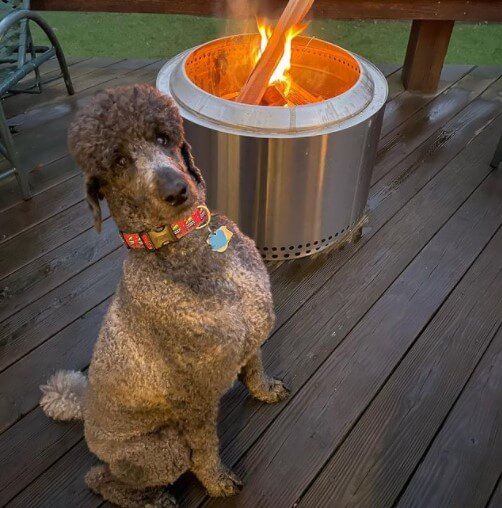 Here are some dog names that generally relate to fire. Some evoke moments in history that were scorched by fire, while other titles relate to components or types of fire.
Ash – This fire-inspired dog name can be great for a blonde or gray puppy.
Chicago – Name your dog after the city that had a historical fire.
Steam – A simple name that evokes heat and water.
Kindle – Perfect for a dog that brings the heat.
Lightning – For the fast and striking puppy.
Match – Strike a match to get a flame.
Phoenix – A perfect name for a resilient, fiery canine.
Pyre – If your dog has a lot of fire, this name may be perfect.
Sear – A word used to describe heating the surface of something.
Starter – A fire can not happen without something to start it.
Summer – Name your puppy after the hottest time of year.
Tinder – Choose a name that evokes small things that make a fire.
Fierce Fire Names
When you choose to name your puppy after fire, you may want a name that captures the power of fire.
Blaze – A perfect name for a tough dog.
Brick – Name your puppy after this red building material.
Burn – Choose this name for your feisty pooch.
Burner – This name is a good choice for a Bernese mountain dog.
Dragon – This is a lovely name for a fire-breathing dog.
Fever – Pick this name for your hot dog.
Fire – Stay simple and name your canine after fire itself.
Flame – This is a name with more flair than other simple options.
Flash – Choose this name for the speedy hot dog.
Flint – Flint is a way to start a fire.
Inferno – Name your canine after this giant fire.
Lava – This is a beautiful name for a puppy that makes you erupt with happiness.
Torch – Pick this name for the dog that helps you see joy.
Cute Fire Names
Fire is complex, and it has many sides. While it can be fierce and powerful, it is also functional and beautiful. Capture that side of fire for your puppy with one of these names.
Char – This name may evoke something partially burned, but it is also rather cute.
Cinder – Choose this name for the adorable and beautiful puppy
Coal – Name your canine after this fire fuel.
Ember – This beautiful name will suit any mischievous but loving dog.
Flicker – Opt for this name if your puppy loves to run around.
Glow – If your canine is cute and radiant, give them this name.
Hearth – Your canine should help you feel cozy, much like a hearth.
Poppy – Name your puppy after this red flower.
Red – Choose this simple name for a dog who looks like a flame.
Reheat – A unique name for your goofy pooch
Shine – Assign this name to a puppy who stands out.
Smokey – Give your dog this name if they value fire safety.
Spark – Name your canine after a fiery bit.
Sparkles – This is a charming and fiery name for a puppy.
Check out for more: Boy Disney Dog Names! and Spiritual Dog Names That Are Good!
Fire Dog Names Female
If you have a lady dog, choose a namesake known for a fiery red color or other aspects of flame.
Autumn – Name your puppy for the blazing fall colors.
Barbie – Love barbeque? This name may be perfect for your dog.
Cinderella – Choose this name if your puppy is a little princess.
Daphne – Name your dog after this red-headed detective.
Lucy – Name your flame-haired pooch after this famous redhead.
Opal – This name evokes the fire opal.
Pippi – This is a cute and feminine name that brings to mind the beloved doll.
Ruby – Your puppy is a gem. So, call them the name of a fire-colored jewel.
Sandy – Bring to mind a beach bonfire with this name.
Fire Dog Names Male
Give your canine gentleman a name inspired by one of these fire-associated people or characters.
Archie – He is a popular, flame-haired comic book character.
Calcifer – Name your puppy after this cute fire character from Howl's Moving Castle.
Clifford – Pick a name that comes from a famous red dog.
Elmo – Whether you love the red monster or St. Elmo's Fire, this may be the name you are looking for.
Eric the Red – Choose this name if you love Vikings.
Nero – This figure is associated with fire, and he may be your dog's perfect namesake.
Van Gogh – A perfect name for the flame-haired artistic dog.
Firefighter Dog Names
Dogs are often an integral part of fighting fires. Honor these strong workers by giving your puppy a name relating to firefighting. This name is great if you are training a fire dog. However, they can work for even a civilian pooch.
Arson – Choose this ironic name for your firehouse dog.
Chief – Your pooch may as well have a name to show they are in charge.
Extinguish – Pick an off-beat fire-themed name for your puppy.
Flare – A perfect name for the bright, noticeable pooch.
Helmut – Name your dog after this vital tool used by firefighters.
Hose – This name is great for a puppy who helps extinguish fires.
Hydrant – This name comes from a fire hydrant.
Plug – A goofy name that echos a part of fire safety.
Siren – Choose this name for a loud dog.
Hot Food Names
If you can not decide between a food name or a fire name for your dog, choose a name that honors both. Some of these names make foods taste spicy, while others are popular items to cook with fire.
Cayenne – A charming name for a spicy pooch.
Chili – Choose this name if your puppy reminds you of spicy chili.
Cinnamon – Name your dog after this sharp and sweet spice.
Ginger – This is great for a red dog.
Marshmallow – Bring to mind this delicious roasted treat with this name.
Pepper – Pick a vibrant name for an equally lively dog.
Pinot – Name your dog after this flame-colored beverage.
Pumpkin – Choose this name for a cute, orange, or round puppy.
Sriracha – Your dog adds flavor to your life, and their namesake should too.
Toast – If you love breakfast food, this may be the name for you.
Warm Color Names
If you are looking for a fire-related name because of the color of your dog, these names may be perfect. These names are particularly apt for a red or orange dog.
Amber – Name your dog after this warm-colored resin.
Auburn – Pick this name for the flame-colored puppy.
Copper – Choose this name for a copper-colored pooch.
Crimson – This is a fancy name for a red dog.
Flamingo – Name your puppy after this flaming pink bird.
Scarlet – This name is great for a deep red dog.
Star Names
Stars are burning spheres of fire. So, it seems only correct to consider names relating to stars if you want to name your dog after fire.
Dawn – Pick a name for your dog that evokes the appearance of the sun.
Sirius – Name your canine after the dog star.
Sol – Choose to name your puppy after the sun.
Solstice – The time of year when the day is the longest.
Star – Name your dog after a giant ball of fire.
Stella – A name meaning star.
Sunny – A cute name for a happy dog.
Language Fire Names
Fire is of importance to many cultures around the world. As a result, all languages have words that describe aspects of fire. Many languages also have names for gods and goddesses of fire. Choose one of these names if you want to connect to a specific culture.
Adara – This name is Hebrew for fire.
Aka – The word for red in Japanese.
Alev – This word is Turkish for a flame.
Bedelia – A name for a Celtic goddess of fire.
Brando – This is Italian for a firebrand or sword.
Egan – A word that is Gaelic for little fire.
Electra – The Greek word for shining.
Gimli– A Norse word for fire.
Hestia – This is a Greek goddess of hearths and fires.
Lumiere – This word is French for light and is the name of a beloved Beauty and the Beast character.
Pele – The name of a Hawaiian goddess of fire.
Prometheus – A titan who gave fire to mortals in Greek mythology.
Ra – The name of an Egyptian fire god
Soliel – Name your canine after the French word for the sun.
Vulcan – The Roman god of fire.
Rojo – Choose this Spanish word for the color red.
Conclusion for Best Fire Dog Names
Find the perfect dog name is tough. We hope that you were able to find a fire name to name your dog! Always remember that you'll want to pick a dog name that is short, easy to pronounce, and doesn't sound like any of your closest friends and family. You'll be calling your dog's name a lot while training them so it's important to keep a name short and sweet.
You will also like: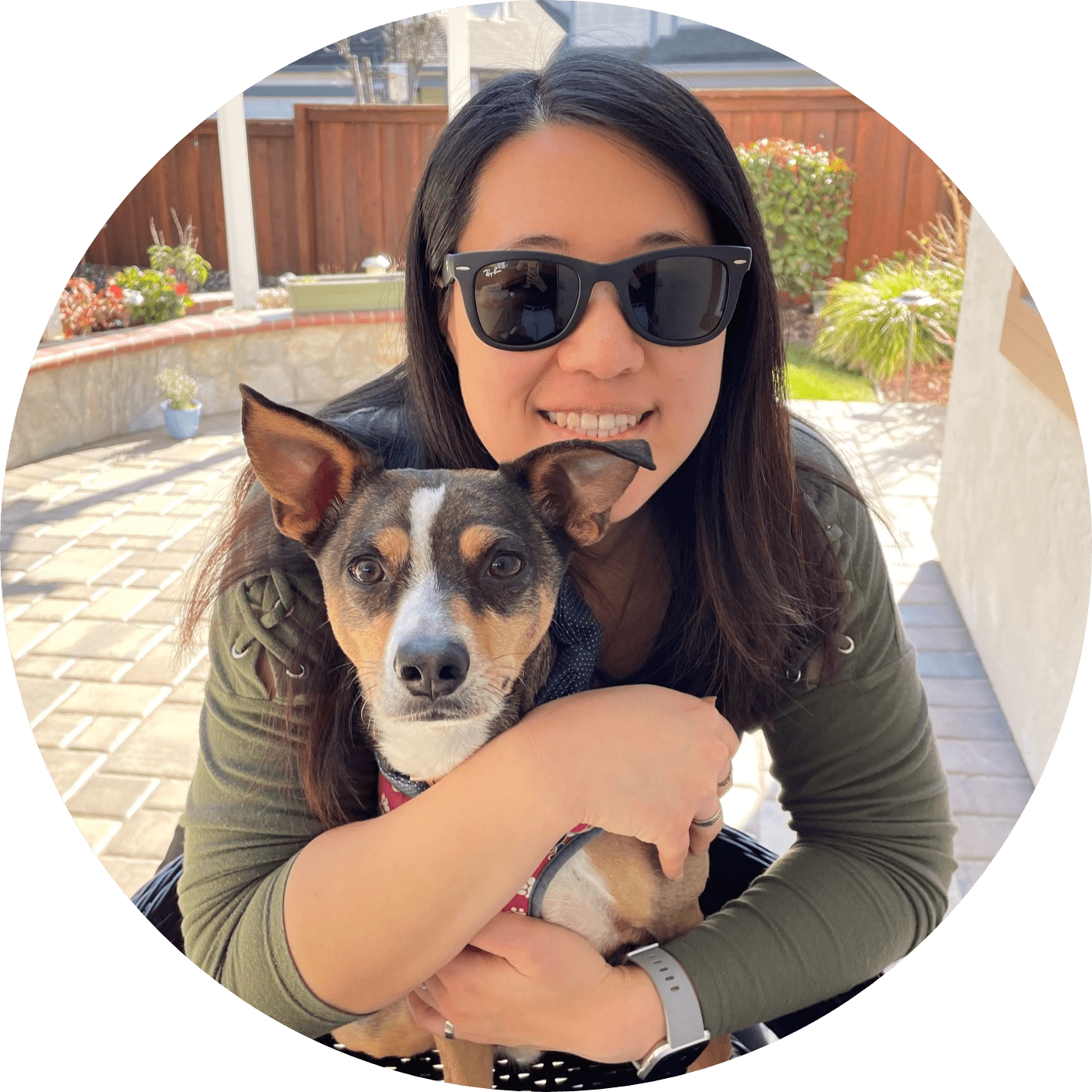 Dr. Sabrina Kong graduated from the Royal Veterinary College in England in 2016 and has been working at a small animal clinic in Northern California since then. She grew up in the Bay Area and got her bachelor's degree from Cal Poly San Luis Obispo. She also became a Certified Canine Rehabilitation Practitioner through a program at the University of Tennessee.
When she isn't in the clinic taking care of her four-legged patients, she enjoys traveling and trying new foods with her friends and her three-legged dog, Apollo. She adopted Apollo from her clinic when he was a puppy with numerous health issues. Dr. Kong truly cares about taking care of animals.