Exotic Bullies are a relatively recent breed. Most dog lovers are unfamiliar with them, so there's a lot to learn. We've assembled 11 intriguing facts about Exotic Bullies to bring you up to speed.
The Exotic Bully is essentially a smaller version of the American Bully. They have a whole host of health issues, and as such, there is a lot of controversy surrounding these dogs. Many animal activists claim their breeding is unethical.
Keep reading below as we take you through the most interesting facts about Exotic Bullies.
Before reading this list of interesting facts about Exotic Bullies, check out: Micro Bully Puppies for Sale – Top 4 Breeders! (2023) and Pocket Bully Puppies for Sale: Top 5 Breeders! (2023).
1. They Have Exaggerated Features
The Exotic Bully's massive build is one of its most distinctive characteristics. To begin, an Exotic Bully has a larger-than-average head for its body. It mirrors the skull's short, square, and broad profile.
Oval-shaped, multicolored eyes are a common feature of Exotic Bullies. Even their eyeballs are spaced far apart from one another. Their ears, meanwhile, are rose-shaped, average-sized, and typically placed high on their heads. You can leave them unaltered or have them trimmed.
They also tend to have big nostrils and a flat nose. Their snouts are short, broad, and deep. They are also quite wrinkly. They need a thick, broad neck to accommodate their enormous heads.
Its wide chest adds to its toughness. The bones in its front legs are huge and spherical, and its muscles are normally toned and straight. They're also quite far apart from one another.
Additionally, the coats of Exotic Bullies are both short and fairly stiff. They could also give the impression of having a slight sheen to them. You may get them in many different colors, including chocolate, white, black, and multicolored.
2. They Have Smaller Size and Weight
Exotic Bullies may look like American Bullies, but in reality, they are much smaller and lighter. However, their muscle tone and physique continue to be in fine shape.
Exotic Bullies can reach a maximum adult height of 13 inches. Their average weight ranges from 30 to 50 pounds. Although there may be variation in their actual sizes, it would typically fall within this range.
3. There Are "Clean" Exotic Bullies
The absence of any problems characterizes a "clean" Exotic Bully.
That is to say, it still has the typical appearance of an Exotic Bully, with the characteristic short and stocky build, exaggerated features, and other defining characteristics.
The only real difference is that this new strain is believed to be free of the common problems seen in the original, such as a flat head, a short snout, a weak jaw, an overshot or undershot bite, an abnormally short or long body, and a coat full of curly hair.
The clean Exotic Bully would have the following characteristics:
Its maximum height is around 13 inches.
The snout is less than two inches in diameter.
It has a compact but strong physique.
Its length is nearly as long as its height.
The clean bite and underbite are equally acceptable.
There is extreme muscle definition in the cheeks.
4. …And Micro Bullies!
The Exotic Bully and the Micro Exotic Bully are two distinct types of Bullies and are registered separately. The mini version is similar to the conventional breed in many ways, although it is significantly smaller. Despite its reduced size, it maintains toned muscles and oversized features.
Male Micro Exotics have a height of 13.5 inches or less, and female Micro Exotics have a height of 13 inches or less. The present standards will evolve and change as the breed and its breeders develop, as this category is still in the early stages of development.
5. They Aren't the Same as American Bullies
After half a decade of careful breeding, the traits and physical characteristics of these dogs finally began to differ to the point where kennel organizations classified them as two separate dog breeds.
The past few years have seen the American Bulldog officially recognized as a distinct breed due to the physical variations with its ancestors, the American, English, French, and Older English Bulldogs.
The United States Bully Registry has instituted a policy that states that Exotic Bullies are not allowed to have an appearance similar to American Bullies. The American Bully is a dog breed known for its sturdy build and moderate size.
They appear enormous in comparison to their diminutive stature, as they are stocky with a deep chest and tremendous upper body power. They have shiny, silky coats, large heads, and wide muzzles. Their ears are perked up either naturally or because they've had them clipped.
The Exotic Bully is a miniature version of the American Bully and shares its ancestry with that breed.
6. They Are Friendly
At first sight, an Exotic Bully can be intimidating, but in reality, they are highly sociable dogs. They are devoted pets that thrive on human interaction and adore cuddling up with their owners.
They get along well with people of all ages, especially kids. But you should avoid leaving them alone with children, as toddlers and preschoolers often test a dog's limits without realizing the danger.
If socialized from a young age, they also perform well with their canine companions. So, if you already have other pets, you can rest assured that your new Exotic Bully will fit right in with your family.
7. They're Pricey
The fact that Exotic Bullies are becoming more popular as a breed has led to an increase in their potential cost. Finding one that has been correctly bred can be challenging as well.
They often sell for anywhere between $5,000 and $10,000, although the price can go significantly higher or lower depending on the breeder, the pedigree, and the quality of the dog's ancestry.
This cost would cover everything from documentation and immunizations to health guarantees if you purchased an Exotic Bully from a trustworthy breeder.
However, before you welcome an Exotic Bully into your house, you need to be sure that you are financially ready to take care of the puppy's first needs.
8. The Breed is Controversial
It's true that the Exotic Bully has its ardent supporters, but it's also got its share of critics. People's primary complaint about this breed is that it has extreme characteristics, which arguably reduce the quality of life they can expect.
Some worry that their small legs and squished faces will make it hard for the dogs to move and breathe normally, as well as enjoy life as dogs, making them more susceptible to medical conditions.
The breed is not prohibited per se, but it is true that some health issues are more common and that many breeders are mainly interested in the financial rewards of dog ownership. Whether you're comfortable with it or would prefer a different breed is entirely up to you.
9. …Even though They Are Widely Recognized
Below are some registries that recognize the Exotic Bully:
The International Bully Coalition (IBC)
Established in 2016, the IBC is a relatively recent registration. The American Bully Exotic is included in its list of accepted Bully breeds. The International Bully Coalition's mission is to advance and safeguard the world's bully breeds.
The American Bully Registry (ABR)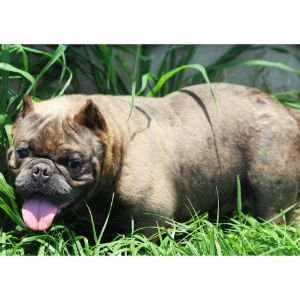 When it comes to American Bullies, no other registration compares to the ABR. Established in 2005, it classifies American Bullies into three categories: Standard, Pocket, and XL.
The US Bully Registry (USBR)
Established in 2017, the USBR is a recent registry. In addition to recognizing all other Bully breeds, it also acknowledges the American Bully Exotic. The United States Bully Registry is an organization that works to protect and expand the bully dog community across the US.
The International Bully Registry
In addition to the American Bully Exotic, the IBR also registers additional Bully breeds. Founded in 2016, its mission is to spread awareness of and support for Bully breeds around the world.
10. They Have Their Fair Share of Health Issues
The Exotic Bully is a developing breed, so not all of its characteristics have been finalized yet. However, Exotic Bullies are prone to greater health issues than many other types of dogs.
For these reasons, the exact length of an Exotic Bully's life is unknown. However, most experts agree that it is significantly shorter than the average dog's lifespan, and that those years are likely filled with pain and discomfort as a result of the dog's abnormally large and strong build.
Here is a rundown of some of the most typical health issues experienced by Exotic Bullies:
Back Issues
Dogs can't go around without a sturdy spine that supports their weight. If your Exotic Bully is experiencing back pain, it is possible that he or she will be unable to walk, stand, lie down, or exercise.
Hip Dysplasia
This condition is more common in larger dogs, and some develop it as they get older. Nevertheless, Exotic Bullies are prone to developing hip dysplasia, which can be identified by bending in both the front and back legs.
Joint Abnormalities
Joint disorders are a problem that frequently affects dogs. Your dog will experience this condition either as they get older or as they put on weight.
Brachiocephalic
Brachiocephalic is a condition that mostly affects Exotic Bullies and other flat-faced dog breeds.
Short-nosed dogs are more likely to have constricted airways, which can lead to a variety of respiratory issues. It is also a medical condition that has the potential to get worse over time, making it difficult to give affected dogs the right care.
Because of their short-nosed faces, Exotic Bullies are susceptible to overheating and do not function well in hot or humid weather. If you are thinking about buying a puppy, you should keep this in mind.
11. They Are Best for Experienced Owners
Exotic Bullies require a great deal of care. As such, they are best suited for experienced dog owners.
Below are some of the general requirements of caring for an Exotic Bully:
Diet and Food
Exotic Bullies need premium, protein-, and fat-rich diets. This is particularly important for young Exotics less than a year old. There are a lot of food options available; all you need to do is search for options that contain sufficient protein (at least 30 percent) and fat (at least 20 percent).
After the first year, you should only give your dog the amount that would keep them satisfied but prevent them from becoming overweight.
It is important to exercise caution and ensure you are only providing these dogs with the amount of food they require. Obesity will likely cause additional health issues.
Exercise and Training
Training your Exotic Bully is quite important, and you should get started on it as soon as your puppy arrives home. They need to be socialized, preferably both with other dogs and people.
They are naturally friendly, so they won't have any trouble interacting with humans or other dogs, provided they are introduced at a young age.
Because Exotic Bullies are moderately active dogs who occasionally have breathing difficulties, it's important not to overdo training sessions and give your dog plenty of time to recover.
Cleaning and Grooming
An Exotic Bully's grooming needs are uncomplicated. The short, smooth coats of Exotic Bullies are low maintenance. Since they never get tangled, a once or twice weekly brushing is sufficient.
If you give them a bath once every few months, that should be fine, too. In any case, you will have to give them baths in order to keep them clean if they become excessively dirty and smelly.
Like any other dog, you'll need to keep up with frequent nail trims for an Exotic Bully. You can do it yourself, or you can hire a groomer to handle it for you.
Frequently Asked Questions
What is the behavior of an Exotic Bully?
Despite their muscular build, Exotic Bullies are friendly, social, devoted pets.
How long do Exotic Bullies sleep?
An adult Exotic Bully will typically sleep for 12 to 14 hours per day.
How long do Exotic Bullies live?
The life expectancy of Exotic Bullies ranges from 10 to 12 years, but it can be as low as five to eight years for Micro Bullies.
Conclusion for "11 Interesting Facts About Exotic Bullies"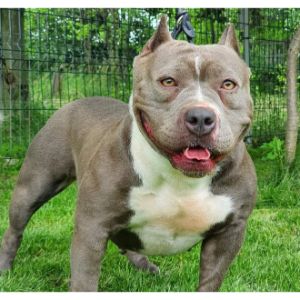 Exotic Bully breeders and dog lovers alike have taken an interest. This dog breed has a well-deserved reputation for determination, brawn, and bravery.
We hope you find this list of interesting facts about the Exotic Bully useful and informative.
If you enjoyed this list of interesting facts about the Exotic Bullies, check out:
Learn more by watching "The Exotic Bully – The Ultimate Guide to the Exotics" down below:
Garrett loves animals and is a huge advocate for all Doodle dog breeds. He owns his own Goldendoodle named Kona. In addition, he volunteers at the Humane Society of Silicon Valley, where he fosters dogs and helps animals. Garrett enjoys writing about Doodles and believes that dogs can teach humans more about how to live than humans can teach a dog.
Why Trust We Love Doodles?
At We Love Doodles, we're a team of writers, veterinarians, and puppy trainers that love dogs. Our team of qualified experts researches and provides reliable information on a wide range of dog topics. Our reviews are based on customer feedback, hands-on testing, and in-depth analysis. We are fully transparent and honest to our community of dog owners and future owners.