Bath time has the potential to be a fun, playful experience for children and puppies alike. So why do dogs hate baths so much?
Depending on your dog's breed, you may find yourself bathing your pup as much as weekly. Does it always have to be a fight? How can you get your dog to cooperate at bath time — or even enjoy himself?
In our guide, we'll look at why the struggle to bathe your dog is very real! Why are dogs so resistant to bath time, and what can you do to make the experience more pup-friendly?
Are you ready to get your dog as clean as a whistle? Here's an overview of what you can do to make scrubby time a positive experience for you and your dog.
Before reading this article, "Why Do Dogs Hate Baths: At-Home Tips and Tricks," check out: What Smells Do Dogs Hate? (2023) and Why Does My Dog Suddenly Hate His Crate? (2023).
Why Do Dogs Hate Baths: Common Reasons and Tips
Not all dogs hate bath time. Some of you have been blessed with dogs that absolutely delight in the water, shaking, splashing and frolicking as they get scrubbed clean.
But those of you who were not lucky enough to have adopted a dog that loves to play in the water, you may be wondering what it is you did that made bath time so terrifying.
The good news is that it's probably nothing you did. Your dog was inherently scared or stressed out by bath time since birth. The bad news is that now you have to take steps to make him more comfortable.
To do this, you'll need to get to the root of why your dog is reacting negatively to tub time. Let's look at a few of those reasons and how you can calm your dog prior to and during the process.
1. Your Dog Feels Overwhelmed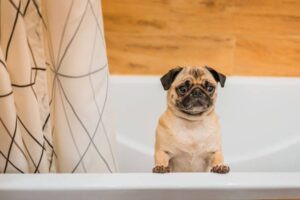 At bath time, your dog is bombarded with unfamiliar sights, sounds, smells, and even physical feelings. He's not accustomed to the sound or feel of water on his skin, and whether you bathe your pup inside or out, he's not familiar with that splashing sound.
Even if it's the most innocuous, unscented brand, the soap you use can stress your dog out, too. It smells strongly, and may even prevent your dog from smelling his surroundings. The whole process is stressful — even traumatic — for your dog, giving him every reason to fight bath time.
2. Your Dog Feels Restrained
Even dogs with the best manners may throw a tantrum when restrained. Put yourself in your dog's paws for a moment! You're tied to a table or in another peculiar environment. Suddenly, you're blasted with water and a strange substance lathered all over your body.
Your dog's natural instinct is to try to escape. Dogs who don't try to flee may display helplessness, cowering and sometimes even shaking in the tub.
First baths are particularly trying for dogs, as these are all new sensations. Your dog may not have been gradually acclimated to the sights, sounds, and feelings of a bath.
3. Your Dog Thinks He's Being Punished
When your dog is restrained on a slippery surface, barraged with new sensations, and feeling flooded, he's going to react. When he reacts and you feel frustrated, your pup will pick up on that frustration.
As a result of your dog's struggle, you may use a firmer hand or voice. When you tell your dog to sit or stay while you physically push him to where you'd like him to be, he feels as if he's being punished.
Bath time is not fun anymore! In addition to these new sensations, your dog may react to the fact that his human is now mad at him, too.
4. Your Dog Feels Like He's Drowning
While your dog doesn't necessarily understand death or drowning, even the most water-loving pups can feel a sense of danger while they're in the bath.
Your spaniel or retriever may love going for a swim in the lake. But put him in a bathtub with these unfamiliar surroundings and he may quickly learn that everything is not as it should be. He has no control over his actions and can't "swim away" if necessary.
This feeling of helplessness can reinforce your dog's aversion to bath time. If water isn't introduced to your pup on his own schedule and his own terms, bath time can become quite a hassle.
How Do I Get My Dog to Like Baths?
You want your dog to be happy and comfortable, but you also want him to be clean! If your dog puts up a fight every time it's time to get groomed, there are steps you can take to eliminate some stress.
Change Your Attitude
If your dog has been fighting you for months or years over bath time, there's a solid chance that you dread the occasion, too. It helps to change your attitude. Bath time can be a wonderful bonding experience for you and your dog, so why not go into the activity with a more playful attitude?
Consider what you don't like about bath time. Is it the mess? Make a venue change and bathe your dog outside. Is it the length of time it takes to properly wash your dog? It's okay to skip a walk on the days you want to bathe your dog — utilize that time for a scrub instead.
Your dog picks up on your emotions, so when you're stressed, he's likely to be stressed. Bath time offers a great opportunity to spend quality time with your dog, so why not take a more good-natured approach to the activity?
Slowly Introduce Your Dog to Bath Time
Why do dogs hate baths so much? Well, sometimes it's just because they weren't introduced to the concept slowly enough.
You can help alleviate some of your dog's stress by taking slow steps to introduce him to the water, the soap, and whatever restraint you use when you bathe him.
Reward Your Dog
If your dog is anxious during bath time, make sure you have plenty of snacks on hand! Make bath time fun and rewarding by offering your pup treats while you bathe him. (Make sure you don't get soap on his snacks, of course.)
You can give your dogs treats "just for nothing" or you can offer him snacks for sitting, staying, and performing tricks. Note that this is not the time to train your dog, so stick to the commands he's already familiar with.
Start Your Puppy Young
A portion of your dog's aversion to bath time is instinctual. Starting your puppy with calming, fun baths when he's just a baby can help lessen the trauma associated with a bath or shower.
Talk to your vet about the right way to bathe your puppy, and start with warm water and a rag. This will help your dog grow accustomed to water and being wet, and with the sounds and smells of bath time.
Ensure the Correct Conditions
Whether you're bathing your dog inside or out, you'll want to make sure the conditions are right to avoid scaring your dog. Consider utilizing the following tips:
Check the water temperature, making sure it's not too hot or too cold.
Use a non-skid mat under your dog to give his legs stability and make him feel in control.
Try an unscented shampoo if your dog seems sensitive to the smell of your soap.
Bathe your dog in a quiet environment free from other dogs and children.
Exercise before and after you bathe your dog. Consider a nice walk prior to bath time and a little bit of structured play following the event.
Hire a Trainer or Groomer
There's no shame in calling in the professionals to help you bathe your dog! These trainers can help give you guidance throughout the process, teaching you how to calm your dog down.
Alternatively, you can bring your dog to the groomer. These professionals have experience in calming even the most wiggly pups during cleanup time.
Frequently Asked Questions
Here are a few of the most frequently questions about why dogs hate baths.
Are baths stressful for dogs?
Baths can stress dogs. The smells, sounds, and sights your dog encounters during bath time are probably very new to him. His natural instinct is to flee, and your frustration only serves to make conditions worse.

Use the tips we've included above to make bath time less stressful for your pup, or enlist the help of a trainer or a groomer.
How do you clean a dog that hates baths?
Take the bathing process slowly from start to finish. Prepare your space, your dog, and your own mood before you begin washing your pup. Let him hear the water and smell the soap, and make sure he's accustomed to being restrained if you intend to confine him.

If your dog will simply have nothing to do with bath time, consider using a dry shampoo instead. These products require no water and rinsing, and this can make your dog's experience much more pup-friendly.
How often should a dog be bathed?
The frequency with which you bathe your dog will have a lot to do with your dog's breed. Other factors include his habits and outdoor play.

Some breeds, like hairless dogs, require weekly baths. Others, like Doodles, can get by without a bath for as long as six weeks. You can talk to your vet or groomer about your specific dog.
What kind of shampoo should I use for my dog?
We love our We Love Doodles brand shampoo — it smells heavenly and conditions your dog's coat as it cleanses. The shampoo also rinses easily, so bath time is quicker and less anxiety-inducing.

There are other specialty shampoos on the market, too. Dogs with sensitive skin have formulas created for them, and there are unscented shampoos on store shelves, too.

Do a bit of shopping around for breed-specific shampoos, and don't hesitate to invest in a quality shampoo that will be inviting to your dog.
Conclusion for "Why Do Dogs Hate Baths: At-Home Tips and Tricks"
Why do dogs hate baths? Well, because bath time presents a barrage of unfamiliar sights, sounds, and smells that your dog wasn't gradually introduced to as a puppy.
Thankfully, you can alleviate a lot of the stress from bath time by utilizing the tips and tricks in our guide. Have fun with bathing your dog. We hope your next tubby time is a joy for you and your pup.
If you find this guide, "Why Do Dogs Hate Baths: At-Home Tips and Tricks" helpful, check out:
Learn more by watching "Why Do Dogs Hate Getting Baths?: Dog Care Tips" down below:
Garrett loves animals and is a huge advocate for all Doodle dog breeds. He owns his own Goldendoodle named Kona. In addition, he volunteers at the Humane Society of Silicon Valley, where he fosters dogs and helps animals. Garrett enjoys writing about Doodles and believes that dogs can teach humans more about how to live than humans can teach a dog.
Why Trust We Love Doodles?
At We Love Doodles, we're a team of writers, veterinarians, and puppy trainers that love dogs. Our team of qualified experts researches and provides reliable information on a wide range of dog topics. Our reviews are based on customer feedback, hands-on testing, and in-depth analysis. We are fully transparent and honest to our community of dog owners and future owners.