The American Bully isn't an AKC-recognized breed; in fact, it's a "mutt" of sorts. The designer breed is created by crossing a Pitbull, a Staffordshire Terrier, and a Bulldog. American Bully mixes combine an American Bully with another breed.
So how many American Bully mixes are there? What are the best American Bully mix breeds? In this guide, we're going to look at some of our favorite breeds, a bit about the care of these dogs, and information to help you decide whether the breed is right for you.
Before you read this guide, "Best American Bully Mixes: Common & Rare Bully Mix Breeds," check out: Are American Bullies Aggressive? Fact vs. Fiction! (2023) and Best Dog Food for an American Bully – Top 5! (2023).
The Best American Bully Mixes
As mentioned in our introduction, the American Bully, itself, is a mixed breed. But when you take an American Bully and produce puppies with another breed, you get some of the most interesting designer dogs!
Below are some of our favorite American Bully mixes, both common and rare.
The Bully Pitsky
The Bully Pitsky is a dog breed that's created by crossing an American Bully with a Husky or an Alaskan Malamute. The dogs are extremely muscular, broad, and athletic — they make great working dogs.
Bully Pitskies inherit quite a few of their parent's characteristics. They're typically bred to have heterochromia, which means your Bully Pitsky will probably have two different colored eyes. Otherwise, he may have light blue or green eyes.
In addition to those beautiful Husky eyes, your Bully Pitsky will likely inherit his parent's fur. Your dog is probably going to have long hair that mats quite easily, and he's probably going to shed! As for color, whites, blacks, and browns are the most likely hair colors for your pup.
Bully Pitskies can be aggressive if they're not socialized properly. For that reason, consider your experience with dogs before you adopt or purchase a Bully Pitsky. Firm commands and a solid idea of you as boss are critical to your dog getting along with your family.
American Bully-Husky mixes are medium to large dogs. When fully grown, you can expect your dog to weigh between 50 and 70 pounds, and he will be almost two feet tall.
American Pit Corso
The American Pit Corso is another American Bully mix; it's created by mixing a Cane Corso with an American Bully. As you may know, the Cane Corso is quite a large dog. The dogs can grow to be up to 110 pounds, and your American Pit Corso will likely be fairly large, too.
Before you purchase or adopt an American Pit Corso, check with the breeder about the dog's bloodlines. American Pit Corso is the name sometimes used for a Pitbull Cane Corso mix, so if you want that American Bully pedigree, you'll need to be specific with the kennel.
An American Bully mixed with a Cane Corso can make a good family pet. The dogs will be naturally protective of your family but you'll need to make sure you establish yourself as the leader of the pack early on. Socialize your dog with kids and other animals to further ensure safety for everyone.
The American Pit Corso's fur will usually be black, but on occasion, you'll find a brindle, red, or brown pup in a litter. Pups have dark eyes like their Italian parent, and, generally speaking, your little buddy will have a black nose.
The American Pit Corso is highly intelligent but could be a little lazy. He will pick up on learning commands very easily but he's stubborn — it's going to take a firm voice to train him to listen.
American Bully Lab Mix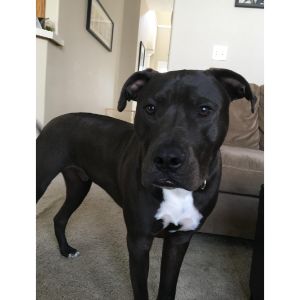 An American Bully mixed with a Labrador Retriever is also called a Labrabull. Keep in mind that the same way an American Pit Corso can be mistaken for a Pitbull/Cane Corso mix, some breeders use the Labrabull name to describe a Pitbull/Labrador mix. Be sure you understand exactly what you're buying.
Labrador Retrievers are smart, loyal, active dogs and they make wonderful family companions. These characteristics will certainly become apparent as your dog grows. You'll see that he bonds with one or two family members in particular.
In keeping with the American Bully's personality, your Labrabull will be quite the happy little guy! Well, maybe not so little. The Labrabull can grow to be 90 pounds and two feet tall at the shoulder.
Labrabulls are intelligent and trainable, and they're not particularly prone to barking. Therefore, they'll make wonderful companions but will need to be trained if you're looking for a watchdog.
Speak with a breeder if you wish to adopt a Labrabull as a service dog. If training is begun at a very early age, the American Bully mix can act as a guide dog.
Pocket Bully
The Pocket Bully is a mix between an American Staffordshire Terrier and an American Pit Bull Terrier. They're quick little learners, and they're the smallest of the American Bullies. They'll only grow to be between 25 and 50 pounds, so they're more suitable for apartment or small-space living.
Now, it's important to note how critical it is to speak with your breeder prior to adopting a Pocket Bully into your home. The reason for this is that many Pocket Bullies are bred inhumanely. They may have inherent health conditions due to the way parents are chosen, and many breeders are unregulated "backyard breeders."
Take your time in finding a breeder. Once you've selected a breeder you're comfortable with, take a close look at the parents' vet records and any available pedigree papers. Then, we recommend purchasing pet insurance.
Should you make the final decision to adopt a Pocket Bully, you'll enjoy a docile little dog, but one that's prone to health conditions like hip dysplasia, heart defects, and skin issues.
Aside from the potential vet bills, the Pocket Bully is easy to care for. He will only shed minimally, and you'll need to bring him to the groomer two or three times each year.
Bully Chi
As you may have guessed, the Bully Chi is a mix between the American Bully and the Chihuahua. The designer breed is registered with the Dog Registry of America but is not recognized by the American Kennel Club. Therefore, you'll need to check to make sure your breeder is following strict, responsible breeding standards.
The Bully Chi recently gained traction after a social media post went viral. The adorable Bully Chi was featured on TikTok and users were amazed at how the breed was biologically possible.
Today, the breed hasn't grown to be super popular but several reputable breeders do exist. The dogs are typically produced by breeding Pocket Bullies with Chihuahuas, so some health conditions are likely due to the parents' own health. We recommend regular vet checkups and pet insurance for your dog.
Your Bully Chi will grow to be anywhere between 15 and 45 pounds, depending on its parents' genes. It's an adorable pup but it's prone to yapping if you don't teach him his manners early.
Bully Tzu
The next American Bully mix on our list is the Bully Tzu. This, as you've probably already assumed, is an American Bully mixed with a Shih Tzu, and it's one of the smaller Bully mixes you can find! As an adult, your Bully Tzu will be no larger than 25 pounds, but usually much less than that.
As with some other breeds on this list, you'll want to speak with the breeder about your pup's heritage. That's because sometimes breeders use the name Bully Tzu to describe a Bulldog and a Shih Tzu mix.
Health problems associated with the Bully Tzu include reverse sneezing (paroxysmal respiration), hip dysplasia, and patellar luxation. Insurance for your dog may be a good idea if you research coverage for genetic disorders. They're also prone to allergies.
The Bully Tzu will probably have the same curled tail as his Shih Tzu parent, and his eyes will typically be brown. Your Bully Tzu's long hair will be white, black, brown, or a combination of these colors.
Bully Tzu puppies are absolutely heart-meltingly cute, and they have happy little personalities just like the Shih Tzu. Training from an early age is helpful if you want to avoid aggression toward other dogs.
Frequently Asked Questions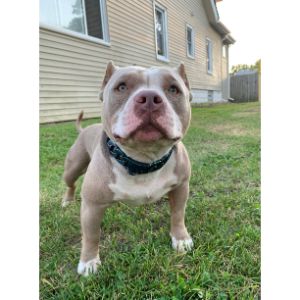 If you're thinking about bringing an American Bully mix into your household, we recommend you read through these frequently asked questions.
Is an American Bully a Pitbull?
The American Bully and the Pitbull are not one and the same. The American Pit Bull Terrier was descended from dogs that were once used for dogfighting. It's a newer breed, produced by crossing a Pitbull or an American Staffordshire Terrier with a Bulldog breed.

Personalities may differ from dog to dog, but one thing remains consistent: both dogs are on some lists of "dangerous dog breeds." You'll want to check with your local regulations and your landlord's lease agreement to ensure that American Bullies are allowed in your area.
What is the mix of an American Bully?
An American Bully is created by mixing one of the various breeds of Bulldog with either an American Staffordshire Terrier or a Pitbull. Physically, though, the dogs look similar.

Speak with your breeder directly about the pedigree of your dog, and be sure you ask for vet records and pedigree papers. As the dogs aren't recognized by most Kennel Clubs, you'll need to verify that your breeder is reputable on your own.
How big does a Bully mix get?
The size your Bully grows to become will largely depend upon the parents. Any number of Bulldog, Pitbull, and Staffordshire Terrier mixes can be bred to create the American Bully.

Speak with your breeder about past litters and the size of your pup's parents. Generally speaking, you can expect a Standard American Bully to grow to anywhere from 45 pounds to 130 pounds.
Is an American Bully mix right for me?
Can you train your dog to view you as the leader of his pack? Do you have time to commit to exercising your dog? Can you bring your pup to the vet and the groomer regularly?

If the answer to these questions is yes, then an American Bully may be a good fit for you. Remember that your dog will need ample exercise and socialization. You'll also need to check against restricted breed lists and prepare to search for insurance for your dog.
Conclusion for "Best American Bully Mixes: Common & Rare Bully Mix Breeds"
The American Bully is growing in popularity in the United States, and American Bully mixes are gaining in popularity, too! Above are six of the most popular Bully mix breeds, but you're sure to find more as you go about your search.
Be sure to always interview your breeder and visit the kennel in person to make sure your puppy is coming from a responsible, reputable kennel or shelter, not a backyard breeder or a puppy mill.
If you find this guide, "Best American Bully Mixes: Common & Rare Bully Mix Breeds" helpful, check out:
Learn more by watching "Top 5 American Bully Mixes Rare Breeds You've Got to Love / American Bully Mixes" down below:
Garrett loves animals and is a huge advocate for all Doodle dog breeds. He owns his own Goldendoodle named Kona. In addition, he volunteers at the Humane Society of Silicon Valley, where he fosters dogs and helps animals. Garrett enjoys writing about Doodles and believes that dogs can teach humans more about how to live than humans can teach a dog.
Why Trust We Love Doodles?
At We Love Doodles, we're a team of writers, veterinarians, and puppy trainers that love dogs. Our team of qualified experts researches and provides reliable information on a wide range of dog topics. Our reviews are based on customer feedback, hands-on testing, and in-depth analysis. We are fully transparent and honest to our community of dog owners and future owners.