In recent years, the French Bulldog has taken the world by storm with its squishy face, stocky stature, and playful nature. Coming in a variety of coat colors, the Pied (or Piebald) coat has become increasingly desirable among French Bulldog fans in recent years.
Also known as Frenchies, this universally loved and revered breed has a habit of lighting up any room they waltz into. Great with children and other animals, the Frenchie has skyrocketed in popularity for its easygoing and sweet personality.
As you're researching breeders, it's essential to consider all possible facts when adding a new member to the family. If you're considering getting a Pied French Bulldog, here are several facts you should know.
Before scrolling down this list of facts about Pied French Bulldog, check out: The 6 Best Pet Insurances for French Bulldogs! (2023) and 5 Best French Bulldog Breeders in the United States! (2023).
But Wait, What is a Pied French Bulldog?
A Pied, or Piebald, French Bulldog is a style of coat that is predominantly white with large, darker-colored patches, resulting in a 50/50 split between colors. For a Frenchie to be considered Pied or Piebald, it must more or less meet the 50/50 criteria, making them rarer.
This division of color must be present everywhere on the body, including the face, ears, stomach, back, chest, rear, and paws. The spots must also be a darker color than white, including brown, black, or gray. Pied almost always means a lighter coat with dark spots or patches.
Now that we've established what a Pied French Bulldog is, here are nine facts about this rare, darling breed.
1. Pied French Bulldogs Cost Upwards of $1,500
As with most French Bulldogs, expect to spend a pretty penny when looking for a Pied Frenchie. While it's common for French Bulldogs to start at $1,500, it's not uncommon for rarer coats to command anywhere from $2,000 to $5,000, with the average price being about $3,500.
This is largely because Frenchies have extraordinarily high breeding costs compared to other breeds. The actual fee usually covers a C-section, insemination, and genetic testing.
Cost can also vary on other factors besides coat, including breeder, location, lineage, and gender. However, the coat is usually a dominating factor when it comes to cost.
With the widespread appeal of the Frenchie and the popular demand for specific coats, it's easy to see how the Pied French Bulldog has risen in popularity over recent years.
2. The Pied Coat Isn't Easily Achieved
Coats are solely genetic and hereditary. In the case of the Pied French Bulldog, the Piebald coat occurs as a result of its gene pool, which means that inherited traits are passed down through their genetic code, from parent to child. The Pied coat is a prime example of this.
Every dog has 39 pairs of chromosomes in each cell. While one of these determines a dog's sex, the 38 remaining pairs determine everything else about a dog, including its coat color.
This starts with two pigments: eumelanin (black) and phaeomelanin (red). Black pigments include black, blue, brown, and pale brown. Red pigments include deep red, copper, cream, gold, yellow, and tan.
For a French Bulldog to obtain a Pied coat, it has to be the result of a recessive gene, which is not always easy to breed. There are three scenarios for successfully breeding Piebald Frenchies:
Both parents are Pied French Bulldogs.
One parent is Pied and the other is a solid color but carries the Pied gene.
Both parents are solid colors and carry the Pied gene.
Genetic testing can help prospective breeders identify the Pied gene to save time and money. However, even in the cases of carrying the Pied gene, you may not always end up with Pied puppies.
3. The Pied Coat Isn't Exclusive to Certain Colors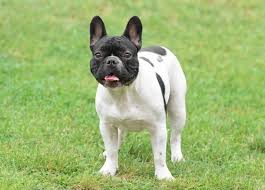 There are a multitude of colorful variations when it comes to the Pied Frenchie. While it's hard to get Pied puppies, it's even harder to get a Pied Frenchie that displays certain colors.
Pied Frenchies can come in the following combinations:
Blue brindle Pied
Blue fawn Pied
Blue and tan Pied
Blue and white Pied
Blue sable Pied
Brindle Pied
Black Pied
Black Brindle Pied
Black and white Pied
Black and tan Pied
Blue Irish Pied
Brown Pied
Fawn Pied
Chocolated Pied
Honey Pied
Cream Pied
Extreme Pied
Fawn and white Pied
Lemon Pied
White Blue Pied
Tickled Pied
Sable Pied
Silver Pied
Tri Pied
With all the different color variations, finding a breeder that specializes in a certain combination can be time-consuming. Be sure to have your heart and mind set on several combinations when looking to ensure you get what you want.
4. Pied French Bulldogs May Be More Prone to Health Conditions
While there's not anything wrong with this sweet and lovable breed, certain colors of the French Bulldog might be more prone to health conditions than others, which includes Pied combinations. This can be caused by backyard breeding or lack of genetic testing.
When adding a Pied French Bulldog to the mix, be sure to go with an experienced breeder and ask about genetic testing. Bloodlines can speak volumes about potential health issues. Always do your research, even if it takes time. It's only fair to you and your new puppy!
5. Their Personalities Are Typical of Regular French Bulldogs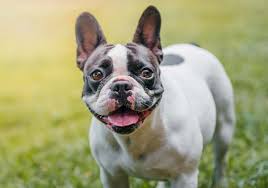 While they may look more regal, rest assured this cute color combo has all the zest, spunk, and charisma of the typical French Bulldog. Don't let their coats or sizes fool you, they have personalities larger than life. Since they were bred to be companions, it's no wonder they're so good with children, adults, and other animals.
The Pied French Bulldog, much like typical French Bulldogs, can virtually adapt to any style of living. Great for apartment life in the city or an addition to a growing family in the suburbs, the French Bulldog is just happy to be wherever you are!
Although they can be stubborn, they are willing to do whatever they can to protect and defend those they love. They're true people pleasers, no matter what their coat looks like.
6. They Make Excellent Family Companions
As briefly mentioned, the Pied French Bulldog, as with any French Bulldog, is known to be great with families. Their deep love and adoration for people, children, and other animals make them the perfect missing piece to any family.
Additionally, since they're small in stature, sturdy, and highly social, they're a fabulous fit for a family with young children. They're known for their gentle and tolerant dispositions. They're not as fragile as other small purebred dogs, like the Pomeranian or Miniature Poodle.
As with any dog and child, it's wise to never leave the two unattended together, no matter how much you may trust them with one another.
While it's important to allow your pup and child to get to know one another, it's best to keep them separated when you can't keep an eye on them, that is, until the children are old enough to understand boundaries.
7. Like Most French Bulldogs, They May Require More Veterinary Care
Unfortunately, this darling breed is susceptible to more health issues. With health issues comes veterinary care, meaning the average Frenchie owner may spend more on veterinary bills than other dog breed owners.
Specifically, French Bulldogs are prone to the following health issues:
French Bulldogs are known to be very sensitive and prone to allergies, including environmental and food allergies. Luckily, allergies can be fairly easy to spot and can be successfully treated with prevention, diet, and medication.
A type of bacterial skin infection that occurs when a cut or scratch becomes infected, pyodermas can be prevented with gentle cleansing of the skin and skin folds on the French Bulldog's body.
Skin fold dermatitis: A common condition that affects wrinkly breeds, skin fold dermatitis occurs when a combination of moisture and bacteria become trapped in the skin folds. This can lead to irritation, itchiness, redness, and even infection.
Otitis externa: Since Frenchies are flat-faced, their ear canals tend to be smaller. This can result in yeast and bacterial buildup which leads to ear infections or something called otitis externa, an outer ear infection. Regularly cleaning the ears can prevent ear infections.
Conjunctivitis (pink eye): Again, since the Frenchie's face is flat, they're more prone to developing conjunctivitis, or pink eye. Contact your veterinarian immediately if your dog develops pink eye, as it's highly contagious.
Brachycephalic Airway Syndrome (BAS): Another condition caused by the Frenchie's flat face, Brachycephalic Airway Syndrome, occurs when their short snout leads to windpipe obstruction. In severe cases, surgical intervention might be required.
Heat stroke: Dogs with flat faces, like the French Bulldog, are more likely to experience heat stroke. Since dogs pant to cool themselves own, and Frenchies are flat-faced, it can prevent them from adequately panting to regulate their body heat.
Patella luxation: Not exclusive to Frenchies, patella luxation is common in smaller dog breeds. When the kneecap dislocates from the knee joint, it results in a luxating patella.
Hip dysplasia: Common amongst both French Bulldogs and German shepherds, hip dysplasia occurs when the ball and hip socket joint don't develop properly.
Intervertebral Disc Disease (IVDD): When the vertebra erupts into the spinal cord, it can cause IVDD. It can cause incontinence and sudden paralysis.
8. They're Highly Social and Require Attention
As with most French Bulldogs, they're highly social and require lots of attention — which makes them the perfect best friends and companions. When you have a Frenchie, you can expect them to never leave your side. This is a trait common amongst all Frenchies, including the Pied French Bulldog.
Their deep love and adoration for their owners, social natures, and love of attention propels them into all they do. In fact, they may want so much of your attention, they may resort to talking to get it.
Since they were bred to rely on companionship, they're an ideal match for those who work from home or stay at home. If that's not possible, they also do well with other animals and thrive in multi-pet households.
Frequently Asked Questions
What does Pied mean in a French Bulldog?
A Pied French Bulldog will have a coat that is 50 percent white and 50 percent colored patches.
How much do Pied Frenchies cost?
On average, a Pied French Bulldog will cost $3,500.
What age do French Bulldogs go deaf?
French Bulldogs can suffer hearing loss at birth or later in life. Thankfully, breeders can use the Brainstem Auditory Evoked Response (BAER) test on puppies.
Conclusion for "Facts About the Pied French Bulldog"
All in all, the Pied French Bulldog has all the charisma and personality that is typical of a Frenchie while having a beautiful coat. When looking for a Pied French Bulldog, it's important to take all facts about the breed into account while searching for a quality breeder.
While Pied coats are gorgeous, the health and genetic history of the parents are most important.
If you're ready for a darling companion with a coat that stuns, look no further than the Pied French Bulldog and prepare yourself for the love of a lifetime.
If you find this guide, "Facts About the Pied French Bulldog," helpful, check out:
Learn more by watching "What are Pied French Bulldogs?" down below:
Garrett loves animals and is a huge advocate for all Doodle dog breeds. He owns his own Goldendoodle named Kona. In addition, he volunteers at the Humane Society of Silicon Valley, where he fosters dogs and helps animals. Garrett enjoys writing about Doodles and believes that dogs can teach humans more about how to live than humans can teach a dog.
Why Trust We Love Doodles?
At We Love Doodles, we're a team of writers, veterinarians, and puppy trainers that love dogs. Our team of qualified experts researches and provides reliable information on a wide range of dog topics. Our reviews are based on customer feedback, hands-on testing, and in-depth analysis. We are fully transparent and honest to our community of dog owners and future owners.