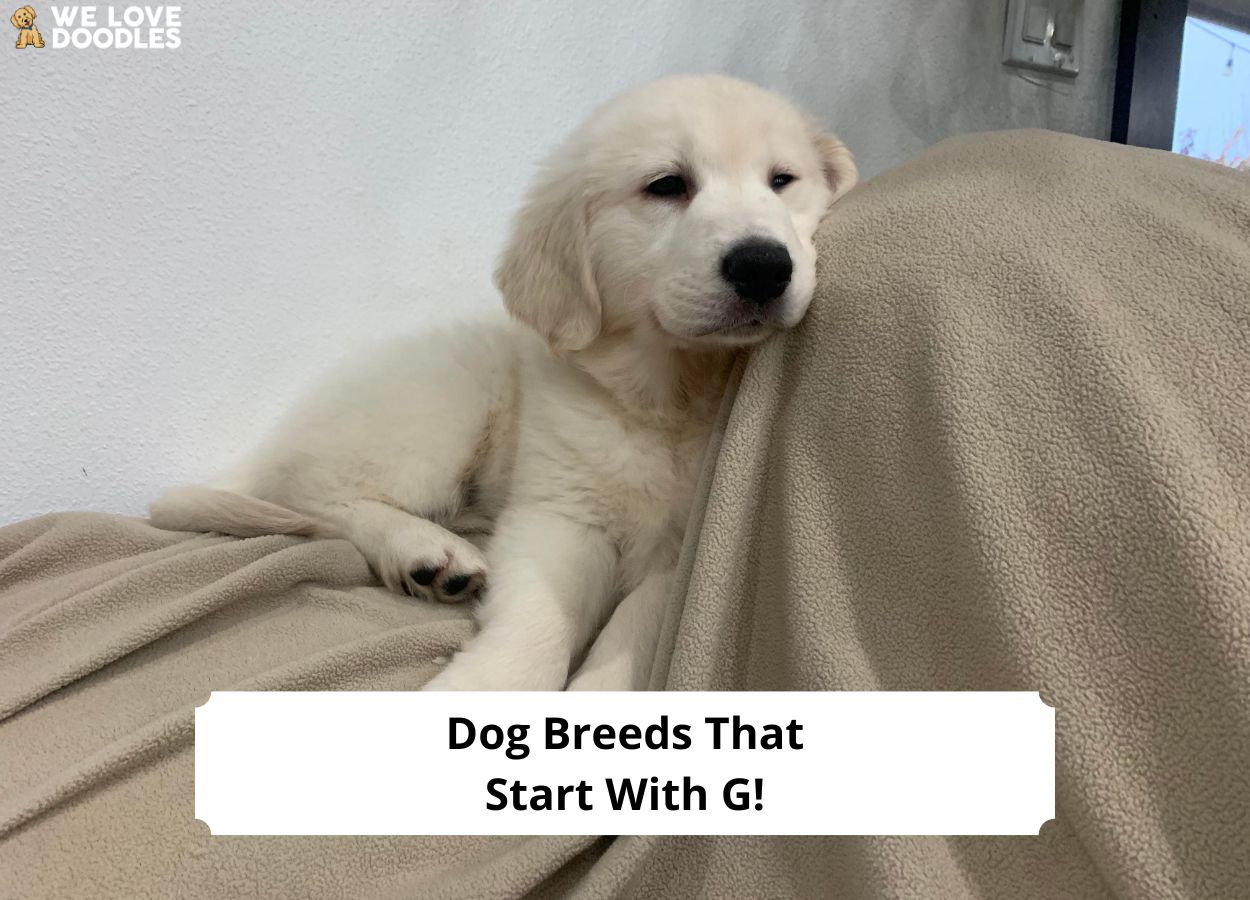 Dividing dog breeds by the letter G can have many different uses. It can make it easier for people to research different dog breeds, or help them find a dog breed during family game night. So, what are some dog breeds that start with the letter G?
Dog breeds that start with the letter G include the German Shepherd, Golden Retriever, German Sheprador, German Wirehaired Pointer, Glechon, Goldador, Golden Newfie, Goldendoodle, Great Dane, Great Pyrenees, and more.
Keep reading below for a more comprehensive list.
Before you read this list of dog breeds, check out: 9 Best Dog Breeds That Don't Smell or Shed! (2023) and 6 Large Non-Shedding Dog Breeds! (2023).
Dog Breeds That Start With G
This section consists of a list of the many dog breeds that start with the letter G.
German Shepherd
This breed of herding dog is also known for its luscious double coat, which can range in length from medium to long. They also come in several different colors, including the more common black and tan, as well as white and black.
Because of their high IQ and versatility, German Shepherds may serve in a variety of roles, from police work to service training to, of course, being devoted friends.
While it's true that some members of this breed can be hostile toward outsiders, the majority are simply reserved about them. The temperament of a dog depends on two things: good breeding and early, consistent training. Because of their adaptability, these dogs need their owners to set the proper example of behavior.
Gerberian Shepsky
One of the most impressive designer dog breeds, the Gerberian Shepsky is regal in appearance thanks to its thick coat, alert expression, and sharp senses. Beautiful and devoted, these canines are the result of crossing a German Shepherd with a Siberian Husky.
The result is a dog who is eager to please, quick to learn, full of life, and ready to get the job done. Because of their high maintenance needs, Gerberian Shepskies are not recommended as apartment pets. If you take the time to train one of these dogs and provide it with plenty of exercise, you will have one of the best friends you could ask for.
German Sheprador
While the German Sheprador is a terrific and obedient family pet, it does take a great deal of time and effort on your part to get him there. This dog is the hybrid offspring of a Labrador Retriever and a German Shepherd.
The German Shepherd, a big breed of working or herding dog, developed in Germany at the turn of the twentieth century. Around the turn of the 19th century, the St. John's Water Dog was used to start breeding Labrador Retrievers in their native Newfoundland. It was designed to find and bring back a game for its master.
German Wirehaired Pointer
In the nineteenth century, Germans began breeding German Wirehaired Pointers to be all-weather hunting dogs who could track scents and recover game. The Pudelpointer, a primitive combination of Pointers and Poodles, is just one of many ancestors in this breed's complex lineage.
There are several different dog breeds represented in the DNA of German Wirehaired Pointers, including Foxhounds, Bloodhounds, Wirehaired Pointing Griffons, and Polish Water Dogs.
This plethora of genetic material is a big reason why the German Wirehaired Pointer, or Drahthaar as it's known in its native country, is so popular. In the 1920s, the breed made its way to the United States.
Despite the breed's relatively low profile in the United States, German Wirehaired Pointers are highly regarded for their boundless enthusiasm for work, unwavering devotion, and impressive intellect.
Glechon
The Glechon is a relatively young dog breed that combines the characteristics of the Beagle and the Bichon Frise.
Dogs of this breed, which are both smart and playful, make excellent companions for individuals from all walks of life. But don't write out this dog just yet; their keen sense of smell makes them excellent trackers.
Goldador
Goldadors are a cross of the two most commonly owned dog breeds in the world, the Golden Retriever and the Labrador. Typically, people will refer to them as Golden Labs.
Their popularity as "designer dogs" stems from their combination of an affectionate nature and steadfast loyalty to their owners. These new breeds are the result of deliberate attempts to improve upon two well-established breeds.
The Golden Lab is a popular breed because of its sociability and intelligence. This breed of dog serves several purposes, such as guide dogs for the blind, hunting partners, and even bomb-detecting canines. They're quite perceptive, so you can put them to work or just enjoy having them around the house.
Golden Newfie
The Golden Newfie dog breed is both gorgeous and assured. It's a cross between a Newfoundland and a Golden Retriever. These crossbreeds are recognized for their patience and kindness toward children.
The average Golden Newfie weighs over 132 pounds due to its thick coat. They are notorious for shedding and drooling and require a lot of room and activity. These dogs were the product of 20th-century American breeding efforts.
In the United States, Golden Retrievers are the third most common type of dog owned by families. Originally developed in Scotland in the 1800s to help with waterfowl hunting and retrieval, the breed has subsequently won widespread acclaim as a devoted and affectionate family pet.
On the other hand, the first Newfoundlands appeared in the 1700s, when they were brought from the province of Newfoundland in Canada, hence their name.
Originally designed to help with tasks like bringing in fishing nets and rescuing people from drowning, these dogs are significantly larger than Golden Retrievers. They are also highly caring and patient while dealing with little ones.
Golden Retriever Mix
Without a shadow of a doubt, Golden Retrievers are one of the most well-liked dog breeds in history. They are intelligent, warmhearted, and loyal to their families.
Consequently, their perceptiveness and sensitivity make them ideal service dogs. Breeders are also fond of them since they tend to produce more obedient and energetic dogs when combined with the genes of other breeds.
As with any crossbreed, Golden Retriever mixes display a wider range of personality traits, and their coat colors tend to be more distinctive than those of purebreds. Thus, it's impossible to know for sure how your dog will turn out because the characteristics of mixed breeds are more difficult to anticipate.
Some purebred dog breeds have the unfortunate tendency to pass on certain diseases. Golden Retrievers, for instance, are at risk for conditions including hip dysplasia and cancer. The hybrid offspring of two breeds have a lower risk of developing hereditary diseases that plague one or both of their parents.
Goldendoodle
Goldendoodles are a sort of hybrid dog whose ancestry sometimes gives them the label of "designer dog." They are the product of breeding a Golden Retriever with a Poodle to bring out the best qualities of both breeds.
They tend to be around medium size and have a shaggy coat that sheds little. The Goldendoodle combines the pleasant and friendly temperament of the Golden Retriever with the intellect and hypoallergenic fur of the Poodle. They can be found at shelters for a fraction of the cost of purchasing them from a breeder.
Great Dane
The American Kennel Club ranks these gentle giants as the 19th most popular breed. Coat colors range from fawn to brindle to steel blue to black to mantle to harlequin to merle, and they all feature short, sleek coats.
Although they don't need much in the way of regular exercise, this breed does require some extra space because of their size. Sadly, their size makes it unrealistic for them to ever live in an apartment.
The friendly and calm demeanor of Great Danes is well known. They are great pets since they get along well with kids and other pets.
Great Pyrenees
Their ancestry most likely stems from guard dogs that lived in Asia Minor around 10,000 B.C. Nomadic shepherds settled in the Pyrenees Mountains in the early third millennium B.C., bringing along their guard dogs. Due to their origins as sheepdogs, they have a natural tendency to look out for their own.
Great Pyrenees tend to be reserved with strangers, but when they're with their people, they can turn incredibly energetic and friendly. They have a mild demeanor and are ideal companions for families. Due to their size, these dogs need a vast area in which to exercise and play.
German Longhaired Pointer
The German Longhaired Pointer is among the earliest continental pointer breeds, with its roots dating back to Germany in 1879. Over a hundred years of selective breeding resulted in this perfect gun dog. German breeders combined traits from water dogs, scent hounds, and bird dogs to create this superior hunting dog.
The German Longhaired Pointer is an expert hunter and has no problem getting its paws wet. The German Longhaired Pointer excels at locating, pointing out, and retrieving game in a wide variety of environments, including wetlands, uplands, and wooded regions.
This breed of dog is exceptionally adaptable, as it has evolved to be both a calm companion and an energetic hunter.
German Longhaired Pointers are well-known for their loyalty and enthusiasm, and they frequently keep both their people and themselves entertained during hunts. They are friendly to strangers and develop deep attachments to their human families.
German Shorthaired Pointer
The Germans worked tirelessly to create the ideal bird dog, and the result is the German Shorthaired Pointer. The German Shorthaired Pointer was the result of careful crossbreeding over several generations.
Often used to help retrieve wildlife from land and water, dogs of this breed are recognized for their speed and strength. With their powerful builds and webbed feet, German Shorthaired Pointers are fantastic water dogs.
The appearance of a German Shorthaired Pointer is unmistakable. They can have a complete liver coat or one that has a mixture of liver and white. There are a lot of brains and fun packed into this breed. They are wonderful family dogs and can be a fun companion for kids of all ages.
However, German Shorthaired Pointers are best suited to households where somebody is around for the majority of the day, as they do not perform well when left alone for long periods.
Giant Schnauzer
The first Giant Schnauzers appeared in the Bavarian Alps around the middle of the nineteenth century. Cattle herders developed these dogs from standard Schnauzers.
The Giant Schnauzer is a huge, typically black dog breed. Their protective and devoted nature makes them a wonderful choice for households with older children. Due to the low shedding of their tight, wiry coats, they are also considered hypoallergenic.
Glen of Imaal Terrier
The Glen of Imaal was given the title of the Turnspit Dog because they were occasionally used in a mechanical device that flipped meat over a burning fire. This breed originated in the rolling hills to the south of Dublin in Wicklow County, where it served as a badger hunter, multipurpose farm dog, and companion.
The dog's style is to quietly pursue the prey rather than barking to alarm its master, making it different from most other terriers. In 2004, the AKC officially recognized the breed for the first time.
The Glen of Imaal stands out for having a large head, relatively short legs, and ears that are pointing inward. The longer hairs around the neck, ears, legs, and stomach are part of the water-resistant double coat, made up of a tough top layer and a soft underlayer.
The most common coat colors are blue brindle and wheaten. Other coat colors, such as blue and tan, are much less common, and many breeders do not look favorably upon them.
Golden Dox
Golden Doxes can be of any size. The appearance of this breed shifts depending on whether or not a Miniature Dachshund is also part of the mix.
The Golden Dox is quickly becoming one of the most popular designer Dachshund crossbreeds that can be purchased today. A Golden Dox is a hybrid of a Dachshund and a Golden Retriever.
Most shelters sell these puppies for a reasonable price, and they have wonderful personalities as well. You'll be happy as can be when you bring a fluffy Golden Doxie into your home, whether you got it through adoption or a breeder.
Golden Pyrenees
The Golden Retriever and the Great Pyrenees are the purebred parents of Golden Pyrenees. This hybrid dog, which is also known as the Great Pytreiver, is a relatively recent addition to the world of dogs. It's a hybrid dog that aims to combine the best features of two different breeds.
The Golden Pyrenees is an energetic and friendly dog. Like their purebred parents, they are bright and sociable. These canines are kid-friendly. However, they are so energetic that their size sometimes causes them to accidentally knock over toddlers.
If you have the time and energy to devote to your dog, the Golden Pytreiver would make a wonderful addition.
Golden Saint
Golden saints can appear in a wide variety of colors. They come in virtually every color and pattern imaginable, from brown to chocolate to yellow to brindle to spotted.
A Saint Bernard and a Golden Retriever were used in the breeding process to create a new designer dog breed known as the Golden Saint. These dogs are well-liked for their pleasant demeanor and low maintenance requirements. You won't regret adopting one of these fluffy, friendly dogs, whether from a breeder or a shelter.
Gollie
The Gollie is a hybrid dog that combines the best qualities of both the Golden Retriever and the Collie. Even though the Golden Retriever and Collie share an ancestor in Scotland, Gollie dogs were developed in the United States.
Gollie owners can take pride in their pet's endearing and attentive demeanor, traits they likely got from their Scottish ancestors.
Great Dane Mix
These dogs are a fascinating hybrid of two different dog breeds, most commonly a Great Dane and another purebred. Great Dane mixes can seem very different from one another due to the many breeds that go into making them.
These dogs are notoriously huge, which might be frightening to some. But don't worry — these stunning creatures are as kind as they are large, making them the ideal companion. Any home would benefit significantly from having one of these dogs as a pet.
Great Pyrenees Mix
The Great Pyrenees is a huge, muscular working dog with a thick coat. It was developed primarily to guard sheep from predators like wolves. But now they are bred specifically as pets and watchdogs.
These gorgeous creatures are wonderful for families because of their kind hearts and considerate temperaments. In addition, they are well-known for their unbothered, calm demeanor.
Breeders are keen to crossbreed them with other kinds of dogs since their characteristics are in high demand; yet, some people would rather have a canine companion that is smaller in size.
Greyhound
When compared to other dog breeds, the Greyhound has the largest concentration of fast-twitch muscle. Despite their reputation, Greyhounds that are done with their racing careers make wonderful pets since they are so laid back.
To prevent people from confusing it with the Italian Greyhound, it is also sometimes referred to as the English Greyhound. The American Kennel Club officially recognized the breed in 1885, and since then, it has been popular as both a show dog for athletic events and as a family companion.
German Pinscher
German Pinschers, as their name implies, are originally from that country's southern regions. In the year 1885, the German Pinscher was officially recognized for the first time. During World War II, this breed of smart, short-haired dog came dangerously close to extinction.
In West Germany, there was no record of registering one of these dogs from immediately following the war until 1958.
Thankfully, a creative breeder named Werner Jung was able to bring them back. The German Pinscher was nearly extinct before Jung sneaked a female out of the country and bred her with many other Pinschers, both miniature and regular, to bring the breed back to life. The breed has since recovered its former popularity in Germany.
Although originally from Germany, German Pinschers may be found all across Europe and were introduced to the United States in the early 1980s. German Pinschers can be found in a wide range of hues, including red, salt and pepper, black, and a variety of tones of tan and brown.
German Sheppit
The German Sheppit is a dog that is a first-generation combination of the German Shepherd and the Pit Bull. The large herding dogs known as German Shepherds are highly skilled in a variety of fields, including law enforcement, search and rescue, and personal security.
In contrast, "Pit Bull" is a collective term that refers to several breeds that share a muscular, short-haired appearance. These varieties include the American Pit Bull Terrier, the American Staffordshire Terrier, and the Bull Terrier.
This mating allows for a great deal of variation in physical looks and personality in the German Sheppit. It's more likely that this dog will take on the appearance of its Pit Bull parent than that of its German Shepherd parent, with its large head, shorter muzzle, and folded ears.
The coat will be a combination of black, white, tan, fawn, gray — possibly even brindle — and other colors. The German Sheppit's temperament leans toward being devoted and protective, yet the dog may exhibit an odd mix of traits.
German Spitz
The German Spitz is a small, lovable companion dog that many believe is descended from hunting and herding dogs.
He has thick, luxurious fur and is always delighted to meet his owner. The German Spitz is known for being one of the most unmoved guard dogs due to his habit of growling and barking at every living creature that approaches your property.
This dog was not bred to go hunting; hence, it is still quite uncommon and has not been formally recognized as a purebred by the AKC.
Frequently Asked Questions
What is a Griffonshire?
The Griffonshire is a mix between a Brussels Griffon and Yorkshire Terrier.
What dog breed is Zeus?
Zeus was a famous Great Dane known for being the world's tallest dog in 2012.
What are the four most popular dog breeds?
The most popular dog breeds in 2022 were the French Bulldog, Labrador Retriever, Golden Retriever, and German Shepherd, according to the AKC.
Conclusion for "Dog Breeds That Start With G"
Many dog breeds start with the letter G. A lot of them are hunting dogs, while some of them were bred to be companion dogs. You'll find that most of these dogs are large. We also hope you found our list of dog breeds that start with the letter G helpful.
For guides similar to this list of dog breeds that start with the letter G, check out:
Learn more by watching "9 Kindest Dog Breeds In The World" down below:
Garrett loves animals and is a huge advocate for all Doodle dog breeds. He owns his own Goldendoodle named Kona. In addition, he volunteers at the Humane Society of Silicon Valley, where he fosters dogs and helps animals. Garrett enjoys writing about Doodles and believes that dogs can teach humans more about how to live than humans can teach a dog.
Why Trust We Love Doodles?
At We Love Doodles, we're a team of writers, veterinarians, and puppy trainers that love dogs. Our team of qualified experts researches and provides reliable information on a wide range of dog topics. Our reviews are based on customer feedback, hands-on testing, and in-depth analysis. We are fully transparent and honest to our community of dog owners and future owners.