If you're looking for a Great Pyrenees in Ohio, these rescues are a great place to start.
Great Pyrenees are beautiful, noble dogs that appear to be perfect for many households, yet sadly, people often give them up. The reasons behind this can vary — some owners may underestimate the amount of work and attention a large breed like the Great Pyrenees requires.
This is an active breed that needs plenty of exercise and mental stimulation. In addition, its thick fur needs regular brushing and these furballs shed a fair bit, especially during spring and fall.
Before you scroll further down this list of Great Pyrenees rescues in Ohio, check out: 6 Best Poodle Rescues in Ohio! (2023) and 8 Best Mastiff Rescues in Ohio! (2023).
1. Rescue Me! Ohio Great Pyrenees Rescue
Rescue Me! is one of the largest dog rescue networks in the world. Founded by Jeff Gold, this rescue shelter opens its doors to all kinds of animals that need help. It provides an online directory of animal rescue centers and foster homes so it is a one-stop shop for any rescue info. At last count, they have helped over 1.1 million animals get adopted since their opening.
Since this is a directory open to all dog breeds, there are often Great Pyrenees for adoption. On their website, a brief description of the dogs is available as well as the contact for the foster parent or rescue shelter the dog is currently staying at.
Other details provided include the gender, age, and vaccination status of the dogs. Adoptions are done mainly through this website, and many of the listed dogs are located in Ohio.
For donations and volunteering, the main Rescue Me! site is the best place to do so. Rescue Me! is a registered charity so all proceeds are reinvested into running the organization and donations made to the organization are eligible for a tax exemption.
Rescue Me! Ohio Great Pyrenees Rescue Details:
2. National Great Pyrenees Rescue
Founded in 2006, the National Pyr Rescue identified a geographical problem with the adoption of dogs. There were states where dog adoption was significantly lower than in others so rescue dogs in such areas were likely to be euthanized since the demand was low.
They decided to facilitate rescue dog re-homing across states to solve this problem and have rescued over 10,000 dogs to date. They specialize in the rescue and re-homing of the Great Pyrenees and their mixes and have a branch in many states including Ohio.
The organization is confident that if all Great Pyrenees lovers adopted a rescue, the problem would pretty much be solved. The cost of adopting a dog is usually $350 and above and depends on factors like location and age. Since their activities traverse across states, transportation is often taken care of by volunteers but the adopting dog parent may have to pay for the cost in part or whole.
The National Pyr Rescue is a registered 501(c)(3) charity and volunteers and fosters from across the United States are always welcome. Donations are also welcome and fundraisers are sometimes done particularly for dogs with urgent or special needs. These dogs frequently show up on the National Pyr Rescue network as they are rejected by other shelters and groups.
National Great Pyrenees Rescue Details:
3. Fairfield County Dog Adoption Center and Shelter
This is a government-based rescue shelter based in Lancaster, Ohio, which is open to all dog breeds — Great Pyrenees included. They house lost and found dogs and have a database of these dogs so that residents can find their dogs easily if they are in their facility.
This shelter feels a deep sense of responsibility for caring for the dogs in the area since they view them as part of the community. By sheltering dogs without homes and educating the public on dog population control and maintenance, they hope to give all dogs in the area a better quality of life.
If you'd like to start the adoption process, go to their site and fill up their adoption form. They have a searchable database of adoptable dogs so you can have fun browsing. In addition, the group runs a Pets for Patriots project where they link dogs with military veterans for companionship.
Since this is a governmental organization, they provide other services including licensing and enforcement of animal-related laws like investigating dog bites.
The shelter also has a volunteer program where people can help serve their community by caring for dogs at the shelter. Donations are also encouraged and they have an Amazon wish list as well as a list of commodities that they are in urgent need of on their website.
Fairfield County Dog Adoption Center and Shelter Details:
4. Big Paws Large Breed Rescue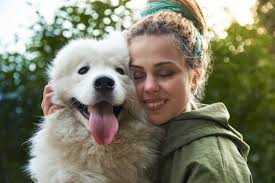 Located in Cleveland Ohio, this rescue center focuses on large breeds like the Great Pyrenees. As a non-profit, all adoption fees and proceeds from events are reinvested into the organization to ensure more dogs in need are rescued.
Big Paws Large Breed Rescue's mission is to save as many dogs as possible from dismal situations and rehome them with loving families. They pride themselves in a fast adoption process so that they can create the opportunity for another dog in need to find a safe haven.
The organization is strict about only taking in dogs so other domestic animals are not accepted. In addition, the self-surrender of dogs where an owner simply drops off their dog at the center is also unacceptable. Aggressive dogs are also not taken in by the rescue to protect foster families.
As a way to raise funds and support the dogs under their care, the rescue center offers pet sitting services as well as pet bathing services at $45 to $55 per day and $25 respectively. To volunteer, adopt or foster a dog you can email the organization for details.
Big Paws Large Breed Rescue Details
5. Canine Collective Ohio Dog Rescue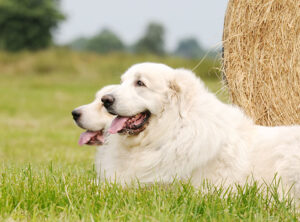 The Canine Collective Ohio Dog Rescue is a charity with a 501(c)(3) registration based in Plain City, Ohio. All donations and adoption fees made to this group qualify for a tax exemption. This is a no-kill rescue that takes in dogs of all breeds, including the Great Pyrenees.
They receive dogs from varied origins including owner surrenders usually from families in difficult circumstances and high-kill shelters. Their website has a list of all dogs eligible for adoption so potential dog moms and dads can select their fur babies remotely.
Adoption fees vary so you have to check on the dog's details. Donations are welcome and can be easily done on their website. They have a Guardian Angel program for monthly donations if you'd like to support their rescue efforts regularly.
In addition, their website has a list of items for dog care that the shelter is running low on for those looking to make a one-time donation. Application forms for fostering, adopting, and volunteering are all available on their website.
The group also hosts events to fundraise and to set up meetings between their eligible dogs and people looking to adopt them. Check out their Facebook page for upcoming events!
Canine Collective Ohio Dog Rescue Details:
6. Brave Dog Breeds Rescue
Based in South Milton, this dog rescue center accepts many dog breeds including the Great Pyrenees. The organization was started in 2018 with a mission to prevent the mistreatment of dogs and curb the unacceptably large number of dogs behind euthanized.
One of the unique things about this rescue center is its focus on behavioral training with the help of a certified canine behaviorist on their volunteer team. The organization believes that with extra training, rescue dogs have a higher chance of finding their forever homes and that their adoptive family will keep them for the rest of their lives.
This is a 501(c)(3) certified non-profit organization which means all donations will be tax-exempt. Brave Dog Breed Rescue also offers dog training events where the public can interact with dogs. Fundraising events are held occasionally to support running the rescue and the expenses associated with caring for the dogs. This group also offers dog training services to fund the dog's medical care.
To adopt a dog, foster, or volunteer, fill out the online application form available on their website.
Brave Dog Breeds Rescue Details:
Frequently Asked Questions
Why are there so many Great Pyrenees in rescues?
Since they are excellent guardians, Great Pyrenees are often overbred on farms.
Are Great Pyrenees difficult dogs?
While Great Pyrenees have a protective instinct, they are generally calm, gentle giants.
What is the leading cause of death in Great Pyrenees?
Cancer is the leading cause of death, so check your Great Pyrenees for lumps and consult your veterinarian to make sure you are screening early and often.
Conclusion for "6 Best Great Pyrenees Rescues in Ohio"
Owners that don't do adequate breed research before getting a dog often find that they have bitten off more than they can chew, and the unfortunate dog ends up in a shelter.
Well their loss, your gain! These rescues in Ohio can help you find your Great Pyrenees.
For more guides similar to this list of Great Pyrenees rescues in Ohio, check out:
Before you adopt a Great Pyrenees from a shelter in Ohio, learn more by watching the "Great Pyrenees: The Pros & Cons of Owning One" down below:
Garrett loves animals and is a huge advocate for all Doodle dog breeds. He owns his own Goldendoodle named Kona. In addition, he volunteers at the Humane Society of Silicon Valley, where he fosters dogs and helps animals. Garrett enjoys writing about Doodles and believes that dogs can teach humans more about how to live than humans can teach a dog.
Why Trust We Love Doodles?
At We Love Doodles, we're a team of writers, veterinarians, and puppy trainers that love dogs. Our team of qualified experts researches and provides reliable information on a wide range of dog topics. Our reviews are based on customer feedback, hands-on testing, and in-depth analysis. We are fully transparent and honest to our community of dog owners and future owners.