Are you looking to get a new pet? Consider adopting a loving puppy from German Shorthaired Pointer rescues in the United States. German Shorthaired Pointers (GSP) are friendly, energetic, and always looking for ways to please their loved ones. They require plenty of physical and intellectual stimulation to thrive, making them the ideal pets for people who love sports and the outdoors.
It might seem that this fantastic breed would not end up in shelters and rescues, but unfortunately, they do. As a result, many German Shorthaired Pointer rescues are dedicated to rehabilitating and rehoming abandoned, ill, injured, and abused Pointers.
These devoted organizations are trying to support the increasing number of homeless dogs with limited resources, so any donation or physical help will be much appreciated. Most importantly, if you adopt from a shelter, you can save a German Shorthaired Pointer from being put down.
Before you scroll down this list of German Shorthaired Pointer rescues in the United States, you can check out these other rescue shelter recommendations from our team at We Love Doodles: Best Teddy Bear Goldendoodle Rescues in the United States and Best Poodle Rescues For Adoption in the United States.
Find a German Shorthaired Pointer Rescue Shelter in the United States
Let's get on with our list of German Shorthaired Pointer rescues and see how these fantastic establishments are saving the canine community, one dog at a time.
German Shorthaired Pointer Product Recommendations: Best Dog Scooting Treatments and Best Dog Boots For Hot Pavement.
1. Southeast German Shorthaired Pointer Rescue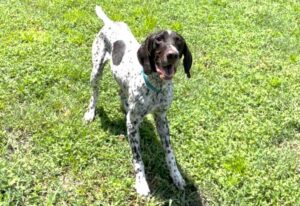 We begin our list of puppy rescues in the United States with Southeast German Shorthaired Pointer Rescue, a 501(c)(3) non-profit organization ​affiliated with the ​National GSP Rescue and GSP Club of America. It comprises individuals who volunteer their services from various states, including Alabama, Florida, North Carolina, and Georgia.
SGSPR is dedicated to finding loving homes for their dogs, promoting animal welfare and ethical breeding practices, and educating the public about German Shorthaired Pointers. Applicants looking to adopt a dog must provide detailed information about their family, pets (in any), activity level, and why they want to adopt a GSP from the shelter. If the application is approved, the applicant will be telephonically interviewed, followed by a team visiting the applicant's home.
If everything looks okay, there will be a meet-and-greet with prospective dogs, and the adoption will be finalized. The dogs at Southeast German Shorthaired Pointer Rescue receive all age-appropriate vaccinations, are spayed/neutered, microchipped, tested for heartworm and internal parasites, and undergo temperament evaluation and house training. Moreover, the rescue offers many helpful resources, such as adoption and training advice on its websites.
Southeast German Shorthaired Pointer Rescue Details
2. All Points West German Shorthaired Pointer Rescue
All Points West German Shorthaired Pointer Rescue (APWGSPR) is a 501(c)3 non-profit, volunteer-run organization dedicated to rescuing, rehabilitating, and placing abandoned or abused German Shorthaired Pointers in loving homes. Based in Colorado, the rescue has expanded to serve New Mexico, Wyoming, Arizona, and the Pacific Northwest, including Idaho, Montana, Washington, and Oregon.
APWGSPR is a foster-based rescue, which means that all dogs in its care are kept in private homes until adopted. The dogs receive individual attention and all necessary medical facilities. The organization's primary goal is to reduce euthanasia rates in the region, promote adoption, and provide resources to the community to encourage educated pet ownership.
The rescue runs entirely on fundraisers, donations from private individuals, and adoption fees. It is transparent in its dealings and commitments to animals and encourages all its volunteers to adopt the same practice. APWGSPR believes in bringing a positive change in the lives of its animals by advocating social ethics associated with adoption.
All Points West German Shorthaired Pointer Rescue Details
3. German Shorthaired Pointer Rescue
Another name among reputable German Shorthaired Pointer rescues in the United States is the German Shorthaired Pointer Rescue PA, Inc. This non-profit, IRS-recognized organization responsibly rehabilitates and finds homes forever for German Shorthaired Pointers in Pennsylvania. The rescue is run by a network of devoted and compassionate volunteers who foster and train German Shorthaired Pointers in their homes.
They physically and psychologically evaluate the dogs, ensure they receive all necessary veterinary care, and provide a kind and loving home until the dogs are adopted and go home with their new families. German Shorthaired Pointer Rescue PA, Inc. sells exclusive merchandise – t-shirts, plush toys, hoodies, hats – that benefit the dogs in its program. They also have various donation fundraising drives, which are available on their website.
German Shorthaired Pointer Rescue Details
4. Mile High German Shorthaired Pointer Rescue
Mile High German Shorthaired Pointer Rescue is invested in giving abandoned, ill, abused, surrendered, or displaced German Shorthaired Pointers a second chance. It strives to ensure all its dogs are adopted into permanent, affectionate homes that will cherish their spirited, loving, and loyal personalities.
The rescue offers an educational awareness to pet owners and the general community about properly handling and training a German Shorthaired Pointer to incorporate it effectively into the family. It also provides basic veterinary/medical training, including vaccinations, spays/neuters, and temperament evaluations while the dogs are in foster care. To adopt a dog from the Mile High rescue, you must meet the requirements listed on their application process webpage.
The price of their GSPs varies between $250 and $450, where puppies have a higher adoption fee and senior dogs have the lowest. Various information packs are available on their websites, such as information regarding the GSP breed, links to reputable animal care and training centers, contacts for grooming facilities, and a complete manual for non-specialist pet owners.
Mile High German Shorthaired Pointer Rescue Details
5. NorCal GSP Rescue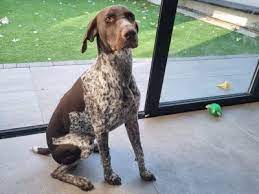 NorCal GSP Rescue is an organization run by volunteers that rescues and rehomes adoptable German Shorthaired Pointers in Northern California. It prioritizes taking dogs at risk of being euthanized in shelters. The rescue provides adequate veterinary and behavioral care for all dogs, including vaccinations, spaying/neutering, parasite tests, preventive health tests, temperament evaluations, and positive reinforcement training.
The organization educates pet owners about German Shorthaired Pointers and their specific requirements to make a calculated decision about adoption. NorCal GSP Rescue also assists pet owners with any problems they have with their dogs and provides support and information resources. Moreover, it teaches animal control and shelter officers how to identify a German Shorthaired Pointer with specific behavioral and personality traits.
NorCal GSP Rescue finds homes forever for its dogs by regular postings on its website and adoption websites such as Petfinder.com, social media, and adoption events. Each dog is given a character, temperament, and training evaluation to ensure it is placed in the most appropriate home.
Individuals interested in adoption fill out an adoption questionnaire available on the website and are interviewed. NorCal GSP Rescues' Sponsorship Program sets it apart from other pet rescues in the United States. The latter allows families, individuals, or companies to sponsor a Foster German Shorthaired Pointer listed on its website until it finds a forever home. Sponsors can assist with veterinary treatment, collars, food, bedding, and toys.
NorCal GSP Rescue Details
6. Illinois Shorthair Rescue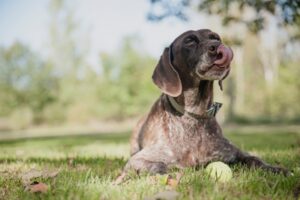 The non-profit, breed-specific Illinois Shorthair Rescue group serves Indiana, Illinois, and Michigan. Founded in 2005, the rescue's mission is to save and rehome as many German Shorthaired Pointers as possible and educate the public about the breed. The organization rescues dogs from animal control facilities, puppy mills, humane societies, and owners who cannot or do not want to keep their pets anymore.
In addition, it ensures all its dogs are placed in loving and responsible private foster homes that will care for them until they find a forever home. While in foster care, the dogs receive medical attention and are vaccinated and spayed/neutered. They are also groomed and trained for their future families. Illinois Shorthair Rescue finds homes for over 60 orphaned German Shorthaired Pointers yearly.
Its volunteers consist of directors, officers, and foster residents of Illinois, Michigan, Wisconsin, and Indiana. Applicants filing for adoption will be interviewed on the phone, asked for veterinary reference checks, and arrange an on-site home visit so that the potential dog gets the best-matched family. While the organization does consider applicants from adjacent states, it cannot manage long-distance adoptions.
Illinois Shorthair Rescue Details
7. Mid-Atlantic German Shorthaired Pointer Rescue
The Mid-Atlantic GSP Rescue caters to Virginia, Maryland, West Virginia, and Delaware. It is a non-profit 501(c)(3) organization devoted to finding forever homes for homeless German Shorthaired Pointers. All dogs are medically and emotionally cared for in foster homes until a permanent loving home is found. The rescue website links adoption applications, merchandise, and adoption-related resources.
Mid-Atlantic German Shorthaired Pointer Rescue Details
8. Florida Pointer Rescue
Last on our list of German Shorthaired Pointer rescues in the United States is the all-volunteer non-profit Florida Pointer Rescue. It accepts puppies, dogs, seniors, and pregnant dogs from unwanted litters, overcrowded kill shelters, and owners that can no longer care for them in Florida and adjacent states.
The rescue also accepts dogs of other breeds. Florida Pointer Rescue's mission is to provide compassion and the gift of life to all its rescued dogs. It also aims to provide hospice and senior sanctuary to those not adopted. Its hands-on rescue efforts help find permanent homes for hundreds of puppies and dogs annually.
The organization provides food, shelter, and medical care and keeps all the dogs in temporary private foster homes while they await adoption. Florida Pointer Rescue aims to fight the colossal problem of pet overpopulation by ensuring all its dogs are spayed or neutered. A vet also examined dogs and gave age-appropriate vaccinations, dewormings, and preventive medication against parasites.
Florida Pointer Rescue Details
How to Choose German Shorthaired Pointer Rescues in the United States
Here are some elements to consider when considering adoption from a rescue organization:
1. Knowledge
A reputable German Shorthaired Pointer rescue must possess sufficient knowledge about the breed in its program and has all the dogs vetted to ensure optimal health. It must know whether the dogs have been spayed or neutered, what previous health records are available, and what treatments (e.g.de-worming) have been previously given. It must also be informed about the dog's temperament and behavioral patterns.
2. Transparency
A reliable rescue organization is transparent in all its dealings. It displays its non-profit status and tax returns on its website. Moreover, the rescue must have some online presence, a physical address, and a phone number. Authentic rescues are generally registered locally or with a city, county, or state – do check before you proceed with an adoption application.
3. Volunteers
One of the most critical components of a good rescue group is its volunteers. These individuals you will engage with during all your dealings, so they must be welcoming and committed to their work. Look for a sense of overall well-being and organization within the rescue.
More Information About German Shorthaired Pointers in the United States
The versatile and enthusiastic German Shorthaired Pointer is a medium-sized breed that requires regular vigorous exercise, constructive training, and loads of love. Their owners often call these aristocratic and noble companions the 'perfect pointer.'
Male German Shorthaired Pointers are about 23 to 25 inches tall at the shoulder and weigh between 55 and 70 pounds, while the females are comparatively smaller. Their coat is commonly solid and liver-colored or liver-colored with unique white patterns.
Capable of working for long hours, German Shorthaired Pointers exhibit exceptional speed, speed, agility, and strength. Overall, German Shorthaired Pointers make delightful, easy-to-train pets that form long-lasting bonds with their families. Make sure to regularly organize physical activities for them, such as swimming and running, anything to burn off some of their endless energy.
Conclusion For The "Best German Shorthaired Pointer Rescues in the United States"
German Shorthaired Pointers are charismatic and energetic dogs that need constant love and attention. German Shorthaired Pointers rescues believe that all abandoned and neglected dogs deserve the chance to find a special forever home.
We hope this list of German Shorthaired Pointer rescues in the United States will help you foster or adopt one that needs affectionate owners. If you're not looking to adopt a pet at the moment, please feel free to volunteer or make a donation – your generosity can help countless animals avail the resources and facilities they need to live a better life.
For more guides similar to this list of German Shorthaired Pointer rescues in the United States, you can check out these other rescue shelter recommendations from our team:
Before you adopt a German Shorthaired Pointer companion from a rescue shelter in the United States, you can learn more about this dog breed by watching the "German Shorthaired Pointer – Top 10 Facts" down below: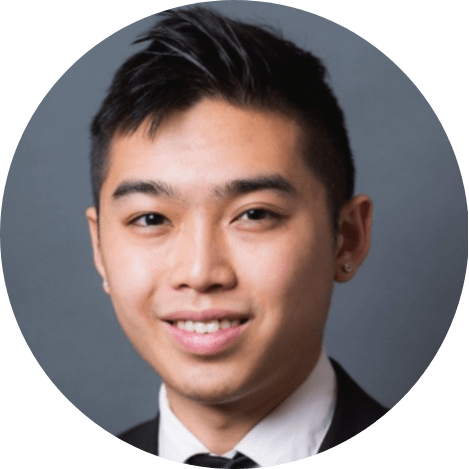 Andy is a full-time animal rescuer and owner of a toy doodle. When he's not saving dogs, Andy is one of our core writers and editors. He has been writing about dogs for over a decade. Andy joined our team because he believes that words are powerful tools that can change a dog's life for the better.
Why Trust We Love Doodles?
At We Love Doodles, we're a team of writers, veterinarians, and puppy trainers that love dogs. Our team of qualified experts researches and provides reliable information on a wide range of dog topics. Our reviews are based on customer feedback, hands-on testing, and in-depth analysis. We are fully transparent and honest to our community of dog owners and future owners.