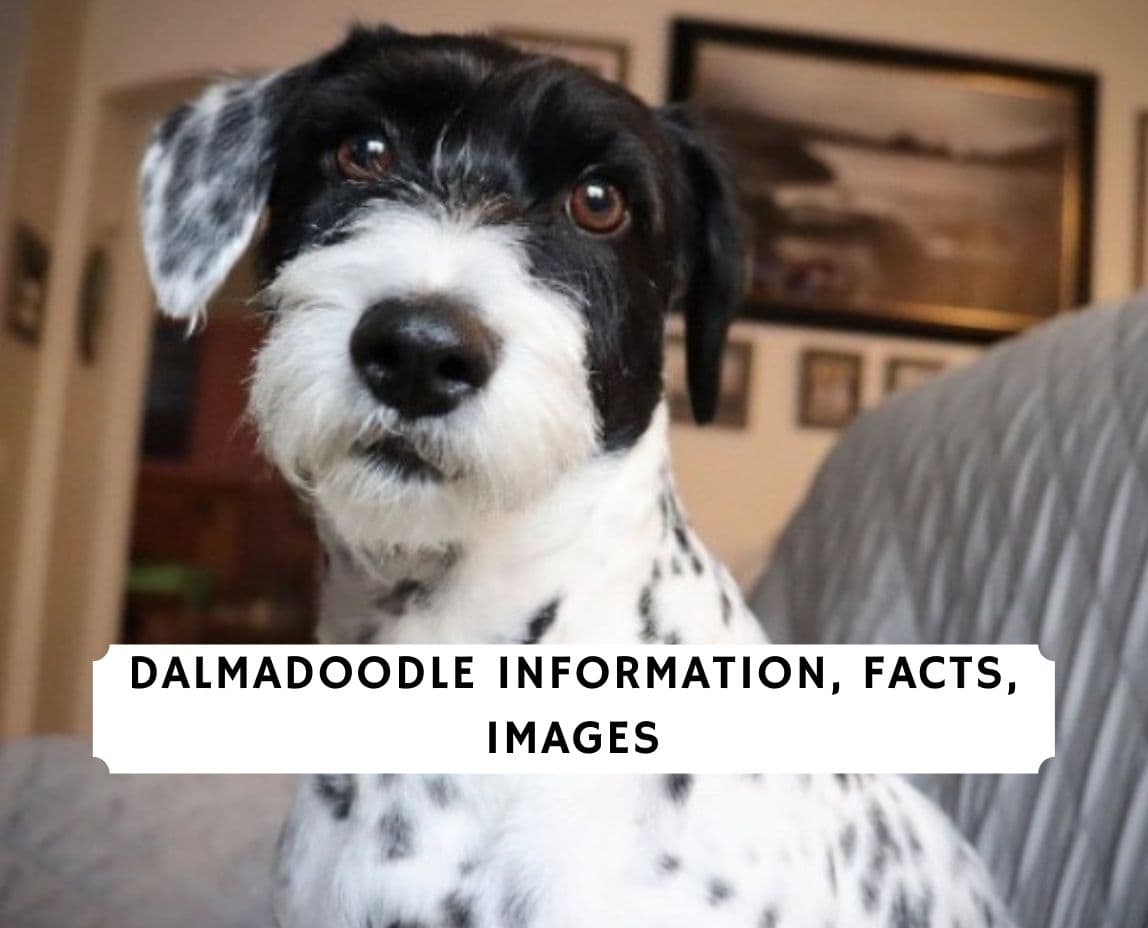 This guide will teach you everything you need to know about the Dalmadoodle. A Dalmadoodle, one of the most charming and loyal breeds around today. These dogs are intelligent, energetic, and affectionate. If you love Dalmatians but don't want a dog that sheds profusely, the Dalmadoodle is an excellent option for you. Are you considering bringing a Dalmadoodle home? Then this guide can help you find out everything you need to know about these remarkable canines.
Before scrolling down this Dalmadoodle guide, you can check out other similar breeds that might interest you: Best Poodle Mixes and Best Giant Doodle Breeds.
What is a Dalmadoodle?
A Dalmadoodle is a crossbreed between a Dalmatian and Poodle. Other names like Dalmapoo and Dalmatiandoodle are also commonly used. Like most designer dogs, these canines are relatively new. Breeders started producing Dalmadoodles about 20 years ago.
Size
The Dalmadoodle is the largest Poodle crossbreed. An average Dalmadoodle weighs 40 to 70 pounds and stands at approximately 18 inches. A female Dalmadoodle usually weighs less. These dogs typically have the strong torsos and long legs of their Dalmatian parents. However, each Dalmadoodle will look different based on the kind of Poodle used for breeding.
Coat
A Dalmadoodle's coat is usually lush and wavy. It could take after the Poodle and have curly and dense hair. Poodles are often considered hypoallergenic since they do not shed as much hair and dander. This trait may be passed on to their Dalmadoodle offspring. Other dogs of this breed have shorter, finer, and denser hair like the Dalmatians. No matter the type of coat your dog has, you will need to brush it every day. This will help keep it healthy and free from insects, dirt, and tangles.
Origins of the Dalmadoodle
To understand these dogs better, let's take a look at the history of their parents.
Dalmatian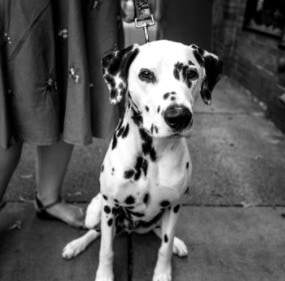 Dalmatians are energetic, playful, and affectionate dogs. They are obedient dogs and can be trained relatively quickly. Dalmatians aren't as social as Poodles. Some are reserved around people, while others are outgoing. The origins of Dalmatians are unknown, but spotted dogs are featured in Hellenic friezes and Egyptian Bas- reliefs from antiquity.  In the 1990s, researchers found proof of the Dalmatian's Croatian roots. These dogs were used as hunting hounds in the Middle Ages. In the 1800s, Dalmatians would accompany horse-drawn carriages and protect them from highwaymen. Dalmatians are one of the most recognizable breeds, thanks to their role in animated children's movies. They've also served as mascots, circus performers, and guard dogs.
Poodle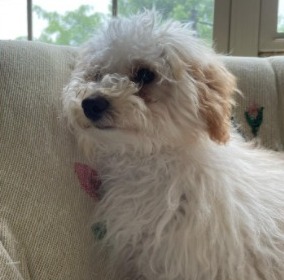 Poodles were initially bred as hunting dogs in Germany, but the French made this breed their own after refining it. They later became performing dogs in circuses and traveling troupes. Poodles are quick, active, and clever dogs who have a desire to please their owners. These are one of the easiest dogs to train. They were known to compete in sheepherding contests where they show their ability to do complex tasks. However, Poodles are attention-seeking and can become quite destructive if they don't get enough attention. Like the Dalmatians, Poodles are easily one of the most famous breeds on the planet. They might come across as extravagant and glamorous, but they also make excellent therapy dogs, guides for the blind, and police dogs.
Related Poodle Articles: Best Mini Poodle Breeders in the United States and Best Poodle Rescues Foe Adoption in the United States.
Shared Traits
Both Dalmatians and Poodles were bred to be working dogs, a trait they share with their offspring. Be sure to give your Dalmadoodle lots of physical activity when you bring it home. Dalmatian and Poodle are highly intelligent, another characteristic they've passed on to the Dalmadoodle. It's great to have a pet who quickly understands your commands. However, it also means they need lots of mental stimulation. These dogs can become quite destructive when they get bored.
Food

You should give your Dalmadoodle high-quality food for better nourishment. Your Dalmadoodle's dietary needs will keep changing from puppyhood till adulthood. Since this breed is so active, expect to spend more on food. Choose dog food with natural ingredients. On average, you should feed your Dalmadoodle at least 1 ½ to 3 cups of food per day. To avoid overfeeding, split this quantity into two separate meals. If you don't know the ideal diet for your dos, ask your vet for advice. It would be best to verify the portions, which would depend on your pet's activity levels, age, and size.
Raw Food
Raw feeding is beneficial because your dog's diet becomes flexible, and you have total control of the ingredients you're purchasing. Your pet's muscles also get a workout from chewing on lean meat. When buying raw meat, check the label. Make sure that it clearly states that you are purchasing chicken, beef, or pork. If the package is just labeled "meat," don't buy it. You don't know exactly what that includes.
Related Article: Can Dogs Eat Raw Chicken Skin?
Dry Food
Dry food contains all the protein, carbohydrates, and fibers essential for the growth of your Dalmadoodle. This kind of food boosts dental health. Kibble is highly convenient to purchase, easy to store, and relatively inexpensive. However, it has a low moisture content, making sure you give enough drinking water to your pet. It also contains more chemicals and artificial ingredients than other dog food options.
Dog Dry Food Recommendations: Best Air-Dried Dog Food.
Canned Foods
If your dog needs to lose weight, then canned foods are your best bet. Canned foods contain more moisture, so your dog feels full faster. These foods also have high levels of protein in comparison with dry foods. Canned dog food can help you increase your dog's protein intake by 20% or more. Before purchasing canned food, or any food for that matter, remember to check the ingredients.
Don't purchase foods with many spices or preservatives, which can be harmful to your dog. As much as possible, buy foods that are 100% natural. This might be more costly, but it goes a long way for your dog's development. You can also choose to prepare home-cooked meals for your pet. If you do so, avoid giving cooked bones, as these may splinter and choke your dog. Don't forget to supplement your companion's diet with green vegetables.
Canned Food Recommendations: Best Canned Dog Food For Senior Dogs.
Exercise
Dogs are prone to becoming obese if not exercised regularly. It would be best if you took your Dalmadoodle out for walks or runs daily. About 30 to 90 minutes each day should be enough to satisfy your pet's craving for physical activity. Exercise lessens the risk of your dog falling sick.
For Dog Exercise: Best Dog Playpen For Hardwood Floors and Best Weighted Vest For Dogs.
Oral Hygiene
Like humans, dogs are prone to contracting dental and gum diseases. It would be best if you brushed your pet's teeth at least twice a day, the same as we do. If that isn't possible, then try brushing their teeth at the end of the day. The minimum is that you brush their teeth thrice a week. This is imperative to avoid dental plaque.
Related Guides: What Should I Do If I Have Black Spot on Dog Tooth and Guide To Dog Periodontal Disease Stages.
Checkups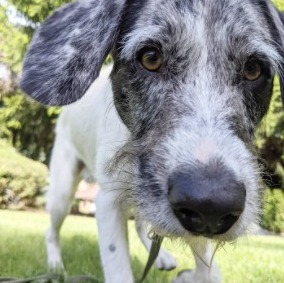 Take your dog to the vet for regular check-ups. With proper care, your Dalmadoodle can live up to 14 years. Aside from going to the vet for regular checkups, you also have to do a visual exam of your dog. Check your Dalmadoodle's ear, nose, and eyes every day. Grooming is an excellent time for you to see if your pet has any cuts or infections. Clean these areas based on the recommendation of your vet.
Grooming
Does your Dalmadoodle have a coat similar to that of a Dalmatian? Be ready to clean your house often because they tend to shed. If your dog has inherited his Poodle parent's coat, you won't deal with a lot of shedding. However, you will have to make frequent grooming appointments. Trimming and stripping curly Poodle coats is essential. It can get tricky to groom your dog if he chooses to misbehave. Therefore, you should train your Dalmadoodle to get comfortable with grooming. A trained dog will love these visits and think of them as a treat.
It would be best if you bathed your Dalmadoodle once a month. If their coat is similar to a short-haired Dalmatian, you can bathe them less frequently. Don't overdo bathing, as this will dry out their skin. Trim your dog's nails often. A good rule of thumb is to cut your dog's nails at least once or twice a month. When you hear grating or clicking noises on the floor whenever your dog walks, that's when you should trim its nails.
Grooming Guides: How Long Does Dog Grooming Take and Best Dog Grooming Kit.
Health Problems
You won't have to worry about health problems if you keep your dog fit, but you may encounter specific issues. Dalmadoodles sometimes have the same health problems as their parent breeds.
Hip Dysplasia: This is one of the most severe conditions that affect Dalmadoodles. The primary symptoms of hip dysplasia are arthritis and joint pain. You can manage this condition with frequent exercise and a well-balanced diet. A healthy Dalmadoodle faces a lesser risk of getting hip dysplasia.
Cataracts: This is a hereditary condition where one eye or both eyes turn cloudy. Poodles are predisposed to getting cataracts. If your Dalmadoodle does develop this condition, it's probably because of his Poodle parent's genes. There are two stages of cataracts: mild and severe. If you catch cataracts early, you can treat your dog with eye drops from the vet. It gets considerably harder to treat the condition once it enters the severe stage. Before breeding, you can always test the Poodle parent and check if the cataract gene is a concern. Good breeders will generally follow this method and give you the information you need.
Deafness: Nearly 29.7% of Dalmatians have some hearing disorder. Unfortunately, they can pass it on to their Dalmadoodle puppies. Take your dog to the vet the minute you think they have difficulty hearing.
In addition to these problems, your Dalmadoodle can contract conditions like Cushing's Disease, Addison's Disease, and other illnesses that are commonly found in their parents. You should also check for ear problems and skin allergies because Dalmadoodles are sensitive animals.
Related Article: Rare Dog Diseases Every Owner Should Know.
What Are Dalmadoodles Like?
Dalmadoodles enjoy being around people they know. This breed is naturally loyal, with strong attachment tendencies. They are usually wary of strangers and will bark at unfamiliar people and animals. Your dog will get comfortable with new people once they spend more time with them. These dogs are protective and will go to great lengths to defend the people they love. This is great for safety, but it also makes it challenging to introduce your dog to new people. They are mostly relaxed and calm dogs but can also be enthusiastic and goofy. Like the Poodle, these dogs require quite a lot of attention. This means that you'll have to set aside plenty of time to play with your canine companion. They also need plenty of space to run and romp around, so they are best for families with yard space. Dalmadoodles are sensitive dogs, so be kind to them at all times. They have good memories and will remember when they've been treated poorly.
Are Children Safe With Dalmadoodles?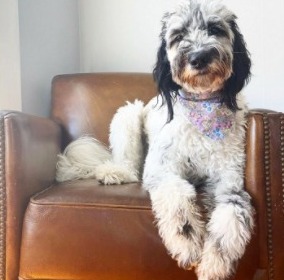 If you have a child in the house or plan to have one, the Dalmadoodle will love spending time around the little one. Their high energy and sturdy build make them great playmates. Dalmadoodles are not loud compared to other breeds, so they are less likely to disturb a sleeping child.
Do Dalmadoodles Need Training?
Like the Poodle, Dalmadoodles are excellent at learning new commands. They are obedient, willing, and alert. They love to please their owner and will go to any lengths to do so. You should train your dog early because they'll pick up commands faster. However, some Dalmadoodles can get quite stubborn. That is why the training should be fun, engaging, and mentally stimulating. They love learning tricks, especially if you praise them and give them treats and loads of love.
Conclusion For "Dalmadoodle Information, Facts, Images"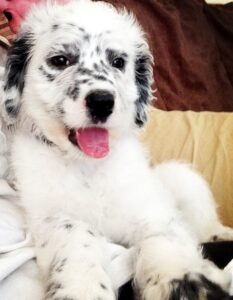 In summary, there are many advantages and disadvantages when raising a Dalmadoodle. For instance, these advantages are that this mix is brilliant, obedient, playful, energetic, loyal, protective, and great with families. However, the disadvantages of raising a Dalmadoodle are that this breed gets overwhelmed by strangers, prefers a cool environment, destructive when bored, not suitable for apartments, and could have health problems similar to its parent breeds. In the end, the pros outweigh the cons. If you're planning to raise a Dalmadoodle, then expect the challenges along the way but the memories that'll stick with you for the rest of your life. If you're looking for a canine who can be fun, playful, and protective, then the Dalmadoodle is undoubtedly a great choice.
To learn about other dog breeds, you can check out:
You can learn more about this Poodle and Dalmatian mix by watching "Dalmadoodle Introduction" from Dog Federation Club down below: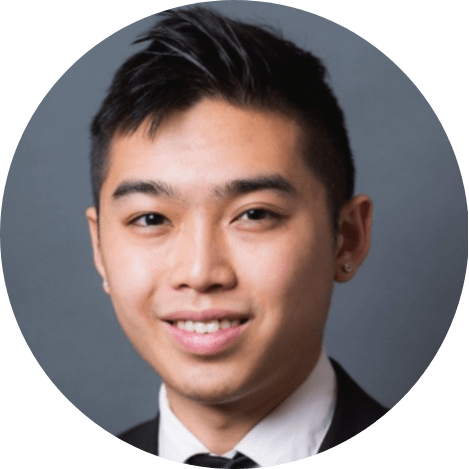 Andy is a full-time animal rescuer and owner of a toy doodle. When he's not saving dogs, Andy is one of our core writers and editors. He has been writing about dogs for over a decade. Andy joined our team because he believes that words are powerful tools that can change a dog's life for the better.
Why Trust We Love Doodles?
At We Love Doodles, we're a team of writers, veterinarians, and puppy trainers that love dogs. Our team of qualified experts researches and provides reliable information on a wide range of dog topics. Our reviews are based on customer feedback, hands-on testing, and in-depth analysis. We are fully transparent and honest to our community of dog owners and future owners.