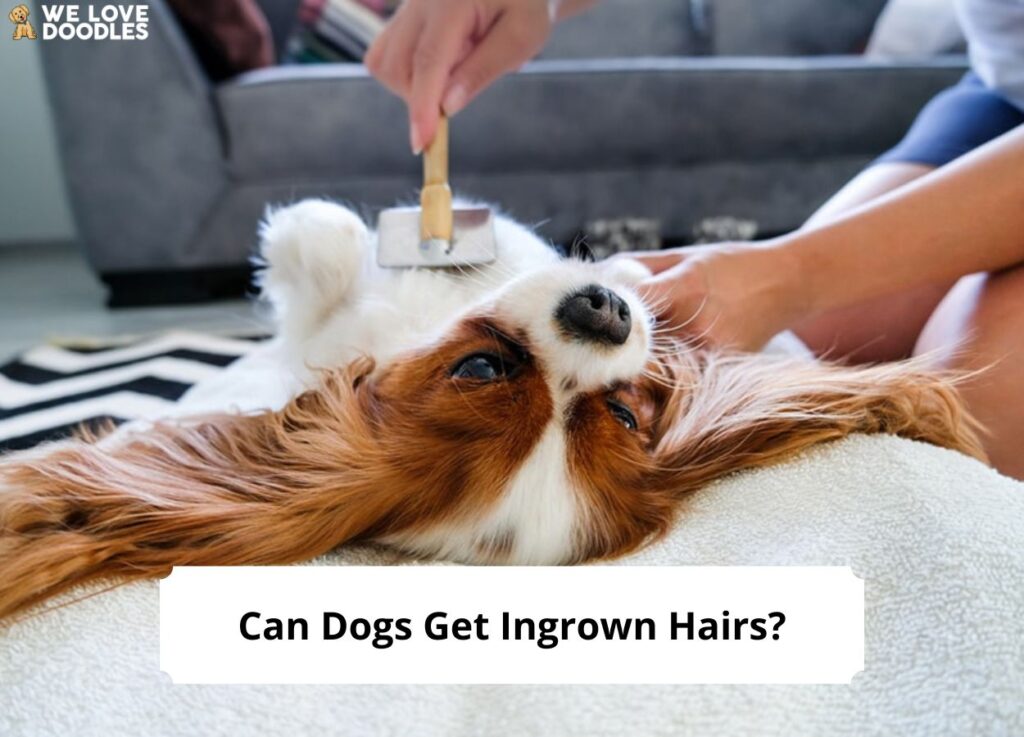 Chances are, you've experienced ingrown hair at one point in your life or another. Frustrating, unappealing, and sometimes painful, ingrown hairs can be difficult to treat, especially if they're recurring. Perhaps you're wondering if dogs have similar issues with ingrown hairs.
Yes, just like humans, dogs can get ingrown hairs. They usually present themselves in between the toes. However, ingrown hairs are much more common in people than in dogs. Dogs can get them, but not as often as people do.
There are several things to know about dogs and ingrown hairs. Luckily, they can be successfully treated with the right care. Here's everything you need to know about your dog's pesky ingrown hairs.
Before scrolling down this guide, "Can Dogs Get Ingrown Hairs," check out: Can Dogs Get Parvo Twice? (2023) and Can Dogs Get Drunk? (2023).
What is an Ingrown Hair?
An ingrown hair is exactly what it sounds like. Dogs have hair — arguably a lot more than humans — so it makes sense that they would develop ingrown hairs. Most hairs are supposed to shoot out of the skin from the hair follicle.
Sometimes, hair doesn't shoot straight out. Instead, it grows back into the skin.
Left untreated, ingrown hairs can become itchy and bothersome to your dog. As a result, your dog may lick, scratch, or bite at the ingrown hair to the point of infection. If you suspect your dog has ingrown hair and are worried about them messing with it, be sure to consult your veterinarian right away.
Why Do Ingrown Hairs Form?
As previously mentioned, ingrown hair forms when hair begins to grow but grows back into the skin instead of outward. In people, this often happens after shaving or waxing, when proper care isn't taken after hair removal.
In dogs, this can happen after grooming or at random, especially if you own a breed that's prone to skin issues, like an English Bulldog or Shar-Pei.
When ingrown hairs form, it can be tempting to take a pair of tweezers and try to extract it yourself. However, doing so on your dog can cause pain or infection. Always seek out professional veterinary expertise before attempting to extract the ingrown hair yourself.
Signs and Symptoms of Ingrown Hairs
Ingrown hairs can be a pain to get rid of, literally. If you suspect your dog is dealing with ingrown hairs, it's important to familiarize yourself with the signs. This can make it easier to explain what's going on to your veterinarian.
Symptoms vary, but generally, you can expect the following from ingrown hair in dogs:
A small, inflamed lump
Pimple-like appearance
Redness and irritation
Pus-filled bump
Scratching or gnawing at the afflicted area
If your pup is exhibiting signs of ingrown hairs, be sure to contact your veterinarian right away, before it turns into a possible infection.
How to Treat Ingrown Hairs on Dogs
Now that you know the signs and symptoms of ingrown hairs, treatment comes next. Treating ingrown hair properly is the key to preventing infection. As previously mentioned, always consult your veterinarian if you suspect your dog has an ingrown hair.
They can extract it properly. It's always advisable to let your veterinarian treat it, since sometimes, what looks like an ingrown hair can be something worse. However, if you can't get into the veterinarian right away, here's what you can do.
Begin by cleansing the area with soap, water, and rubbing alcohol. This will ensure there's no lingering debris that could cause infection. Then, soak a washcloth in hot water. Fully submerge it and then remove it. Wring it out to remove excess water.
Then, apply the hot cloth to the affected area of your dog. This will help soften the skin so the ingrown hair will naturally poke its way through. Repeat this process several times. If the ingrown hair doesn't budge, consult your veterinarian.
If your dog is actively chewing at and aggravating the affected area and you can't get to the vet right away, limit your dog's contact with the ingrown hair to avoid potential infection. Applying a cone or neck brace can limit their ability to aggravate the area.
When you get to the veterinarian, they'll try to extract the ingrown hair directly with the proper tools. Once they've successfully extracted the blockage, they may recommend antibiotics and frequent cleansing of the affected area to prevent infection.
How to Prevent Ingrown Hairs on Dogs
Prevention is a key part of any successful treatment plan, and that includes a dog's ingrown hair. It's half the battle. Ingrown hairs can be incredibly stubborn and difficult to treat, which is why you should take precautions to make sure your dog doesn't develop them in the first place.
Depending on your dog's breed, you may not be able to fully prevent ingrown hairs, but you can limit their frequency with regular TLC.
To prevent ingrown hairs, you can incorporate the following into your dog's grooming routine:
Conditions That Can Look Like Ingrown Hairs on Dogs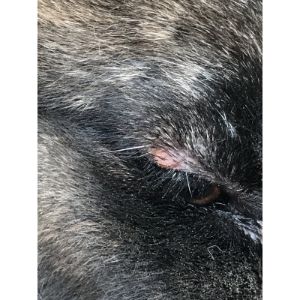 Ingrown hairs are a pain, literally. However, they can also mimic other conditions. What may look like an ingrown hair can actually be something more serious.
Here are some conditions that can look like ingrown hairs.
Folliculitis
This incredibly common skin condition can affect humans and dogs. Simply put, folliculitis is the inflammation of hair follicles. It can look very similar to both acne and ingrown hairs. It's often caused by bacteria. If your dog doesn't have a solid grooming routine, it could be prone to developing folliculitis.
When a hair follicle becomes infected with bacteria, it becomes inflamed. Common signs and symptoms include swelling, redness, itching, inflammation, pimple-like papules, and hyperpigmentation.
Folliculitis can be caused by a majority of factors, including allergies, parasites, dermatitis, fungal infections, immune system disorders, and even hypothyroidism. If you suspect your dog is developing folliculitis as a symptom of another serious disease, be sure to contact your veterinarian right away.
Beginning Stages of Mange
Mange is a serious skin condition caused by mite-infested hair follicles. Left untreated, it can lead to death, mostly due to infection. Mange is most common in stray, abused, or neglected dogs.
A dog will lose their hair and become covered in sores and scabs. It's a life-threatening disease but can be treated successfully, even in severe cases. Treatment must be swift and immediate to avoid potential infection.
In the beginning stages of mange, it can resemble an ingrown hair. A dog may itch or scratch at red patches of skin. Over time, the mange will worsen. It can cause open sores or scabs and crusting of the skin.
Mange is fairly easy to spot once it spreads, but early intervention is key to successful treatment. If your dog is increasingly itchy and visibly losing fur, seek medical attention immediately. Your veterinarian will also help inform you how to prevent the mange from spreading to other animals within the household.
Closed Comedones or Acne
Yes, dogs can develop comedones or acne, just like people. It's often referred to as canine acne. Dogs can develop closed comedones or acne anywhere, but it's most common on the face and snout. Just like in humans, closed comedones or acne are considered inflammatory skin conditions.
It often looks like raised, red bumps filled with pus or small, open, and inflamed pores. At first glance, canine acne can look identical to an ingrown hair. However, they require different treatment methods.
In both canines and humans, acne requires adequate prevention. Exfoliating shampoos and topical benzoyl peroxide ointments can help reduce inflammation, dispel gunk from the pore lining, and reduce the spread of acne-causing bacteria. In severe cases, your veterinarian may recommend oral steroids or antibiotics.
Urticaria (Hives)
Hives in dogs are caused by allergic reactions or intolerances to certain environmental factors, foods, or medications. Hives can present themselves anywhere and are a definitive indicator of some sort of allergic reaction.
In severe cases, hives can cause intense swelling alongside anaphylaxis — a severe, life-threatening allergic reaction. On their own, hives don't pose much of a threat if they're topical, but they can be indicative of a severe impending allergic reaction.
In dogs, hives can look similar to ingrown hairs, since they present themselves as small, raised bumps. Upon itching and scratching, they may become infected and develop a scabbed or pus-filled appearance, much like an ingrown hair.
Hives can be singular or there can be dozens of them. Regardless, hives can be the first telltale sign that your dog is developing a severe allergic reaction. Don't wait to see if they subside. Be sure to seek medical attention right away to avoid anaphylactic shock.
Frequently Asked Questions
How do you treat an ingrown hair on a dog?
While it might be tempting to treat your dog's ingrown hair at home, be sure to seek professional veterinary help. Your dog's vet can successfully extract the blockage properly without risking infection. Additionally, they may provide antibiotics and topical cleansing agents to further reduce the risk.
What does an ingrown hair look like on a dog?
When a dog develops ingrown hair, it can closely mimic the appearance of a pimple. Often, an ingrown hair will present itself as a raised, red, pus-filled bump.
Should you remove an impacted hair follicle on a dog?
Never attempt to remove an impacted hair follicle on a dog by yourself. Always consult your veterinarian first to see the cause of the blockage. They'll be able to remove it safely and swiftly.
What does a blocked hair follicle look like on a dog?
A blocked hair follicle can present itself as a closed comedone or pimple. Either they will be slightly raised, or they will be red and inflamed.
Conclusion for "Can Dogs Get Ingrown Hairs"
All in all, ingrown hairs are a pesky affliction that impacts most living beings with hair. Your veterinarian can help successfully extract the hair while minimizing the risk of infection. To prevent ingrown hairs, be sure to spoil your dog with the proper grooming routine and extra TLC.
If you find this guide, "Can Dogs Get Ingrown Hairs," helpful, check out:
Learn more about this topic by watching "Can Dogs Get Ingrown Hairs? | Wag!" down below:
Garrett loves animals and is a huge advocate for all Doodle dog breeds. He owns his own Goldendoodle named Kona. In addition, he volunteers at the Humane Society of Silicon Valley, where he fosters dogs and helps animals. Garrett enjoys writing about Doodles and believes that dogs can teach humans more about how to live than humans can teach a dog.
Why Trust We Love Doodles?
At We Love Doodles, we're a team of writers, veterinarians, and puppy trainers that love dogs. Our team of qualified experts researches and provides reliable information on a wide range of dog topics. Our reviews are based on customer feedback, hands-on testing, and in-depth analysis. We are fully transparent and honest to our community of dog owners and future owners.