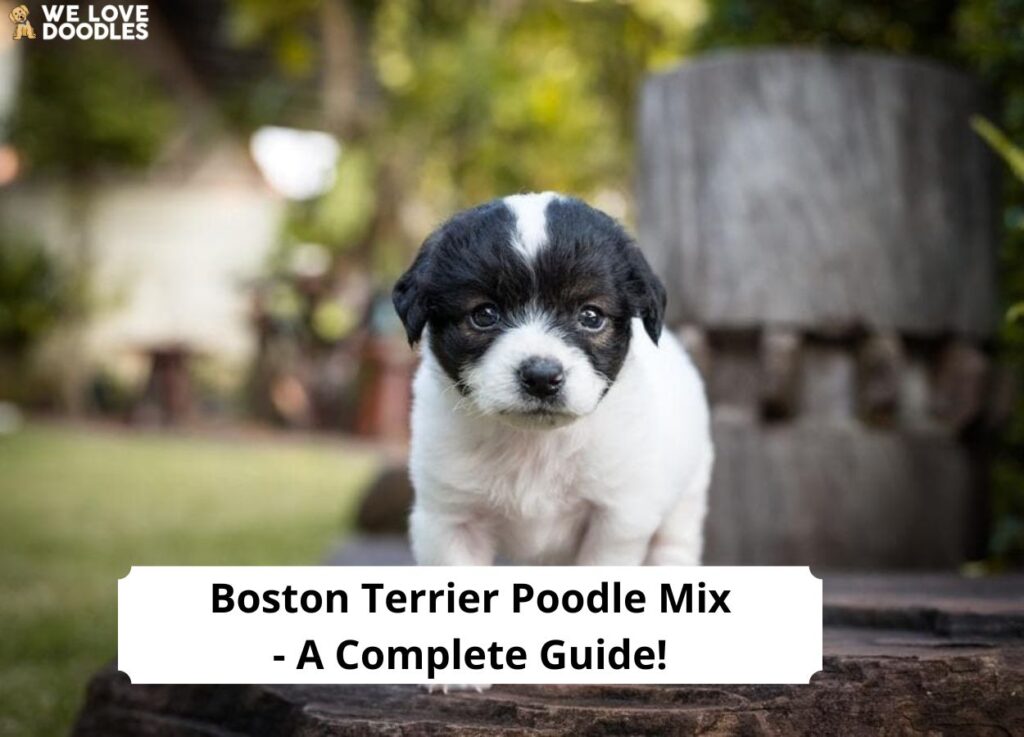 Poodle mixes are popular designer dogs among dog lovers. With their attractive coats, hypoallergenic fur, intelligence, and variety of sizes, Poodle mixes make excellent family dogs. The Boston Terrier Poodle mix is a great choice if you're searching for a new Poodle mix.
Most pet parents love the adorable "Bossi-Poo" because it has many benefits compared to other Poodle mixed breeds. This guide will explore the Poodle Boston Terrier mix in-depth and help you decide if it's the right dog for your household.
Before scrolling down this Boston Terrier Poodle mix guide, you can check out these other Poodle mixes from our team at We Love Doodles: Basenji Poodle Mix and Poodle and German Shepherd Mix.
What Is a Poodle Boston Terrier Mix?
The Boston Terrier Poodle mix is a popular hybrid dog that results from mixing a Boston Terrier with a Poodle. Pet owners affectionately call this dog the Bossi-Poo, Bossi-Doodle, Boston-Doodle, or Boston-Poo.
When mixing the Boston Terrier with the Poodle, breeders look for purebred parents that can pass their best qualities on to their offspring. Like any designer dog, you can expect your lovely Boston Terrier Poodle mix to inherit different traits from its parents.
Bossi-Poos are intelligent, loving, and loyal pups. They are medium-sized and can perfectly fit in any home. They are also easy to train and have good manners.
Before we look into what you should expect from your new puppy, let's first learn about where this adorable dog came from.
Origin of The Poodle Terrier Mix
The Poodle Boston Terrier mix dog is a relatively new hybrid dog, meaning there's little information about its history and origin. By studying the histories of both purebred parents, we can gain insight into what a Poodle Terrier mix has to offer.
History of The Boston Terrier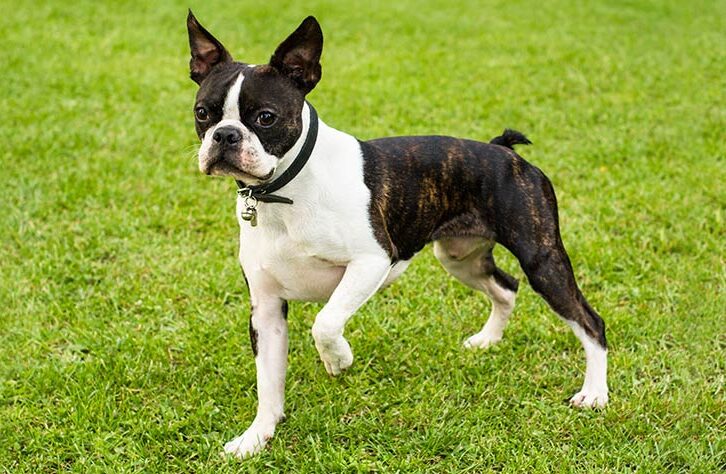 The Boston Terrier originated in Liverpool, England, around the 1860s. The dog's parents were an English Bulldog and a White English Terrier (now extinct). Boston Terriers were raised explicitly for pit fighting and hunting contests.
William O'Brien (an American) bought the first mixed-breed dog named Judge. O'Brien brought Judge to his Boston home, which is how the breed got its name – the Boston Terrier. In 1893, the American Kennel Club (AKC) officially recognized the Boston Terrier.
The Poodle
The Poodle has its origins in Germany over 400 years ago. German hunters used the Poodle as a retriever dog for hunting waterfowl. Initially, duck hunters shaved the Poodle's neck, legs, and tail to enable them to swim more freely. The remaining fur protected their delicate body from objects and chilly water.
Later, the Poodle became a famous hunting dog in France, and today, they're best known as the National Dog of France.
Most people love Poodles because of their thick curly fur. Their showy style and ability to perform tricks also made them popular circus dogs in Europe.
The Poodle comes in three variations: Toy, Miniature, and Standard. The Miniature and Standard Poodles became more popular throughout Europe, as many royals owned them, and they came to symbolize nobility. Most breeders interested in strong and intelligent dogs mix the Standard Poodle with other breeds.
The Toy Poodle was introduced in the U.S. in the 20th century. They're the smallest of the Poodles but still very active, friendly, and intelligent. Most dog lovers have a Toy Poodle for companionship.
The Appearance of the Poodle Boston Terrier Mix
Since the Boston Terrier and Poodle have different histories and origins, their offspring have unique traits. The appearance and personality of a Poodle Terrier mix depend on which purebred parent they take after most.
If you want to know what you should expect from a Bossi-Poo's size, weight, and coat, looking at their parents is essential. Your Boston Terrier Poodle mix can inherit either its purebred parents' appearances or a blend of the two.
Height and Weight
Purebred Boston Terriers are small dogs, while purebred Poodles can be medium- or large-sized dogs. When mixed, the two breeds produce a medium-sized Poodle Terrier mix. Depending on which parent a Poodle Boston Terrier mix takes after most, the dog can weigh between 25 and 50 pounds.
As medium-sized dogs, Poodle Terrier mixes can only reach a maximum height of 15 inches. Their tiny size makes them excellent dogs for families with small kids or living in smaller homes and apartments.
Coat and Shape
The Boston Terrier Poodle mix can have many coat colors and appearances. The Boston Terrier parent has a smooth and short tuxedo-style coat that can be black, dark brown, or white with brindle. They also have square heads, big round eyes, and short noses.
On the other hand, Poodles have ten different and recognized colors. They also have a square build, long ears that hang down, dark oval eyes, hypoallergenic coats, straight or docked tails, and long noses.
A Boston Terrier mixed with a Poodle may come in various shapes and sizes. These dogs have stiff and curly coats and display a wide range of colors like white, black, light brown, dark brown, golden, and chocolate. They also have a docked tail and medium-sized nose.
Male vs. Female Boston Terrier Poodle Mix
Male Poodle Terrier mixes are larger than their female counterparts by a few pounds and inches. However, the size disparity doesn't make one dog very different from the other. Both genders are loving, intelligent, personable, and perfect for companionship.
Temperament
A Poodle Terrier mix can inherit different temperaments from both parents, making it hard to predict the character of a puppy.
Generally, Poodle Boston Terrier mixes are friendly and fun-loving dogs. They're easy to train and can learn and respond to basic commands effortlessly. They enjoy human company and are eager to please their human friends. Due to these traits, Poodle Terrier mix dogs get along well with adults and kids.
These canines can bond well with other dogs and household pets when trained and socialized early. If you're a first-time dog owner looking for an excellent family dog, the Poodle Boston Terrier mix is an excellent choice.
However, this dog can inherit some undesirable behavior from its parents. For instance, Poodles tend to have lower tolerance levels and portray undesirable behaviors when left alone for a long time.
If your Poodle Terrier mix inherits unwanted traits, it may become hyperactive, anxious, or develop destructive behaviors. Early socialization and proper training should help nip undesirable behaviors in the bud.
Training Requirements for A Bossi-Poo
The Boston Terrier Poodle mix inherits some desirable qualities from both parents, which makes training relatively straightforward. The Boston Terrier is an intelligent breed that's also eager to please. Similarly, Poodles are smart and excel at various dog sports like agility training, tracking, and retriever hunting.
Like its parents, the Poodle Boston Terrier mix is highly intelligent and eager to please. Training this breed should be effortless because it will always want to please you when given commands. Conversely, your pup can inherit qualities such as stubbornness, anxiety, and hyperactivity. Such attributes may make training a demanding task.
Use proper training techniques, such as positive reinforcement, to curb bad behavior. Your dog can drop any undesirable behavior if you're patient and consistent with training. You can also socialize your dog early to ensure it grows into a proper housemate.
Boston Terrier Poodle Mix Exercise Requirements
Exercise is a vital part of raising a Poodle Boston Terrier mix. This breed requires regular exercise to remain healthy and happy. You only need to look at their parents to understand why.
Poodles tend to be active and are high-energy dogs. Similarly, Boston Terriers require daily exercise, but you should refrain from subjecting these dogs to extended periods of vigorous activities. Boston Terriers have breathing problems, and strenuous workouts can put them at risk.
If you're bringing a Poodle Terrier mix home, expect an active, high-energy dog that requires daily exercise. Your dog will enjoy sports such as flyball, fetch, and agility training. If you have a secure yard, allow your dog to run and jump for a while. Alternatively, you can take your Poodle Terrier mix for daily walks or to the dog park.
Any dog-lover who's an outdoor enthusiast will enjoy raising this dog. But that doesn't mean you can't adopt a Bossi-Poo if you don't love the outdoors. If you live a busy life, you can provide your dog with interactive toys to play with inside. Thanks to their high intelligence levels, Poodle Terrier mix dogs can keep themselves busy and mentally stimulated by playing with toys.
Bossi-Poo Grooming and Care
Your Boston Terrier Poodle mix's grooming and care needs will depend on which purebred parent he takes after most.
Boston Terriers are known to be moderate shedders, thus requiring low maintenance. The dog requires weekly combing to avoid loose hairs from falling on the floor and furniture. Poodles, on the other hand, have high-maintenance coats that need regular brushing. Their curly hair can become matted and knotted if not brushed properly.
If your dog inherits the Poodle's coat, you might need to clean and brush its coat regularly to avoid matting. Remember to clean its ears regularly to remove any moisture, dirt, or excess wax.
Ensure your dog receives regular nail clipping from an experienced groomer to avoid injury. Nail trimming prevents splitting and cracking. You should also bathe your dog if he gets too dirty.
Food and Diet Requirements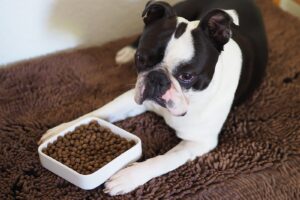 Creating and implementing a proper feeding program should help your Boston Poodle Terrier mix grow healthy and strong. This breed is medium-sized and can be an active, high-energy dog. Therefore, it is essential to feed your dog the right amount of high-quality food best suited for its size, age, and activity level.
Look for high-quality commercial kibble and give your dog 1.5 to 2.5 cups daily. The amount of cups your dog receives depends on age, size, and activity level. Overfeeding can result in digestive problems, especially if your dog takes after its Poodle parent. Divide food into 2-3 meals instead of providing food all the time or all at once.
Your dog might also be vulnerable to bloat if it takes after its Poodle parent. Provide the Boston Terrier Mix with a low-fat diet and ensure it doesn't exercise immediately before or after feeding. You should also ensure your dog has access to clean drinking water.
To ensure your dog grows healthy, give it natural probiotics like goat milk, yogurt, cottage cheese, pumpkin, and fermented vegetables. Alternatively, you can look for the best probiotic supplements for dogs.
Health Issues of Boston Terrier Poodle Mixes
Since the Boston Terrier Poodle mix is a hybrid dog, it should be healthier than its purebred parents. However, this breed is new in the dog world, and it's advisable to look at the health issues it may inherit from either of its parents.
The Boston Terrier has several health issues your dog can inherit. For instance, Boston Terriers are vulnerable to the following:
Cataracts
Patellar luxation
Sensorineural deafness
Hemivertebra
Corneal ulcers
The Boston Terrier is also a brachycephalic breed due to its flat face. As a result, these dogs experience breathing problems.
On the other hand, Poodles have longer, pointier muzzles and are not prone to brachycephalic syndrome. That means your Boston Terrier Poodle mix may or may not have breathing problems.
If your pup has brachycephalic syndrome, you'll need to protect it from overexposure to heat and humidity. You should also ensure your dog doesn't partake in strenuous activity for extended periods.
Your Bossi-Poo could also inherit Poodle health issues such as:
Hip dysplasia
Progressive retinal atrophy
Bloat
Thyroid issues
Hypoglycemia
Epilepsy
Addison's disease
Take your pup for early health screening to stay prepared for or avoid future health issues. When buying your dog, ask the breeder to provide health certificates for both parents. The certificates will help you know whether the parents have been screened and cleared of various health issues.
Your Boston Terrier Poodle mix pup should also have a health clearance certificate to ascertain its health. If your breeder doesn't have health clearance certificates, it's best to go elsewhere.
If your dog develops symptoms of the health problems listed above, take it to a vet for an early checkup and medication.
Average Lifespan of A Bossi-Poo
With proper feeding, grooming, exercise, and veterinary care, Poodle Terrier mixes can live longer than many breeds. Their purebred parents have long lifespans, with the Poodle living the longest. Boston Terriers can live from 11-13 years, while Poodles can live from 10-18 years.
With that in mind, the two parents can expect their offspring to have even longer lifespans. Boston Terrier Poodle mix dogs can live 10-18 years, making them excellent dogs for long-term companionship.
Where to Find Poodle Terrier Mix Puppies
Since Poodle Terrier mixes are relatively new designer dogs, finding a healthy and high-quality Bossi-Poo puppy can be challenging. While some backyard breeders might claim their pups are healthy and high-quality, you must be cautious.
Reputable breeders should provide health screening certificates to prove their pups are healthy. They should also provide the histories of both parents so you can predict which temperaments and health concerns your pup might inherit.
It's advisable to be prudent when finding a Poodle Terrier mix to adopt. You can find your puppy by searching local ads, adoption clinics, or pet sale sites. Ensure the source of your pup is reliable, and pay attention to the living conditions at each place.
If you're interested in a pup with certain qualities, such as a bigger dog, ask your breeder about the size of the dog's Poodle parent. Your breeder should also let you know whether the pup has received early socialization and proper training.
Price of A Boston Terrier Poodle Mix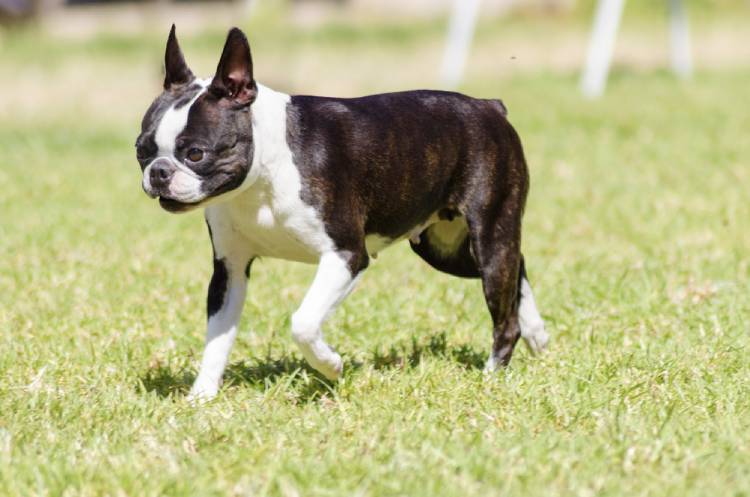 The price of the Poodle Boston Terrier mix varies depending on the breeder, demand, and location of the pup. High-quality and healthy dogs from a reputable breeder can cost between $1,000 and $3,000. More expensive dogs come from carefully selected purebred parents and are well cared for.
If you're buying a Poodle Terrier mix from puppy mills, expect to pay anywhere from $500 to $800. Dogs from puppy mills are mass-produced and might not be of good health or quality. They also live in horrible conditions.
Alternatively, you can adopt a pup from an adoption site. Remember, you'll need to pay adoption fees based on age and location. You can expect to pay an adoption fee ranging between $50 and $100.
Frequently Asked Questions
Below are the most frequently asked questions about the Boston Terrier Poodle Mix.
How long do Poodle Terriers live?
A healthy Poodle Terrier can live between 10 and 18 years. These dogs enjoy relatively long lives because their purebred parents also have reasonably longer lifespans.
Are Poodle Terrier mixes hypoallergenic?
Some Poodle Terrier mixes are hypoallergenic, depending on the coat they adopt. If your dog's fur resembles its purebred Poodle parent, it may be hypoallergenic.
Do Poodle Terriers shed?
Poodle Terriers are low-shed dogs that must be brushed once a week to get rid of loose hairs. However, your dog won't drop many hairs on the floor or your furniture in comparison to other breeds.
Are Boston Terrier mix dogs good?
Terrier mix dogs can be good for any family, including first-time dog owners. These dogs are loving and playful. They're also perfect for companionship. The Boston Terrier will also be friendly to children, adults, and other pets. However, we advise training and socializing your dog early so he can grow into an excellent family dog.
How big do Terrier Poodle mix dogs get?
Boston Terrier and Poodle mix dogs are medium-sized. They take after their Boston Terrier and Poodle parents. The dogs can weigh between 25 and 50 pounds and stand 15 inches tall. If you're looking for a larger Boston Terrier Poodle mix, find one whose parents are purebred Standard Poodle and the Boston Terrier.
Should I Get A Bossi-Poo?
Boston Terrier Poodle mixes are fun, loyal, intelligent, and friendly. They are the perfect dog for families or first-time pet owners. While they can be stubborn, we recommend this dog to anyone looking for a dog to provide companionship and love!
For more Poodle mix guides from our team at We Love Doodles, you can check out:
If you find the Boston Terrier Poodle mix fascinating, you can learn more about other amazing breeds by watching "Top 9 Cute Small Poodle Mixes Designer Dogs 101 Mix Breeds" down below:
Garrett loves animals and is a huge advocate for all Doodle dog breeds. He owns his own Goldendoodle named Kona. In addition, he volunteers at the Humane Society of Silicon Valley, where he fosters dogs and helps animals. Garrett enjoys writing about Doodles and believes that dogs can teach humans more about how to live than humans can teach a dog.
Why Trust We Love Doodles?
At We Love Doodles, we're a team of writers, veterinarians, and puppy trainers that love dogs. Our team of qualified experts researches and provides reliable information on a wide range of dog topics. Our reviews are based on customer feedback, hands-on testing, and in-depth analysis. We are fully transparent and honest to our community of dog owners and future owners.