Are you looking for the perfect Bernedoodle breeder in San Diego? These adorable puppies are the perfect family companion, but sometimes it's difficult to know where to start looking for one.  In many cases, you can find these snuggly dogs in animal shelters (believe it or not!), but if you decide to purchase a puppy instead, it's always important to find an ethical breeder.
In this article, we cover the very best Bernedoodle breeders in the San Diego area. To make this the best possible resource for you, we only considered breeders who prioritize the health and wellbeing of their animals. There are far too many "breeders" out there who are just trying to earn money by selling puppies, and these usually sell dogs that aren't the breed the breeders claim or that are incredibly unhealthy and mistreated.
That being said, there are plenty of wonderful Bernedoodle breeders in the San Diego area that didn't make this list, so here's how you can spot a good breeder from a shady one. Look for breeders who ask you qualitative questions about how you raise and integrate your pets into your family.
They should engage in lots of conversations about the health of the puppies you're considering as well as their preferences for spaying/neutering and how to care for your new puppy. If the Bernedoodle breeder you're talking to doesn't seem to care about who you are or how you care for your puppies we highly suggest you find another breeder. In this article, we will go over the best Bernedoodle breeders in San Diego.
Other articles you would like: Bernedoodle Rescues and Bernedoodle Pros and Cons.
Bernedoodle Puppies in San Diego
Bernedoodles truly are some of the sweetest and cutest puppies out there. These dogs are a designer mix between Standard Poodles and Bernese Mountain Dogs, and as a result, they boast the best traits of both. Bernedoodles are notorious for being very intelligent and playful while being slightly more snuggly than some other doodle breeds.
They thrive in cold weather climates and don't do well in incredibly hot locations, so make sure you have good A/C for the San Diego summers!
In addition to their smarts, Bernedoodles are great family dogs because they get along well with children and other animals. These dogs thrive on companionship, though, and need considerably more "together time" with you than many other dog breeds. This is a great breed for someone who has a lot of time to spend at home or who can take their sweet doodle with them to work or to run errands.
While no dog is truly hypoallergenic, doodle combinations are typically more hypoallergenic than long-haired breeds like the purebred Bernese Mountain Dogs. Bernedoodles don't shed very much and are known for being very healthy and easy to train and connect with.
1. Beloved Bernedoodles

Beloved Bernedoodles is one of our favorite Bernedoodle breeders in Southern California. This family-owned and operated breeder is located a few hours north of San Diego in Ventura county and they are well known for their ethical breeding practices and their diligent genetic screening practices.
Many larger breeds like Bernese Mountain Dogs are prone to joint issues like hip dysplasia, and all of the Beloved Bernedoodle puppies have been checked and passed the OFA and PennHip test.
All of the parent dogs used by this boutique breeder are socialized, well-trained, smart, and truly a member of the family, and as such their puppies are all spoiled and adored by the breeder until it's time to send them to their new homes.
We love that Beloved Bernedoodles conducts new puppy parent interviews to make sure that all of their puppies end up in the best possible homes. They are notoriously selective about where their puppies end up, but if you manage to take one of their puppies home you will have won the lottery.
Bernedoodle Breeder Information:
2. Riverdoodles Bernedoodle

River Doodles is a wonderful home-based doodle breeder that specializes in Bernedoodles and Goldendoodles. We love this breeder's beliefs on how their dogs and puppies should be treated and raised— like a member of the family, of course!
They emphasize that they are not a kennel and that their puppies are all bred and raised at one of their two locations: their family home in California and their 5-acre ranch in Arizona. The puppies are all treated like family members and loved and cared for until it's time to join their new families.
This breeder has high standards for health and genetic testing for their dogs as well as early exposure and developmental training for their puppies to social and environmental stimuli that may be common in your home. They offer a two-year health guarantee and all of their puppies come vaccinated, de-wormed, and microchipped.
Bernedoodle Breeder Information:
For more check out: Best Bernedoodle Breeders in Seattle! and Best Bernedoodle Breeders in Ontario!
3. Julian Mountain Doodles

Julian Mountain Doodles is another of our favorite southern California doodle breeders. This breeder is family-owned and operated and all of their puppies are bred and raised in-home.
Unlike most breeders, this family naturally found their way to the breeding lifestyle when they moved to a farm in the backcountry of southern California. They pride themselves on their mission "to bring love and companionship into loving homes everywhere."
Bernedoodle Breeder Information:
4. Teddy Bear Love Bernedoodles

Teddy Bear Love Doodles is a great boutique breeder in the southern California area. They specialize in Bernedoodles, Aussiedoodles, and Cavapoos, and they pride themselves on their selective breeding which enables them to give each and every dog and puppy the special attention they deserve.
Teddy Bear Love Doodles has been breeding top-tier doodles for the last 25+ years from their stunning ranch-style home, and over the years have learned all of the tips and tricks for breeding the best puppies possible.
Their Bernedoodle puppies are typically tri or bi-colored and are available in mini or standard sizes. Nearly all of their breeding dogs are imported from their country of origin and are truly of superior stock.
Bernedoodle Breeder Information:
Should You Adopt or Shop a Bernedoodle?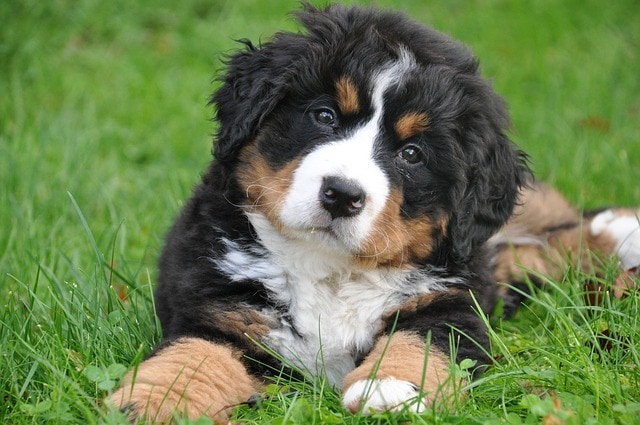 This is a tricky question that many future pet owners face when they decide it's time to expand their family with a furry friend. You will likely hear a lot of people insisting that the only honorable way to acquire a puppy is to adopt it from a shelter, and there is a good basis for this argument.
There are countless dogs in shelters around the country that are truly stunning in appearance and disposition that will never be adopted or know the love and companionship that you could give them.
The overcrowding in shelters is so severe that many shelters resort to euthanizing their animals to make room for the constant influx of dogs and cats that come through the doors. As such, adopting a dog really is an honorable way to make a difference and to find the perfect four-legged companion.
If you are considering getting a pet and you aren't sure whether to adopt or shop, we highly suggest that you visit a local animal shelter just to see what's out there. Many people feel an instant connection with shelter dogs that they never feel with their breeder dogs, and the same may be true for you.
Breeders are great too, but it is important to consider all of your options.
Are You Ready for a Bernedoodle Puppy in San Diego?
Many eager pet owners-to-be also neglect to properly assess whether they're ready for a dog or not. Animals are big responsibilities that require a lot of time and money to properly care for. Their purpose is not to alleviate your boredom or snuggle you when you're lonely but sit quietly in a corner when you're not. You should be prepared to truly make your pet a part of your family.
Owning a puppy is also particularly stressful. Puppies are baby dogs, after all, and many of them cry through the night, have accidents, and tear up your possessions as they try to explore the world for the first time.
We aren't saying this to discourage you from bringing a new furry pal into your life, but rather to make sure you have considered all of the difficulties involved. Many shelter dogs ended up in the shelter because they were surrendered by people who realized they just weren't ready for that type of responsibility.
Conclusion For The Best Bernedoodle Breeders in San Diego
We hope you found this article helpful in your search for the perfect Bernedoodle breeder. Bernedoodles are truly some of the best dogs you can own, and they make the perfect family pet. All of the breeders on our list are ethical and caring, which we believe are hallmarks of a good breeder.
Don't forget to check out your local animal shelter if you're looking for a pet, though. You may just find your perfect doodle waiting for you there.
You will also like:
Garrett loves animals and is a huge advocate for all Doodle dog breeds. He owns his own Goldendoodle named Kona. In addition, he volunteers at the Humane Society of Silicon Valley, where he fosters dogs and helps animals. Garrett enjoys writing about Doodles and believes that dogs can teach humans more about how to live than humans can teach a dog.
Why Trust We Love Doodles?
At We Love Doodles, we're a team of writers, veterinarians, and puppy trainers that love dogs. Our team of qualified experts researches and provides reliable information on a wide range of dog topics. Our reviews are based on customer feedback, hands-on testing, and in-depth analysis. We are fully transparent and honest to our community of dog owners and future owners.