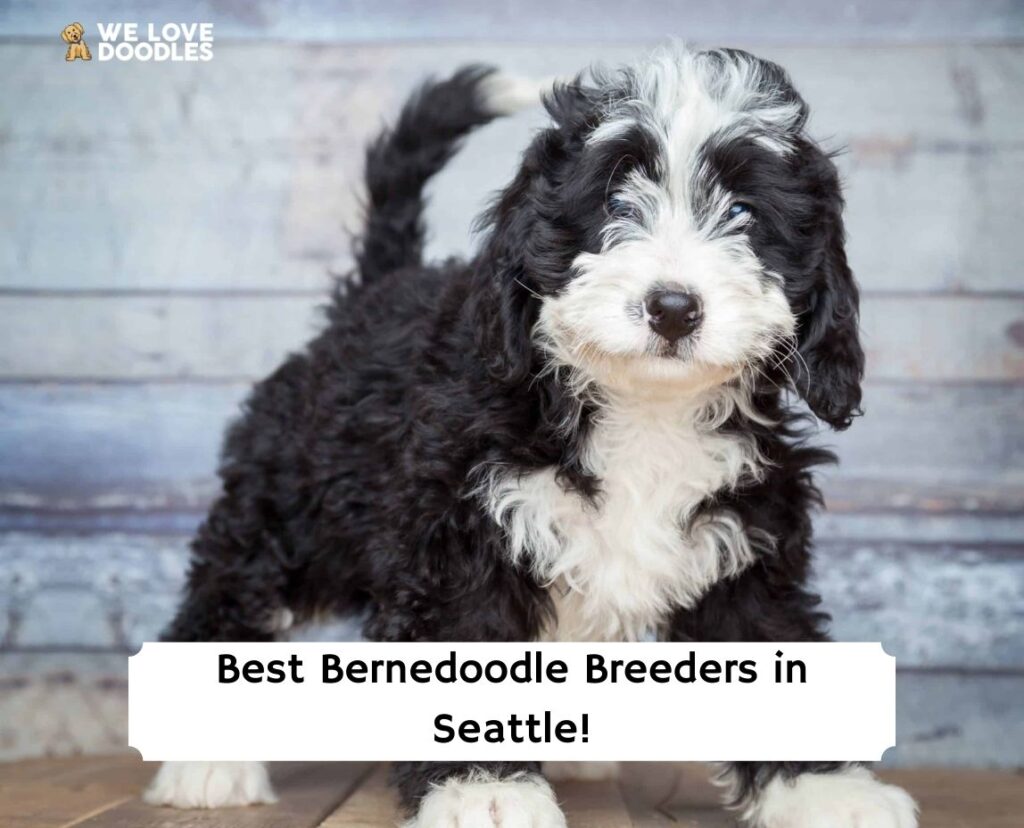 Are you looking for a Bernedoodle breeder in the Seattle area but are feeling a bit overwhelmed? Worry no more, because we've compiled a helpful list of our favorite Bernedoodle breeders in the Seattle area.
The process of selecting the right breeder can definitely be daunting, but luckily there are a ton of wonderful breeders in the area to choose from. All of the breeders on this list are passionate dog lovers and are committed to breeding healthy puppies. Each ensures that their puppies end up in loving and caring homes, and all are trustworthy and dependable.
Other articles you would like: Best Bernedoodle Generations (F1, F1B, F2, F2B) and Bernedoodle Dog Names.
Bernedoodle Breeders in Seattle
Unsurprisingly, many people consider Bernedoodles to be the best dogs in the world, not to mention the best doodle combination! Bernedoodles, which are a cross between Bernese Mountain Dogs and Standard Poodles are a designer breed that were bred to be the ultimate companion.
These dogs are great for cold-weather climates and prefer areas that don't get too hot. They thrive on companionship and are best suited for individuals or families who intend to spend a lot of quality time with their puppy— these guys don't like to be left home alone!
Bernedoodles are super family-friendly and absolutely love kids— they also get along great with other animals! Thanks to their doodle parentage, these puppies are more hypoallergenic than most dogs and also don't shed very much, especially compared with purebred Bernese Mountain Dogs! Generally, Bernedoodles tend to be very healthy and easy to train. They have high energy levels, however, and are very playful.
Related Article: Best Bernedoodle Rescues.
1. Cloud Nine Doodles Washington

Cloud Nine Doodles is a great family-operated breeder located just a few hours outside of Seattle. They have been breeding doodles for over 35 years and are both trusted and vetted Bernedoodle breeders— they have even received the Good Dog Excellence award for their health testing practices for Bernedoodles.
Puppies from Cloud Nine are in high demand, but you can get on a waitlist today. This breeder is dedicated to the health and happiness of their puppies and dogs and therefore only breeds a few litters per year.
This breeder firmly believes that the best practices should be followed from birth, and they enrich each puppy's life with nutrition, socialization, love, and security for the first 8 weeks of their lives before they go to their new homes.
You can check out the numerous glowing testimonials on their website before you decide, but we are huge fans of Cloud Nine! The fee for the waitlist is $300 and this is non-refundable.
Bernedoodle Breeder Information:
2. Puget Sound Doodles

Puget Sound Doodles is located just north of Seattle Proper. This breeder is family-owned and operated and focuses solely on breeding beautiful Bernedoodles, Poodles, and Aussiedoodles. They have puppies in Micro Mini, Mini, and Standard size, and can happily match you with the perfect puppy for you.
Puget Sound Doodles is USDA licensed under the Animal Welfare Act and they are proud to meet and exceed the animal welfare standards laid down by the USDA. This dedication to the well-being of their puppies is one of the many reasons that we love them!
When you adopt a puppy from Puget Sound Doodles you will receive a health record— up to date with vaccines and de-worming— as well as their standard one-year guarantee that protects you if your puppy should turn out to have a medical or genetic defect within the first year.
Bernedoodle Breeder Information:
For more check out: Best Bernedoodle Breeders in Tennessee! and Best Bernedoodle Breeders in Oregon!
3. Savvy Bernedoodles & Bernouviers

This breeder is owned and operated by a sweet and dedicated family of five. When they first started breeding puppies they were located in Las Vegas, but they upgraded to the spacious and beautiful 78-acre farm just outside of Seattle.
Their facility spans roughly 1,300 feet and is equipped with all of the amenities that even the most spoiled dogs would be jealous of. They breed Bernedoodles in multiple sizes, including tiny, mini, and standard.
Depending on the size and breed of the specific puppy you're interested in, you're looking at a $3,600 to $5,000 dollar price tag, not to mention the $500 non-refundable deposit fee required to get on the waitlist.
Puppies adopted from Savvy Bernedoodles all come microchipped and have their health records. Per the Savvy Bernedoodle standard practice, you can start taking your sweet puppy home around 9 weeks of age.
Bernedoodle Breeder Information:
4. Pacific Doodles

Pacific Doodles is a Seattle-adjacent breeder well known for its excellent communication, high breeding standards, and very satisfied customers. They describe their puppies as only suitable for those individuals who "truly value a unique and cherished companion."
The health, happiness, and overall wellbeing of their puppies and dogs are never compromised, and they have built their remarkable business with unparalleled dedication to their craft and goals.
The brand was founded by a woman named Carolyn who has always been exceptionally passionate about animals of all kinds.
She grew up surrounded by a wide variety of critters, ranging from goats, horses, exotic birds, chickens, and, of course, sweet puppies! She learned how to respect and cherish animals from a young age, and she brought that same compassion to the core of her business.
Alongside her partner and two sons, Carolyn leads the breeding business in the stunning vista of Burlington, Washington. They describe their home as being nestled on a 23-acre plot "situated on preserved natural resource land that hasn't been rained by the hustle of urban life." Can you think of a more perfect place for dogs??
While their standard puppies cost around $4000 dollars, they also offer a unique program called a "turnkey puppy package.
" This package will cost you nearly $20,000, but it may be worth it for your family. With this package, Carolyn and her family keep your puppy for an additional four months with the promise that your new puppy will fit into your family seamlessly upon arrival. Turnkey puppies are fully house and crate trained, as well as obedience trained and fully socialized.
Bernedoodle Breeder Information:
Adopt A Bernedoodle in Seattle —Don't Shop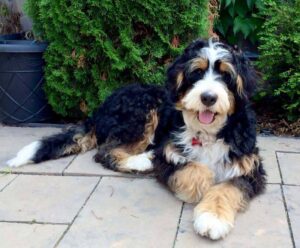 While there are many instances where shopping for a puppy from a breeder may be the right choice for you, you might be surprised to learn that you can find these highly coveted puppies at animal shelters, too!
Many people surrender their dogs after a few months for a variety of reasons, including a sudden change in circumstance or if they discover that raising a dog is too much work for them. There are countless fantastic dogs at shelters around the country that would be perfect for your family.
In some cases, you may even be able to search for specific breeds in shelters using search engines, and you can also join rescue groups dedicated to saving specific breeds from shelters.
Getting a Dog is a Big Commitment
In an abstract sense, dogs can seem like a fun and exciting addition to your life, but many people don't stop to consider just how much work it is to own a dog— especially a puppy!
Dog ownership is very rewarding, but it's also full of complications and stressful circumstances. You need to be sure you have the time available to give your new dog the love it needs and deserves. In addition to the time your dog requires, it also can be very expensive, and these costs will stick around for as long as the dog does.
Make sure you're in a position to take on an additional financial burden of at least a few hundred dollars a month, as well as enough in savings for a costly medical emergency. Dogs need food, toys, routine medication, vet checkups, and more to stay happy and healthy, and the cost of these items is usually proportionate to the size of the dog you get.
Related Article: Tri-Color Bernedoodle Breeders.
Berneoodles Are Worth It, Though
If you do decide that the time is right for your family to add a new puppy to the mix, there are few better choices than a sweet Bernedoodle. These dogs are truly the perfect family dog because they get along well with kids and pets, and they are both intelligent and affectionate.
Bernedoodles in particular are very social dogs, though, and you must be able to give them a lot of attention and quality time for them to be happy and healthy.
Conclusion For The Best Bernedoodle Breeders in Seattle
Hopefully, this list was helpful for you as you search for the perfect Bernedoodle breeder in Seattle. These breeders are all wonderful and trustworthy, and each emphasizes the health and wellbeing of their dogs.
Lastly, you might want to consider adopting a dog rather than shopping, as there are tons of perfect and loving pets waiting for their forever homes in shelters around the country.
You will also like:
Garrett loves animals and is a huge advocate for all Doodle dog breeds. He owns his own Goldendoodle named Kona. In addition, he volunteers at the Humane Society of Silicon Valley, where he fosters dogs and helps animals. Garrett enjoys writing about Doodles and believes that dogs can teach humans more about how to live than humans can teach a dog.
Why Trust We Love Doodles?
At We Love Doodles, we're a team of writers, veterinarians, and puppy trainers that love dogs. Our team of qualified experts researches and provides reliable information on a wide range of dog topics. Our reviews are based on customer feedback, hands-on testing, and in-depth analysis. We are fully transparent and honest to our community of dog owners and future owners.