Generally speaking, barrel-chested dogs are those whose chests are very round and appear barrel-shaped. There are deep ribs and a 'heavy' chest in these dogs.
It is possible to measure barrel chestedness in a number of ways, but the easiest way to know if your dog has barrel chestedness is to research its breed. There are some breeds, like the Keeshond, that possess a barrel chest naturally. We'll cover this and other breeds below.
Before you read this list of the barrel-chested dogs, check out: Brown Dog Breeds With Blue Eyes – Top 7 Breeds! (2023) and 15 Grey Dogs With Blue Eyes – Top Breeds! (2023).
1. Keeshond
The silver color and black or gray fur of this medium-sized barrel-chested dog are covered in two layers, and the tail is curled in a plume. Those who expect a Keeshond to participate in family activities will not be disappointed, as they love people.
The height of this breed is about 43 to 46 cm, and they are not hypoallergenic. This breed is said to live 13 to 15 years, is nimble-footed, well-built, and has a wonderful temperament: playful, bright, obedient, quick, and nimble.
2. Great Dane
Great Danes are known around the world for their good nature; they are also known as German Mastiffs, because they are a breed from Germany. Even though Great Danes are large dogs with barrel chests, they are sweet and loving pets that love spending time with children, playing with them, and being gentle.
Even though these dogs are sweet, they have a powerful bark that can scare intruders. And despite their size and strength, they don't consume as much food as you would think. It takes Great Danes about eight to 10 years to reach maturity.
3. Rottweiler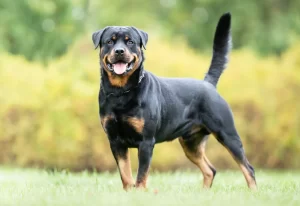 Strong and muscular, the Rottweiler was bred to pull carts for butchers and drive livestock to markets. Strength and tenacity are required for these tasks. A tenacious, brave, and confident canine, there can be no doubt about it. Because it has a large chest, it is prone to bloating.
4. Dachshund
There is no doubt that Dachshunds have remarkable and prominent breast bones. This breed is typically characterized by a barrel-shaped chest to give him the power to bark loudly and deeply. Your Dachshund barks like a big dog when you hear it.
As a result of the large chest, the dog can also dig for small game underground, which is another benefit of the large chest.
5. Doberman
The barrel-chested dog is mostly black with tan markings and has powerful jaws and a smooth coat. In addition to their intelligence, fearlessness, energy, obedience, loyalty, alertness, and confidence, Dobermans are also commonly used as guard dogs and police dogs.
Females weigh 32 to 35 kg while males weigh 40 to 45 kg. Their lifespan is 10 to 13 years. Keeping them active and fit requires daily exercise because they are very energetic.
6. Labrador Retriever
Labrador Retrievers have broad skulls that reflect their working nature. His ability to maneuver around obstacles without injuring himself is greatly enhanced.
From the spinal cord and curving down to the stomach, the ribs are well-sprung and the chest is wide and round. Despite their narrow chests, labs don't typically have deep chests as they are not the breed standard.
7. Boxer
The Boxer is also a barrel-chested, medium to large-sized, and fighting dog. In order to maintain a high energy level, they require lots of exercise just like Dobermans. They are not suitable for being outdoors because their short noses and short hair cause them discomfort in hot and cold weather.
Therefore, these indoor dogs need to be kept close to their families. It is possible for Boxers to become destructive and harmful if they are isolated and left alone. Their average lifespan is 10 to 12 years.
8. German Shepherd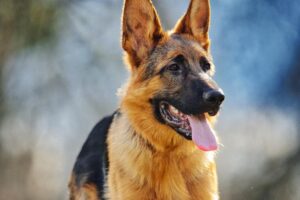 GSD owners are concerned about bloat when their dogs are underweight. The chest of this breed hangs low due to its moderate width. Therefore, the stomach is prone to twisting and turning.
Keep an eye out for bloat if you own a German Shepherd. Make sure your fur baby stays safe after meals by taking all the necessary precautions.
9. English Mastiff
English Mastiffs are loving, protective, brave, and calm barrel-chested dogs. Its size and short lifespan also contribute to its short lifespan (six to 10 years). In addition to being great companions, they are also protectors.
10. Bulldog
Small, sweet, and laid-back, the Bulldog makes a great pet. Provided it gets enough food and water, it won't mind sleeping all day. Because of his petite size, your Bulldog is spared from GSV, despite having a shallow wide chest.
11. Pug
Both Bulldogs and Pugs share many similarities. Their faces are wrinkled and fold-like with folds and folds. Additionally, both breeds are distinguished by their barrel chests. A Pug's feet should be straight and sturdy, and his shoulders and chest should be wide and barrel-shaped.
12. Chesapeake Bay Retriever
The Chesapeake Bay Retriever is a barrel-chested breed that stands between 1'9 and 2'2. In Maryland's Chesapeake Bay, they hunted and retrieved ducks in the cold, and they are also sporty and love water.
Their life span is about 10 to 12 years and they weigh 55 to 80 pounds. They have a sturdy build and a dense coat that help them when retrieving ducks in the water.
13. Pitbull
Heavy tasks were created for the American Pitbull Terrier. Working requires stability, which is not provided by a narrow chest. Compared to a barrel-shaped, deep chest, it does not effectively transfer air. Pitbulls are sturdy, sometimes intimidating dogs — but they have a heart of gold.
Are Barrel-Chested Dogs at Risk for Certain Illnesses?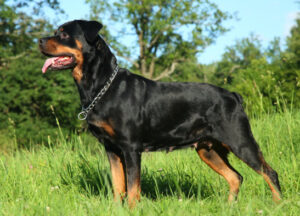 There are many factors that can cause deadly bloat in dogs, including bolting food, stress, and deeper chests. But dogs with deep chests are more prone to gastric dilatation-volvulus.
Deep-chested dogs have a large chest cavity that allows the stomach to expand more than shallow-chested breeds when the stomach builds up gas.
The stomach flips on itself as a result of this exaggerated condition. As well as providing more space for the stomach to rotate, the deeper cavity may also provide more space for it to expand.
Dogs with deep chests are at a greater risk of bloating and gas buildup than those without deep chests. Therefore, we recommend taking steps to prevent contributing causes of bloating.
When your dog eats slowly and swallows less air during feeding, less gas can build up in the stomach. This will prevent your dog from experiencing bloat, especially if your dog has a deep chest.
You should seek veterinary treatment immediately if your dog shows signs of bloat that may be life-threatening, as untwisting and supporting the stomach are critical to your dog's recovery.
This serious disorder can occur in deep-chested dogs, so owners should take appropriate steps to reduce their risk and get medical treatment if necessary.
Can Bloat Be Prevented?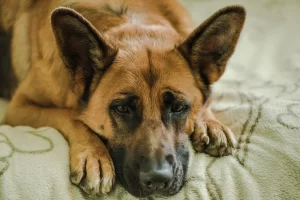 There are some things you can do to prevent bloat in dogs with barrel chests.
Gastropexy
Spaying and neutering procedures typically involve this surgery. When performing a spay on a female large-breed dog, the surgeon is already in the abdomen to perform the procedure. It takes an extra step for males to open their abdomens, but the benefits outweigh the risks.
As a result of gastropexy, part of the stomach is attached to the abdominal wall, which helps to prevent twisting when bloated. Our furry friends normally undergo one anesthetic procedure at the time of their spay or neuter, which reduces the likelihood of accidents during anesthesia.
The second advantage of younger dogs is that they recover more quickly than older ones. As an added benefit, gastropexies cost considerably less than emergency bloat treatment.
Whether your primary veterinarian can perform the procedure or if a surgical specialist is recommended depends on whether they are comfortable doing it.
A laparoscopic procedure may be an option for male dogs, or for dogs that have already had spay or neuter procedures. Using a special tool with a camera (or scope), a surgical specialist prevents the abdomen from being opened.
By using smaller incisions, the recovery period is shortened. Both procedures do not guarantee that bloat will not occur. If bloat does occur, gastropexy reduces the risk significantly and improves the outcome for the dog.
Exercise Restriction
For a dog's general well-being, exercise and playtime are extremely important. After eating or drinking, all dogs, particularly large breeds, should rest.
During exercise, ingested food and water can cause the stomach to bloat and flip, as well as increase respiration. After eating or drinking, wait one to two hours before exercising to be on the safe side.
Food and Water Restriction
A second strategy is to feed small meals throughout the day and to prevent dogs from drinking too much water. In case they are extremely thirsty, you can always pull the water bowl and give them more water after a few minutes.
It is not recommended to raise food and water bowls unless your veterinarian recommends it. It is also helpful to eat slowly, especially for those dogs that wolf down everything they eat. Feed them over 15 minutes or use slow feeder bowls if you want to break their meals into 14 servings.
To ensure success, all family members should be educated about proper bloat-prevention measures. It is important to recognize and seek veterinary care immediately as bloat can sometimes occur despite our best efforts.
If veterinary care happens within one to two hours after bloat occurs, the patient's chances for survival are much higher. If you are unsure, you should contact your veterinarian immediately, since delays can have fatal consequences.
Frequently Asked Questions
What problems do barrel-chested dogs have?
The biggest risk inherent to barrel-chested dogs is bloat. Be sure to take all of the necessary steps to avoid bloat when feeding and exercising your dog.
Can dogs have a barrel chest?
Wide and round chests are considered normal for many dog breeds, and this shape is known as a barrel chest.
Are Poodles deep-chested?
Poodles have what is considered a deep chest, making them susceptible to bloat.
Conclusion for "Barrel-Chested Dogs – Top 13 Breeds"
AKC regulations do not allow for barrel chest shapes in true-to-breed specimens of some breeds, such as the Labrador Retriever, as they have developed over time in some breeding lines.
It is recommended that you review the AKC regulations for the breed in question if you are unsure whether barrel-chested dogs are traditionally desirable.
You should keep in mind that not all people fit into the "standard" for their appearance, and the same applies to dogs. You don't have to worry about your dog not being an AKC-qualified dog just because they're a little different.
For more guides like this list of barrel-chested dogs, check out:
Learn more by watching "Bloat – #1 Killer of Large Breed Dogs – How to Prevent It" down below:
Garrett loves animals and is a huge advocate for all Doodle dog breeds. He owns his own Goldendoodle named Kona. In addition, he volunteers at the Humane Society of Silicon Valley, where he fosters dogs and helps animals. Garrett enjoys writing about Doodles and believes that dogs can teach humans more about how to live than humans can teach a dog.
Why Trust We Love Doodles?
At We Love Doodles, we're a team of writers, veterinarians, and puppy trainers that love dogs. Our team of qualified experts researches and provides reliable information on a wide range of dog topics. Our reviews are based on customer feedback, hands-on testing, and in-depth analysis. We are fully transparent and honest to our community of dog owners and future owners.