Check out this list of Australian Shepherd breeders in Alberta to find yourself an eager-to-please and active canine comrade. Whether you're looking for someone to accompany you on your morning jog or weekend hunting trip, an Australian Shepherd will be a great companion.
The medium-sized Australian Shepherd (or Aussie) is the ultimate herding dog; it is a working breed dog with an enthusiastic and pleasant personality. These dogs are rugged and agile, and display an intense impulse to herd almost anything, which is why they aren't a good choice for passive dog lovers.
Aussies are handsome, too. Although Aussie coats come in various colors, the most common is Merle – a blotchy pattern with different shades of blue or red.
Overall, Australian Shepherds are extremely intelligent, tireless, and the best training partner for those who like sports or exercise. Despite an abundance of Aussie breeders in Canada, finding a reliable breeder is challenging because of the influx of puppy mills.
Therefore, knowing how to differentiate between ethical breeders and puppy mills is essential. We've made your job easier by listing 5 reputable breeders selling Australian Shepherd puppies in Alberta.
Let's learn about these breeders below.
Before scrolling down this list of Australian Shepherd breeders in Alberta, check out these related articles: Best Cavapoo Breeders in Alberta and Beagle Aussie Mix: Mixed Breed Guide.
1. Chasin Tail Australian Shepherds
Chasin Tail Australian Shepherds is a small breeder that provides high-quality, health-tested Australian Shepherds near Stony Plain, Alberta. The breed Canadian Kennel Club (CKC) registered Australian Shepherds and strives to deliver the best well-rounded Australian Shepherds for families and performance homes.
Raising all their puppies in their own home, the primary focus of the breeder is health and temperament. They use Early Neurological Stimulation (ENS) and the Puppy Culture program to develop intelligent, well-socialized, easier-to-train, and confident puppies.
Indoor litter training begins at three weeks, and outdoor potty training begins at four to five weeks. The puppies also undergo crate training, clicker training, stranger interaction, and noise desensitization.
At eight weeks, all puppies are vet examined, microchipped, vaccinated, and dewormed. The sires and dams are genetically evaluated so that litters don't have any genetic diseases. The breeder uses Hip/Elbow and Eye testing and full-panel genetic testing via Paw Print Genetics or Embark.
Chasin Tail Australian Shepherds offers market-competitive four-year and lifetime genetic health guarantees. Once ready to go home, you will be given the puppy's complete medical record, puppy food, a leash, a blanket with its littermate's scent, a socialization checklist, and CKC litter registration.
Chasin Tail Australian Shepherds offers all its customers free advice and lifetime breeder support. In addition, you can join their private Facebook group to receive frequent updates and communicate all your queries and comments.
Australian Shepherd Puppy Details:
Color: Tricolor, Merle
Size: Mini to Small Standard-sized
Chasin Tail Australian Shepherds Details:
2. Cassel Creek
Cassel Creek is our next reliable breeder providing Australian Shepherd puppies for sale in Alberta. With almost 25 years of breeding experience, this breeder has produced successful dogs in various areas, such as herding, conformation, obedience, rally, agility, and as home pets.
Apart from the Canadian Kennel Club events in the western provinces, the breeder attends the ASCA National in the United States each year. Their dogs have achieved many successes in the performance ring, including various Top 10 Premieres and First place wins.
Cassel Creek is a member of the Australian Shepherd Club of America, the Canadian Kennel Club, and the American Kennel Club. Their breeding program upholds high quality, with the main emphasis on health and temperament.
All puppies are raised in their home and undergo socialization and training based on Puppy Culture and Avidog practices to prepare them to serve as valued canine companions or performance puppies. Early Neurological Stimulation exercises start when the puppies are three days old.
The breeder ensures that all puppies and dogs are thoroughly health-tested with breed-specific genetic testing. The breeder uses OFA to test the hips and elbows of all parent dogs. These animals also receive yearly CERF (eye) exams. A full health guarantee is provided for all of the puppies and dogs.
Cassel Creek Details:
3. Wild Rose Aussies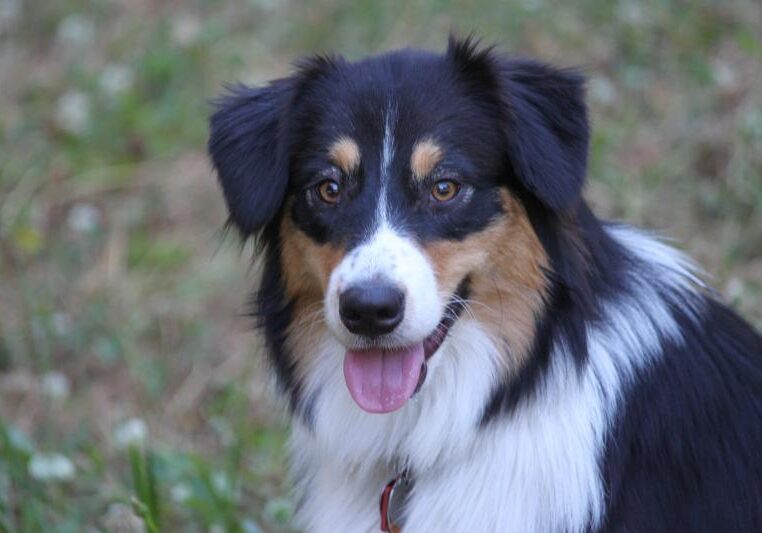 Wild Rose Aussies is a hobby kennel breeder located south of Calgary near Okotoks, Alberta. The breeder provides dogs that excel in herding, conformation, and agility. All Wild Rose puppies and dogs are treated like family, emphasizing high quality, great temperament, and versatility.
Wild Rose Aussies collaborates with other breeders who are members of the Canadian Kennel Club, American Kennel Club, or the Australian Shepherd Club of America. Pictures and bios of all available puppies are on their website.
They have yet to share more information on their website, so the best way to contact them for more insight into their breeding practices and health guarantees is via email or Facebook.
Australian Shepherd Puppy Details:
Color: Red merles, Red-tris
Wild Rose Aussies Details:
4. CD-Six Farms
CD-Six Farms is a small farm near Sherwood Park, Alberta, that breeds and trains horses and Australian Shepherds. The owner has many years of experience working in stables and around herding dogs, and with the help of a group of breeders and vets, produces healthy and happy Aussie puppies.
All of the puppies are thoroughly health examined, microchipped, dewormed, and receive all their age-appropriate vaccinations. Then, before going to their forever home, they receive a puppy care kit that includes food, a collar, and a leash, as well as other special items such as a blanket with their mother's scent and a toy.
The new parents are also given the puppy's complete medical record.
Australian Shepherd Puppy Details:
Color: Red merle, Blue merle
Size: Medium-sized
CD-Six Farms Details:
5. Hello Lily
Concluding our list of Australian Shepherd breeders in Alberta is Hello Lily. Pursuing their passion for genetics and animal husbandry, the breeder decided to produce Aussie puppies of high-quality, rock-solid temperaments.
Combining a fresh breeding approach with traditional health standards, Hello Lily is focused on producing puppies with a great foundation, focus, drive, and perfect balance for individuals and families.
When choosing parent dogs for breeding, all prospective candidates must pass a physical and genetic-health screening to ensure the puppies inherit no hereditary diseases and only acquire desirable traits.
From the age of three to sixteen days, all the puppies undergo Early Neurological Stimulation (ENS) and Early Scent Introduction (ESI) training. Using the Puppy Culture method, all the puppies are pre-socialized and acclimatized to various environments. Crate training, potty training, and clicker training are also given.
Hello Lily ensures all puppies receive age-appropriate immunizations and are vet-checked, microchipped, vaccinated, and dewormed. Moreover, the breeder provides one month of free pet insurance.
Once ready to leave with their pet parents, all puppies are given their complete medical and registration records, a homemade bandana with their mother's scent, and a few other special goodies. In addition, hello Lily provides a two-year health guarantee that also covers genetic diseases.
Australian Shepherd Puppy Details:
Hello Lily Details:
How to Choose Australian Shepherd Breeders in Alberta
While going through our list of Australian Shepherd breeders in Alberta, you'll see some common traits of good breeders. It would be best to recognize these traits before choosing a breeder to buy Australian Shepherd puppies in Alberta.
Always look for:
Registration with a reputable club
Collaboration with other reputable breeders and vets
Health Guarantees
Training using renowned techniques such as ENS and Puppy Culture
Health/Genetic testing of sires and dams
Thorough health assessments, including vaccination and deworming
Participation in social events to spread awareness about the breed and ethical breeding practices
Collaborates and facilitates other breeders and promotes responsible pet ownership and breeding
More Information About Australian Shepherd Puppies in Alberta
Australian Shepherds, also known as Aussies, are a distinctively intelligent and easy-to-train working breed. They are very loyal, protective, and friendly dogs with mild temperaments.
This Breed exhibits high energy even as puppies and loves to run around and herd animals, birds, and even children. Australian Shepherd breeders in Alberta should start mental exercises and training early.
Although Australian Shepherds are remarkably well-suited to work on farms and large open properties, they serve as affectionate and friendly home dogs and family companions. However, due to their herding instincts, Aussies require daily exercise.
Aussies are generally medium-sized – about 18 to 22 inches tall, weigh anywhere between 40 to 55 pounds and have a life expectancy of about 12 to 15 years.
FAQs
What is ENS training in puppies?
Early Neurological Stimulation (ENS) training is exposure to gentle stressors that stimulate the puppy's nervous system. Examples include tickling between the puppy's paw pads, holding their heads in a certain position, and holding their body in certain positions. Each exercise only lasts for a few seconds, but it is a nudge for the puppy's neurological system to activate earlier and leads to stronger dogs that are more tolerant to stress.
Do all Australian Shepherds have one blue eye and one brown eye?
While Australian Shepherds can have one blue eye and one brown eye, it's not the only eye color combination. American Kennel Club (AKC) standards state that Australian Shepherds can have any combination of brown, blue, green, hazel, or amber-coloured eyes.
How much should you pay for an Australian Shepherd?
Australian Shepherd puppies typically cost between $1,000-$3,000. However, some reputable breeders may still sell Australian Shepherds for as low as $700, or for any price upwards of $3,000. Show dogs can easily be in the $5,000 range. When looking at puppies for less than $1,000, watch out for puppy mills and scams.
Conclusion For "The Best Australian Shepherd Breeders in Alberta"
Our list will surely help you find Australian Shepherd breeders in Alberta and bring home a healthy and happy canine companion. These breeders put their heart and soul into what they do, so make sure to continue their practices and shower your new family member with immense love and attention.
When picking out a puppy, ask the breeder questions about the temperaments of the puppies and which might be best for your lifestyle. This breed has a lot of stamina and needs regular companionship, mental stimulation, and exercise to live a long and fulfilled life.
For more guides similar to this list of Australian Shepherd breeders in Alberta, check out these guides:
Before you bring home an Australian Shepherd from a breeder in Alberta, you can learn more about the breed by watching "10 Things Only Australian Shepherd Dog Owners Understand" down below:
Garrett loves animals and is a huge advocate for all Doodle dog breeds. He owns his own Goldendoodle named Kona. In addition, he volunteers at the Humane Society of Silicon Valley, where he fosters dogs and helps animals. Garrett enjoys writing about Doodles and believes that dogs can teach humans more about how to live than humans can teach a dog.
Why Trust We Love Doodles?
At We Love Doodles, we're a team of writers, veterinarians, and puppy trainers that love dogs. Our team of qualified experts researches and provides reliable information on a wide range of dog topics. Our reviews are based on customer feedback, hands-on testing, and in-depth analysis. We are fully transparent and honest to our community of dog owners and future owners.