If you're searching for the best barn dog breeds for the outdoors or farming, then this list will help you find a compatible companion. Dogs make excellent pets, not just in the house but also outdoors. Some breeds were created to fulfill specific tasks on a working farm. These four-legged companions have helped us out for millennia. If you want to learn more about them, consider why you need a barn dog in the first place.
Before scrolling down, we think you might be interested in our other recommendations: Best Hunting Dogs That Don't Shed and Best Rat Hunting Dogs For Vermin Control.
Different Types of Barn Dogs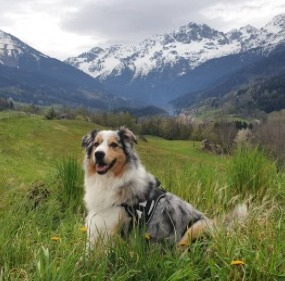 These dogs are more than pets; they help their owners by:
Protecting Equines: If you own a stable with expensive horses or ponies, dogs make great allies. They bond with horses and look after them in several ways. If they have been trained well, they can detect health issues and alert horse owners in time.
Killing Vermin: Have you planted a garden or a wide lawn that is constantly besieged by pests? Instead of carefully cultivated herb beds or organically grown vegetables, you end up with devastation. Let barn dogs come to your rescue. These fantastic pets can detect and catch vermin using their keen vision and heightened senses. They will discourage mice, rabbits, and other small wild animals from entering their territory.
Herding Animals: If you need a stern pet to protect and guide domestic animals, barn dogs can do the job. If appropriately trained, barn dogs can forge a bond with other animals. Also, they can detect danger and guide you to walk in the right direction.
Keeping Strangers and Predators at Bay: Are you afraid that robbers or intruders would enter your home? Do you have a sprawling property that is too expensive to fence? Your best bet is to adopt barn dogs with a loud bark and keen senses. Most dogs bark when they see strangers. However, barn dogs are explicitly trained to patrol at night without their owners. Their loud barks are meant to discourage intruders and alert the members of the household.
Though you get specialized dog breeds used for different purposes, their cost varies with the level of training required, health costs, and many other factors.
More Dog Recommendations: Best Hypoallergenic Hunting Dogs!
Top Barn Dog Breeds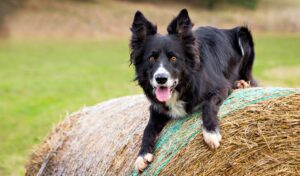 We're sure by now you have a pretty good idea which barn dog you're thinking of adopting. To make your choice easier, here are the most popular types of barn dogs.
1. Australian Shepherd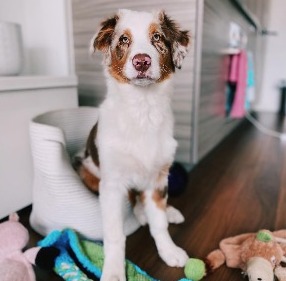 If you're thinking about getting an Australian Shepherd, you are not alone. Touted as one of the most popular outdoor pets, this California-bred dog has some fantastic qualities. It can bond well with horses, sheep, goats, and other domestic animals. If you train them well, they can even detect health issues in animals and immediately alert the owners. They are brilliant animals that do not require lengthy training.
Also, they are instinctively protective of the people and animals they are fond of. It must be noted that they are not that good at catching and killing small animals and pests. However, they somehow turn ferocious when large predators come near the horses and other farm animals responsible for protecting them. Overall, they are brave, obedient, intelligent, and energetic.
Related: Best Australian Shepherd Breeders in the United States and Best Australian Shepherd Rescues For Adoption.
2. Anatolian Shepherd
As the name suggests, this breed hails from Turkey, with origins dating back to 2000 BC. As the Turks were extremely possessive of this precious dog breed, it was only exported in the early 19th century for an American experiment. Even after it was sent to the US, it took time for its popularity to spread in the West. Bred as a livestock dog, Anatolian Shepherds are incredibly protective of helpless domesticated animals. It is their job to look after livestock and save them from dangerous predators.
After the Endangered Species Act was passed in 1973 in the US, dogs such as Anatolian Shepherd became the first choice for livestock farmers who wanted to protect their animals—interested in adopting this breed? Please note that they require thorough training to understand the difference between dangerous animals and those that aren't. They are highly independent and can look after themselves. Though they aren't used to being around horses, they can be trained to look out for them. These intelligent animals make use of their senses to catch predators and detect danger, which is why they make good barn dogs.
3. Australian Cattle Dog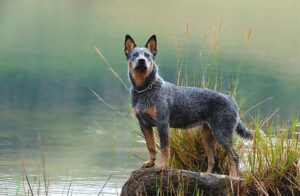 This breed was developed in Australia or herding. These affectionate animals make great barn dogs. The Australian Cattle Dog strikes a balance between being lively and protective. Known to bite herd animals and running children, these brilliant animals are pretty easy to train. It is easier to groom them as they are short-coated. When they live with a family, these dogs form strong attachments with their owners and become protective of family members. Due to their keen senses and strong instincts, they make vigilant guards for an estate or home. They also have an independent streak, which is responsible for how they look after themselves and others.
Australian Cattle Dog was mentioned in Best Blue Heeler Poodle Mix and Best Cattle Doodle Dog Breed Guide.
4. Jack Russell Terrier
These compact and adorable little hunting dogs have exceptional skills that help them catch predators and vermin. Jack Russell Terriers are small enough to fit in your backpack, which should give you some perspective of their minuscule size. However, don't be deceived; they might look tiny, but they pack a punch in their miniature frame. These cute canines can be highly ferocious when facing a predator. Apart from being hunting dogs, they make outstanding watchdogs and farm dogs as well. All they need is a bit of training, and they are good to go. The best part is due to their small size. It is easier to clean up after them.
The Jack Russell Terrier was mentioned in Top Male Jack Russell Terrier Dog Names and Jackador Guide.
5. Pembroke Welsh Corgi
Known to originate from Pembrokeshire in Wales, Pembroke Welsh Corgis are a top choice of barn dog breeds. Apart from being protective, these lively and affectionate animals can enthuse the dullest of rooms with their energy. They are extremely friendly and adjustable, forming close bonds with their owners and other animals as well. They are always cautious of strangers, which makes them superior guardians. Due to their small size, they are often mistaken as mere accessories. However, they are also incredibly clever and alert. They can protect their masters from dangerous predators or invaders.
The Pembroke Welsh Corgi was mentioned in Best Dog Bed For a Corgi and Best Corgi Breeders in New York.
6. German Shepherd
German Shepherds are known for their intelligence and are typically bred as barn dogs. Easy to train, they can sharpen their senses to detect the slightest abnormality. Though they aren't initially bred for herding, they can be trained to look after livestock. Apart from being good companions, they make excellent watchdogs as well.
Depending on how much they are trained, they can even police farm animals and unwell ones or being lazy. These are brave, loyal, and dependable pets that can save humans and helpless animals from predators. They can also alert their owners of unwelcome trespassers. Due to their strong instincts, they can always detect things humans might miss.
German Shepherd-Related Articles: How Much is a German Shepherd and Best German Shepherd Breeders in New York.
7. Rat Terrier
Belonging to the Terrier family, Rat Terriers are fantastic hunting dogs. As the name suggests, they are known for tracking, then hunting down rats and other vermin. Their compact figure makes it easy to pack them and take them anywhere you want. As they are knowledgeable, training them becomes more manageable. They have keen senses that they use while hunting. Apart from that, they are also protective and loyal towards their masters, making them trustworthy allies around the house.
The Rat Terrier was mentioned in Best Short-Haired Hypoallergenic Dogs.
How To Choose a Barn Dog
It would be best if you looked at various factors before making your choice.
Check the health of the dog. Do they need shots? What is their weight?
Calculate the approximate cost per month for regular check-ups and food supplements.
Look at the situation at your home. Do you have enough space? Where will your dog sleep?
If you have other pets, the dog you are adopting must be adaptable and friendly.
If you have young children at home, getting an affectionate pet is advisable.
Which breed works best for your purpose?
Are you ready to care for a dog?
How can you dog-proof your home?
Are you looking for an outdoor or working pet? Avoid designer breeds that are intended as lap dogs. These include Chihuahuas, Shih Tzus, and Maltese.
Remember these tips when selecting a particular breed:
Though barn dogs make ideal companions for humans, not all of them bond well with other animals.
Livestock dogs need to start bonding with domestic animals from an early age. Young puppies should be exposed to their fellow farm tenants as soon as possible. Though they forge strong bonds with the animals, it takes time for them to adapt.
Barn dogs cannot be trained to herd. Either they have the instincts for doing so, or you might want to consider adopting another barn dog. Most show their protective instincts within the first six months.
Get more than one barn dog if you have a large herd.
Conclusion For The "Best Barn Dog Breeds"
Remember, these barn dogs are used to being constantly on the go. If you adopt one, be ready to give them plenty of stimulation, both physical and mental. Give your new pet enough opportunities to use up all that excess energy. Otherwise, they might get bored or acquire undesirable behaviors like chewing on shoes. Without question, these breeds stand out in terms of loyalty, intelligence, and obedience. Choose one, and you will have a friend and helper for years to come.
For more dog breed recommendations, check out:
You can learn more about this list by watching "These Are 10 Best Farm Dog Breeds" from ViralBe down below: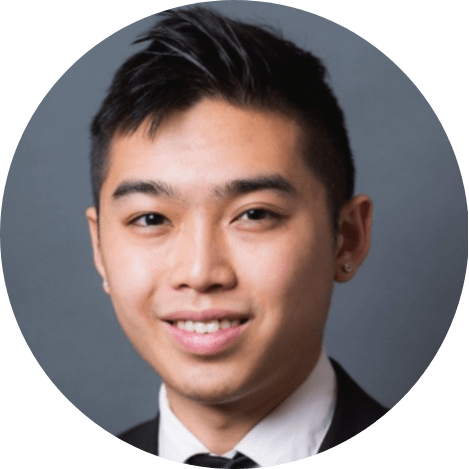 Andy is a full-time animal rescuer and owner of a toy doodle. When he's not saving dogs, Andy is one of our core writers and editors. He has been writing about dogs for over a decade. Andy joined our team because he believes that words are powerful tools that can change a dog's life for the better.
Why Trust We Love Doodles?
At We Love Doodles, we're a team of writers, veterinarians, and puppy trainers that love dogs. Our team of qualified experts researches and provides reliable information on a wide range of dog topics. Our reviews are based on customer feedback, hands-on testing, and in-depth analysis. We are fully transparent and honest to our community of dog owners and future owners.