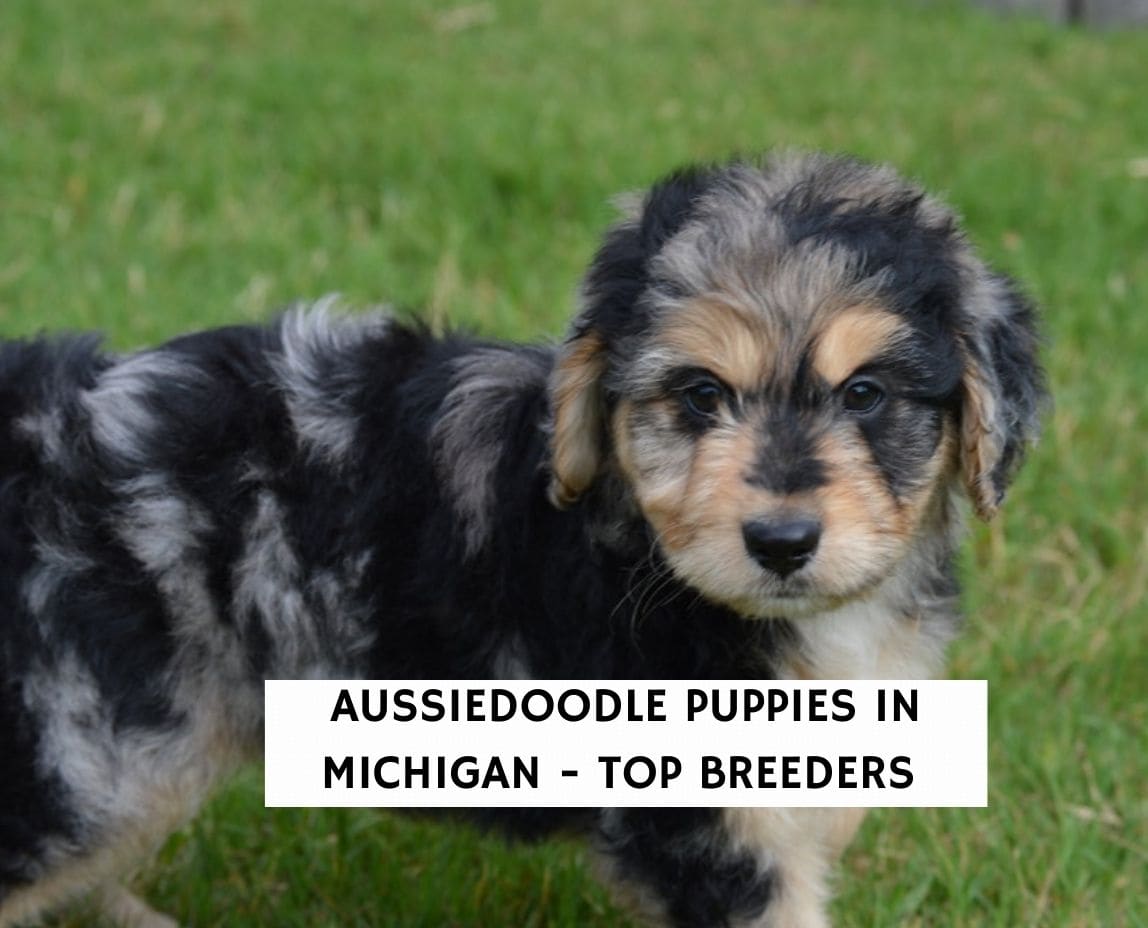 Athletic, whip-smart, and comforting — Aussiedoodles are the holy grail of designer dogs if you're looking for the perfect active companion. They are a cross between a Poodle and the Australian Shepherd, whose qualities shape the Aussiedoodle's temperament.
They're considered mostly hypoallergenic and don't shed much at all, making them quite easy to maintain around the house. On the other hand, Aussiedoodles do require an adequate amount of attention and exercise every day. If you live an active lifestyle or like active dog breeds, this could be your perfect puppy. Aussiedoodles typically weigh approximately 25 to 75 pounds and at 14-25 inches in height. This highly depends on what size Aussiedoodle you get such as the toy, mini, medium, or standard size. Aussiedoodels also come in a range of colors including black, merle, gray, blue, and white.
The lifespan of an Aussiedoodle can go up to 15 years, making them perfect companions for loving families because they are loyal and cuddly. So, if this sounds like the perfect puppy for you in Michigan, the next step you'll have to do is find a breeder. We've done our research and helped made a list of the top 9 breeders for Aussiedoodle puppies in Michigan. We even used one of these breeders to buy our doodle. 
Other articles you will like: Aussiepoo Guide: The Aussiedoodle Dog Explained and Labradoodle Breeders in Michigan.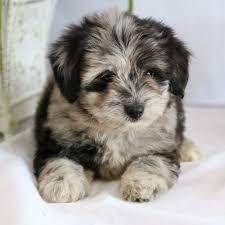 Snagging the number one spot on the list of top Aussiedoodle breeders in Michigan, PuppySpot is dedicated to offering its customers the best puppies through a seamless adoption experience. In addition, they save you tons of time finding an Aussiedoodle puppy for sale because they screen all the breeders for you and have several puppies available today. This means that you won't have to wait on an extensive waitlist just to get your Aussiedoodle puppy.
PuppySpot is incredibly selective about its Aussiedoodle breeders that can list a puppy. All of them are scrutinized thoroughly and vetted and screened in partnership with American Humane and the United States Department of Agriculture (USDA). As a result, over 220,000 families swear by using PuppySpot if you're looking to adopt an Aussiedoodle or any other puppy breed available. We also got one of our Goldendoodles from them and the process was simple, easy, and fast.
Additionally, they have an admirable zero-tolerance policy against puppy mills and unethical breeding, and they maintain an A+ rating with the Better Business Bureau as well. With an industry-best 10-year health guarantee, PuppySpot also ensures an American Kennel Club registration package that has been fully paid for. To bring your Aussiedoodle puppy home in Michigan, they offer extensive and safe chaperone packages by air and ground.
Their service spans several U.S. cities, including Michigan. In addition, their customer service is top-notch, and they ensure that the entire process, right from picking your puppy to delivering them at your doorstep, is completely transparent. 
Aussiedoodle Breeder Details
2. Aussiedoodles Michigan 
Founders Lisa and Dale Dolinger own this breeding company located in Ypsilanti, Michigan. They offer Aussiedoodle puppies for sale in miniature, moyan, small, and standard sizes. Their Aussiedoodle puppies are intelligent, have a great temperament, and have minimal to no shedding. 
Lisa raises the Aussiedoodle puppies in her family home and follows a natural philosophy of not docking tails, leaving dew claws as is, and using a species-specific natural law diet. She swears by Jane Killion's Puppy Culture method to raise her puppies into the best pets one can have. 
The Aussiedoodle puppies in Michigan are available in an impressive range of colors, including Phantom, Silver, Blue Merle, Liver (Chocolate) Merle, Brindle, Cafe-Au-Latte, Tri-color, and more. All of their breeding dogs have been registered with the American Canine Hybrid Club or the American Kennel Club. Additionally, they have undergone various genetic testing as well. 
If you're looking for mini Aussiedoodle puppies in Michigan, this should be one of your top picks. They have many different coat colors and treat their puppies well. It does look like they have quite a long waitlist though, so contact them today to find out.
Aussiedoodle Breeder Details
3. Red Bud Beautiful Doodles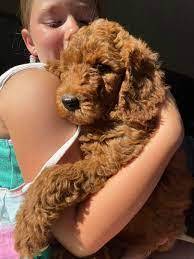 A family-owned operation, their obsession with Aussiedoodles began when they adopted Duke, their first puppy. Red Bud Beautiful Doodles specializes in raising extremely family-friendly Aussiedoodle puppies in Michigan who have been potty trained. 
Additionally, they deworm their puppies multiple times and keep all their vaccinations up to date. They also have a two-year health guarantee on all Aussiedoodle puppies for sale that covers any genetic abnormality. Red Bud Beautiful Doodles is located in southwest Michigan, which is approximately 3 hours from Detroit and 1.5 hours from Grand Rapids.
In order to get hold of their Aussiedoodle puppies, you will have to make a security deposit of $400. You can pick the puppy of your liking when they're about four weeks of age and display their personality. Additionally, the puppies are ready for their forever houses by eight weeks of age. Given that they're a small operation, the adoption process is quite hassle-free and straightforward.
You can find F1 Aussiedoodle puppies in solid and tri-colors. They also sell F1B Aussiedoodle puppies (Aussiedoodle x Poodle parents) in solid black, red solid, phantom solid, and merle. 
Aussiedoodle Breeder Details
4. Strahan Farms Aussiedoodles
Strahan Farms Aussiedoodles is known for its easily trainable and extremely intelligent Aussiedoodle and Shepadoodle puppies. Their puppies have minimal to no shedding and have been genetically tested using the Embark Vet Dog-DNA Test to rule out any abnormality.
Additionally, all their Aussiedoodle puppies for sale in Michigan undergo a detailed training process. The first four weeks involve neuro-stimulation training; gradual weaning, sound, and surroundings are introduced at 5-7 weeks; and complete weaning along with crate and social training during 8-9 weeks. This ensures that the puppy is ready to mingle with your family.
The Aussiedoodle puppies grow up in a climate-controlled indoor area and play on heated floors outside in their spacious kennels. They enjoy interacting with the adult dogs and being active. The team at Strahan farms is just as fond of interaction and is committed to giving their clients a smooth and assisted experience throughout the adoption process. They are located in Grass Lake, Michigan, which is 1.5 hours from Grand Rapids and 1 hour from Detroit.
Aussiedoodle Breeder Details
Website:

https://strahanfarms.com/

 

Contact: 734-476-1864

Address: 2100 Barber Rd, Grass Lake, MI 49240, United States 

Email: kristystrahan@yahoo.com
5. Old Mills Aussiedoodles
Kirstin Finnila first fell in love with Aussiedoodles after adopting Mia, her puppy. Having developed an interest in breeding Aussiedoodles, she then began to buy Aussiedoodles with breeding rights and sent litters off to their forever homes. Later, she also started breeding mini and small Aussiedoodle puppies for sale in Michigan using registered parents who are also therapy dogs with service dog certification.
Firmly dependent on Puppy Culture methods, the puppies have been trained in impulse control, noise desensitization, neural stimulation, crate training, and leash walking. They are also socialized with children, adult dogs, and the elderly. 
All the puppies at Old Mills Aussiedoodles are dewormed every two weeks, vaccinated, and arrive home with a health certificate. They also come with a two-year health guarantee covering all genetic health issues is offered as well. Note that their waiting time could go for over a year, given the incredible breeding standards that have won them the Good Dog Award. But, if you're not in a rush, they are totally worth the wait.
To get on the waiting list, you'll need to pay a non-refundable deposit of $100. Then, another $200 dollars is deposited while you're choosing your Aussiedoodle puppy. The proceeds of her sales are being put into her college fund. This Aussiedoodle breeder is located in Battle Creek, Michigan, which is about an hour from Grand Rapids and close to Lansing.
Aussiedoodle Breeder Details
6. Premo Creek Puppies MI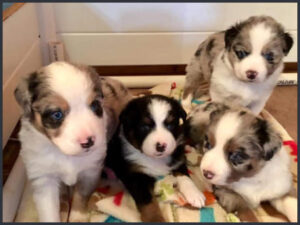 With a dream of raising puppies once retired, Dave and Deb Claus are an old couple breeding and raising healthy Aussiedoodle puppies that make for the best companions. They swear by the non-shedding nature of the Aussiedoodle and highly recommend adopting them for their loving nature. With an extended family of 7 children, 16 grandchildren, and 6 great-grandchildren, these Aussiedoodle puppies for sale in Michigan are showered with lots of love during family visits.
They raise toy, mini, and standard Aussiedoodle puppies in Crystal Falls, Michigan. The cost of their Aussiedoodles ranges between $1200 and $1500, which is a lower margin than the standard price for Aussiedoodle breeders in Michigan. If you're on a budget or looking for cheaper puppies, you should consider this breeder.
In order to place an Aussiedoodle puppy on hold, you'll need to make a non-refundable deposit of $100. They recommend picking up the puppies from their kennel but are also willing to deliver to areas like Green Bay, Mackinac Bridge, and Iowa. The Aussiedoodles have been genetically tested to rule out any illnesses as well. 
Aussiedoodle Breeder Details
Website:

https://premocreekpuppies.com/

Contact: 319-350-9338 / 319-240-8484

Address: Crystal Falls, MI 49930, United States

Email: deb@premocreekpuppies.com 
7. Danie's Darling Doodles Michigan
Danielle Wright is the breeder behind the gorgeous Aussiedoodles raised at Danie's Darling Doodles, located in Otisville, Michigan. She focuses on the premier health, coat, and temperament qualities of her puppies, treating them as part of her family instead of kenneling them 24/7. The available sizes at Danie's are miniature and standard-sized Aussiedoodles. 
The puppies are raised along with her daughters and young nieces and are thus socialized early on. You can be assured that your Sussiedoodle puppy will have been trained to get along with families. They also enjoy being active and climbing steps. Enrichment methods such as potty and crate training, sound stimulation, and outdoor play also take place when they live with the breeder. 
You can get on her waitlist through a non-refundable deposit of $350 dollars. However, the waiting time can go up to approximately six months. After spending adequate time with their litter and parents, the Aussiedoodle puppies gain enough social skills and training to arrive at your home at around eight weeks of age. 
You can pick up your puppy in person at Otisville, have them transported to you via car, meet the breeder at Detroit Metropolitan Wayne County Airport, or have them flown to you as well. They will have been dewormed every two weeks starting at 3 weeks of age and vaccinated and examined by their veterinarian. Danielle offers a one-year health guarantee that covers fatal genetic diseases. 
Aussiedoodle Breeder Details
8. Awesome Doodles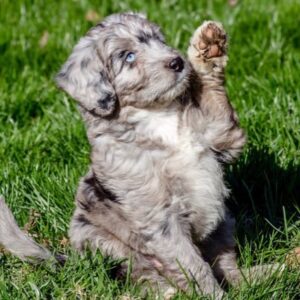 A growing group of families across the U.S., Awesome Doodle is a community that does not prefer the term "breeder." They take immense pride in their methods of raising puppies. After a healthy litter of Aussiedoodle puppies was matched with puppy owners in 2012, they began getting noticed and were in demand for their unmatchable standards. Hundreds of families in cities all over the US have adopted their litters, including from Dallas, Kentucky, Atlanta, and Wisconsin. 
At Awesome Doodle, puppies are used to enjoying attention from their humans. They are happy to provide lifelong support to pet owners by helping with behavior-shaping and other resources, going as far as being willing to rehabilitate the puppy in case you are unavailable. 
They've got colors like red tri-color, red tuxedo, red phantom, red merle with white/ copper, phantom blue merle, black tuxedo, and more. The waiting time for their Aussiedoodle puppies is usually 1-4 months. An exciting feature at Awesome Doodle is that you'll receive access to a 24/7 live camera that documents your puppy till they reach your home. This way, you can watch your little one grow right from their birth and reassure yourself of their health and safety. 
To get an idea of what it's like to raise their puppies, you can read interviews from families on their website. 
Aussiedoodle Breeder Details
9. Aussiedoodle Haven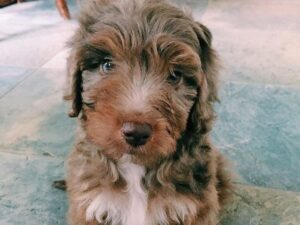 Owned by Cheryl and Bill Laimon, Aussiedoodle Haven is located in Grass Lake, Michigan. Cheryl's love for Aussiedoodles began 13 years ago, and she is now dedicated to raising the healthiest quality puppies with great temperaments.
They sell Moyen (small standard) sized Aussiedoodle puppies that are hypoallergenic and shed almost no hair. A non-refundable fee of $200 needs to be paid if you're looking to get on their waitlist. Aussiedoodle Haven is a smaller-sized Aussiedoodle breeder in Michigan and typically raises only one or two litters a year. These puppies arrive with a guarantee of two years that covers life-threatening congenital or genetic defects. 
They have stringent visiting policies for potential puppy owners, which includes the right to determine visitation and handling. For example, you can only visit the puppies after having placed a deposit on their puppy. Additionally, Aussiedoodle Haven is also particular about avoiding air travel and recommends directly picking up your puppy or traveling to meet midway.
For safety reasons, you cannot bring your pet along with you during visitation. However, Cheryl assures great temperament and social skills in her puppies. Their Aussiedoodle puppies for sale in Michigan can be picked up after eight weeks of age. 
Aussiedoodle Breeder Details
Conclusion Aussiedoodle Breeders in Michigan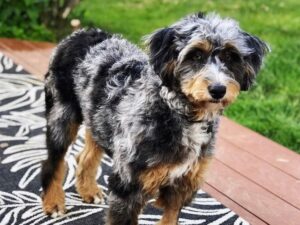 Aussiedoodles can become your best friend for life, provided you train them adequately and keep them healthy. Remember, they need adequate physical and mental stimulation every day, or they may become very bored and act out. With a lot of positive reinforcement, Aussiedoodles can be the best addition to your family. However, it's important to find a reputable and ethical Aussiedoodle breeder in Michigan who will sell you a healthy puppy. We hope that our list of breeders helped you make a selection.
You will also like:
Garrett loves animals and is a huge advocate for all Doodle dog breeds. He owns his own Goldendoodle named Kona. In addition, he volunteers at the Humane Society of Silicon Valley, where he fosters dogs and helps animals. Garrett enjoys writing about Doodles and believes that dogs can teach humans more about how to live than humans can teach a dog.
Why Trust We Love Doodles?
At We Love Doodles, we're a team of writers, veterinarians, and puppy trainers that love dogs. Our team of qualified experts researches and provides reliable information on a wide range of dog topics. Our reviews are based on customer feedback, hands-on testing, and in-depth analysis. We are fully transparent and honest to our community of dog owners and future owners.