Small dogs like the Cockapoo are known for being picky eaters. Hence, this is a very common question that comes up among Cockapoo owners. There could be many reasons why a Cockapoo won't eat.
Reasons your Cockapoo won't eat may include being given too many treats, or there could be something wrong with food. Perhaps your Cockapoo has had a bad experience.
Keep reading below as we discuss these and more reasons why your Cockapoo may not be eating.
Before reading this guide, "Why Won't My Cockapoo Eat," check out: When to Neuter a Cockapoo? (2023) and When is a Cockapoo Full Grown? (2023).
Are Cockapoos Picky Eaters?
There are a variety of reasons why your Cockapoo could not be eating, whether it's a young puppy or an adult dog. It's possible that the sort of food you're feeding your Cockapoo is causing health issues or behavioral issues.
In general, dogs can go long periods of time without eating if they really want to. Dogs, despite the fact that they are frequently highly motivated by food, are able to fast for extended periods of time without any problems as long as they are healthy in all other respects.
However, in order to cure a dog's loss of appetite, it is necessary to determine the root cause.
When a dog stops eating, it's usually because of something wrong with their health or with their behavior. But in case it is behavior related, you don't have much to worry about.
Dogs whose loss of appetite is caused by their behavior are typically still eager to eat some things, particularly treats or new diets that they are not used to eating. It is quite unusual for there to be no underlying medical cause for a complete refusal of eating over an extended length of time.
Pickiness in Dogs Is a Learned Behavior
Smaller dogs are more likely to do this when exposed to multiple options. Pet owners often underestimate the number of calories provided by their extra servings of food and treats.
If a dog is full and anticipating a more appetizing treat, it may choose to ignore the food.
The routine that you have established for feeding your dog is another aspect to take into consideration. Feeding your dog at the same time every day reduces the likelihood of pickiness.
If your Cockapoo refuses to eat things that they are used to eating but becomes extremely excited about eating new or high-calorie foods, this is a solid indicator that your Cockapoo is just being fussy about the foods that they consume.
Reasons Why Your Cockapoo Isn't Eating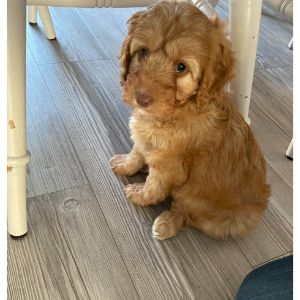 In this section, we'll discuss some of the reasons why your Cockapoo may not be eating.
Too Many Treats
You won't believe it, but the majority of the time the problem is you. A dog, like humans, has a food palate. If they are consistently given human food, they will eventually develop a preference for its flavor.
After that, when they go from eating bits of chicken to eating cheap canned dog food, they are unable to handle the taste.
There Is Something Wrong With the Food
It's possible that you are serving an excessively fatty or excessively huge portion, which is causing them to look down their noses at the food that you have prepared for them. It's also possible that the meal you're serving is either stale or unappealing.
If your dog isn't eating well, it could be because you're feeding it a diet it doesn't need or a type of food it doesn't like.
All of your dog's meals should be planned around their age, activity level, and general well-being. For instance, if they do not require a diet that is heavy in protein, they may be rejecting it only due to the fact that they do not enjoy the taste of it.
Finding the best diet or food for your Cockapoo can be a challenge. It may require experimentation on your part, and you may want to consult a veterinarian for guidance.
Previous Bad Experiences
It's possible your Cockapoo had a bad experience with a certain food that left them with a sour taste in their mouth. This could be anything they ate that gave them an upset stomach or made them throw up.
If you've noticed your dog acts wary around particular foods, this may be why. One possible explanation for the reluctance of many dogs toward chicken is that the majority of chicken dishes served to them are not made right.
It's no secret that your dog has a keener sense of smell than the average human. This provides them with an advantage when it comes to hunting and locating prey, but it also heightens their sensitivity to smell, making it more difficult for them to eat food with an odor that is even slightly unpleasant.
Medical Issues
Your Cockapoo may have a medical issue if it refuses anything but water or if it suddenly stops eating altogether. Your Cockapoo may be experiencing discomfort while eating because of dental problems. Since dogs can't communicate their discomfort, this could be happening right under your nose.
A loss of appetite could also be the result of your Cockapoo suffering from a physical injury, such as tearing or inflammation of the muscles or ligaments. The absence of an appetite may also be a symptom of organ disease, which can be diagnosed by your veterinarian.
Cognitive Issues
Some Cockapoos, and perhaps other animals as well, may experience a decrease in appetite as a result of mental problems like anxiety and hostility. Your veterinarian or dog behaviorist may take this into account, especially since Cockapoos are people-oriented dogs.
What to Do if Your Cockapoo Won't Eat
The following are some things you can do to encourage your Cockapoo to eat.
Limit the Treats
Your dog is going to have to abstain from eating dog biscuits for at least a week, and possibly even longer. Never give your dog table scraps or leftovers from your own meal.
If your children like to give the dog treats or if members of your family regularly feed the dog scraps from their plates (which you shouldn't let them do because it teaches them to beg), this may be harder than you think.
If you stop giving your dog table scraps and dog treats, his taste buds will reset. Eventually, he'll start to like the flavor of dog food again.
Having said that, this is only possible in the event that you provide your dog with healthy and nutritious food that is well-prepared. You can't train a dog to like inexpensive dog food by retraining its taste buds any more than you can train a bird to like sausages.
Make Mealtime Fun
Your Cockapoo is a picky eater, but you may get them to eat by making mealtime fun.
Filling a Kong with pet food and then freezing it is a terrific technique to make a meal last for a long time. It sounds like a poor idea if you have a picky eater in the house. But you'd be surprised!
The frozen treat has the dual benefit of keeping their attention while also remaining fresh. If they do come back, they'll find it in perfect eating condition.
Training your dog's nose involves little more than disguising kibble or treats and sending him on a hunt. Getting your dog to eat kibble one or two pieces at a time is agonizing, but it's a viable solution if nothing else works.
Slow-feeder bowls are also fantastic, and there are a variety of designs to choose from. Although it may seem counterproductive, having your dog search for the hidden morsels of food will provide beneficial stimulation. Using a slow feeder bowl might lessen their habit of leaving food in the bowl.
Offer a Variety of Food
First and foremost, have a wide selection of foods available. Cockapoos (like many small dogs) are known to be picky eaters, so providing them with a variety of food alternatives can pay off in the long run.
It's important to choose a diet that your dog enjoys, so don't be afraid to experiment with different brands of kibble, wet and dry dog food, and even finely minced raw meat.
After pulling their hair out in frustration over their Cockapoo's refusal to eat, many concerned dog owners turn to this tried-and-true method, despite the fact that it is not one of the recommended approaches.
Reduce Portion Size
Just a few bites of food should be served at each meal, with the goal being to gradually work up to a more acceptable portion size once the smaller amounts are consumed on a regular basis.
Having smaller portions may encourage them to finish their food. When dealing with a picky dog eater, an empty bowl can provide some much-needed psychological relief.
Avoid Grazing
Never allow your dog to get into the habit of 'grazing' by leaving its food out for extended periods of time. The best way to ensure that your dog only eats when you give it to it is to restrict access to its food at all other times.
A 'Feeding Window' is something you should actively work to establish. This is a good time for them to eat. Give your dog a certain length of time, say 15 or 20 minutes, to eat at the same time every day. If the food isn't going to be consumed, then throw it away.
It's important to keep in mind that your dog is a descendant of opportunistic hunters; by taking away their food, you're teaching them to be patient and wait for the next available meal.
This is crucial from a sanitary perspective as well. It's possible for food to become bad, particularly raw or freshly prepared dog food.
Take Them to the Vet
If you've tried everything and you notice that your dog is showing other concerning symptoms, then it's time to take them to the vet. There are a vast range of medical issues that may prevent your dog from eating and only a vet can accurately diagnose them and recommend you the next best steps.
Frequently Asked Questions
How often do Cockapoos eat?
Ideally, a young adult, adult, or senior Cockapoo should eat twice a day. If your dog grazes throughout the day, it might be difficult to keep track of its food intake.
Do Cockapoos have digestive problems?
Cockapoos can have sensitive stomachs, leading to digestion-related issues including vomiting.
Are scrambled eggs good for Cockapoos?
Scrambled eggs are dog-safe but make sure to avoid any seasonings including salt and pepper.
Conclusion

for "Why Won't My Cockapoo Eat"
So, while there are many reasons why your Cockapoo is not eating, luckily, all of the reasons can be easily addressed with a little effort on your part. If you believe your dog may be suffering from an underlying medical condition, it's important that you take him to the vet as soon as possible.
If you find this guide, "Why Won't My Cockapoo Eat" helpful, check out:
Learn more by watching "Cockapoo Dog Breed Guide | Dogs 101 – Cockapoo" down below:
Garrett loves animals and is a huge advocate for all Doodle dog breeds. He owns his own Goldendoodle named Kona. In addition, he volunteers at the Humane Society of Silicon Valley, where he fosters dogs and helps animals. Garrett enjoys writing about Doodles and believes that dogs can teach humans more about how to live than humans can teach a dog.
Why Trust We Love Doodles?
At We Love Doodles, we're a team of writers, veterinarians, and puppy trainers that love dogs. Our team of qualified experts researches and provides reliable information on a wide range of dog topics. Our reviews are based on customer feedback, hands-on testing, and in-depth analysis. We are fully transparent and honest to our community of dog owners and future owners.