If your Labradoodle won't eat, you're probably very worried! Your typically energetic pup is feeling like he doesn't have much of an appetite, and that's naturally cause for concern — is he feeling okay? Is something wrong with your dog?
Don't worry just yet! In this guide, we're going to talk about a few common reasons dogs like Labradoodles won't eat the food they're given. Before you call your vet out of concern, please check out the information below to see if you can restore your pup's appetite.
Before reading this guide, "Why Won't My Labradoodle Eat," check out: When to Spay a Labradoodle? (2023) and How to Train a Labradoodle! (2023).
Why Won't My Labradoodle Eat?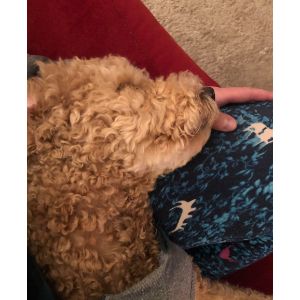 There are quite a few reasons your Labradoodle won't eat. If your pup is feeling a bit peckish or just isn't hungry for the food you've given him, he may be experiencing a decrease in his usual voracious appetite.
Should you be concerned? Well, maybe. But there are several innocuous reasons your Labradoodle may not be scarfing down his dog food. Let's look at the most common reasons your designer dog isn't eating the way he typically does.
He's Bored With His Food
Could you eat the same food every single day? Even if you chose your favorite — say, shrimp — and chose to chow down on that one food item each day, you'd get bored, too!
Imagine eating the same kibble for breakfast, lunch, and dinner. Sounds tiresome, right? Well, there's the possibility that your pup is just bored with his food and wants to try a new flavor.
Thankfully, most quality dog breeds do offer a variety of flavors for their canine cuisine. Even if you're loyal to a particular brand, try switching from, for instance, the lamb and rice formula to the chicken variety. You may find that your dog's appetite comes right back when he smells his new flavor of dog food!
He's Experiencing Dental Pain
Have you ever had a toothache? Ouch! Dental pain can give you a headache, or even sinus pain, and it can hurt to eat!
If you suspect that your Labradoodle is feeling pain due to gum or tooth issues, please bring him to the vet. Your vet can help your dog feel better by addressing the heart of the matter — your dog's teeth.
In the meantime, your vet will likely recommend that you feed your Labradoodle soft, wet food.
Alternatively, she may suggest that you make a "gravy" of sorts by stirring a bit of water into your dog's normal kibble. This will help soften the food, making it easier for your dog to chew.
He's Anxious
If your dog is experiencing stress of some sort, his appetite may decrease. For example, if you come home from work and find that your dog hasn't touched his food, that may simply be because he's lonely, anxious, or experiencing separation anxiety.
In a perfect world, you could quit your job and stay home with your dog full-time. Unfortunately, this world is far from perfect so you'll need to find a more practical solution.
Options to consider include:
Giving your dog a little extra playtime or snuggle time in the morning before you leave.
Hiring a dog walker or pet sitter to come to check on your baby throughout the day.
Enrolling your pup in a doggy daycare where he'll have friends to play with.
Rotating toys in your collection so that your pup doesn't get bored while you're away.
Please remember that no dog should be left outside all day. While it's interesting and will help keep your pup from getting bored, there are dangers present such as extreme temperatures and predators that can harm your dog.
Your Labradoodle is Sick
Just as you may not want to eat much when you're sick, your Labradoodle won't eat when he's under the weather. In many cases, this isn't cause for concern at all. Your pup will naturally know when it's time to go back to his food bowl. If he's feeling nauseous, overheated, or is just experiencing general malaise, it will pass.
However, if your dog refuses to eat for an extended period of time, it may be time to call the vet. Stomach ulcers, parasites, and a host of other problems could be causing your pup's lack of appetite. Your vet can run tests, if necessary, to determine what's wrong.
Your Dog Was Recently Vaccinated
Vaccinations can cause a loss of appetite in your pup. Thankfully, that period only lasts a short while and your dog will be back to his normal, spunky Labradoodle self in a matter of days — or less.
Although your Labradoodle won't eat much after vaccinations, it's important to ensure he has fresh water and food on hand. Keeping your dog hydrated is important, and having food available will allow your dog to "graze" as he feels able to do so.
Your Dog Had Access to Toxic Food
Try as we may to prevent them, accidents do happen. Onions, garlic, chocolate, or other toxic foods can be left out within the reach of your pup, and he may be experiencing symptoms as a result.
If you suspect that your Labradoodle won't eat because he's ingested a toxin, call your vet and contact an animal poison control center. Your vet will lead you through the next steps necessary to return your dog to good health.
Provide your dog with plenty of water (though he may seem uninterested) and call either the ASPCA's hotline at 888-426-4435 or the pet poison hotline at 800-213-6680.
How Much Should My Labradoodle Eat?
In order to know that your Labradoodle isn't eating enough, it's important to know how much this breed should eat in the first place! There are factors in play that will determine this, including your dog's activity level, weight, age, and health. However, most Labradoodles will follow a pretty typical eating routine.
Keep in mind that pregnant or nursing dogs will have different dietary needs than other dogs. Speak with your vet about your specific pup's specific needs and adjust accordingly.
For all other dogs, follow the chart below. Quantities are for a standard Labradoodle. Feeding amounts will differ with Toy and Mini Labradoodles.
2 to 3 months old – 3/4 to 1 cup of quality food
4 to 10 months – 1 to 1 1/4 cups
Up to one year – 1 1/4 to 1 1/2 cups
1 to 7 years – 2 to 2 1/2 cups
Over 8 years (senior) – 1 1/2 to 2 cups
We'll talk about how to choose your Labradoodle's food in just a moment. Note, though, that the amounts above are based on the assumption you've chosen a quality, nutrient-rich brand of dog food for your dog.
How to Choose a Dog Food
Dog food is labeled similarly to human food. Whereas on our own food labels we'll see a list of the number of calories, sugars, fats, and so on, your dog's food will be labeled with proteins, fats, and moisture. In addition, your pup's food will list ingredients contained in it.
The quality of ingredients, however, is not indicated on the packaging.
So how do you choose a food your Labradoodle will eat? The best course of action is to talk to your vet and see what she recommends.
In the meantime, consider the following:
Your dog's activity level — more active dogs will require more calories.
Your dog's age — seniors and puppies have different nutritional needs than adult dogs.
Your dog's allergies and other health conditions.
Whether your dog has been altered — spayed or neutered dogs do not require as many calories.
Your dog's flavor preferences — it's possible your Labradoodle won't eat the way he should if he simply doesn't like his food.
Once you've taken those factors into consideration, look at the food itself. You'll need to ensure that the following are present.
Protein
Your dog's food should contain at least 30 percent crude protein. Check the ingredients list to determine where that protein is coming from. Animal proteins like turkey, chicken, and lamb are typically best for your dog.
Before choosing a vegetarian diet for your dog, please speak to your vet. While it's possible for your dog to thrive on vegetables, it can be difficult to ascertain whether he is getting the nutrients he needs.
Fat Content
Fats are important to your dog's health. The right fats can help your pup maintain healthy joints, organs, and even blood sugar levels.
Your dog food should contain a minimum of around 5.5 percent. With that having been said, it's critical that your Labradoodle's food contain fats that are healthy for him. In addition, your pup's food should contain less than 25 percent fat content.
Look for foods that contain omega-3 and omega-6 fatty acids, as these are beneficial to your Labradoodle. In addition to keeping your dog healthy "on the inside," these fats can help keep dogs with skin allergies comfortable.
Moisture
Of course, wet dog food will have more moisture content than dry kibble. Optimally, the wet food you choose should contain between 75 and 78 percent moisture, while the dry food should contain between 10 and 12 percent.
Food that contains higher moisture content — particularly wet varieties — may contain too many fillers to keep your dog healthy. Should you have further questions please ask your vet.
Frequently Asked Questions
If you have additional questions about choosing food for your dog, or about why your Labradoodle won't eat, they may be answered in our list of frequently asked questions.
Are Labradoodle finicky eaters?
Generally speaking, the Labradoodle is inclined to be a little bit picky. If you can find a food your Doodle loves, try to stick with it. Look for a food with the protein, fat, and moisture contents mentioned above in a flavor your dog likes.

Keep in mind that switching between food brands can lead to finicky eating, and can also cause IBS and other digestive issues like colitis.
What can I feed my finicky Labradoodle?
Don't pander to your dog's picky behavior. It is absolutely possible to "spoil" your Labradoodle. However, it's obviously important that you feed him something he'll eat!

Purchase small sample bags of dog food, or "borrow" a cup or two from friends that have dogs. Once you find a brand and variety your dog loves, stick with it.
My Labradoodle won't eat — can I give him people food?
Yes. If you're concerned that your dog hasn't eaten in several days, it's okay to give your pup some cooked chicken or eggs. Use no seasonings, as some are toxic to dogs, and cook the food thoroughly.

Examples of foods that are safe for dogs include rice, chicken, eggs, turkey, carrots, bell peppers, corn, and sweet potatoes. Pumpkin from a can is also a sure bet when your Labradoodle won't eat, but be sure it's plain pumpkin and not pumpkin pie mix.

Please remember that human food should only be used as a stopgap until your vet gives you further instructions.
Conclusion for "Why Won't My Labradoodle Eat"
If your Labradoodle won't eat, you're likely concerned and wondering about this lack of appetite. Before you speak to your vet, consider the possible reasons for your dog's loss of appetite that we've listed in our guide.
If necessary, contact your vet for further assistance. While a lack of appetite doesn't necessarily mean your dog is ill, the answer to "why won't my Labradoodle eat" could lie in something more serious.
If you find this guide, "Why Won't My Labradoodle Eat" helpful, check out:
Learn more by watching "7 Reasons You SHOULD NOT Get a Labradoodle" down below:
Garrett loves animals and is a huge advocate for all Doodle dog breeds. He owns his own Goldendoodle named Kona. In addition, he volunteers at the Humane Society of Silicon Valley, where he fosters dogs and helps animals. Garrett enjoys writing about Doodles and believes that dogs can teach humans more about how to live than humans can teach a dog.
Why Trust We Love Doodles?
At We Love Doodles, we're a team of writers, veterinarians, and puppy trainers that love dogs. Our team of qualified experts researches and provides reliable information on a wide range of dog topics. Our reviews are based on customer feedback, hands-on testing, and in-depth analysis. We are fully transparent and honest to our community of dog owners and future owners.